A Guide to the Fuquay-Varina/Holly Springs Beer District
Tuesday, January 28, 2020, 11am by Tabletop Media Group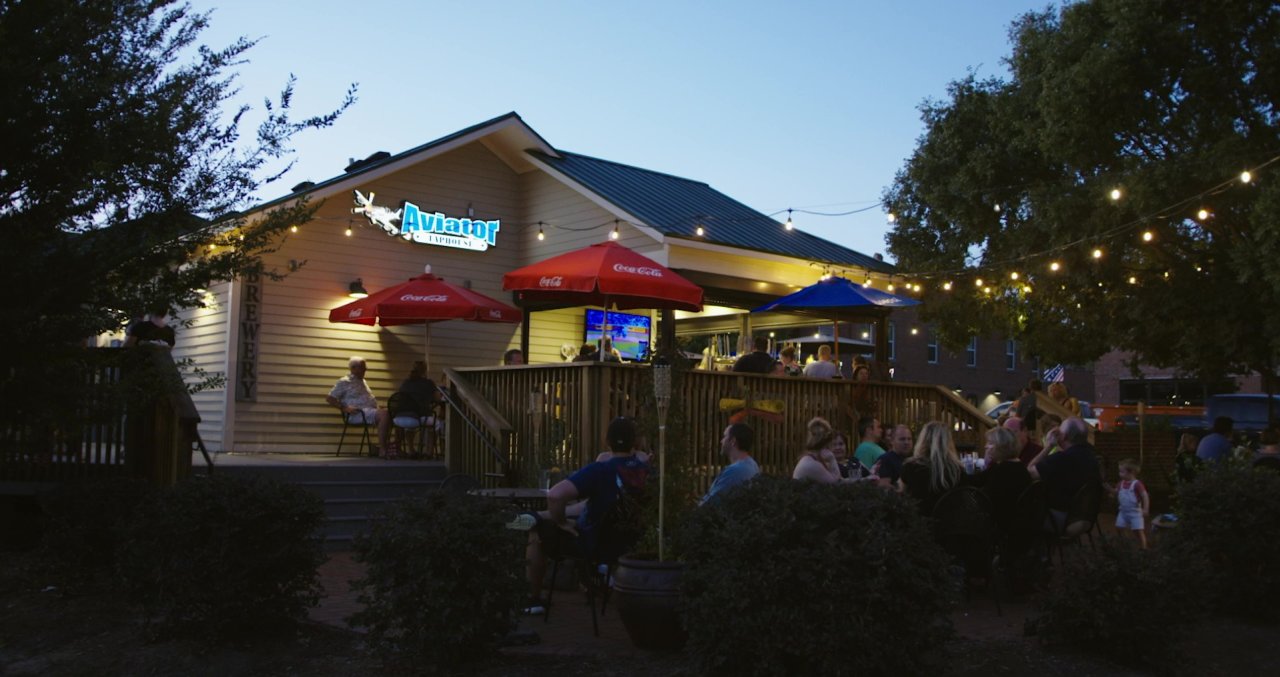 Fuquay-Varina and Holly Springs, two small towns just outside of Raleigh, N.C., are growing into flourishing hospitality areas, offering a slew of unique eateries, bars, festivals and—perhaps most popular—breweries. Visiting these beloved gathering spots—home to run clubs, live music, private events and happy hour hangouts—is one of the best ways to get to know an area and the people who make it special. Check out these breweries the next time you're looking to have a great brew in a cool spot!
Tip: The close proximity of these taprooms makes it easy to get several stamps on your Raleigh Beer Trail Passport in one trip!
 
Started from a humble airplane hangar in 2008 and now an ever-growing, massive beer empire in Fuquay-Varina, brew boss Mark Doble's Aviator Brewing Company fills up a 23,000-square-foot building—plus, just a short drive away, serves up plenty of delicious beers, food and entertainment at the Aviator Brewing Tap House, SmokeHouse and brand-new Pizzeria & BeerShop, all adjacent to each other. The airplane-themed brewery features a rotating selection of their bold brews on tap, including HogWild IPA, 3 Bones Kolsch and Mad Beach wheat, plus four-packs, six-packs and cases for you take home.
Tour info: Thurs. and Fri., 6:30pm; Sat., multiple tours from 4-6:30pm; Sun., 5:30pm; no reservation required; $5 per person age 21 and up (under 21 free); beer included
An intimate brewery in Holly Springs, Carolina Brewing Company was founded by three home brewer friends in 1995—25 years of beer in the year 2020 makes it the oldest brewery in the Raleigh area, though a taproom wasn't added to the property until 2015. The flagship beer, the Carolina Pale Ale, is one of the best-selling beers in Raleigh, and an inventive selection of rotating brews can be found at the brewery.
Tour info: First Sat. of each month at 1pm; no reservation needed; free of charge
Born from a group of friends who shared a love for home brewing and a passion for sharing it with the community, Oaklyn Springs pours creative craft beers like the Bold Venture American IPA and Chocolate Covered Sampler Scotch Ale/Wee Heavy in a modern space in Fuquay-Varina. In addition to their assortment of taps, the brewery offers recurring events like yoga, beer tastings, metal stamping and music bingo, in addition to hosting local food trucks on Fridays and Saturdays.
What's in a name? Co-owner Tim Reichert was diagnosed with a condition called Laughter Induced Syncope (fainting)—exactly what it sounds like—earning him the nickname of "the fainting goat" from his friends and family just a few years before the brewery opened up. Fainting Goat is a beloved veteran- and woman-owned brewery that features high-quality, hand-crafted beers in a casual, inviting space in downtown Fuquay-Varina. Swing by often for limited release small batch brews in addition to flagships—Der Hoof Hefeweizen is a favorite—and seasonal selections (plus a packed event lineup of open mic nights, trivia battles, food trucks and more).
Yes, your beer will be served in a mason jar, and yes, it will be refreshing and delicious. Fuquay-Varina's Mason Jar Lager Company brings a pleasant Southern charm to their taproom, not only with delightful beers served in mason jars, but also with a cheerful atmosphere that welcomes all to come grab a brew, whether it be their Happy Place Golden Lager, Luchador Mexican Lager or anything in between. The big outdoors space is a big plus on days with beautiful weather. Tip: If you love the beers, venture out for their food at The Mason Jar Tavern restaurants in Holly Springs (the original location where it all began) and Fuquay-Varina.
Bombshell Beer Company proves that brewing beer isn't just a guys game—the brewery was founded by three women, all of whom were home brewers before teaming up to open a big-time brewery of their own in Holly Springs in 2013. The fun-loving space is great for unwinding after a long day with a year-round, seasonal, specialty or experimental beer. Plus, the names of the beers are just as fun as they are to drink—Head Over Hops IPA and Lady In Red Amber Ale are two of the favorites!
Food and beer events in 2020 in Raleigh, N.C.
Krispy Kreme Challenge, Feb. 1
North Carolina 'Cuegrass Festival, tentatively April 18
French Market & Seafood Festival, tentatively April 18
Brewgaloo, April 24-25
Thrive NC, May 7-8
Got to Be NC Festival, May 15-17
Raleigh's 5th Annual International Food Festival, June 6
Town of Cary's Pimento Cheese Festival, June 6
Downtown Raleigh Food Truck Rodeo, June 14
Peak City Pig Fest, June 19-20
Cary Downtown Chowdown, July 12
Beer, Bourbon & BBQ Festival, Aug. 7-8
Beericana Craft Beer and Music Festival, Oct. 10
2020 N.C. State Fair, Oct. 15-25
Comments