Guide to Kayaking, Stand-Up Paddleboarding, Canoeing and More in Raleigh, N.C.
Tuesday, April 23, 2019, 8am by Michael Robson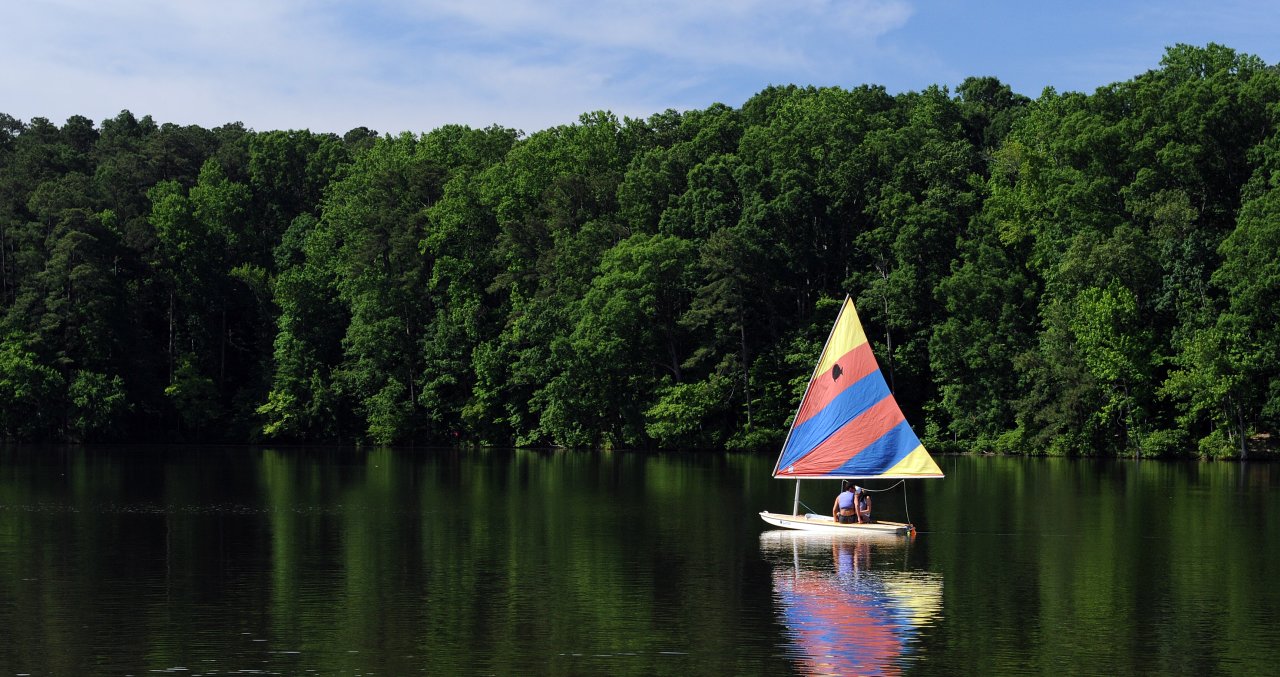 There are a whole bunch of ways to celebrate warm weather in the Raleigh area—one of our favorites is to combine relaxing views with a bit of exercise by heading to the nearest body of water. Up for a kayaking adventure, a sailing excursion or in need of some fishing spots? We've got you covered with this guide to the area's best watersport activities. 
 
Opened in 1988 as Wake County's first established county park, Lake Crabtree County Park provides tons of recreational opportunities. Nine miles of hiking and cycling trails (especially popular with mountain bikers), a connection to the Town of Cary greenway system and open play areas and fishing opportunities make for a big draw. But the 520-acre lake is ideal for watersports, too, with a year-round boat launch area and a variety of boats available for rent. You'll find sailboats, canoes, kayaks, rowboats, pedal boats and stand-up paddleboards waiting to be rented out. Keep your eyes peeled for bald eagles as you make your way counter-clockwise around the lake—they've nested in at least two verified locations in years past.
Rental dates: Sat.-Sun., May 11-Sept. 22; Fridays from June 7-Aug. 2; also open Memorial Day, Fourth of July and Labor Day
Fees: Free boat rentals (Wake County parks moved to a "fee-free" policy for most programming beginning Jan. 1, 2019!)
Need to know: Must be at least 18 years of age to rent a boat; rentals stop at 5pm, boats must be returned before 6pm
One of N.C.'s most visited state parks, William B. Umstead State Park now draws more than 1.5 million visitors per year. It's a popular getaway for hikers, trail runners, bicyclists and even horseback riders (13 miles of bridle trails meander through some of the most scenic areas of the more than 5,000-acre park). Easily accessible off Highway 70, the park's biggest lake, Big Lake, has a boathouse that rents out canoes, allowing you to explore the 55-acre body of water. Fishing is allowed at Big Lake, where you'll find bass, bluegill and crappie. 
Rental dates: Daily, April 1-Oct. 31
Fees: $7 per day
Need to know: Must be 16 years of age to rent a boat; rentals stop at 3pm; private hand-powered boats are allowed; no pets
This 650-acre lake in South Raleigh offers boat rentals seven days per week during the warm weather months. Lake Wheeler Park has jon boats, kayaks and pedal boats available to be rented, and a boat launch allows trailered and non-trailered boats, including motorized boats (but no jet skis), to be launched with the purchase of a daily pass ($6 per day for non-residents). Watersport activities such as skiing and tubing are allowed, but swimming is not. The lake has a speed limit of 40 miles per hour. 
Rental dates: Fri.-Sun., May 10-Sept. 30
Fees: $4-6 per hour
Need to know: Must be 16 years of age to rent a boat; rentals stop at 6pm; no swimming
Located near North Carolina State University, Lake Johnson Park is a popular spot for students and professionals to get some exercise—a paved, three-mile greenway loop, plus two miles of unpaved trails, draw lots of joggers and walkers (and dogs, too!). The lake itself spans more than 150 acres and offers a wide variety of boats for rent. Jon boats, kayaks, sunfish sailboats and stand-up paddleboards can be rented seven days per week. A boat launch for non-trailered, electric motorized boats is available for a $6 non-resident fee per day.
Rental dates: Daily, May 1-Sept. 30; public boat launch is open year-round
Fees: $4-10 per hour (stand-up paddleboards are $10 per hour; must be 18 years of age or older)
Need to know: Must be 18 years or age or older to rent a boat; fishing is allowed from a boardwalk or boat (with current N.C. fishing license), and with an ID you can borrow a rod and reel from the park boathouse
One of the largest municipal parks in the area, Bond Park's 310-acre facility in the town of Cary has picnic shelters, athletic fields, hiking trails (a two-mile loop around the lake, plus a shorter trail), a playground, a 300-seat amphitheatre and a challenge course (reservable for groups of eight or more). The boathouse rents out pedal boats, sunfish sailboats, rowboats, kayaks and canoes, and a boat launch allows non-gas powered, private boats less than 16-feet to be launched. Bring a picnic, too—a perfect deck with plenty of tables and umbrellas looks out over the lake. 
Rental dates: Sat. and Sun., April-May; Daily, June-Aug.; Sat. and Sun., Sept.-Oct.
Fees: $8-12 per hour.
Need to know: Must be 18 years of age or older to rent a boat; sailing experience required to rent a sunfish sailboat
The longest river contained entirely in N.C., the Neuse River flows east more than 250 miles from North Raleigh all the way to the Pamlico Sound. A haven for kayakers, canoeists and stand-up paddleboarders, the City of Raleigh provides five access launch points along 17 miles of the river, creating the Neuse River Canoe Trail. You'll need your own boat, or will need to coordinate with a private company like Paddle Creek—they offer all-inclusive kayak, canoe and stand-up paddleboard trips, including boat, life vest and transportation to the drop-off or pickup point. Open seven days a week (typically from mid-March through Oct.), you can make a reservation on the Paddle Creek website for a 1.5-hour, three-mile trip or a four-hour, eight-mile trip down the river. When water levels are high, a few Class I rapids can be found (still navigable for beginners). 
Rental dates: For rentals and all-inclusive trips, you'll need to go through a private company such as Paddle Creek
Fees: No fees to launch your own boat; Paddle Creek may charge $55-195 for boat rental and transportation
Need to know: Keep an eye on water levels on the river before heading out; for updated information on the status of the river, visit the American Whitewater River Database and search "Neuse"
Secluded in the southeast corner of the county around Holly Springs, Harris Lake County Park is a 680-acre park on a peninsula of Harris Lake. The park has all types of amenities, including a fishing pier (plus a fishing pond that gets stocked with channel catfish once per month), nearly eight miles of mountain bike trails, lots of picnic opportunities, five miles of dedicated jogging trails and a popular 18-hole disc golf course. There are no boat rentals available in the park, but cartop boats (canoes, kayaks etc.) can be launched from the boat launch area with no fees.
Rental dates: Not available
Fees: No fees to enter or launch cartop boats
Need to know: Larger boats with trailers can be launched onto Harris Lake from ramps outside the park (search for Cross Point Landing for nearest access)
Located just east of Raleigh in the town of Wendell, Robertson Millpond Preserve is a hidden 85-acre refuge for nature lovers, canoeists and kayakers. Opened to the public in 2015, the blackwater swamp property is the only bald cypress habitat in the Raleigh area, creating the unique experience of paddling through a forest-like setting. Now open seven days per week during the busy season (mid-May through early Aug.), the preserve's 1.15-mile loop paddling trail (marked by more than 70 buoys) is the main draw for canoeists and kayakers. On Saturdays from April-Oct., Paddle Creek, a private rental and guide company, has solo and tandem kayaks available for hourly rentals. A parking and launch area allows you to bring your own canoe or kayak as well for no fee.
Rental dates: A third party offers kayak rentals on Saturdays from April-Oct.
Fees: No fee if you bring your own gear; Paddle Creek fees may range from $20-25 per hour
Need to know: Come prepared—there are no restroom facilities or drinking water on site; the swamp is eight-12 feet deep so a life jacket is required; kayaking is the preferred method of recreation at this site, but stand-up paddleboarding is fine as well
One of the largest recreational facilities in the state, Falls Lake State Recreation Area is a collective of seven access areas scattered around the shoreline of an undeveloped, 12,000-acre reservoir. The Beaverdam access offers a sandy swim beach area, a network of more than 14 miles of mountain biking trails and a separate, quiet lake reserved for kayaks, canoes and stand-up paddleboards. Sandling Beach also offers a swim area plus boat launch for non-motorized boats.
Rental dates: No rentals available
Fees: A park entrance fee will apply during summer months (Memorial Day through Labor Day) plus on weekends—$6-7 per car 
Need to know: Plenty of picnic sites are offered with outdoor grills and tables, along with drinking water; restrooms and changing facilities are offered at Beaverdam and Sandling Beach
Holly Springs' Bass Lake Park provides a perfect opportunity for a serene paddle across the lake or chance to zip along in a (motorized) jon boat. Open seven days per week during the summer months, you can rent out canoes, rowboats and jon boats by the hour, half day or full day. Bass Lake is also known for its fishing—during the summer the lake is stocked with 1,500 pounds of catfish every month. You can borrow a rod and reel for free from the park concession stand, and bait is available to be purchased. 
Rental dates: Sat. and Sun., April, May, Sept. and Oct.; Daily, Memorial Day through Labor Day
Fees: $5-10 per hour
Need to know: Canoes are available only after 5pm on weekdays during the time period of mid-June through mid-Aug.; must be 16 years of age or older to rent; no personal boats allowed
Garner's 64-acre Lake Benson Park is home to some of the town's biggest annual events, including the Independence Day Celebration, as well as the Garner Veterans Memorial. Amenities include two miles of trails, several picnic shelters and two playgrounds. The boathouse rents out jon boats, kayaks and canoes.
Rental dates: Fri.-Sun., mid-March through Oct. (no Fri. service during July and Aug.)
Fees: $4-8 per hour
Need to know: The boathouse is located a quarter-mile down the road from the main park entrance; no private boats allowed
Cut into the southern side of beautiful North Carolina State University Centennial Campus and surrounded by a protected forest, Lake Raleigh offers a picturesque retreat from the hustle and bustle of everyday life for students, teachers, tech workers and others. Open to the public, this 75-acre lake features a fishing pier and boat ramp for non-motorized watercraft, such as kayaks and canoes. Nearby, a fun, nine-hole disc golf course begins at the small parking lot near the boat ramp, and one of the most striking pieces of architecture in Raleigh—James B. Hunt Jr. Library—is just a stones throw away.
Rental dates: No rentals available
Fees: No fees to launch your own non-motorized boat
Need to know: During business hours, you may be required to obtain a parking permit from the visitor center
Header photo by Chris Richman
 
Comments