The Biggest Events and Festivals of Fall in Raleigh, N.C.
Wednesday, August 24, 2022, 3pm by visitRaleigh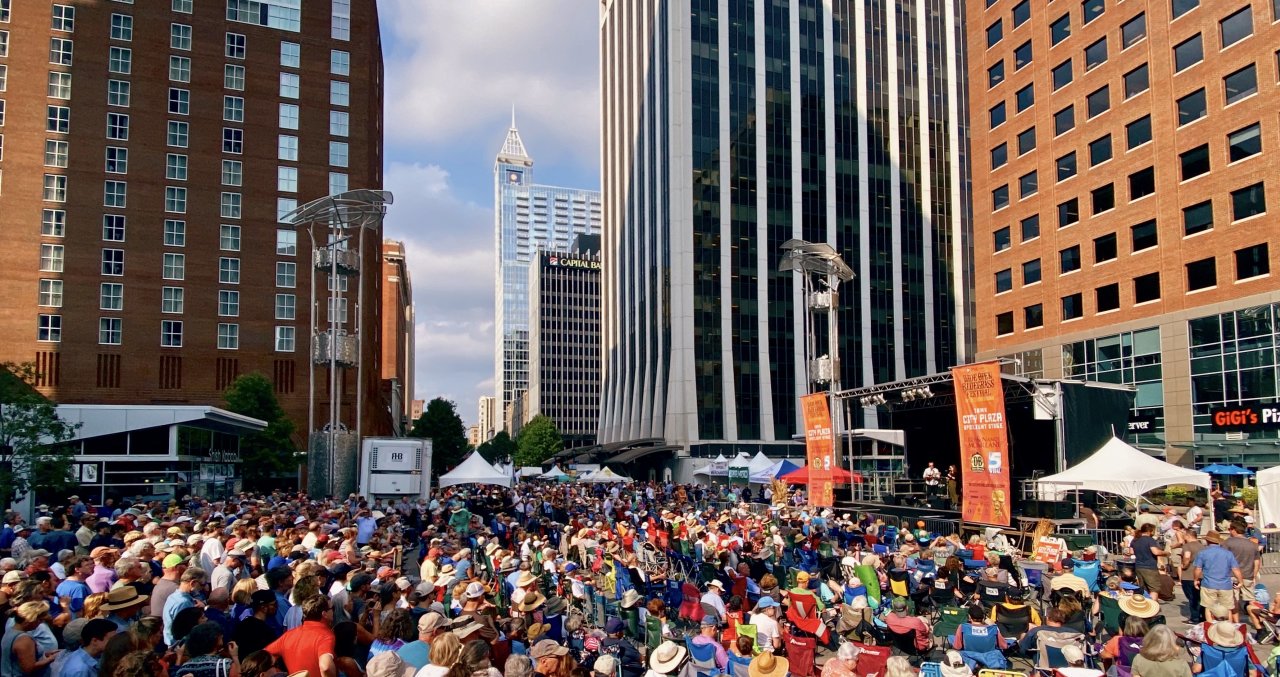 It's so long to summer, hello to fall! We'll miss these warm-weather months—baseball games, ice cream days, kayaking trips and such. But we're ready to embrace a new season and the new experiences that come with it in the Raleigh area—cultural festivals, major music events, food and beer gatherings, the return of the performing arts and (last but not least!) the N.C. State Fair!
Save these dates for the biggest and best events this fall in the City of Oaks!
 
Raleigh Little Theatre presents Pride and Prejudice
Sept. 16-Oct. 2
Bold, surprising, boisterous and timely, this Kate Hamill adaptation of the Jane Austen novel Pride and Prejudice explores the absurdities and thrills of finding your perfect (or imperfect) match in life. The outspoken Lizzy Bennet is determined to never marry, despite mounting pressure from society. But can she resist love, especially when that vaguely handsome, mildly amusing and impossibly aggravating Mr. Darcy keeps popping up at every turn?
BugFest at North Carolina Museum of Natural Sciences
Sept. 17
The largest bug-centered event of its kind in the country is back! The North Carolina Museum of Natural Sciences' BugFest educates and engages the public in science and the natural world. The 30,000 expected attendees will participate in more than 100 exhibits, crafts, games and activities while interacting with entomologists and other scientists to learn about myriapods, the group that includes millipedes and centipedes. How many legs do they really have? One species of millipede has 1,306!
A huge season of live music is ahead. Here's sampling of the best indoor and outdoor concerts:
Sept. 16-18 and Sept. 23-25
One of America's most spectacular gardens—a secret among some locals but a sanctuary to plant lovers around the world—is open to the public just eight weekends per year in Raleigh, N.C. Located 12 miles south of downtown Raleigh, Juniper Level Botanic Garden is a 28-acre campus showcasing more than 27,000 different kinds of native perennials, exotic plants, rare delights and unusual specimens of trees and shrubs not found many (or any) other places on earth. This "Eden of rare plants" draws gardeners, researchers and fans of beautiful plants from across the globe each year for select, free-admission open house dates.
7th Annual Asia Fest with Dragon Boat Racing
Sept. 17
Presented by Asian Focus at Koka Booth Amphitheatre, the 7th annual Asia Fest will be a celebration of Asian cultures with live stage performances, games for the kids, global street food vendors and much more (including the Raleigh area's only dragon boat race!).
La Fiesta del Pueblo
Sept. 18
Back for its 27th year, La Fiesta del Pueblo, a Hispanic cultural event held on Fayetteville St. in downtown Raleigh, draws nearly 20,000 attendees each year and showcases music, art, dance performances, educational booths, children's activities and food from different regions of Latin America, all in celebration of the diversity of Latin-American culture. The internationally famous and Grammy-nominated Grupo Mojado will headline the event!
Festa Italiana Raleigh
Sept. 24
Festa Italiana celebrates Italian culture and heritage in the Raleigh area, bringing together an expected 12,000 attendees for the fourth annual event in downtown Raleigh. A full day of Italian food, beer, wine, live music, kids activities and more are on the docket in Raleigh's Glenwood South district!
Downtown Raleigh Food Truck Rodeo
Sept. 25
Food trucks as far as you can see (literally!). The Downtown Raleigh Food Truck Rodeo brings more than 50 food trucks to the city center, spanning a half-mile and 11 city blocks and drawing thousands of hungry visitors to taste the best of the best from local trucks. It's one of the biggest rodeos in the country!
Farmers Fall Festival in downtown Cary
Sept. 24
Celebrate fall in the heart of downtown Cary! This event celebrates the harvest season when our farmers are bringing in their fall bounty during the first crisp days of fall. There will be live music on the main stage, a kids performance area, fun games and interactive exhibits, local food and craft beer, art and crafts and a mid-day pie-eating contest.
IBMA Bluegrass Live! powered by PNC
Sept. 30-Oct. 1
A 10th year of World of Bluegrass in Raleigh, N.C.? You better believe it!
The arrival of a toe-tappin', banjo-strummin' week of non-stop week of bluegrass in downtown Raleigh is one of the most anticipated times of the year. The International Bluegrass Music Association brings their business conference, along with the world's most talented bluegrass musicians, to Raleigh during this week. Those musicians then perform in clubs, on street corners and in hotel lobbies—anywhere they can find a jam session—during the week and during the IBMA Bluegrass Ramble.
Then the week is capped off with IBMA Bluegrass Live! powered by PNC, a two-day, free street festival that sets up multiple stages of free music, a dance tent, tons of art vendors and more. The ticketed Main Stage at Red Hat Amphitheater will feature Molly Tuttle and Golden Highway, The Jerry Douglass Band with special guests, Sierra Hull, The Infamous Stringdusters and more of the genre's biggest stars (a limited amount of free seating is available at Red Hat Amphitheater; reserved seating is also on sale now).
Triangle Oktoberfest
Sept. 30-Oct. 1
The eighth annual Triangle Oktoberfest at Koka Booth Amphitheatre in Cary is set to provide plenty of family-friendly activities including live music, storytelling, dancing and traditional Bavarian food and fare (plus local and authentic German beers on hand).
More Oktoberfest events in the Raleigh area: Oktoberfest at Raleigh Brewing Company (Sept. 11); Peaktoberfest at Southern Peak Brewery (Sept. 17); Oktoberfest at Gizmo Brew Works (Sept. 17); Sproktoberfest at Crank Arm Brewing (Sept. 18); Oktoberfest at Compass Rose Brewery (Sept. 23); Oktoberfest at Lonerider Brewing Company (Sept. 24); Oktoberfest at Fortnight Brewing Company (Sept. 24).
Oct. 1
A celebration of all things Fuquay-Varina (a fast-growing town just outside of Raleigh with beer, barbecue, shopping and more), Celebrate Fuquay-Varina provides live entertainment, craft beer, food trucks, a chili cook-off, art vendors, kids games and more for a day full of family fun.
94th Annual Wendell Harvest Festival
Oct. 1
A tradition dating back to 1927, the Wendell Harvest Festival features a parade, more than 100 craft vendors, a beer garden, games for kids and adults and live music from local-favorite The Brick House Band (fun for the entire family!).  
Oct. 8 through Jan. 22, 2023
A special, ticketed exhibition at the North Carolina Museum of Art, A Modern Vision will feature more than 50 paintings by iconic artists from The Phillips Collection's world-renowned holdings (Edgar Degas, Vincent van Gogh, Edouard Manet, Claude Monet, Pablo Picasso and more). The Phillip Collection opened in Washington, D.C., in 1921 as America's first modern art museum, and A Modern Vision showcases extraordinary paintings by titans of impressionism, postimpressionism, expressionism and cubism, carefully collected by founder Duncan Phillips.
Hum Sub Diwali
Oct. 8
Diwali is the most widely-celebrated religious and cultural event in India, and marks the victory of good over evil, light over dark and the beginning of the New Year. Each year Hum Sub Diwali includes music, dance, theater performances, a handicraft bazaar, Indian food vendors, sponsor booths, an exhibition of Indian art and culture, activities for children, demonstrations and so much more at Koka Booth Amphitheatre!
North Carolina Theatre presents Sister Act
Oct. 11-16
The divine disco diva, Deloris Van Cartier, makes her debut at North Carolina Theatre! After witnessing a murder, Deloris is put into protective custody in the one place the cops are sure she won't be found: a convent with a crumbling choir. The blockbuster movie is remade for the stage in a sparkling, feel-good comedy, featuring dazzling dance routines and songs inspired by Motown, gospel, soul and disco!
Fresh off of four straight appearances in the Stanley Cup Playoffs, the NHL's Carolina Hurricanes return to PNC Arena for a new year with high expectations. They'll open up a new season schedule with a home game against Columbus and will play an additional eight home games during the months of October and November:
Carolina Ballet presents Dracula
Oct. 13-30
Back by popular demand! In the spirit of all things spooky, Lynne Taylor-Corbett's Dracula returns to the stage just in time for Halloween. This program also includes Robert Weiss' scary evocation of Edgar Allan Poe's The Masque of the Red Death, and features J. Mark Scearce's (Macbeth) original scores for both ballets—played live featuring a chamber ensemble! Hauntingly theatrical and seductively beautiful, this program will have you on the edge of your seat.
N.C. Wine Festival
Oct. 15
For more than 20 years the N.C. Wine Festival has delivered local wineries, artisans, music, food and fun. This year's ticketed event—held at Koka Booth Amphitheatre—will provide more than 30 Tar Heel State wineries to sample from, plus have live music on hand from Chairmen of the Board, The Shakedown and the The Patrick Rock Band.
SAS Championship
Oct. 15-17
See some of golf's best at the SAS Championship, a PGA Tour Champions event, held annually at Prestonwood Country Club in Cary. The event is widely recognized as one of the most important events of the year, and also features a Pro-Am event, the ever-popular Food Truck Friday and a 5k Saturday race for the whole community to get involved. 
2022 N.C. State Fair
Oct. 13-23
The largest annual event in the state, the N.C. State Fair draws one million visitors through the gates each Oct. Eleven days of high-flying rides, deep-fried foods, live music, stunt shows and other entertainment (including nightly fireworks) has been a can't-miss event for generations of families—the 2022 version of the N.C. State Fair marks the 154th year of the event!
Oct. 15
A festival for autumn lovers at Dorothea Dix Park, Falling for Local will feature live music, local makers and vendors, craft beer, food trucks, games for kids, hay rides, free pumpkins and more for what's expected to be a big crowd on hand.
Theatre Raleigh presents Natasha, Pierre & the Great Comet of 1812
Oct. 26-Nov. 6
From the celebrated and award-winning composer Dave Malloy comes Natasha, Pierre & The Great Comet of 1812, an electropop opera based on a scandalous slice of Leo Tolstoy's War and Peace, performed by Lauren Kennedy Brady's Theatre Raleigh. Young and impulsive, Natasha Rostova arrives in Moscow to await the return of her fiancé from the front lines. When she falls under the spell of the roguish Anatole, it is up to Pierre, a family friend in the middle of an existential crisis, to pick up the pieces of her shattered reputation.
Opens Oct. 28
This major exhibit, coming to the North Carolina Museum of History this fall from the from the GRAMMY Museum® in Los Angeles, highlights the past, present and future of country music's greatest female trailblazers, from Dolly Parton, Rosanne Cash, Shania Twain and Taylor Swift, to contemporary Tar Heel State artists that include Rhiannon Giddens, Rissi Palmer and Kasey Tyndall. This empowering exhibition will be amplified with a special concert series, author series, family events and activities and much more (dates and events to be announced soon)!
Day of the Dead 5k
Oct. 29
A day for reflection and honoring the memories of loved ones, the Day of the Dead 5k—hosted by Centro and raising money for the Boys & Girls Club—expects hundreds of attendees to participate in the run, bike rides, altar offerings and live music.
Nov. 18 through Jan. 8, 2023
The beloved North Carolina Chinese Lantern Festival, now a holiday tradition for many Raleigh area residents and visitors alike, will return to Cary's Koka Booth Amphitheatre in November. This is the eighth year the event will light up the amphitheater for the holiday season—look forward to more than 20 new glowing displays, each including thousands of LED lights, plus nightly performances on the main stage and food and beverages on hand. Don't miss it!
27th Annual American Indian Heritage Celebration
Nov. 19
Musicians, dancers, artists, storytellers and authors from N.C.'s eight state-recognized tribes will gather at the North Carolina Museum of History for this popular family event. For all ages, the celebration is a firsthand opportunity to learn about the state's American Indian culture, past and present. Activities include craft demonstrations, hands-on activities, games, foods and much more.
Nov. 19 through Jan. 16, 2023
This downtown Raleigh holiday activity was a smashing success in 2021 and is back and better than ever for another year of action! Come enjoy the thrill of ice skating in a winter wonderland at Red Hat Amphitheater, where THE RINK features a natural ice skating rink with stunning views of the downtown Raleigh skyline, plus offers cozy fire pits, holiday decor, selfie stations, a snack bar and more.
Note that this is a ticketed event that includes skate rental, and it is recommended to purchase tickets in advance (tickets are for specific day and are limited).
78th Annual Raleigh Christmas Parade
Nov. 19
A Raleigh tradition for more than 75 years, the Raleigh Christmas Parade is the largest parade of its kind between Atlanta and Washington, D.C. The parade—filled with marching bands, dancers, classic cars, super heroes and more—marches through downtown Raleigh for two hours along a 1.4-mile route that draws a crowd of 60,000 spectators.
Comments