Things to Do in Downtown Wake Forest, N.C.
Wednesday, April 17, 2019, 4pm by visitRaleigh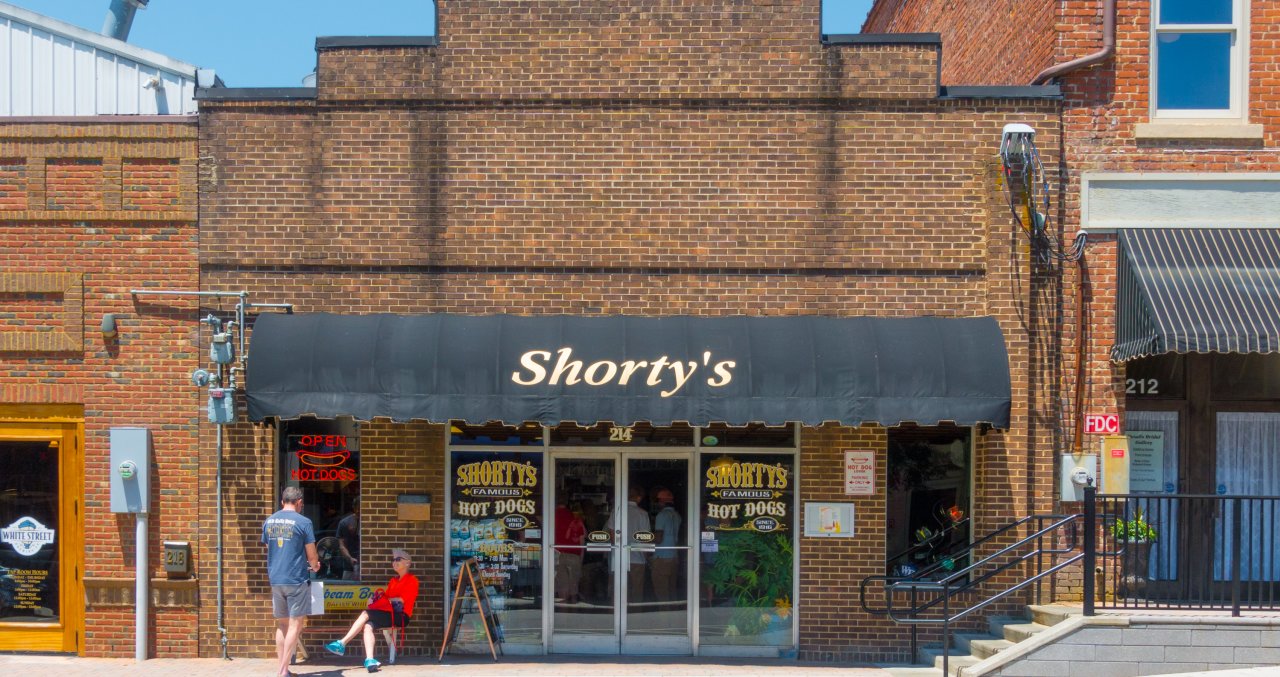 Located just north of Raleigh, Wake Forest is a beautiful small town with enough history, culture and activities to keep travelers entertained for days on end. Stroll through the historic downtown district, home to a charming community of art galleries, shops and restaurants and where a handful of awesome new businesses have popped up recently. Here are 10+ things you can't miss!
 
Shorty's (pictured in header) has been a go-to hangout spot for locals for more than 100 years. Originally started as a movie theater, founder H.E. Joyner began selling snacks—before building an expansion with pool tables and a full lunch counter—to stave off nearby competition. Today, the pool tables remain in a back room and a centuries worth of memorabilia packs the walls, but the main attraction is the doggone good hot dogs—you're likely to find a line out the door at lunch time that's filled with customers who have been eating here for decades. Still run by the same family that started it all (you'll find fourth-generation owner Chris Joyner behind the counter), the hot dog shop will turn 103 years old in June of 2019, making it the longest-running restaurant in the Raleigh area. More delicious restaurants downtown include Las Margaritas Mexican Restaurant (a staple that's been around more than 15 years), The Lemon Tree, The Burger Shop and Pizza Amore, plus even more options mentioned below.
Check out Sugar Magnolia Cafe & Emporium where you can get great coffee and food as well as shop for locally-produced art, jewelry and crafts from more than 35 artists and artisans. Plus, relax in the tea room (previously occupied by the Olde English Tea Room) and order up meal sets or a tea party from their menu. After shopping and dining, sit back and relax in their Magnolia Roots Music Lounge where musicians from around the world play—get tickets quick as a lot of recent shows have sold out!
Grabbing a beer at White Street Brewing Company is a must to complete your time in downtown Wake Forest. Owner and founder Dino Radosta stripped away the facade of a 1930s Wake Forest car dealership in order to uncover and restore the century-old structure's original character, resulting in a taproom and brewhouse with exposed brick and beams. Year-round, you can enjoy the Kölsch, a crisp and clean German ale that has nothing to hide, and the Hoptimist IPA, perfectly balanced with a bright tropical aroma, among other selections. After enjoying a pint or two, start up a game of darts or shuffleboard in the taproom. Hungry? Grab hot dogs and grub at Shorty's next door and take it into the taproom, or look out for food trucks on the brewery's event schedule. And speaking of events, kick back during downtown's April-Sept., monthly event, Friday Night on White, where S. White St. goes all out with live music, food trucks, activities and more.
Two excellent coffee houses reside in downtown Wake Forest—take your pick, or try both (morning and afternoon coffee, anyone?)! Owned by U.S. Barista Championship winners Lemuel Butler and Kyle Ramage, Black & White roasts new single origin coffees and beautiful, complex blends. Grab a coffee and also a bag to take home. Just a five-minute walk away is Wake Forest Coffee Company, where local art fills the walls of The Artists Loft and delicious baked goods are ready to be devoured.
The brainchild of chef Buck Buchanan, Lumpy's Ice Cream is based on a simple philosophy: keep it simple and keep it local. A chef by training and restaurateur by trade, Buck first made his ice cream as a treat for his kids. After seeing how much they loved it, he took a year off and studied the ins and outs of ice cream making. His first batches were only available via hand truck in downtown Raleigh but you can now find Lumpy's in downtown Wake Forest. Check out their extensive list of ice cream flavors, from classics like Kenny's Kickin Chocolate and Vernon's Very Vanilla to fun picks like Bennie's Bacon and Bourbon and Aunt Bee's Honey.
Shop Books, Comics and Vinyl
Find truly-unique (and totally-cool) entertainment to take home at these three shops in downtown Wake Forest: Page 158 Books, Play4Life Comics and The Record Krate! The locally-owned, independent bookstore Page 158 Books carries new and old titles with an extensive selection including all genres. A short walk away is Play4Life Comics, for even more reading—the store features more than 10,000 back issues, new comics weekly, vintage toys and more. For audio entertainment, head across the street from Play4LIfe to the new Record Krate. Also with locations in downtown Raleigh's Glenwood South district and Wendell, the local record store brand is a favorite for the area's wax collectors, with pre-owned and new vinyl plus great conversation.
Downtown Wake Forest's drinks scene is alive with multiple spots to grab beers, cocktails, spirits and wine with family and friends. New to the town, the tapas, wine and rum-focused Bodega offers all sorts of cocktails, from classics like the Rum Old Fashioned to unique cocktails including the Ship Down, with Mount Gay Black Barrel, fresh lime juice, passion fruit, agave, cilantro and cayenne. Don't pass up on the tapas menu—the restaurant's rustic, wine country cooking style is inspired by chef-owner Nunzio Scordo's travels internationally and uses local and imported artisanal ingredients.
For wine lovers, Unwined on White is a great spot to hit—part wine lounge, part yoga studio, Unwined is all about relaxing and taking a deep breath. Sip on handpicked wines (purchased by the glass) in a cozy space that includes a rooftop area for the warmer months.
Locals are loving the energy and atmosphere of neighborhood bar Tonic, featuring rotating taps of N.C. beers and bottled and domestic imports, seasonal and year-round cocktails plus expertly-selected wine by the glass and bottle. Trivia nights and a live music are a hit at this place, so you can expect a happening night out. Tip: Sign up for a membership before your trip for easy entry as the venue is a private club.
Held each Sat., the year-round Wake Forest Farmers Market is where local farmers and other vendors gather to offer everything from pasture-raised meats and seasonal produce, baked goods and local honey to fresh-cut flowers and crafts of all sorts. Everything at the market was produced within 75 miles of Wake Forest! To add to the fun, local musicians perform each Sat. Bonus: If you love the farmers' market, also look out for HerbFest each April (19-28 in 2019), an annual event that's celebrating 20 years in 2019 and features a variety of vendors appealing to those interested in gardening, home, cooking and a healthy lifestyle.
For the shopper's delight, enjoy browsing through this unique shopping destination located in a historic warehouse with more than 50 businesses under one roof. Find handcrafted items, local art, pottery and jewelry. Look out for the hundreds of name brand items across the store! 
Plan a trip around a performance, movie or concert at the Wake Forest Renaissance Centre for the Arts! Free movies are shown on the first Fri. of every month, and there are several concerts and musicals straight ahead. Check out the calendar, here.
More about Wake Forest
Comments