Things to Do in Raleigh, N.C.: June 2023
Wednesday, May 31, 2023, 12pm by visitRaleigh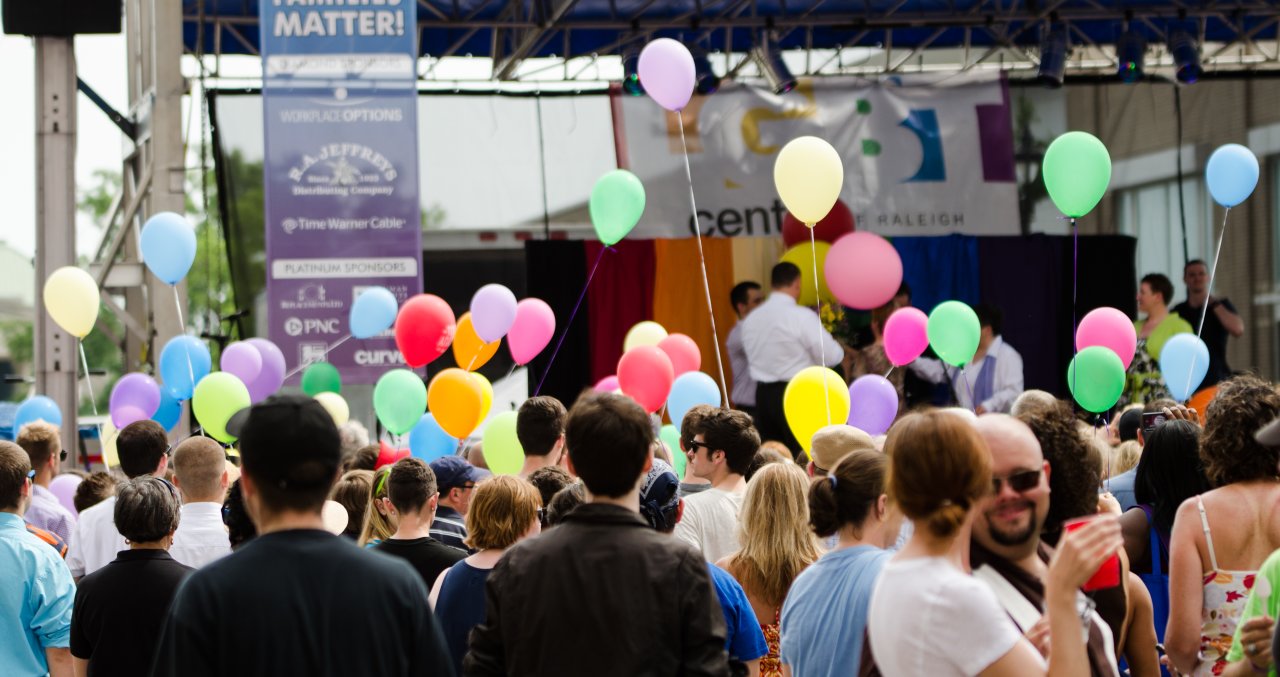 Every two weeks, we send out a newsletter that includes the best of the best upcoming events. If you sign up for our E-magazine, you'll get those, plus all the best new content (our favorite brunch spots, for example, or the details on a hidden kayaking gem just outside of Raleigh).
---
Hello, summer! June is an incredible time to visit the Raleigh area, with tons of opportunities to do, see and explore more in the City of Oaks than ever. Our best advice? Use these long days and warm weather to the fullest by getting outdoors and staying active! 
The Soccer Tournament
June 1-4
This novel event—a seven on seven, 32-team, World Cup-style, winner-take-all soccer tournament—arrives at Cary's WakeMed Soccer Park this month, bringing with it big stakes (a million dollars on the line) and star power (West Ham United, Club Necaxa, Clint Dempsey, Heather O'Reilly and the U.S. National Women, Ryan Reynolds' Wrexham Red Dragons and more will be in action!). 
Note: Very limited tickets are remaining!
UNC Health Championship
June 1-4
Part of the Korn Ferry Tour—the playing field where future golf stars compete to earn their PGA Tour cards—the inaugural UNC Health Championship presented by STITCH will tee off at the Raleigh Country Club. Tickets can be purchased here. 
June 2
Live performance art, music, 50-plus local vendors and the unveiling of a large-scale public art installation titled Rainbow River on Fayetteville St. in downtown Raleigh—don't miss it! 
Raleigh Little Theater presents Hands on a Hardbody
June 2-18
Directed by Brian Westbrook and based on the true events of the 1997 documentary of the same name, this hilarious production highlights 10 hard-luck Texans whose new lease on life is so close they can touch it. Under a scorching sun for days on end, armed with nothing but hope, humor and ambition, they'll fight to keep at least one hand on a brand-new truck in order to win it.
Mid-Town Square Spring Festival
June 3
Held at Bond Brothers Beer Company in Cary, this free-admission festival features food trucks, local artists, live music and, of course, Bond Brothers' award-winning brews (new releases and special casks included!). Kids and leashed dogs are welcome at the brewery, but heads up—this event will draw a big crowd!
Bubbles & Brisket
June 3
This second annual event, presented by the NC F&B Podcast, is a collaboration of chefs, pitmasters, winemakers and brewers pairing sparkling bubbles with a variety of cooking techniques and side dishes that feature everyone's favorite—brisket—from 10 Tar Heel State barbecue chefs.
Raleigh's International Food Festival
June 3
Celebrate Raleigh's diverse community and welcoming spirit by trying food, beer and wine (plus listen to live music and see more entertainment) from around the world. Nearly 20,000 attendees are expected in downtown Raleigh's City Plaza for the event.
Family Fun Fest at the North Carolina Museum of History
June 3
From crafts to trails, music to storytelling, a chance to kick off your summer with a trip through N.C. history and culture during an afternoon of hands-on fun at the North Carolina Museum of History's exhibit North Carolina from A to Z!
Run for Love 5k
June 3
This annual 5k race at Dorothea Dix Park is presented by local running store Runologie, benefitting the LGBT Center of Raleigh. Music, a drag show, popsicles, sweet finisher medals and an after-party at Trophy Brewery + Taproom? Count us in!
NCAA Division II Baseball Championship
June 3-10
In Cary, the USA Baseball National Training Complex—hosting the NCAA Division II Baseball Championship for the 13th time—will be home to a week of action on the diamond as eight teams compete in the double-elimination tournament to claim the ultimate prize. Tickets for the event are available here.
Triangle Restaurant Week
June 5-11
A week-long celebration of culinary excellence, Triangle Restaurant Week sees some of the area's best restaurants offer up special, three-course menu options at fixed pricing ($15 for lunch, and $20, $25 or $30 for dinner), a great opportunity for residents and visitors alike to return to an old favorite dining spot or discover a new one.
June 9
A favorite summertime event in charming downtown Wake Forest, Friday Night on White invites visitors to bring blankets, lawn chairs and their best dance moves out to White St. (the main avenue where White Street Brewing Company, Shorty's Famous Hot Dogs, Bodega and other favorites await). Beloved party band Love Tribe will take to the main stage from 6-9pm, and food trucks and a beer tent will keep event goers plenty happy.
Exhibition: Ruth E. Carter: Afrofuturism in Costume Design
Through Aug. 6
Creating pieces for films including "Black Panther," "Malcolm X," "Selma" and "Do the Right Thing," Academy Award-winning costume designer Ruth E. Carter has defined generations through her work in film and TV. In this critically acclaimed exhibition at the North Carolina Museum of Art, more than 60 of Carter's original garments are on display. Note that this is a ticketed exhibition, open Wednesday through Sunday; other galleries at the museum are free to visit.
Outdoor concert season is officially here! A taste of what's to come this summer in the City of Oaks: 
Dermot Kennedy, June 3
Subtronics, June 9
Noah Kahan, June 14
Pixies, June 16
Rebelution, June 17
Peter Frampton, June 24
At Coastal Credit Union Music Park at Walnut Creek:
At the North Carolina Museum of Art:
As part of the North Hills Beach Music Series at Coastal Credit Union Midtown Park:
Through Aug. 31
After touring over 100 cities in 24 countries and entering CNN's list of "Must-See" exhibitions, The Art of the Brick has finally arrived in Raleigh. This exhibit immerses the visitor in the world of Nathan Sawaya, the world's best known LEGO® artist, who has used more than a million bricks for this exhibition, creating more than 90 works of art that can make adults and children smile and reflect. The collection includes a great variety of sculptures alongside re-imagined versions of some of the world's most famous art masterpieces, such as Michelangelo's David, Van Gogh's Starry Night and Da Vinci's Mona Lisa.
At Five County Stadium in Zebulon—where the Carolina Mudcats have been a staple for more than 30 years—the 2023 Minor League Baseball season is now well underway. Be on the lookout for Taco Tuesdays, Thirsty Thursdays, Friday Night Fireworks and more promotions all season long! This month the Mudcats home schedule breaks down like this: 
June 9-25
Winner of three Tony Awards, Urinetown is a hilarious musical satire of the legal system, capitalism, social irresponsibility, populism, bureaucracy, corporate mismanagement, municipal politics and musical theatre itself! Hilariously funny and touchingly honest, Urinetown provides a fresh perspective on one of America's most significant art forms. Recommended for ages 13 and up.
Town of Cary's Pimento Cheese Festival
June 10
In downtown Cary, food trucks will line the streets to serve their regular menu, along with new dishes featuring a Southern delicacy: pimento cheese! Enjoy live music, grab a drink from local breweries and taste some of the best pimento cheese samples from local restaurants. Come hungry!
June 15-19
The third annual Capital City Juneteenth Celebration returns to Raleigh this year, with a number of events taking place over the holiday weekend across various venues. Some highlights:
More Juneteenth events in the Raleigh area:
Liberation Station Bookstore Grand Opening
June 17-19
North Carolina's first Black-owned children's bookstore is set to open in downtown Raleigh with three days of weekend festivities that coincide with Juneteenth celebrations featuring bestselling and award-winning Black children's book authors and illustrators, Black historians and even Black equestrians. The grand opening and ribbon cutting will take place on June 17 from 11am-3pm, located at 208 Fayetteville St., Ste. 201. Full schedule here.
June 17-Oct. 8
This ticketed exhibition at the North Carolina Museum of Natural Sciences will spin an immersive tale, revealing how this incredibly diverse group of animals has evolved and survived for 300 million years. Through augmented reality and video projection technology, guests of all ages will encounter more than 250 real and preserved specimens (from the Trinidad chevron tarantula to the Australian golden huntsman). Get closer than ever to some of the more than 48,000 known spider species in this amazing interactive experience!
N.C. Hops Fest
June 24
Sip, shop, dine and groove at the N.C. Hops Festival at the North Carolina State Fairgrounds. More than 100 local beers, ciders and seltzers will be on hand to sample, and live music, local makers and food trucks will help round out an event worthy of raising a glass to.
Out! Raleigh Pride
June 24
Out! Raleigh Pride is the area's annual, family-friendly street festival that celebrates the LGBT community and its allies! Organized each year by the LGBT Center of Raleigh, the festival's speakers, performers and vendors (and a Kids Zone) bring eight hours of fun and family to downtown Raleigh's Fayetteville Street district.
June 24
A dance party fit for a queen, hosted at The Ritz, featuring some of the Raleigh area's favorite entertainers (a perfect Out! Raleigh Pride afterparty!). 
Follow @raleighpridenc and @gag_raleigh on Instagram for more LGBTQ+ events in the Raleigh area this month and beyond.
A star-studded lineup of performers will take to the stage in Raleigh this month!
At Raleigh Improv: 
A new way to travel—discover a curated collection of tours, hands-on workshops and experiences led by local experts in the Raleigh area (the June calendar is filled with new events!).
What else is hot this month? See below for more events we're saving the date for! 
Holly Springs Salamanders baseball games, various dates
Apex Peakway 155, June 2
Flight Day at Dorothea Dix Park, June 3
Brew 'n' Choo, June 3
NC Summertime Beer Fest, June 3
Beer, Bacon & Bluegrass, June 4
Bruce Hornsby & The Noisemakers, June 6
Advance Auto Parts 160, June 9
Geek and Grub Market (Pride edition), June 10
Al Strong: Jazz is My Religion, June 10
The Raleigh Ringers Spring Concert, June 11
Ricardo Arjona, June 11
Sacred Soul & Bluegrass Revue, June 16
Chatham County Line, June 24
Comments