15 Things to Do Over Memorial Day Weekend in Raleigh, N.C.
Thursday, May 20, 2021, 5pm by visitRaleigh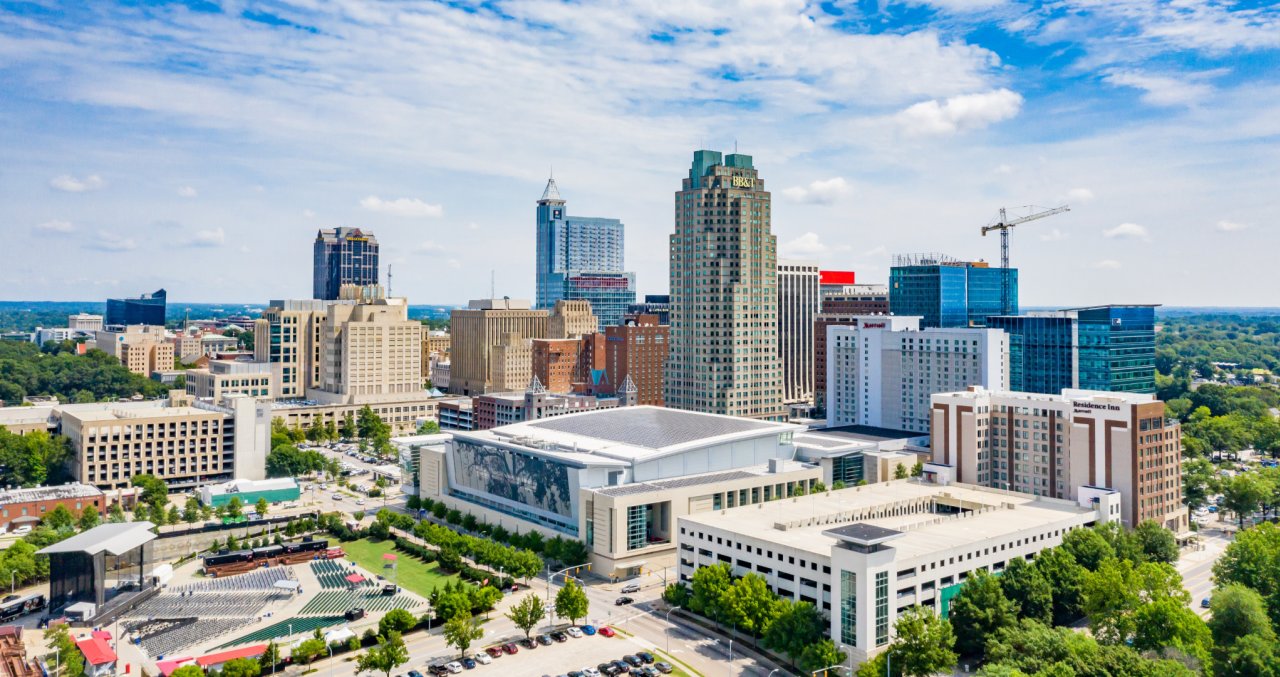 Summer is coming (and we have big plans!). But first, a glorious long weekend is straight ahead—baseball games, live music, good eats, museum exhibits, outdoor exploring and more are on the docket. Here's what's in store in the Raleigh area for Memorial Day weekend!
 
Who's ready for live music?! Venues big and small are working hard to fill their calendars for rest of the year, and a number of spots are ready to rock right now. Here's a sample of Memorial Day weekend music around Raleigh: 
Kooley High at Red Hat Amphitheater (5/27)
Jackson Michelson at Tin Roof Raleigh (5/27)
Matt Bennett Band at Tin Roof Raleigh (5/27 and 5/28)
Aaron Hamm and the Big River Band at Lincoln Theatre (5/28)
Signal Fire at The Pour House Music Hall (5/28)
Nick Hickman at Tin Roof Raleigh (5/29)
Cygnus X-2 at Lincoln Theatre (5/29)
Tab-One Vinyl Album Release at The Pour House Music Hall (5/29)
Chamber Music Concert: Zéphyros Winds at the North Carolina Museum of Art (5/30)
Triangle Wind Ensemble Presents: An American Celebration: Back in Action at Koka Booth Amhitheatre (5/30)
[Related: Red Hat Amphitheater's Amped Up music series has $5 shows scheduled for every Thurs. through July 1!]
Dedicated at Lake Benson Park in 2013, the Garner Veterans Memorial was designed to honor all veterans, especially those who died during conflict and war. The monument features rows of tall, engraved concrete slabs flanking the Walkway of Honor—a brick path engraved with the names of servicemen and servicewomen. Smaller, north-facing slabs bear the names of Garner-area residents. While there, visitors can also read a historical narrative about the wars and conflicts in which the U.S. has been involved, and a scannable QR code gives access to a audio tour created in 2020. The design and build was done by local architect Mon Peng Yueh and artist Thomas Sayre. 
Located near North Carolina State University, Lake Johnson Park is a popular spot for students and professionals to get some exercise—a paved, three-mile greenway loop, plus two miles of unpaved trails, draws lots of joggers and walkers (and dogs, too!). The most recognizable feature of the park is the 700-foot-long boardwalk that cuts directly across the center of the lake, often busy with people dangling fishing poles over the side or watching kayakers and pedal boats circle the 150-acre body of water.
After a year off due to the pandemic, the boathouse at Lake Johnson has reopened with rental availability, meaning you can rent kayaks and stand-up paddleboards from Wed.-Sun. each week (and holidays too, including Memorial Day).
You can also launch your own 'yak at Robertson Millpond Preserve, Lake Raleigh and Lake Crabtree County Park.
You'll never need an excuse to indulge in good barbecue in the City of Oaks, but a long holiday weekend practically demands it—luckily, there's plenty to go around. The just-opened Sam Jones BBQ is serving up old-school, whole hog Carolina 'cue in downtown Raleigh, and a more new-school grade of barbecue at Christopher Prieto's Prime Barbecue in Knightdale (opened in 2020) brings together the flavors of Texas, North Carolina and Kansas City in the best way possible. The two critically acclaimed spots have earned praise that pits both among America's best new 'cue joints (and the out-the-door lines at both restaurants prove it!).
Baseball, peanuts and Cracker Jack are back! COVID-19 canceled the entire 2020 season for Carolina Mudcats, but the minor league team—taking to the diamond in Zebulon for more than 30 years now—is finally back in action at Five County Stadium and they'll play six home games in a row from May 25-30. See you out there!
The sport of disc golf has surged in popularity in recent years for a variety of reasons, namely the fact that it's a great way to enjoy the outdoors at low (or no) cost. More players mean a need for more courses, and the Town of Cary opened a spectacular new course in fall of last year. Diavolo at New Hope Disc Golf Course is a 48-acre, 22-hole course designed by locals Jay Pontier and Mike Sink to be challenging enough to host professional-level competition (but also appeal to the masses).
It's fair to say the early reviews are quite positive—UDisc.com rated the course a 96/100 and named it the world's seventh-best course!
Cheer on one of the world's best women's soccer teams
Winners of the 2018 and 2019 NWSL (National Women's Soccer League) Championship, the North Carolina Courage are hungry for more—they'll play 15 home games at Sahlen's Stadium at WakeMed Soccer Park in Cary this season, including a battle against Racing Louisville on Fri., May 28.
One last chance (for the time being!) to catch an outdoor movie at Koka Booth Amphitheatre this spring. Star Wars: The Rise of Skywalker will show on the big screen on Fri., May 28. Pack a picnic or order food and drinks on site!
A much-awaited special exhibition at Raleigh's North Carolina Museum of Art, Golden Mummies of Egypt presents eight extraordinary mummies for public viewing and explores beliefs about the afterlife during the era when Egypt was part of the Greek and Roman worlds (circa 300 B.C.E.–200 C.E.). The practices of preservation and decoration of the body and the transformation of the deceased into a god are spectacularly shown by the mummies on display. 
This exhibition runs through July 11, 2021, and you can purchase tickets now.
[Related: Art in Bloom returns to the museum for two-weekends in June!]
At the 174-acre Historic Yates Mill County Park, more than 250 years of history waits to be explored. Yates Mill, placed on the National Register of Historic Places in 1974, was restored to working order through a grassroots community effort in 2005 and today stands as the area's last operating water-powered gristmill (note that guided tours of the mill—typically offered March-Nov.—are currently on hold due to COVID). The park also features approximately three miles of hiking trails, winding through hardwood forests and using footbridges and boardwalks to cross wetland areas.
Bring the family and tackle a hike, then head just a couple hundred yards up the road to Howling Cow Creamery, a North Carolina State University-owned farm that produces some of the area's best ice cream right on site.
Opening April 30, this free photography exhibit looks back at an era when tourism boomed in the Tar Heel State thanks largely to a state-run marketing effort called "Variety Vacationland." During the Great Depression of the 1930s, politicians and business leaders began efforts to boost the state's economy by lobbying for a unified campaign to showcase tourism attractions. This eventually led to a full-color tourist guide titled North Carolina, a Variety Vacationland, first printed in 1937. It was soon followed by billboards, postcards, movies, television programs and even a jingle! You'll find all of that—and more—in this nostalgic look back at the 1930s-70s in this exhibit.
One thing here to stay from 2020—more outdoor dining!
While restaurants in N.C. are now operating at full strength (after nearly a year at half-capacity), many have also adapted to add additional outdoor seating (to go along with enhanced takeout options). Last summer and fall, the Downtown Raleigh Alliance hosted a series of Dine Out Downtown nights, where streets were closed to car traffic and additional tables and chairs were brought in so visitors could eat outdoors—on sidewalks and in the streets—in a comfortable setting. That series is back this spring, with weekly events from April through June inviting diners to take to the streets.
The May 29 event will take place in historic City Market. You can also use this list of more than 60 restaurants patios to dine al fresco at any time. 
It's never a bad time to sneak in a 'treat yourself' retreat. In the Raleigh area, Southern charm meets your sweet escape (and relaxing days at the spa and outdoor adventures await!). Book your stay now at Cary's The Umstead Hotel and Spa, one of 12 properties in the world to earn triple Five-Star status from Forbes Travel Guide; The Mayton Inn, a 44-room independent boutique hotel in downtown Cary where no two rooms are alike; or The Longleaf Hotel, a revitalized downtown Raleigh hotel that opened in 2020 and retains the character of the 1960s-era motor lodge it once was.
The eagerly awaited Heights House Hotel, a renovated Italianate-style historic mansion in the Boylan Heights neighborhood in downtown Raleigh, also just opened up booking for its 10,000-square-foot, nine-room boutique property (and it's not a stretch to say this is one of America's most unique new hotels!).
Up for an adventure? The Mountains-to-Sea Trail (MST)—known as "N.C.'s hiking trail"—stretches more than 1,000 miles from the Great Smoky Mountains to the Outer Banks, cutting through North Raleigh near Falls Lake and the Neuse River Greenway Trail along the way. Two recommended ways to get a short taste of the trail—where the terrain is easy to tackle and provides plenty of unique plant and wildlife—are to start at either Blue Jay Point County Park or Wilkerson Nature Preserve, where you'll connect to the MST by spotting and following the white dots on tree trunks. Headed east from Wilkerson Nature Preserve to the Falls Lake Dam Visitor's Center is three miles, making the out-and-back route one of the area's best short hikes.
One of Raleigh, N.C.'s longest-standing and unique neighborhoods, Historic Oakwood—on the edge of downtown Raleigh—is a 19th-century gem, full of tree-lined streets, incredible architecture and homes with tons of character. A visit for a walking or driving tour—especially in the spring or fall—is on our annual must-do list. It helps, too, that a few favorite eating and drinking spots are just a block or two away—Oakwood Pizza Box, Crawford and Son, Jolie, Standard Beer + Food and Two Roosters Ice Cream are enough to keep anyone happy for a full weekend (or much longer!).
Header photo courtesy of VisitNC.com
Comments