15 Things to Do Over Memorial Day Weekend in Raleigh, N.C.
Wednesday, May 18, 2022, 9am by visitRaleigh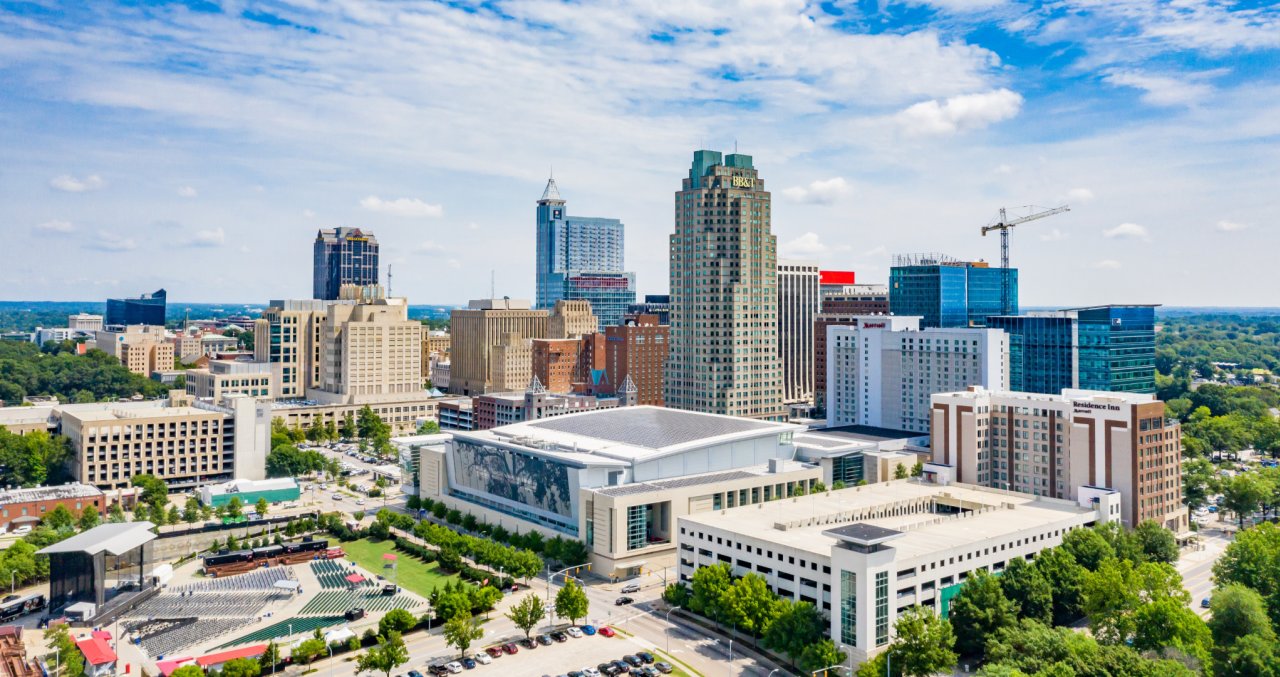 Summer is coming (and we have big plans!). But first, a glorious long weekend is straight ahead—baseball games, good eats, museum exhibits, outdoor exploring and more are on the docket. Here's what's in store in the Raleigh area for Memorial Day weekend!
 
Dedicated at Lake Benson Park in 2013, the Garner Veterans Memorial was designed to honor all veterans, especially those who died during conflict and war. The monument features rows of tall, engraved concrete slabs flanking the Walkway of Honor—a brick path engraved with the names of servicemen and servicewomen. Smaller, north-facing slabs bear the names of Garner-area residents. While there, visitors can also read a historical narrative about the wars and conflicts in which the U.S. has been involved, and a scannable QR code gives access to a audio tour created in 2020. The design and build was done by local architect Mon Peng Yueh and artist Thomas Sayre. 
A Memorial Day Observance event will take place at the Garner Veterans Memorial on Mon., May 30, at 9:30am, with guided tours taking place before and after the event.
Also recommended: Memorial Day Remembrance will take place at Veterans Freedom Park in Cary on Mon., May 30, at 2:30pm.
Visit breweries, earn rewards! Download and print your Raleigh Beer Trail Passport, then trek your way to more than 30 local breweries across the Raleigh area—collect 15 or more stamps along the way and you'll have earned a stainless steel bottle opener, a Raleigh Beer Trail pint glass hugger and a limited edition T-shirt! 
Located just east of Raleigh in the town of Wendell, Robertson Millpond Preserve is a hidden 85-acre refuge for nature lovers, canoeists and kayakers. Opened to the public in 2015, the blackwater swamp property is the only bald cypress habitat in the Raleigh area, creating the unique experience of paddling through a forest-like setting. Now open seven days per week during the busy season (mid-May through early Aug.), the preserve's 1.15-mile loop paddling trail (marked by more than 70 buoys) is the main draw for canoeists and kayakers. On Saturdays from April-Oct., Tar River Life, a private rental and guide company, has kayaks available for hourly rentals. A parking and launch area allows you to bring your own canoe or kayak as well for no fee.
Also recommended: Fred G. Bond Metro Park and Boathouse has pedal boats, kayaks, canoes, row boats and sunfish sailboats available on a first-come, first-served basis in Cary. 
Looking for big entertainment? Drive Shack—the interactive golf complex that caters to big groups—opened in 2019 in Raleigh. The three-story complex includes 96 climate-controlled golf bays, a full-service restaurant, a rooftop bar, more than 300 televisions, an arcade area, meeting rooms and more. 
The 260-yard-long driving range combines physical targets to aim for with augmented reality and virtual games. The range utilizes TrackMan technology, pinpointing the flight of your golf ball and allowing you to virtually play real-world championship golf courses or go head-to-head against friends to collect points for hitting physical targets (games are tracked and scored on television screens inside your bay).
Go big on desserts at NC Sugar Rush
One of the sweetest events of the year, NC Sugar Rush is an all-dessert food truck rodeo held in downtown Raleigh's City Plaza. More than 20 vendors—offering a range of goodies from cotton candy to cupcakes to cherry pies—will be on hand, along with face painters, balloon artists and more to keep the kids entertained. The event will take place Sun., May 29, from 1-5pm. 
You'll never need an excuse to indulge in good barbecue in the City of Oaks, but a long holiday weekend practically demands it—luckily, there's plenty to go around. The recently opened Sam Jones BBQ is serving up old-school, whole hog Carolina 'cue in downtown Raleigh, and a more new-school grade of barbecue at Christopher Prieto's Prime Barbecue in Knightdale (opened in 2020) brings together the flavors of Texas, North Carolina and Kansas City in the best way possible. The two critically acclaimed spots have earned praise that pits both among America's best new 'cue joints (and the out-the-door lines at both restaurants prove it!).
Are you ready to root, root, root for the home team? The Carolina Mudcats—taking to the diamond in Zebulon for more than 30 years now—are back in action at Five County Stadium, and they'll play six home games in a row from May 24-29. Don't miss out on Friday Night Fireworks!
The sport of disc golf has surged in popularity in recent years for a variety of reasons, namely the fact that it's a great way to enjoy the outdoors at low (or no) cost. More players mean a need for more courses, and the Town of Cary opened a spectacular new course in fall of last year. Diavolo at New Hope Disc Golf Course is a 48-acre, 22-hole course designed by locals Jay Pontier and Mike Sink to be challenging enough to host professional-level competition (but also appeal to the masses).
It's fair to say the early reviews are quite positive—UDisc.com rated the course a 96/100 and named it the world's seventh-best course!
Discover bizarre creatures at Life Before Dinosaurs: The Permian Monsters
Life Before Dinosaurs: The Permian Monsters is the newest special exhibition at the North Carolina Museum of Natural Sciences! Step back in time 290 million years to the age before dinosaurs with vivid artwork, fascinating fossils and life-sized models of the bizarre creatures—sail backs, saw jaws, boomerang heads and more—that dominated life on land and sea before the most devastating mass extinction the world has ever known.
This exhibition is open Tues.-Sun., 9am-5pm, and runs through Sept. 4, 2022. You can purchase tickets online or at the museum.
At the 174-acre Historic Yates Mill County Park, more than 250 years of history waits to be explored. Yates Mill, placed on the National Register of Historic Places in 1974, was restored to working order through a grassroots community effort in 2005 and today stands as the area's last operating water-powered gristmill (half-hour tours of the mill take place on Saturdays at 1pm, 1:45pm and 2:30pm). The park also features approximately three miles of hiking trails, winding through hardwood forests and using footbridges and boardwalks to cross wetland areas.
Bring the family and tackle a hike, then head just a couple hundred yards up the road to Howling Cow Creamery, a North Carolina State University-owned farm that produces some of the area's best ice cream right on site.
This free photography exhibit looks back at an era when tourism boomed in the Tar Heel State thanks largely to a state-run marketing effort called "Variety Vacationland." During the Great Depression of the 1930s, politicians and business leaders began efforts to boost the state's economy by lobbying for a unified campaign to showcase tourism attractions. This eventually led to a full-color tourist guide titled North Carolina, a Variety Vacationland, first printed in 1937. It was soon followed by billboards, postcards, movies, television programs and even a jingle! You'll find all of that—and more—in this nostalgic look back at the 1930s-70s in this exhibit.
It's never a bad time to sneak in a 'treat yourself' retreat. In the Raleigh area, Southern charm meets your sweet escape (and relaxing days at the spa and outdoor adventures await!). Book your stay now at Cary's The Umstead Hotel and Spa, one of 12 properties in the world to earn triple Five-Star status from Forbes Travel Guide; The Mayton, a 44-room independent boutique hotel in downtown Cary where no two rooms are alike; or The Longleaf Hotel, a revitalized downtown Raleigh hotel that opened in 2020 and retains the character of the 1960s-era motor lodge it once was.
Rooms may already be sold out for Memorial Day weekend at Heights House Hotel, a renovated Italianate-style historic mansion in the Boylan Heights neighborhood in downtown Raleigh, but keep this 10,000-square-foot, nine-room boutique property in mind for future stays—it was recently named one of the world's best new hotels!
Join in on the fun at Animazement
At Animazement, a three-day Japanese animation and culture celebration that draws 15,000 attendees to the Raleigh Convention Center, the entertainment options are endless (arts events, game rooms, panel discussions, celebrity meet-and-greets and more). Of course cosplay is a huge draw: guests are encouraged to dress up as their favorite characters simply for fun, or to participate in contests showcasing their talents!
Up for an adventure? The Mountains-to-Sea Trail (MST)—known as "N.C.'s hiking trail"—stretches more than 1,000 miles from the Great Smoky Mountains to the Outer Banks, cutting through North Raleigh near Falls Lake and the Neuse River Greenway Trail along the way. Two recommended ways to get a short taste of the trail—where the terrain is easy to tackle and provides plenty of unique plant and wildlife—are to start at either Blue Jay Point County Park or Wilkerson Nature Preserve, where you'll connect to the MST by spotting and following the white dots on tree trunks. Headed east from Wilkerson Nature Preserve to the Falls Lake Dam Visitor's Center is three miles, making the out-and-back route one of the area's best short hikes.
One of Raleigh, N.C.'s longest-standing and unique neighborhoods, Historic Oakwood—on the edge of downtown Raleigh—is a 19th-century gem, full of tree-lined streets, incredible architecture and homes with tons of character. A visit for a walking or driving tour—especially in the spring or fall—is on our annual must-do list. It helps, too, that a few favorite eating and drinking spots are just a block or two away—Oakwood Pizza Box, Crawford and Son, Jolie, Standard Beer + Food and Two Roosters Ice Cream are enough to keep anyone happy for a full weekend (or much longer!).
Alyssa Edwards - Life, Love and Lashes Tour, May 27
Bring Out Yer Dead at Lincoln Theatre, May 27
Tony Baker at Raleigh Improv, May 27-29
Exhibition: Fault Lines: Art and the Environment, through July 17
Van Gogh: The Immersive Experience, through June 13
New Hope Valley Railway - Brew 'n Choo, May 28
Explore Dix Park: Birdwatching, May 28
Cary Ballet Company presents Serenade and Bonjour Le Monde, May 29
Herbie Hancock at the North Carolina Museum of Art, May 29
Moore Square Market, May 29
Header photo courtesy of VisitNC.com
Comments