Where to Find the Best Burgers in Raleigh, N.C.
Tuesday, February 18, 2020, 2pm by Tabletop Media Group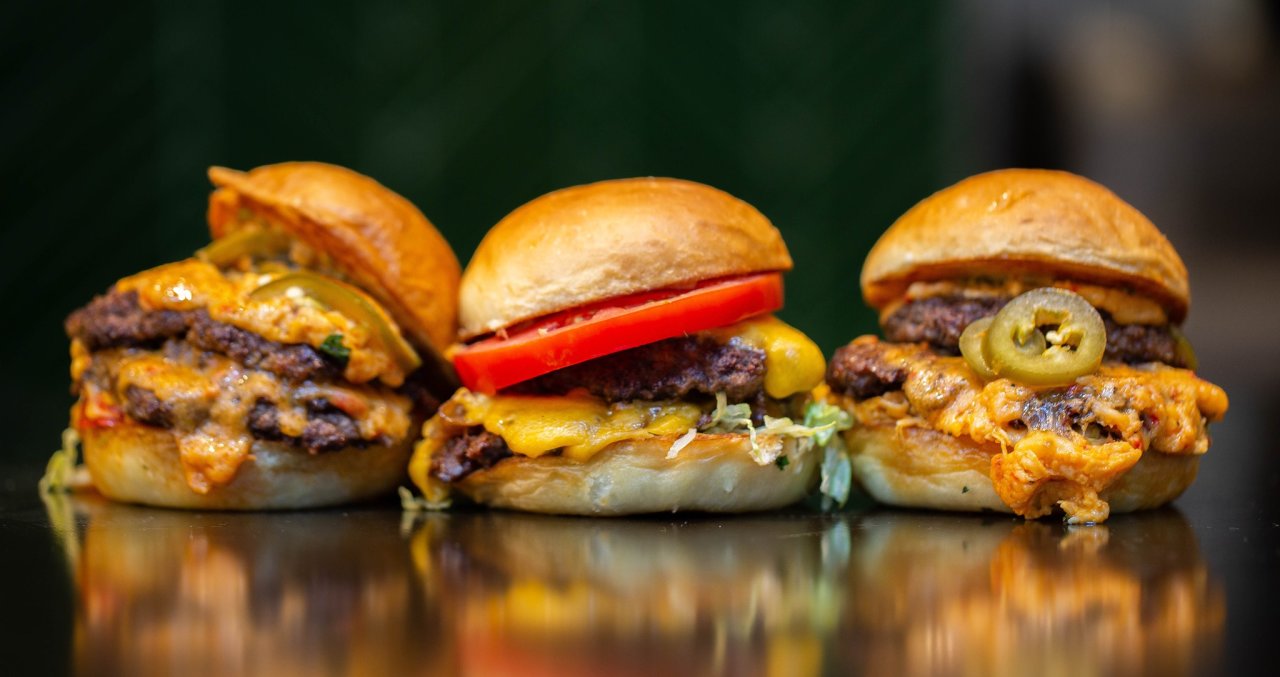 For late-night eats and chow-down feasts, sometimes you just need a really good burger. Below are some of the best of the best in the Raleigh area. Let's dig in!
 
One of Transfer Co. Food Hall's tastiest tenants, Mama Crow's specializes in quality, certified Angus beef chuck burgers that are ground daily and topped with a variety of delectable ingredients, including beef chili, house pickles and Mama's mustard sauce for the Chili Burger, and cheese curds, griddled mushrooms and goat cheese for the Patty Smash. Additionally, whether you're a meat eater or a non-meat eater, the vegan Superfree Burger, made out of sweet potatoes, roasted mushrooms, walnuts and seeds, is a huge hit. A bonus: Mama Crow's also sources the majority of their ingredients from local farms.
Since 2002, Glenwood South's MoJoe's has prided themselves in offering (arguably) the best burgers in Raleigh, and for good reason. The menu is nothing short of tempting, with signature burgers that range from The Bleu's—a MoJoe's mainstay topped with blue cheese crumbles and crispy bacon—to the spicy Inferno made with a Cajun-spiced patty and topped with grilled jalapeños, onions and pepper jack cheese. Open until 1am seven days a week, these burgers pair particularly well with a local beer or milkshake on the side.
The Royale Burger is a Raleigh icon. The classy French-American bistro takes a juicy beef patty and tops it with melted Gruyère and a delectable au poivre aioli, then serves it in a toasted Michael's English Muffin (a locally-made eat with a following of its own), delivering a perfect burger bite that you can't find elsewhere.
Chuck's
It's hard to choose between Ashley Christensen's beloved fried chicken at Beasley's and the gourmet burgers served next door at Chuck's, but there's truly no substitute when a burger craving strikes. Signature offerings at Chuck's include The High And The Valley, with crushed avocado, bacon-onion jam and blistered red peppers, and The Dirty South (Carolina) with smoked pork chili, tobacco onions, roasted tomato slaw, cheddar and mustard. Adding an order of fried pickle chips and a decadent milkshake is practically mandatory!
Every Monday, Chef Sean Fowler whips up a special house-ground burger that comes in any number of gourmet flavor combinations. One Monday you might get one topped with mac and cheese, another Monday one with french fried onions and blue cheese and another Monday one with a heaping portion of mouthwatering pimento cheese. Not just delicious, it's a good deal—Monday burgers are on special for just $9 (available for $15 other nights of the week!).
A Raleigh favorite for its cozy indoor/outdoor space, complete with a greenery-filled heated patio that elicits summer vibes even in the heart of winter, The Station is a classic spot for a classic burger—a dependable combination of two patties, lettuce, tomato, onion and American cheese. For the vegetarians, a black bean burger delivers a zesty punch of flavor with a smooth spread of lime sour cream.
Given that The Players' Retreat (or PR, as the locals call it) has been in operation for 69 years, it's safe to assume they know how to make a really good burger. PR's loyal regulars would agree, especially if you're talking about the Wolfpack Burger—an ode to North Carolina State University, located just across the street—prepared with a certified black Angus beef burger, slaw, mustard and chili. Just make sure you order extra napkins!
Not quite a hole-in-the-wall but certainly a hidden gem in Cary, Corbett's can be easy to miss but certainly easy to love. A classic burger joint and soda shop with more than 250 glass-bottled sodas available, one burger fave is the Hot Dog Burger, topped with—you guessed it—a hot dog, along with chili, American cheese, mayo, lettuce, tomato and grilled onions. The BBQ Soda Burger is true to its name, served with cheddar cheese, lettuce, tomato, hickory smoked bacon and a unique (and very addictive) A&W root beer BBQ sauce.
Opened by Jonathan and Maggie Pierce in 2015, this wildly-popular duo of Southern-inspired restaurants (one in Holly Springs, one in Fuquay-Varina, plus a standalone lager-focused brewery) offers a bevy of burger options fit for the entire family. The namesake TMJT Burger comes with bacon jam, blue cheese and caramelized onions, the Hangover Burger features a bloody Mary mayo and fried egg and the Pimento Cheeseburger goes all in with a fried green tomato, bacon and fresh jalapeños (in addition to the slathering of pimento itself). For dessert, the S'more in a Jar is always a crowd-pleaser!
An all-day breakfast diner opened by the late Barry Doyle in 1992, Barry's Cafe has earned a loyal customer base—and grown from 50 seats to 130—by treating visitors like family. It's said that Doyle, who also founded the non-profit foundation Feed the Firefighters, knew the names of more than 3,500 customers. Today, Barry's Cafe serves all the traditional breakfast items you could ever ask for, but also offers up "Barry's famous burgers" at lunchtime—all-beef patties freshly grilled and served with choice of cheese, lettuce, tomato and onion. The 3.5-ounce Baby Burger with a side of fries is one of the quickest, tastiest and friendliest lunches in town.
A Raleigh institution, Char-Grill is the destination for late-night burgers and fries. Since 1959 the establishment has been serving patties cooked over chargrill flames, producing a crispy exterior enveloping an otherwise perfectly-moist hamburger. The drive-in style restaurant, which now has 10 locations in and around the Raleigh area, is a local favorite for good reason.
Although Capital Club 16 is best known for their German-inspired cuisine, you definitely shouldn't sleep on the burger—made from a flavorful mixture of in-house ground brisket, chuck and sirloin. On Wednesdays, Capital Club serves up a $5 specialty burger that's always topped with something new and never disappoints. Past features include a "Crispy Curry Burger" with curry ketchup, crispy sweet potatoes and balsamic red onions, and a four-cheese burger with horseradish sauce, smoked paprika braised shallots and caramelized onion aioli.
At Cow Bar inside of Morgan Street Food Hall, chef Dan Yeager uses his culinary expertise to take an ordinary burger and turn it into a mouthwatering masterpiece. If your bite is large enough, spring for the quad stack, a mile-high pièce de résistance overflowing with gooey melted cheese, or opt for the healthier vegetarian burger made of curry infused kidney beans and grilled zucchini and topped with fire roasted red peppers, red onions and avocado.
Nothing beats a sunny day on Whiskey Kitchen's patio with a tasty burger in one hand and a cold beverage in the other. The popular bar-restaurant offers two one-of-a-kind burger creations: a lamb burger with sheep's cheese, tomato, Vesta aioli, basil and mint, and also a pork burger with farm cheese, whole grain mustard, apple butter and arugula.
Food and beer events in 2020 in Raleigh, N.C.
North Carolina 'Cuegrass Festival, April 18
French Market & Seafood Festival, April 18
Brewgaloo, April 24-25
Thrive NC, May 7-8
Got to Be NC Festival, May 15-17
Raleigh's 5th Annual International Food Festival, June 6
Town of Cary's Pimento Cheese Festival, June 6
Downtown Raleigh Food Truck Rodeo, June 14
Peak City Pig Fest, June 19-20
Cary Downtown Chowdown, July 12
Beer, Bourbon & BBQ Festival, Aug. 7-8
Beericana Craft Beer and Music Festival, Oct. 10
2020 N.C. State Fair, Oct. 15-25
Comments