Organic Reach Helps Us All
Friday, December 04, 2020, 3pm by visitRaleigh
You may already know that GRCVB was the recipient, through Wake County, of $1.25 million in CARES Act funding, designated specifically for post-COVID tourism-related recovery through Dec. 30, 2020.

We have been completely transparent in how the Bureau has put CARES Act money to work, in presentations to our board, our partners and here in Tourism Talk blog posts. The funds were allocated into four categories: Visitor Information Center enhancements, virtual industry tradeshows, virtual tour photography/aerial video production and paid advertising/promotions. We have published Tourism Talk posts this fall about the ongoing progress of these projects.

And as it relates to advertising and as we have said before, this is the most significant, concentrated campaign GRCVB has ever taken on. In fact, you might have seen one or more of the "Wish You Were Here" (WYWH) ads or video spots go by on your social media feeds or on other websites.

The number of impressions with our destination's customers from all of that WYWH creative messaging has been very high, generating broad awareness of Raleigh's reopening, but that's because we were able to support the customer/client reach through paid placements. Of course, that will end this month.

That's where we need your help and we want to help you, too.
From Dec. 31, 2020, on, at least for awhile, we will be relying on organic reach for our new website content, social media posts, news releases and other safe-travel reminders in support of area business/venue sales and bookings. That means, we can publish on our existing channels and reach our already-engaged audiences. However, the effectiveness of those communications and public relations outreach can be more successful if area partners, economic development allies and followers share our content with their networks.

"We always see partners sharing our posts and website content and we're extremely grateful for that," said Derek Allman, CHIA, GRCVB's senior marketing manager. "Every single share and every single engagement matters, in any year. And in 2021, sharing of our content will matter more than ever.

"Since we'll be completely relying on nonpaid promotions awhile, we're looking for ways to keep up visitor demand in this critical time of need for Wake County hospitality industries. Content sharing is a low-hanging-fruit tactic to inspire visitors to plan a trip and bring new money into the county."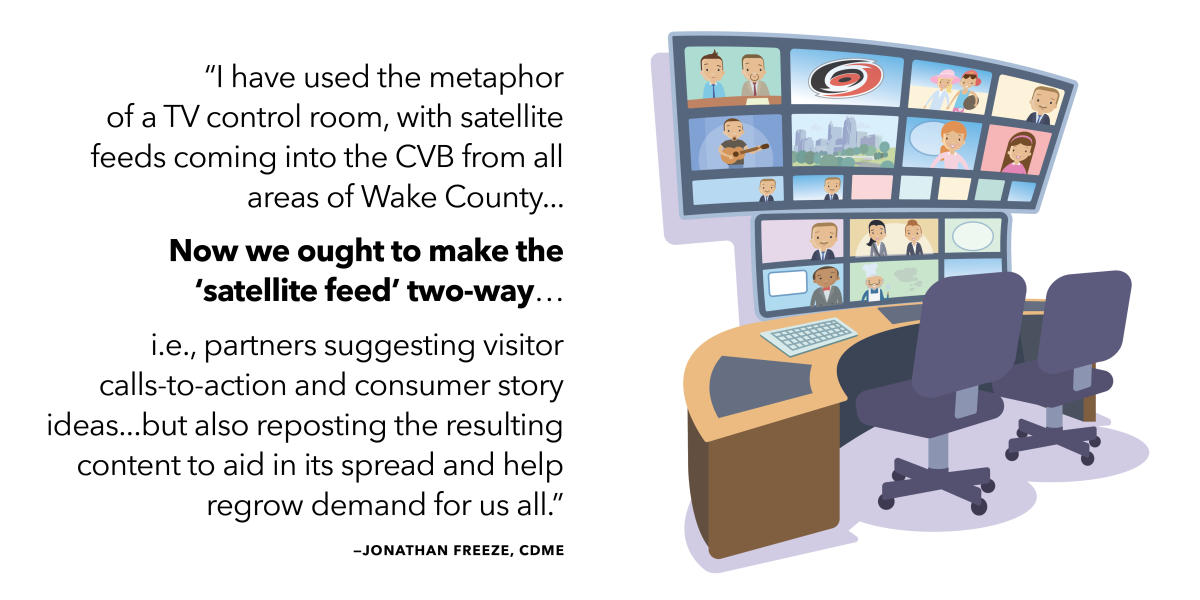 Jonathan Freeze, CDME, director of marketing and communications, describes it this way—"I have used the metaphor of a TV control room before, with satellite feeds coming into the CVB's control-panel operators from all areas of Wake County, for our consideration in repackaging and then beaming out the stories of visiting Raleigh to the rest of the country and world (the latter being on our dime historically); now we ought to make the 'satellite feed' two-way… i.e., partners should keep suggesting to us visitor calls-to-action and consumer story ideas to repackage but also can repost the resulting content related to them/their town to aid in its spread and help regrow demand for us all."
"Sharing the words, photos and videos that come from visitRaleigh.com and our @visitRaleigh social media accounts doesn't just help us build a bigger, stronger audience for GRCVB—it acts as a megaphone for the entire hospitality sector in Wake County," said Michael Robson, GRCVB's content marketing manager. "It also sends a message loud and clear for everyone to see that you support your fellow industry peers—restaurant, hotel, retail workers and more—and that you'll warmly welcome out-of-town guests in your place of business with a dose of Southern hospitality that our area is known for."

If you are not already following visitRaleigh-brand social media channels with their coverage of the whole destination as geared to our mutual customers/visitors, the links are here:

•  facebook.com/visitRaleigh
•  twitter.com/visitRaleigh
•  instagram.com/visitRaleigh
Likewise the Bureau maintains business-to-business social media channels with posts ripe for sharing with potential meetings or sports event clients:
•  twitter.com/meetingsRaleigh
•  twitter.com/raleighncsports
•  instagram.com/raleighncsports

If you see your business/organization, district or town mentioned in any of our articles, marketing emails, news releases or social media posts, please share with outside clients or friends, to support tourism recovery countywide and in your own neck of the woods.
-------
Header image/Freepik

Author: visitRaleigh
The Greater Raleigh Convention and Visitors Bureau (GRCVB) is the official and accredited destination marketing organization (DMO) for all of Wake County.
Comments