Raleigh, N.C., Gets Ready for LEAD®
Friday, May 20, 2022, 9am by visitRaleigh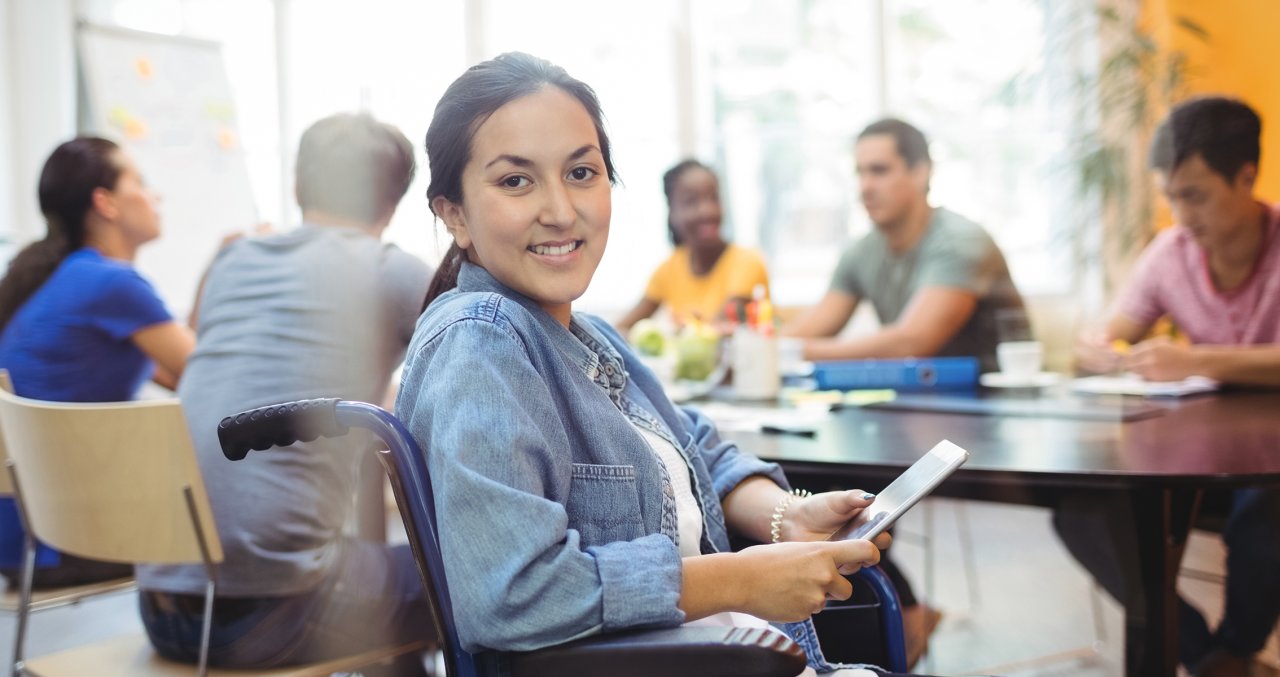 It doesn't seem possible, but it was two-and-a-half years ago that GRCVB hosted its first accessibility training event for area business partners and stakeholders, All Access Wake County. We told you then that the All Access initiative was an important one for the destination, and at that time, we issued a call to all Wake County hospitality partners to go above and beyond what the ADA requires to provide stellar customer service to visitors with disabilities.

Shortly after that event, the world was turned upside down due to COVID-19, and many of our plans were put on pause until the world righted itself again.

But now All Access is back and in a big way. Raleigh, N.C., will be privileged to host The Kennedy Center's Leadership Exchange in Arts and Disability (LEAD®) conference at the Raleigh Convention Center, Aug. 1-5, 2022. 

Raleigh Arts is spearheading local preparation for the conference, and S.A. Corrin, arts grant director at Raleigh Arts, is leading the charge.

"Raleigh's arts and cultural community has worked hard and made significant strides in welcoming people with disabilities to their events and programs," said S.A. "Raleigh Arts has been pleased to partner with The Kennedy Center to bring the LEAD® Conference to our area. It creates an opportunity for arts and cultural groups, as well as the city and county as a whole, to show off their good work to peers from across the country. And it creates the opportunity for all of us to do better by learning even more about inclusively designed arts programming and events."
The LEAD® Conference typically draws some 400-500 arts and cultural professionals from across the country, as well as other parts of the world. Regular attendees include iconic institutions like The Metropolitan Museum of Art, Smithsonian American Art Museum, Alvin Ailey Dance Foundation, Boston Symphony Orchestra, Denver Center for the Performing Arts, Chicago's Steppenwolf Theatre and Shedd Aquarium and many more. 

Because this conference focuses on expanding the breadth and scope of accessible arts and cultural programming, a good number of attendees have disabilities themselves. Whether they fly in the weekend before, head out and about after conference sessions or stay in the area the weekend after, those attendees will be eager to experience Wake County restaurants, arts and cultural attractions and retailers.
---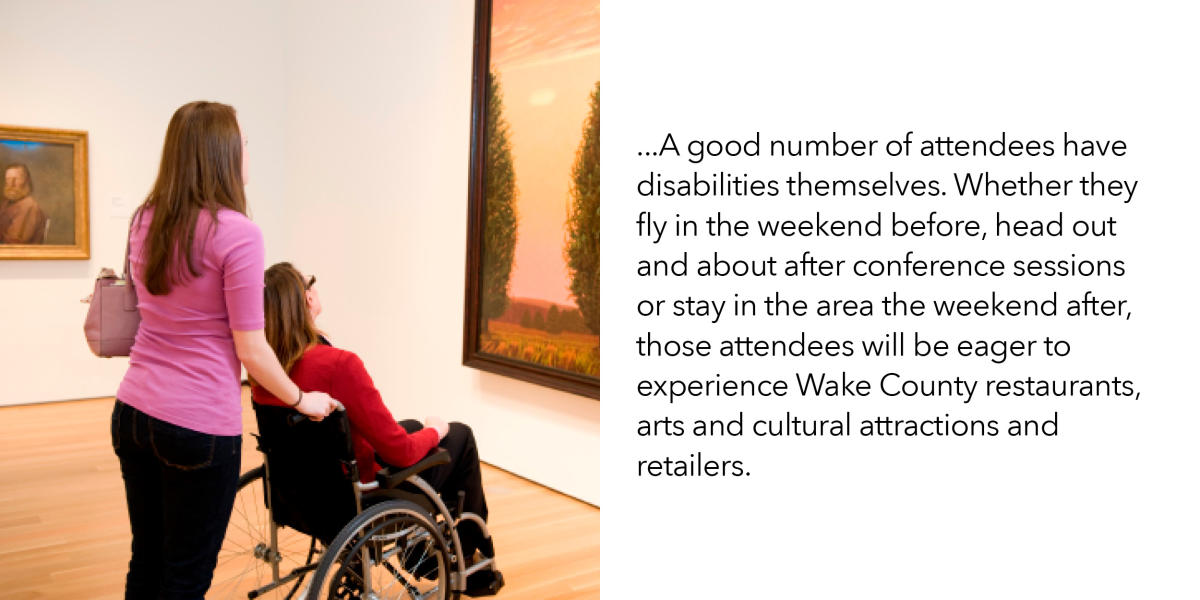 ---
The Kennedy Center's LEAD® program purposes to "advance the full inclusion of people with disabilities in arts and culture."
The event will include:
professional development;
ideas for implementing accessibility into your venue, attraction or business;
experts in a variety of fields talking about their experiences with accessibility and universal design;
connections with colleagues and resource people from around the world who can help you make your accessibility programs more effective;
and much, much more.
Click here for more information about the conference. We're telling you this for two reasons:
We'd love for many Wake County arts partners to attend the conference. 
The LEAD® Conference is about the full inclusion of people with disabilities in arts and culture. Intended primarily for professionals in the field to develop best practices and resources, everyone can benefit when LEAD® comes to a city. The public becomes more aware of our arts and of the importance of removing barriers for all. The build-up to hosting LEAD® gives us a reason to focus on learning practical methods for designing inclusive arts experiences and environments.
We also want the entire Raleigh area to make our best efforts at demonstrating excellent, well-thought-through and well-executed accessibility services alongside GRCVB's Destination Services Department.
To that end, almost a dozen Wake County supporters are working together to promote the event and help make sure our community is ready.
Those supporters include:
A subcommittee from this group is working on a tool kit to be distributed to all Wake County partners and particularly those in the downtown Raleigh corridor who will host and service attendees of LEAD® face-to-face. The tool kit will include brief checklists that every downtown business partner can work through before the event to make sure their facility is ready for servicing LEAD® attendees.
These to-dos are simple and inexpensive, but they can have a significant impact. 
For example:
We encourage restaurant managers and owners to walk through your restaurant with a simple 36" yardstick to make sure there is enough space for wheelchair users to pass between your tables and chairs.
Hotels can improve the stay of guests who are blind or have low vision by placing a glue dot on one side or the other of magnetic key cards so those patrons know which side to insert.
We're also planning on distributing physical tool kits to downtown partners and hosting at least one webinar specific to the LEAD® Conference in early July.
Please be watching your email for your invitation to the webinar as well as the Tourism Talk blog and other communication channels for more information about LEAD® and Raleigh's destination readiness.

Author: visitRaleigh
The Greater Raleigh Convention and Visitors Bureau (GRCVB) is the official and accredited destination marketing organization (DMO) for all of Wake County.
Comments