The 2023-2024 Business Plan
Friday, April 21, 2023, 10am by visitRaleigh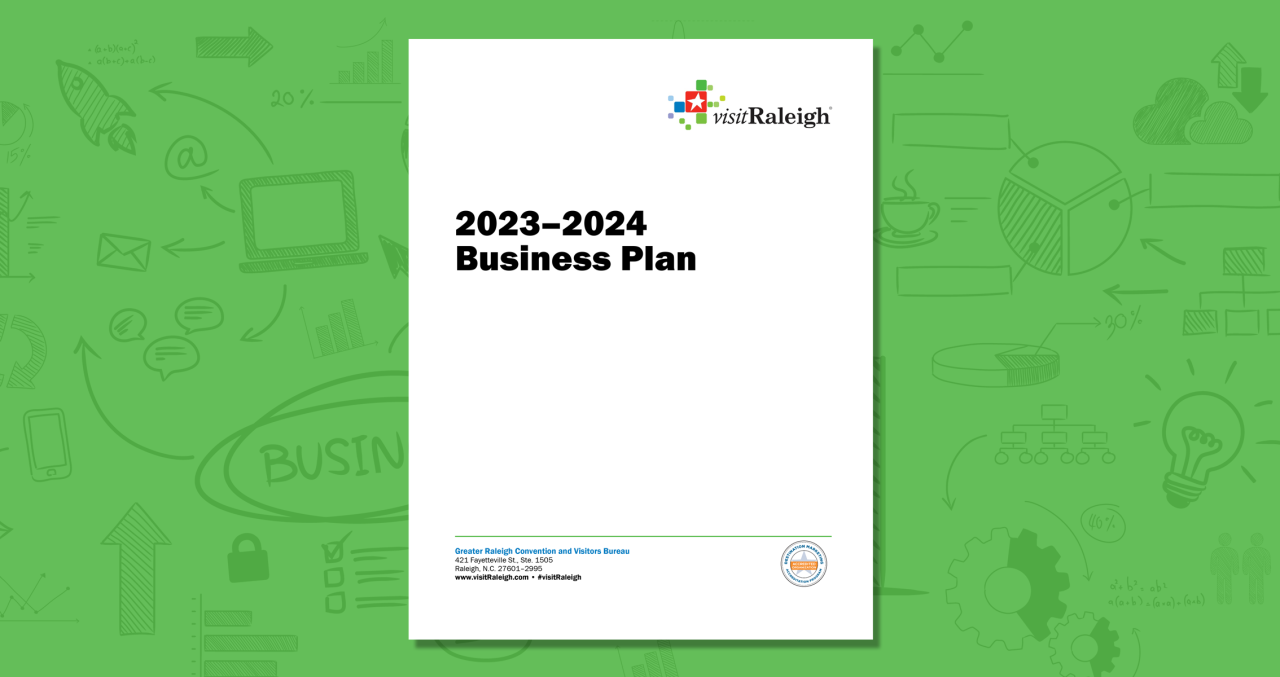 A few weeks ago in the Tourism Talk blog, we featured some of the visitor profile statistics which appear in GRCVB's 2023-2024 Business Plan. Today we're ready to release the full plan (click here) to our hospitality business partners and stakeholders.

GRCVB's destination marketing plan is board-approved and updated annually and becomes the roadmap we look to for tactical project-planning and goal-setting for the next fiscal year; the annual plan itself is further attuned to implementation of Wake County's Destination Strategic Plan (2019-2028).

Project management of the plan's development comes from Jonathan Freeze, CDME, GRCVB's vice president of marketing and communications. If you know Jonathan, you know that means it's thorough, absolutely accurate and well-thought-through.

"Each year's plan is truly built from the ground up based on successes or opportunities identified during the prior year in our work with the various markets, and it's a multi-month, group effort among the Bureau's seven departments," said Jonathan. "The GRCVB Board of Directors also is thoroughly engaged with the plan development at their March meeting each year."

The Business Plan is prefaced by several sections (for example, About GRCVB, visitor profile data, staff/stakeholder talking points and a Destination 2028 overview), then each department at the Bureau outlines objectives and strategies for the July-June fiscal year ahead. The plan concludes with a Community Engagement Strategy deployed by multiple departments, specific performance objectives Bureau-wide and industry leadership positions held by GRCVB staff. 

We always hope that Wake County partners can and will use the Business Plan in aligning your sales and marketing goals with visitors for the year. The Marketing & Communications Department and Public Relations & International Tourism Department sections enumerate the destination's strategic marketing mix for next year, including for each tourism vertical market (domestic leisure, international leisure, meetings/conventions and sports events); sales, servicing, technology and administrative support for the mix follow—each department's goals key to making our Raleigh area tourism brand the $2+ billion per year powerhouse that it is among travel markets worldwide.

Please look to see how your organizational goals might align with those of the Bureau; it may be that you can coordinate some of your own advertising or promotional strategies to be in line with GRCVB's, virtually getting double-duty out of your marketing investments to reach more guests or new clients to the destination.

"Since arriving in this market 15 years ago, I've appreciated that our Bureau makes its annual plan available to all, for reasons of area alignment, while many other CVBs keep their marketing plans as a trade secret," Jonathan added. "It matches GRCVB's overall philosophy of being 'customer-centric' and 'collaborative,' but it also matches to the secret sauce of this area that I encounter externally all the time—our whole business community is especially collaborative, much more so than others."

Ultimately the Business Plan helps ensure we have thought through where we're going for the year ahead and gives us a way to measure that we're successfully accomplishing the Raleigh/Wake County tourism mission for which the Bureau is responsible. We hope it can help our partners and stakeholders accomplish your yearly goals as well.

Author: visitRaleigh
The Greater Raleigh Convention and Visitors Bureau (GRCVB) is the official and accredited destination marketing organization (DMO) for all of Wake County.
Comments