20 of the Best Brunch Spots in Raleigh, N.C.
Thursday, October 03, 2019, 6am by Tabletop Media Group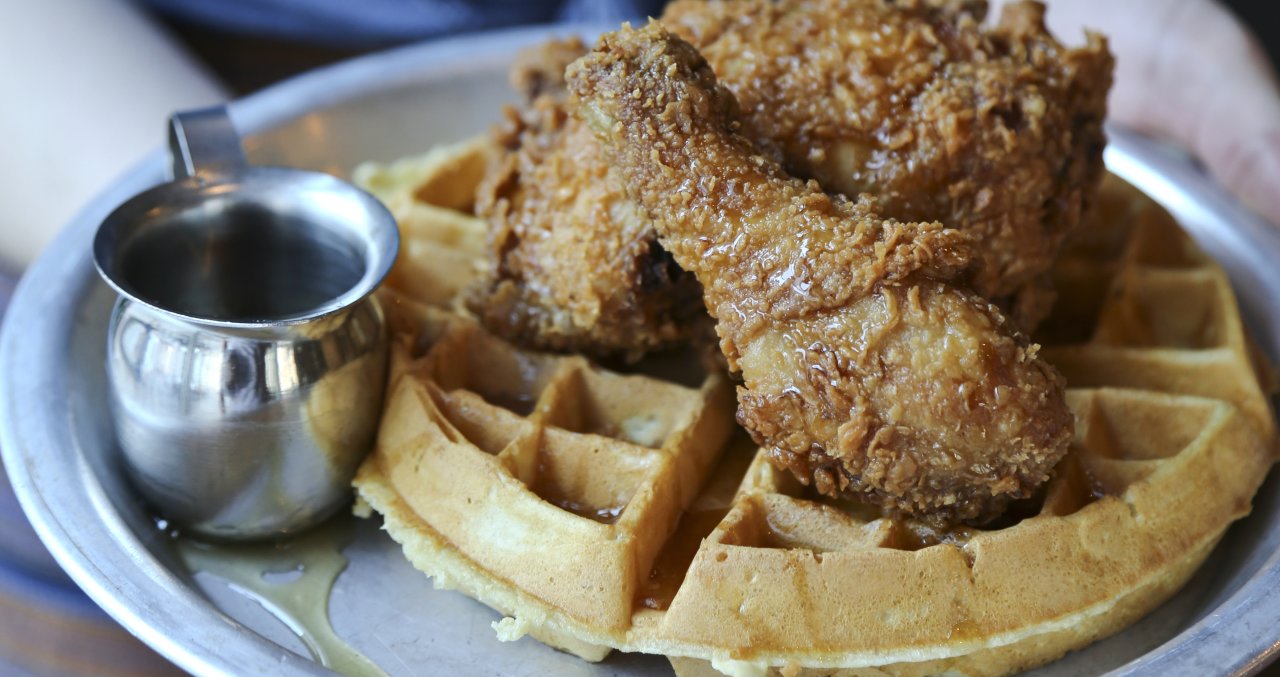 Weekends are meant to be brunched on! Time spent with family and friends over stacks of blueberry pancakes or the perfect Eggs Benedict should be cherished—in the Raleigh area, it is. We get asked about brunch spots all the time, so we've put together this list of some of the area's favorite places to convene for muffins and mimosas. Cheers!
 
Passionate mind Niall Hanley's Hibernian Restaurant & Pub celebrates both the old world flavor and the new vibrancy of Ireland. The Irish breakfast—two eggs, two bangers, two slices of bacon, black and white pudding, mushrooms, tomatoes, baked beans and sourdough toast—may only be eclipsed by a brand new menu item. The fried chicken bloody Mary—complete with bacon, jalapeno, tomato, celery, tomato, pepperoncini and more (including a giant slab of fried chicken, of course)—wouldn't be passed up at our table!
When: Sun., 11am-2pm
It's not unusual to see a line form before the doors open on weekends at this popular eatery by James Beard Award-winning chef Ashley Christensen. And it's impossible to go wrong here, but we can't not recommend getting a taste of the fried chicken that Beasley's is named for. At brunch time, spring for the chicken and waffles (drizzled in honey with real maple syrup on the side; pictured in header) or the Hot Chicken Eggs Benedict—two poached eggs with Béarnaise sauce, creamed collard greens and buttermilk biscuits.
When: Sat. and Sun., 11am-4pm
Cameron Bar & Grill
This neighborhood restaurant and bar located in Cameron Village knows comfort food, and brunch provides lots of choices: breakfast nachos, bananas foster French toast and chicken fried steak and eggs. If you're in a seafood mood during brunch, don't miss the shrimp and crab omelet—shrimp, crab, tomato and green onion folded in fluffy eggs with Old Bay queso. If it's warm out, definitely take advantage of the patio seating.
When: Sat., 11am-2pm, and Sun., 10am-2pm
Remedy Diner
When visiting vegetarians are looking for a brunch spot, Remedy Diner is the place to go. This alternative diner serves an excellent comfort food menu, plus local craft beers and specialty cocktails. Kick off brunch with the "Hangover Over" featuring orange vodka, Emergen-C and soda. We highly recommend the "No Huevos" Rancheros, a perfect vegan option with spicy scrambled tofu and homemade refried beans served on a bed of corn tortillas, then topped with house made ranchero sauce and guacamole.
When: Sat. and Sun., 11am-3pm
Open since 1999 in Cary, La Farm Bakery has consistently wowed visitors and earned media recognition from all over the world. Under the guidance of master baker Lionel Vatinet, La Farm produces some of America's high-quality bread, pastries and other baked products on a daily basis. Open for brunch on Sundays, dig into the Smoked Salmon Benedict, Creme Brulee French Toast and more.
When: Sun., 7am-3pm (open for breakfast at 7am every day)
This Mexican restaurant, opened in 2013 by a set of brothers with a family history of owning popular Mexican eateries in the Raleigh area, has truly made a name of its own in recent years. Located in downtown Raleigh's Warehouse District, the heavily Southern-influenced restaurant (roosters and milk jugs adorn walls and shelves) is known for its warm, rustic atmosphere and its feast-worthy food. For brunch, you'll start with what they call "Raleigh's Best Bloody Mary," house-roasted vegetables and clamato, choice of vodka or tequila, pickled vegetable garnish and a beer chaser. Then, dive into menu staples like the huevos rancheros and Guadalajara skillet. Really want to try something unique? The "Mexnugget Wrap" features a flour tortilla with homemade panko-crusted chicken nuggets, lettuce, pico de gallo, avocado and chipotle aioli.
When: Sun., 11am-3pm
Tucked away in Raleigh's Lassiter District in North Hills, Midtown Grille is upscale-but-comfortable and serves a brunch worth traveling for. You'll find contemporary American cuisine with some classic Southern flavors. The menu has great options for vegetarian and gluten-free diners, too (not to mention $5 bloody Mary and mimosas). 
When: Sun., 10am-3pm 
Across from downtown Raleigh's Nash Square, Parkside's brunch menu has lots of Southern staples, including a chicken and waffle sandwich that tastes as good as it sounds. Elsewhere, they've got you covered with everything from their Braised Boneless Short Rib Benedict to a massive pancake plate and a bananas foster French toast that's sure to hit the spot (especially when paired with mimosa or Bloody Mary). With a spacious dining room and casual ambiance, Parkside works especially well for bigger group outings.
When: Sat. and Sun., 11am-3pm
Major brunch news alert! Poole's Diner, the downtown comfort food spot from chef Ashley Christensen that will turn 10 years old this Dec., recently reintroduced brunch service. Poole's previously served an incredibly-popular brunch service before Christensen opened a handful of other dining and drinking spots in town. Items like short rib hash, seasonal hot cakes and grits bowls, plus lots of weekly specials, make up a menu that you don't want to miss.
When: Sat. and Sun., 11am-3pm
Serving chef-inspired fare meant to share, Humble Pie offers delectable plates during Sun. brunch that are best enjoyed outside on their beautiful, covered patio when the weather's warm. Order tater tots for the table for dunking in Humble Pie's chipotle ketchup. You can't go wrong with the breakfast burrito or the "Cornmealius Pancakes," with blueberry sauce, whipped cream and syrup.
When: Sun., 11am-2pm
A true farm-to-table restaurant that has been on the restaurant scene for more than 40 years, Irregardless Cafe is a great spot for brunch, especially if you have foodie friends visiting who follow the vegetarian or vegan lifestyle. From a tofu Reuben to banana walnut pancakes, the brunch menu has something for everyone.
When: Sat. and Sun., 10am-2:30pm
The Rockford's almost-hidden upstairs location in the Glenwood South entertainment district has been going strong for more than 20 years now—it's all about good food with good friends at this neighborhood staple. With a focus on locally-sourced and fresh ingredients, you can always count on the chicken and waffles (dash of powdered sugar included) and the burger (topped with bacon pimento cheese and served on a locally-made brioche bun).
When: Sun., 11am-3pm
You'll find Southern-inspired, refined comfort food at Verandah, the restaurant at The Mayton Inn in Cary, one of the area's most unique hotels. The atmosphere is relaxed with a touch of elegance—both the hotel and restaurant space are truly gorgeous. The menu offers plenty of gluten-free options like the Verandah eggs with local Andouille red eye sausage gravy. The shrimp and grits with an egg or the caramelized apple and toasted pecan pancakes—paired with a cocktail—all make for a great, leisurely brunch. Don't forget to order a pitcher of peach Bellini or pineapple mule for the table!
When: Sat. and Sun., 10am-2:30pm
Located in the Raleigh Marriott City Center in downtown Raleigh, Rye Bar & Southern Kitchen serves up a delicious Sun. A La Carte brunch. Start your day in City Plaza with a filling meal, then walk down Fayetteville St. to the City of Raleigh Museum (COR Museum), North Carolina State Capitol, North Carolina Museum of Natural Sciences and North Carolina Museum of History.
When: Sun., 10am-2pm
Rooted in the Carolina mountains, Tupelo Honey in Cameron Village offers an exceptional brunch featuring a revival of Southern food and traditions. The "Shoo Mercy Sweet Potato Pancakes" are a must and served with buttermilk fried chicken, apple cider bacon, spiced pecans, two fried eggs, grilled seasonal fruit, pickled blueberries and hot honey! Order the honeysuckle and lavender flip for a boozy brunch cocktail option, which features Cathead honeysuckle vodka, house-made lavender sour, fresh lemon and soda water.
When: Sat. and Sun., 9am-4pm
NOFO @ the Pig is a combination café, food market and gift shop that is visually vibrant, quirky and unique. Perfect for an afternoon date, take a seat and enjoy brunch followed with some shopping. Take a seat and enjoy an award-winning meal like a sausage, apple and cheddar omelette or a fried green tomato benedict.
When: Sat. and Sun., 10am-3pm
Located in Lafayette Village, Driftwood features an open kitchen and an ever-changing menu of fresh, local ingredients. On Sundays, enjoy their brunch buffet with items that rotate each week and with the seasons. Staples include eggs, bacon, sausage, French toast, biscuits and sausage gravy, macaroni and cheese and desserts (sugar-coated beignets, anyone?). Our favorite part? Cocktails for quite a steal—$2 mimosas and $5 Bloody Marys!
When: Sun., 10am-2pm
Raleigh-native chef Sean Fowler serves traditional Southern foods with influences drawn from all over the world. The menu changes daily due to the commitment of using only the freshest ingredients, including brunch! Try items like the  Mandolin Omelet Du Jour, Smoked Sunburst Trout Florentine and more. Consider making a reservation, because this hotspot was just named among the 50 best Southern restaurants in America!
When: Sat., 11am-2:30pm, and Sun.,10:30am-2:30pm
Food and beer events in 2020 in Raleigh, N.C.
French Market & Seafood Festival, April 18
Brewgaloo, April 24-25
Thrive NC, May 7-8
Got to Be NC Festival, May 15-17
NC Sugar Rush, May 24
Raleigh's 5th Annual International Food Festival, June 6
Town of Cary's Pimento Cheese Festival, June 6
Downtown Raleigh Food Truck Rodeo, June 14
Peak City Pig Fest, June 19-20
Cary Downtown Chowdown, July 12
Beer, Bourbon & BBQ Festival, Aug. 7-8
North Carolina 'Cuegrass Festival, Sept. 26
Triangle Oktoberfest, Oct. 2-3
Beericana Craft Beer and Music Festival, Oct. 10
2020 N.C. State Fair, Oct. 15-25
Comments