A Guide to Holiday Shopping in Raleigh, N.C.
Monday, November 19, 2018, 3pm by visitRaleigh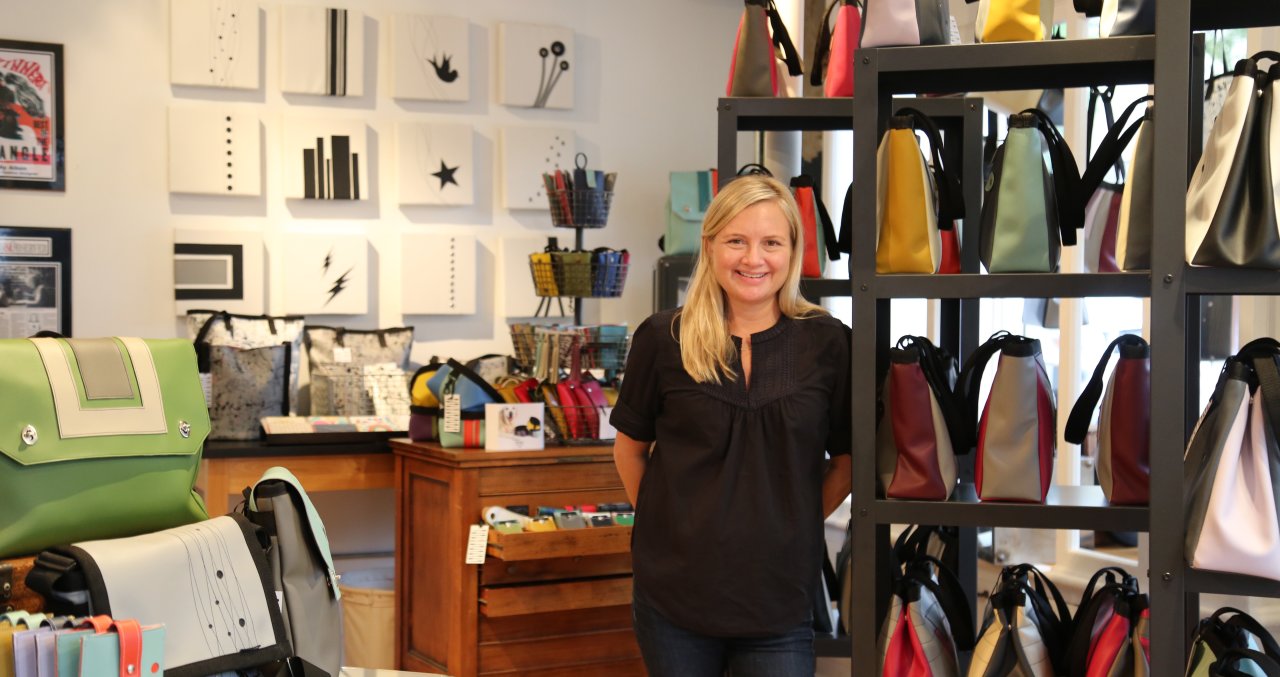 The holidays are fast approaching, and if you're feeling a bit panicky about getting all your gift shopping done…take a deep breath and relax. This guide explores a wide mix of amazing local shops and gift ideas for creating your perfect holiday shopping excursion. Along the way, we'll offer delicious dining options and spots to get you in the spirit of the season. So, let the holiday shopping begin!
 
Start your shopping over at Stitch in vibrant downtown Raleigh. It's the retail workshop of Holly Aiken, one of Raleigh's passionate minds. Here you'll find distinctive, uncomplicated handbags and accessories that make perfect gifts—all uniquely Raleigh.

Speaking of unique gifts, Edge of Urge is a boutique for men and women specializing in handmade and independent designer clothing, shoes, jewelry and accessories. Pick up a pair of exclusive leather feather earrings created in-house. Or perhaps, you can get someone on your shopping list a Bob Ross "Happy Accident" Pin.
For the chocoholics in your life, stop by the renowned Videri Chocolate Factory in Raleigh's trendy Warehouse District. Pick up The Jingle Bell Caramel gift box full of exquisite caramel bonbons, each dancing with holiday flavors. Or grab a handful of their six-ounce hot chocolate mixes or Peppermint Bars for stocking stuffers or simple (and delicious) gifts for a holiday party. With that being just the tip of the big chocolate iceberg at Videri, it's almost impossible for you come away empty handed.

For the craft brew aficionados, make your way over to Tasty Beverage, a craft beer store in the Raleigh Depot. They have an extensive selection of around 1,200 packaged beers plus six draft beers for your consumption and subsequent enjoyment. In addition to amazing craft beers, you can also pick up some locally-made Slingshot Coffee for the coffee lovers in your life.
While we're on the topic of coffee and coffee lovers, stroll over to 42 & Lawrence to have a great cup of java and snatch a couple of bags of Larry's Coffee as holiday gifts. Larry's Coffee is a Raleigh roasting company started by Larry Larson, who is as passionate about making extraordinary coffee as he is about making the world a better place to live.

If you have friends and family on your holiday shopping list and you just can't quite figure out what to get them, then passionate mind Pam Blondin's DECO Raleigh may just be the place for you. DECO is a lively, customer-centered gift shop and gallery that's unique, smart and eclectic. They carry the work of more than 75 local artisans and makers that includes apparel, personal care and grooming products, jewelry, ceramics, teas, stationery and, well, the list goes on and on.
For your fashion-forward friends and family members, make a beeline for Raleigh Denim Workshop. Devoted to conscientiously producing small-batch, handmade jeans and clothing, Raleigh Denim Workshop is the creation of passionate minds Sarah Yarborough and Victor Lytvinenko. Consider a gift card for those on your list who love fashion, superb craftsmanship and incredibly-comfortable jeans. It's guaranteed to make their holiday brighter and a whole lot more stylish.

Reward yourself for a successful day of holiday shopping in downtown Raleigh with a scrumptious meal at Ashley Christensen's Poole's Diner (where you can also pick up a copy of Christensen's cookbook), classic Italian-American fare at Gravy, mouth-watering seafood at 18 Seaboard or vegetarian fare at Fiction Kitchen. If the holiday spirit has truly taken hold of you, head over to A Place At The Table. There, when you pay for a fantastic meal, you can also pay it forward so someone in need can enjoy a hearty meal as well.
You might want to schedule your holiday shopping excursion so you can end the day with the popular Downtown Raleigh Tree Lighting Celebration (11/30). Make your way to the Duke Energy Center for the Performing Arts to enjoy some tasty snacks and beverages from local vendors, music from holiday carolers and the opportunity to meet jolly Santa Claus.
You can also plan a trip around one of the North Carolina Symphony's holiday performances, including The Merry Elf! (11/21), Holiday Pops Spectacular (11/23-24), Holiday Cirque Spectacular (12/21-22) or A Candlelight Christmas (12/23).
Looking for more awesome, independent places to shop in downtown Raleigh? Check out the new dtrindependentshops.com, created by a collective of locally- and independently-owned shops! Plan a shopping trip around their 3rd Thursday multi-shop event—enjoy extended hours, sips and snacks and special in-store events and promotions at participating shops. The next 3rd Thursday is Dec. 20, 6-9pm, and guided shopping tours run from 5:30-8pm that evening. Get details on the West Side downtown tour here, and on the East Side downtown tour here, including participant lists.
For holiday shopping, Cameron Village is a Raleigh tradition. With more than 100 unique shops, cafés, restaurants and services, you can stroll six city blocks and explore one-of-a-kind shops, specialty stores and national favorites. Shopping at Cameron Village during the holidays is a treat as the streets and sidewalks glimmer with holiday lights and decorations. To ward off the chill, walk over to Benelux Coffee and have a cup of fresh, locally-roasted coffee and their popular Belgium waffles. For dinner, try Cameron Bar & Grill for some classic American Fare with fresh ingredients and timeless décor.
If you're shopping for tea lovers, pop into Tin Roof Teas. This small shop with the bright blue awning in Cameron Village grew out of the Hinson family's passion for tea and a commitment to bringing the world's finest teas and chocolates to North Carolina. With more than 250 premium teas, you'll find the perfect gift for the connoisseur in your life. You can also find great accessories from teapots and tumblers, to tea makers and all-in-one containers.

Have a Wolfpack fan or two on your shopping list? Head over to Talley Student Union on the North Carolina State University (NCSU) campus and visit Wolfpack Outfitters. There you can find the best Wolfpack merch in the area that will have those Pack fans howling. Check out one of their many Wolfpack tree ornaments or tailgating accessories.
From the NCSU campus, follow your nose down Western Blvd. to Carolina Popcorn Shoppe. Locally-owned and -operated, the Shoppe has been making ultra-gourmet popcorn since 2000. One bite is all it takes to know you've just experienced the best gourmet popcorn in the world! Buy a tin (or two or three) of their seasonal Pumpkin Spice Kettle Popcorn and spread a little cheer to whoever's on the receiving end of this tasty holiday gift.
North Hills, located in the heart of Midtown Raleigh, is an eclectic mix of 130+ local shops, restaurants, world-class bars, spas and premier hotels. With its 41-foot Christmas Tree located in The Commons and festive décor everywhere, you'll certainly feel the spirit of the season as you shop 'til you drop.
Duck into a highly-popular local favorite, Quail Ridge Books. Brimming with books of every genre, Quail Ridge also features an award-winning children's department, unique gift items and the best in bluegrass, Americana and classical music CDs. You'll discover a generous selection of signed books that make perfect gifts for bibliophiles. Check out their website for a list of available copies before you head out.

What could be a more unique and personal holiday present than gorgeous, customized stationery? At PaperBuzz, you'll find fresh, stylish stationery and other distinctive gifts including products from local artists and small businesses across the country.
After you've filled those shopping bags with goodies, step into Coquette, a true French brasserie specializing in outstanding food prepared with a French flair, served in hip surroundings. Traditional brasserie meals are accompanied by crusty, fresh house-made breads and memorable desserts.
Another delicious dining option is The Cowfish, the first restaurant focused on offering the best sushi AND the best burger in town! Check out their spiked, hand-spun milkshakes, premium sakes, craft beers, wine and 10-ounce, exotic martinis to end the day on just the right note.
Crabtree Valley Mall is another hot shopping area in Raleigh, with 220 stores (mostly familiar) including Michael Kors, Lego, H&M, Pottery Barn, Coach, Apple, The North Face, Forever 21, Tommy Bahama, Altar'd State, ThinkGeek, The Disney Store and Build-A-Bear Workshop. Visitors drive hours to shop specifically at Crabtree every year, and the dining options—including Crabtree Ale House, Seasons 52, The Cheesecake Factory and much, much more—make for a full, fun day out.
If you head out into North Raleigh and beyond, into Raleigh's surrounding towns, you'll discover even more great options for holiday shopping.
For your family and friends who love dogs (and other furry and feathered friends), visit Phydeaux, an independent, locally-owned pet supply store where you'll find the best quality products (at reasonable prices) for your dog, cat, bird or small animal.
Need gift ideas for those with green thumbs, or just want to add to your holiday decorations? Try Homewood Nursery and Garden Center where you can choose from a gorgeous selection of festive poinsettias and other holiday plants. If you're ready for lunch or dinner, head over to nearby Sassool for some authentic Mediterranean/Lebanese cuisine.

To find unique, beautifully-crafted jewelry from feminine charms to bold accent pieces, head over to Apex and visit Moon and Lola. This 3,000-foot-square loft in downtown Apex is the vision of passionate mind Kelly Shatat.
Head over to the Shoppes of Kildaire in Cary and explore Ten Thousand Villages, a locally-operated, non-profit, fair trade retail store offering handcrafted goods, jewelry, home decor, art and personal accessories from across the world. Also in Cary, Waverly Place and Crossroads Plaza are two great shopping areas to explore.
With all the fantastic holiday shopping opportunities in the Raleigh area, you can breathe a sigh of relief knowing you'll find just what you're looking for this season. So, what are you waiting for? Get shopping!
Comments