Liberation Station, N.C.'s First Black-Owned Children's Bookstore, Comes to Downtown Raleigh
Wednesday, June 14, 2023, 2pm by David Menconi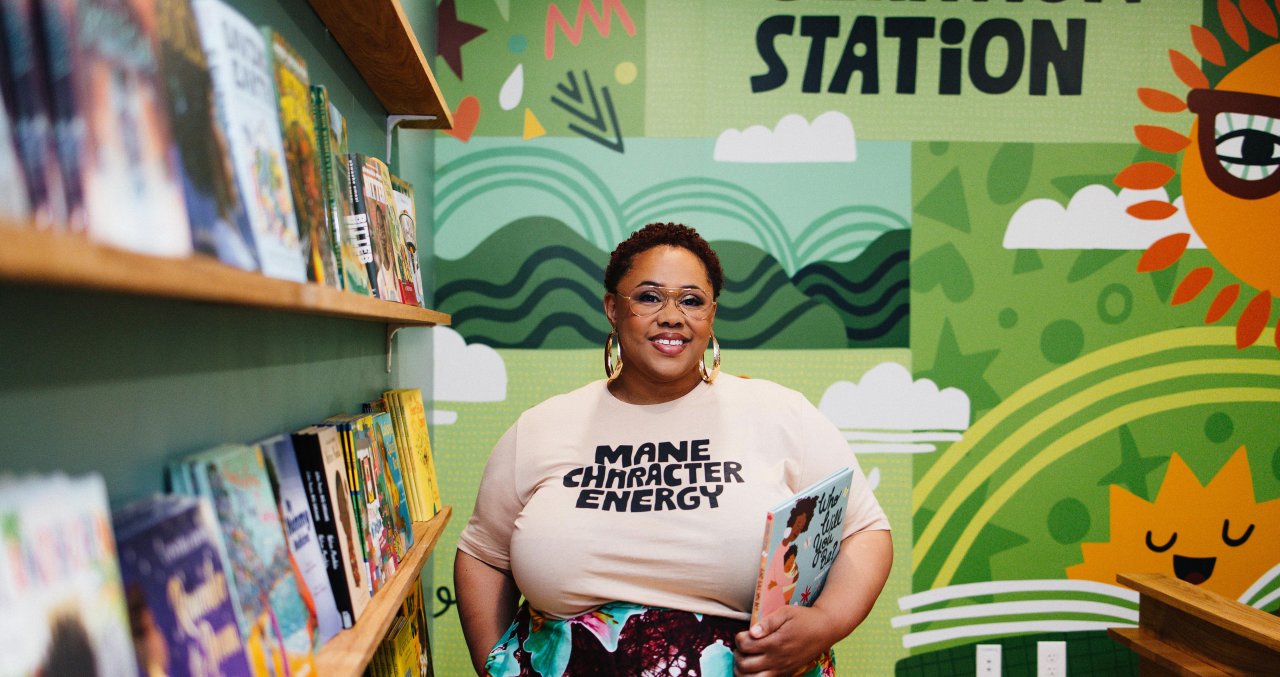 Note: Authored by David Menconi, this piece has been produced in partnership with Raleigh Arts. Menconi's latest book, "Step It Up and Go: The Story of North Carolina Popular Music, from Blind Boy Fuller and Doc Watson to Nina Simone and Superchunk," was published in 2020 by University of North Carolina Press, and his podcast, Carolina Calling, explores the history of the Tar Heel State through music.
---

In multiple ways, Liberation Station Bookstore at 208 Fayetteville St. in downtown Raleigh is an idea whose time has come.
With a grand opening weekend kicking off at 11am on Sat., June 17, it's the region's first Black-owned children's bookstore, with a niche centered on both readers and authors of color. There is enthusiastic community support for it, as evidenced by a crowd-funding campaign that raised $21,702 (more than $1,700 above the fund-raising goal).
And of course, there's the nationwide big-picture backdrop. Liberation Station is opening at a time when controversy over issues of diversity, inclusion and representation have blown up all over the country. Books about race, history and sexual orientation have become targets, with some states enacting laws and policies that have pulled such works off library shelves.
Owner Victoria Scott-Miller—entrepreneur and author of "The Museum Lives in Me" (a work commissioned by the North Carolina Museum of Art)—is a mother to two school-age children, and thinks she's just the right person to bring this store to the community.
"My sons have always been around books because we are a family of readers," Scott-Miller says. "There is this process going on now with book bans, which limit access to worlds that can make a child whole. Books allow children to make their own decisions about the world and form their own viewpoints. We have to pay attention to trends all over the country, not just here. I feel our location on Fayetteville St., with proximity to the North Carolina State Capitol building, is a statement in and of itself. The timing is definitely intentional."
Liberation Station has been around in one form or another since 2019. It began as a pop-up shop run by Miller and her husband Duane Miller out of the trunk of a car or from a six-foot folding table wherever they could set up. Inspired by the difficulty of finding children's books written and designed specifically for young readers of color, they built a following.
Taking the jump to a permanent brick-and-mortar location was an obvious next step. Their space is on the second floor of the old Efird's Department Store on Fayetteville St., a building that dates back to 1935. Books are arranged in different sections—The Diaspora Wall, centered on trans-Atlantic voyages; America, about childhood stories and issues; AP African American Studies, with works by the likes of James Baldwin and Toni Morrison; and The Anchor, which thematically pairs adult and children's titles.
Liberation Station will open Juneteenth weekend, June 17-19, with a series of events that include book signings with notable authors and illustrators, a "White Glove Day" where children and parents can handle historically significant documents from the Miller family's personal collection (including handwritten letters by 19th century reformer Frederick Douglass) and a "Liberation Walk" from the Capitol building to the bookstore. Markell Williams, bass-baritone singer in the North Carolina Opera, will perform "Lift Every Voice and Sing."
"We are unapologetic advocates for literacy for specific groups of people, choosing to center on Black families and children," says Scott-Miller. "They're often marginalized or left out of the equation in literature, music, movies. I saw a statistic once that broke down divisions in children's literature (by featured characters of books)—60% of it was white children, 27% animals and 8% children of color. That margin is even greater in terms of who creates books because only about 3% of illustrators and authors are Black. It's important for our store to showcase those who write, illustrate and tell our stories. That sets a framework for the store to reflect."
That reflection should be educational for everyone, including those who might not be part of the store's primary target demographic.
"Our goal for the bookstore is for it to be a mirror for some, and a classroom for others," says Scott-Miller. "We all have something to learn, to be able to see the value in ourselves being represented. That's important for everyone, whether black or brown or white or red or orange or whatever, to be able to see themselves in the full spectrum of human light. Being the first Black-owned children's bookstore in the whole state is not something we chose to do, it's something we were called to do, birthed by the nature of the community we grew up in. We're excited to create the same energy and advocacy we've put into raising our children."
Liberation Station Bookstore will open to the public on June 17 in downtown Raleigh at 208 Fayetteville St., Ste. 201. Normal hours will be Wed.-Sat., 11am-6pm, and Sun., noon-5pm. Scott-Miller 
Schedule of events for Sat., June 17:
11-11:30am:
Ribbon cutting and welcome.
Juneteenth affirmations read by children's book author Julia Mallory.
North Carolina Opera bass-baritone Markel Williams will perform.
The City of Raleigh Hispanic and Immigrant Affairs Board has purchased 65 copies of Scott-Miller's book, "The Museum Lives in Me," to give away for free to the first guests during the grand opening.
11:30am-3pm:
Book signing with notable children's book authors and illustrators, including:
Derrick Barnes, who wrote the 2022 graphic novel "Victory. Stand!-Raising My Fist For Justice" (National Book Award finalist), "Crown: an Ode to a Fresh Cut" (Caldecott and Newbery honors), and New York Times bestselling books, "I am Every Good Thing" and "The King of Kindergarten," among many others.
Tameka Fryer Brown, who wrote "That Flag," "Brown Baby Lullaby," "My Cold Plum Lemon Pie Bluesy Mood" and "Not Done Yet: Shirley Chisholm's Fight for Change."
Jesse Byrd, who wrote "King Penguin" (Paris Book Festival Top 3 Book of the Year), "Sunny Days," "Real Jungle Tales" and more.
Peaches Dean, author of "Memories of My Mommy" and "Penelope B's Great Mission."
Alison Hawkins, who illustrated "The Noisy Classroom," "What Would Fashion Look Like If It Included All of Us" and "Little People, Big Dreams: Nelson Mandela."
Kelly Starling Lyons, who wrote "Going Down Home with Daddy" (Caldecott honor), "Ty's Travels: Zip, Zoom!" (Geisel Honor Book) and many more.
Shelia P. Moses, who wrote "The Legend of Buddy Bush" (National Book Award finalist, Coretta Scott King award winner), "We Were the Fire: Birmingham 1963" and more.
Vanessa Brantley Newton, who illustrated the New York Times bestseller, "The King of Kindergarten," and companion book, "The Queen of Kindergarten," and more.
Alana Tyson, author of "My Red, White, and Blue."
Lamar Whidbee, who wrote and illustrated "1..2..3..4 Breathe" with his son, Stone.
A full schedule of weekend events, June 17-19, can be found here.
Header photo of Victoria Scott-Miller by Courtney Winter Martin
Comments