The Best Historic Sites to Visit in Raleigh, N.C.
Thursday, February 20, 2020, 9am by visitRaleigh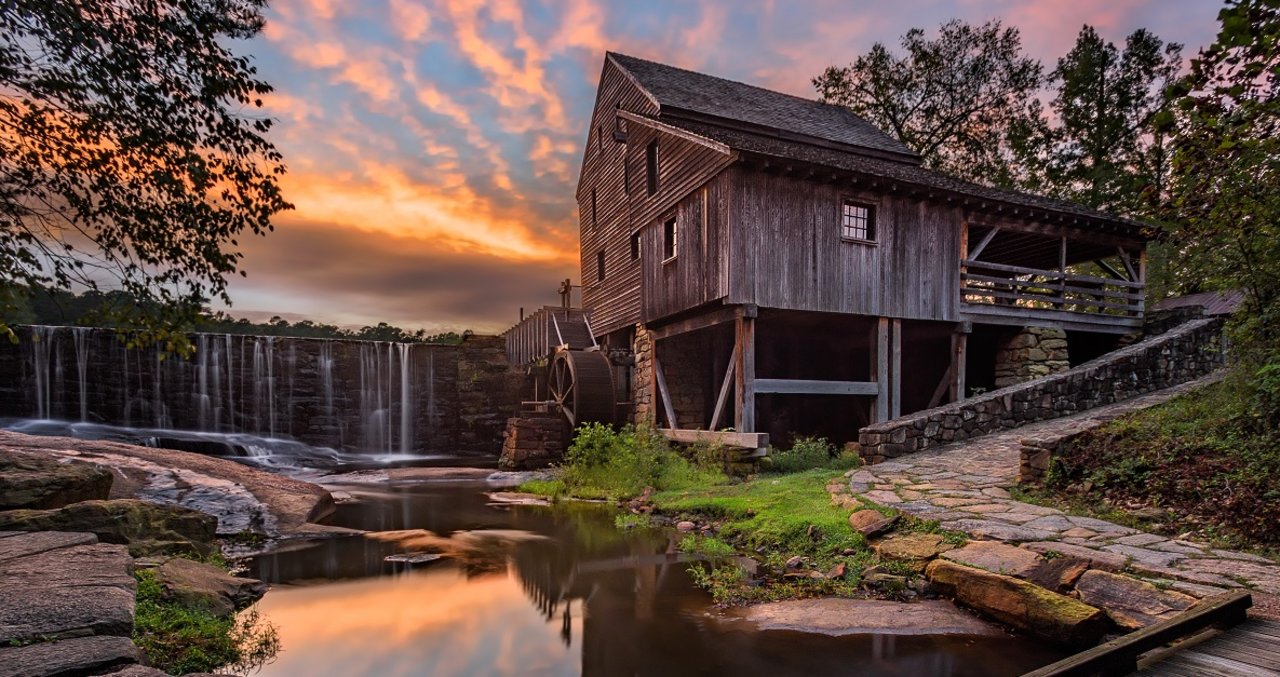 Founded as the new state capital in 1792, Raleigh, N.C., is a natural playground for history lovers. Read about and visit these 20+ sites to kickstart an experience through the area's past and present stories, sites and people. 
 
Historic homesteads
Built in 1901, the Pope House Museum offers a glimpse into the life of one of Raleigh's most intriguing citizens, Dr. Manassa Thomas Pope. Dr. Pope was one of the first graduates of the Leonard School of Medicine at Shaw University and the only African American man to run for mayor of a Southern capital during the Jim Crow era. Located in the heart of downtown Raleigh, the Pope House features original furnishings and many historical artifacts that give insight into this remarkable man and his prominent family.
Visit: The Pope House Museum is open on Saturdays from 10am-3pm with free admission. Tours start at the top of each hour with the last tour at 2pm.
Plantation owner and early settler Joel Lane sold 1,000 acres of his plantation to the state of North Carolina for the establishment of a capital city in 1792. The oldest home in Wake County, Lane's 18th century manor house is widely known as the birthplace of Raleigh. In late 2019, documents were uncovered that revealed the original house was likely painted a vivid red color, instead of the soft yellow that has been on display for many years (work to re-store the original color is in progress!). 
Visit: Guided tours are provided by costumed docents, with offerings that vary by season. See website for current details. 
Completed in 1891, the North Carolina Executive Mansion is the official residence of the Governor of North Carolina, but also serves as a meeting space, historic site and an elegant event location. The Executive Mansion is one of the state's finest examples of the Queen Anne style of Victorian architecture and was once described by President Franklin Delano Roosevelt as "the most beautiful governor's residence in America."
Visit: Executive Mansion and Garden tours are only offered for groups of 10 or more on Wednesdays and Thursdays, March 18-June 11. Individual visitors can plan to visit during the annual holiday open house in Dec. 
Discover what family life was like from the earliest days of North Carolina's statehood through the 1970s with a trip to Haywood Hall House and Gardens. John Haywood, the state's first elected treasurer, built this Federal-style frame house in 1799. While the Joel Lane Museum House holds the title of oldest house in Wake County, Haywood House is one of the oldest houses at its original site within the city limits of Raleigh.
Visit: Guided tours are offered on the second and fourth Thursdays of the month from 11am-3pm.
As one of the city's clearest and most well-defined examples of the Second Empire architectural style, the Heck-Andrews House was one of the first houses in Raleigh to be constructed after the American Civil War. It was completed in 1872 and occupied until the late 1980s. Since then, the house, which was listed on the National Register of Historic Places in 1972, has undergone one exterior renovation completed by its previous owners, the State of North Carolina.
Visit: Currently, the house is under another renovation by its current owners, the N.C. Realtors Association. Visitors can swing by to snap a picture of the exterior and historical marker out front.
Historic Oak View County Park is a historic farmstead that preserves and celebrates Raleigh's agricultural heritage. Founded in 1829, Oak View was expanded to encompass more than 900 acres. Today, the 27-acre site includes historic buildings and grounds that offer a glimpse into the successful farmstead and the different families who lived and worked there over the years. Come tour exhibits which include the Greek Revival-style Main Farmhouse (circa 1855), the Cotton Gin House (circa 1900), the Farm History Center and Plank Kitchen (circa 1825).
Visit: Oak View accepts reservations for guided tours for all ages. If you'd like to tour the park on your own, ask a staff member about free, self-guided activities. Grounds are open 8am-sunset, seven days a week. Buildings are open Mon.-Sat., 8:30am-5pm; Sun., 1-5pm.
To get a sense of what life was like during the period of Raleigh's founding, head over to Mordecai Historic Park. Located just a mile from the State Capitol, this site was once the largest plantation in Wake County. Visit the Mordecai House, built in 1785, and stroll through a 19th-century kitchen garden based on documentation left by Ellen Mordecai in her memoir and letters. The site also has a few fascinating historic outbuildings include the birthplace of the 17th U.S. president, Andrew Johnson.
Visit: Park tour admission ranges from free (children 6 and under) to $5. One-hour tours begin every hour, with the last tour at 3pm. Hours: Tues.-Sat., 10am-4pm; Sun., 1-4pm.
Historic parks and gardens
Spend time at Historic Yates Mill County Park to escape your daily grind. As the last remaining gristmill in Wake County, Yates Mill was once an important economic and social center for residents of the county—not solely a place to grind corn and wheat into flour, but a public gathering place and entertainment spot for scattered rural populations. Fully-restored and -operational, the mill is now the centerpiece of a historic park where visitors can explore what 18th-century, rural life was like through educational programs, events and exhibits.
Visit: The park is open daily, 8am-sunset. Visit the A.E. Finley Visitor Center daily, 8:30am-5:30pm. Mill tour hours are limited and vary seasonally. 
Since 1887, Pullen Park has been a magical place for family fun. It has the honor of being North Carolina's first state park, and with a beautiful, operating carousel on-site built in 1911, the park is the fifth-oldest operating amusement park in the U.S. Bring everyone over for the day to enjoy paddle boats on Lake Howell; carousel, miniature train and other amusement rides; playgrounds, tennis courts, walking paths, playing fields and much more.
Visit: Admission is free, but there is a ticket fee to ride the carousel, train and kiddie boats. Ride tickets are $1 each, and each ride requires just one ticket per person for every ride. Free history tours of the park are given on Mon., Wed. and Fri., 11am and 2pm. 
Why not add a little bit of drama to your Raleigh trip by catching a show at Raleigh Little Theatre? Since its inception in 1936, Raleigh Little Theatre has been offering audiences a unique combination of local talent, quality entertainment and intriguing history. The theater itself is a charming example of early modern classical style and flanking the theater campus is one of the city's most precious natural gems—the Raleigh Municipal Rose Garden. Breathtakingly beautiful in full bloom, the garden, which was dedicated in 1951, boasts 1,200 roses of 60 different varieties as well as other seasonal flowers.
Visit: Raleigh Little Theatre produces multiple productions each season. Tickets ranges from $8-30. The Raleigh Municipal Rose Garden is open to the public free of charge seven days a week.
The nation's first public park solely devoted to Dr. King and the civil rights movement is also located right here. Gardens of trees, shrubs and flowering plants encircle a bronze statue of King, depicting the civil rights leader in his doctorate clergy robe. Bonus features at the memorial gardens include a granite water monument which honors the area's civil rights pioneers as well as a walking path constructed of 2,500 named bricks recognizing state and national supporters.
Visit: Free admission. Hours: Daily, sunrise-sunset.
Since 1972, Moore Square has been a place of gathering, reflection, entertainment and recreation for Raleigh citizens and visitors. It has played a significant role throughout Raleigh's history and was placed on the national Register of Historic Places in 1983. Recently transformed by an extensive remodel, Moore Square now boasts a fast-casual dining spot, Square Burger; a small splash pad; two open lawn areas for concerts, movie nights and other events; a shaded "treehouse" area for kids with a slide and theater-style seating; and a visitor center.
Visit: The Square is open to the public daily, 6am-11pm, with few exceptions. Check out the events calendar for upcoming programs and events.
Historic institutions
Established as the fifth African American medical school in the nation, Leonard Medical School was the first to offer a four-year curriculum. Founded in 1881, the school trained 400 black physicians, most of whom went on to serve patients in the rural South. The Leonard Medical Building—a twin-turreted, Romanesque Revival-style structure located at Shaw University—is listed in the National Register of Historic Places and is designated a North Carolina Historic Landmark.
Visit: Now known as Leonard Hall, the building houses classes and administrative offices. Visiting hours are by appointment only.
Built in 1874, Estey Hall is the nation's first dormitory for women on a co-educational campus and is Shaw University's oldest surviving building. It remained a women's dorm until 1968, closed in 1970 and was reopened in recent years as office space. A pivotal stop on the U.S. Civil Rights Trail, Estey Hall was once home to Ella Baker—an alumna credited for creating the Student Nonviolent Coordinating Committee.
Visit: Estey Hall is open Mon.-Fri., 9am-4pm.
Found in 1896 on the campus of Saint Augustine's University, Saint Agnes Hospital served as the only hospital and training school for African Americans between Atlanta and Washington, D.C., for nearly half a century. The 3-story, nine-bed facility also served as a training school for African American nurses, which was accredited by the American Medical Association in 1937. Although the roof is now gone and vines cover most of the stone structure, Saint Agnes still stands tall and inspires the imagination of many a visitor.
Visit: The facility is currently closed; renovation plans are underway. Visitors can view the structure from the outside and imagine the hospital as it once was.
The North Carolina State Capitol is one of the finest and best-preserved examples of Greek Revival-style architecture in the Unites States. Officially added to the National Register of Historic Places in 1970, the Capitol gives visitors an exciting opportunity to immerse themselves in the history of North Carolina politics and Raleigh as a capital city. Each year, more than 100,000 visitors take part in free tours, educational programs and events at the Capitol and surrounding Union Square.
Visit: The Capitol is open to visitors for self-guided tours Mon.-Sat., 9am-5pm, and is closed on most major state holidays. Guided tours take place on Sat. at 11am and 2pm.
Oakwood Cemetery, with its winding roads, glistening stream and towering oaks, provides a tranquil final resting place for more than 28,000 residents. For 150 years now, the cemetery has told the stories of generations: families who formed Raleigh, soldiers who honored our country and the people of today who chose to rest among its historic oaks. It's also an excellent example of Victorian landscaping and mortuary art.
Visit: It's free to enter and tour the cemetery. Daily hours are from 8am-6pm except during the winter when they change to 8am-5pm.
The COR Museum examines and interprets the history and heritage of our great city with the goal of "persevering Raleigh's past for its future." Located in the historic 1874 Briggs Building on downtown Raleigh's Fayetteville St., the museum opened in 1993 when city residents created the first exhibits. Today, the museum attracts numerous visitors with a collection of more than 5,000 historical items while also offering special exhibits that change periodically throughout the year.
Visit: Admission is free, but a recommended donation of $5 for adults can be placed in the donation box located in the gift shop. Walking history tours down Fayetteville St. take place every Sat. afternoon. Museum hours: Tues.-Sat., 9am-4pm; Sun. 1-4pm.
Beyond Raleigh
Travel a half an hour southwest of downtown Raleigh to explore the fast-growing town of Fuquay-Varina, which boasts unique shopping, great restaurants and a booming brewery scene. History buffs can also dig into the town's mineral springs history with a visit to the Fuquay-Varina Museums Complex. Explore treasured artifacts among the site's four museums—the First Fuquay Post Office, "Squire" Ballentine Schoolhouse, a log cabin playhouse and the Centennial Museum.
Visit: Guided tour reservations are available and encouraged. Admission is free. Hours: Wed., 1-4pm.
Head due north of downtown Raleigh to Wake Forest to discover the rich past of this town at the Wake Forest Historical Museum, where a whopping collection of more than 15,000 pages of documents, 5,000 photographs, 1,000 books and hundreds of artifacts are on display. The museum also offers engrossing guest speakers and annual Old Campus Treks.
Visit: The Wake Forest Historical Museum is part of 4-acre campus which includes gardens, pathways, an old well and the Calvin Jones House. Admission is free. Hours: Tues.-Fri., 9am-noon, and 1:30-4:30pm; Sun., 2-5pm; other times by appointment.
A complete restoration in the 1990s converted the old Page-Walker Hotel in downtown Cary into a living resource for visitors and citizens. Today, the Page-Walker Arts and History Center is alive with classes, events, concerts, social gatherings, historical and fine arts exhibitions. Like so many other sites in the Raleigh area, the center is listed on the National Registry of Historic Places and houses the Cary Heritage Museum. Stop in to take a self-guided tour of the facility and to learn more about the town's history, the history of the Page-Walker and the story of its restoration.
Visit: Group tours can be arranged by reservation only. Hours: Mon.-Thurs., 10am-9:30pm; Fri., 10am-5pm; Sat., 10am-1pm.
Header photo: David Short
Comments