The Best New Restaurants and Bars in Raleigh, N.C.
Friday, July 01, 2022, 11am by visitRaleigh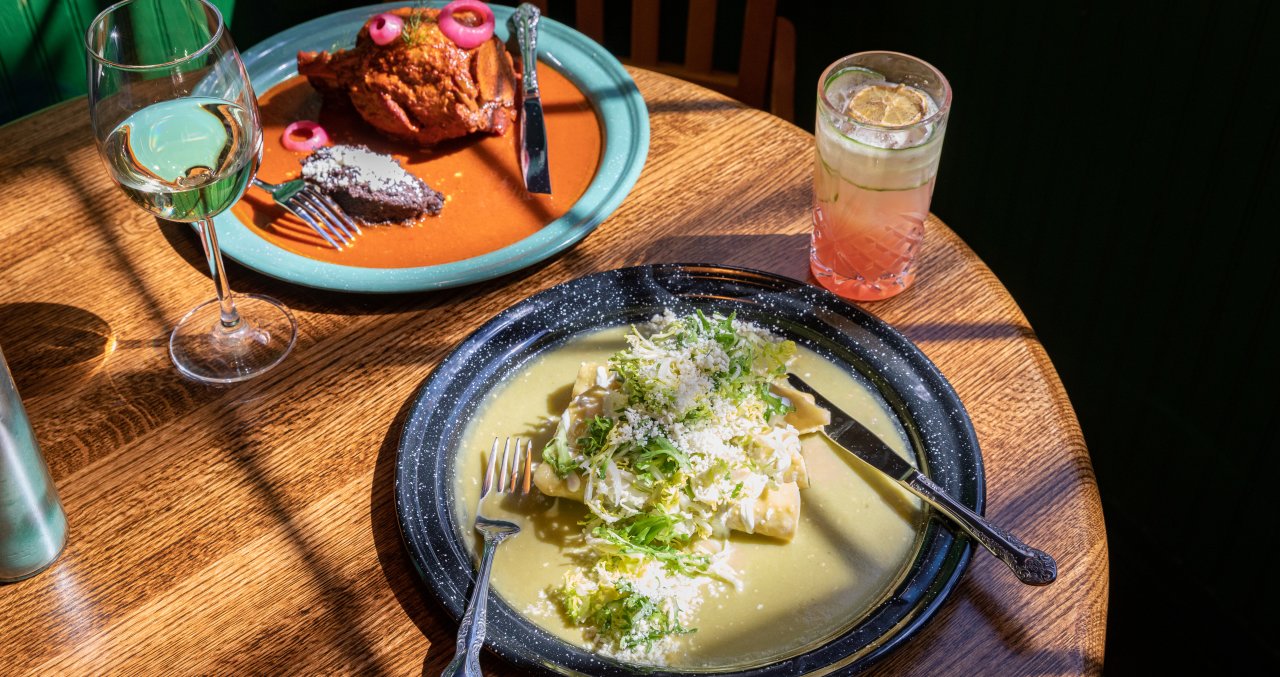 It's been a sizzling six months for great new food in the Raleigh area, from donut shops to tequila spots and more. We have 15 new places—a range of unique concepts—to help find new favorites and expand your horizons for your next night on the town!
Katsuji Tanabe—a renowned chef and three-time alum of Bravo TV's hit competition series Top Chef—has opened restaurants stretching from Los Angeles and Las Vegas to Chicago and New York City. But Tanabe relocated to Raleigh in late 2019, right before the pandemic shut down restaurants, and his newest project is ready for lift off.
A'Verde Cocina and Tequila Library pays homage to Tanabe's roots in Mexico City while featuring ingredients found local to the Raleigh area. A menu that offers a variety of the chef's favorite dishes—refried beans, pork shanks, octopus tacos, vegetable-forward offerings and even his grandmother's classic cornbread—are all served with a side of typical Katsuji fun and flair. 
This pandemic-born pop-up shop that earned a cult following over the last two years is now ready for prime time with its own full-service restaurant. Led by chef Chris Lopez, Fine Folk has been described in a lot of ways since opening shop, but the restaurant's menu may say it best: "a high-end hole-in-the-wall bringing you well curated dishes with rad ingredients and a super rad rotating wine list."
So yes, dinner dishes like loaded steak frites, mushroom stroganoff, shrimp scampi and much more will round out an ever-changing menu of American classics, and no, you shouldn't be surprised if Fine Folk is among just a handful of places that an in-the-know local recommends to eat and drink for your next City of Oaks weekend stay.
Gym Tacos started out as a local food truck in 2019 and quickly grew into a Raleigh favorite with two permanent locations, with the newest location serving up traditional Mexican food (plus some modern renditions) on Hillsborough St. The tower nachos, which come stacked in a tin can and offer a big reveal (as seen below!), are a true fan favorite, but it's tough to go wrong with anything on the menu.
America's best new donut shop? Survey says yes! The frying action at Bright Spot Donuts is in full force now at this sunshine-filled, 835-square-foot building near Raleigh's Five Points neighborhood. The donuts speak for themselves (made with 100% organic flour, milled in the City of Oaks), but led by a team of Raleigh natives behind other recognizable hotspots (below), these credentials set the stage for sweet success:
Jubala Coffee, named one of the country's 50 best coffee shops by The Daily Meal; Boulted Bread, home to what Food & Wine called "the best bread in the Tar Heel State" (and where the morning bun is a way of life); and Benchwarmers Bagels, the early bird favorite at Transfer Co. Food Hall that earned a spot on Bon Appétit's best new restaurants list in 2019. 
So, glazed or filled? One or two? Up to you! But pro tip: best served with a cup of locally roasted Black & White Coffee on the side, and please note that there is only limited patio seating at Bright Spot.
Brookside Bodega is the perfect mix of restaurant, retail and neighborhood hangout—stop by to eat, grab a drink with friends or purchase groceries. The recently opened spot, located between Raleigh's Oakwood and Mordecai neighborhoods, takes inspiration from New York bodegas, serving classic dishes including a New York chopped cheese sandwich, a spicy Nashville chicken sandwich and a Birria taco plate (there are vegetarian options, too!). On a sunny day, opt to sit outside and enjoy the large patio, and as a pro tip, Oakwood Dog Park is just down the street, so bring the pups along for a double dose of fun. 
Bendito
Bendito—which translates to "Blessed" in Spanish—is a new restaurant in McNeill Pointe offering modern Puerto Rican cuisine. The spot is owned and operated by local chef Kevin Ruiz (formerly of The Rockford), who finds inspiration for the restaurant from the dishes he loved as a child. This is your new must-try if you're game for for a night out sharing oysters, ceviche, empanadas, papas rellenos and more!
Created by local entrepreneurs Max Trujillo and Kip Downer, Craften's food hall space is home to four restaurants—Fiori Pizza, Poblanos Taqueria, The Corner Venezuelan and Finca Burger—as well as a coffee shop and bar. The new 4,500-square-foot food hall is located near the center of Knightdale and offers visitors various delicious food choices. On a nice day, head outside for some great outdoor seating options and lounge areas.
Inspired by India's corner shops, Cheeni Indian Food Emporium serves tiffin, lunch and dinner—highlighted by items like veg puff, bread pakora and aloo chatt. However, the space isn't just your typical restaurant—alongside the charming dining room is also retail (books, spices and more) and event space, where owner and chef Preeti Waas plans to begin offering culinary classes and pop-ups in tandem with the demonstration kitchen.
Want to get a taste of Italy without leaving the country? Owners Diana and Warwick have introduced authentic Italian gelato to downtown Cary. Geluna Gelato is a small-batch shop, with creamy gelato homemade daily with fresh, locally-sourced ingredients. Be sure to also try the in-house sauces—including chocolate, caramel and more! A true sign of a good time? Sampling is encouraged.
A new way to experience one of America's best new hotels? Yes, please! You can now explore Heights House Hotel—a pre-Civil War-era mansion in downtown Raleigh that opened as a boutique lodging property in 2021—as a guest, even without a booked room.
The Parlor at Heights House is an intimate cocktail bar that compliments the Italianete-style property, offering Italian-inspired cocktails, an all-Italian wine list and local craft beer. Cheese and charcuterie boards are available for purchase as well. After ordering from the bar, visitors are welcome to explore the parlor, drawing room, dining room, library and lower lounge for a comfortable place to sit (Travel + Leisure called the hotel "an architectural wonder," so explore it all!).
Note: Space is limited, and reservations are required. 
From local entrepreneur Jason Howard (of The Cardinal) comes a mini-modern honky tonk. The Pink Boot describes itself as, "the smallest, weirdest bar in Raleigh, N.C." The country-themed bar serves bottled beer, basic liquor and light snacks in a laid-back atmosphere on the north end of downtown Raleigh.
Settled between the Raleigh Convention Center and historic Boylan Heights neighborhood sits Vault Craft Beer. The building—originally constructed in 1957—offers a sleek, mid-century modern architecture with indoor and outdoor seating. There are 16 taps for draft beer and two large built-in coolers with cold beer, cider, seltzer and more. Bring the pups too—Vault is super dog-friendly with treats for your four-legged friends plus a water station.
Pro tip: While in the area, take the chance to eat at Sam Jones BBQ—run by the namesake pitmaster widely considered to be a Tar Heel State legend—which sits just a block away.  
Grab a bite to eat and practice your golf swing at The Iron Oaks (because who said cocktail hour can't be tee time?). The new Glenwood Ave. spot serves more than 36 drafts, 40 wines, locally-inspired craft cocktails plus a lunch and dinner menu, too. Visitors can—and should—also reserve one of the high-definition, luxury indoor golf simulators for the ultimate dining and driving experience.
Come for the delicious food, stay for the great atmosphere! Tap Station offers great beer, burgers and bourbon in a converted former mechanic's station in downtown Apex. The two-story, family-friendly brewery and restaurant has tons of outdoor space that includes a firepit, playground and a rooftop bar. Visitors will surely appreciate the artistry and historic nature of this unique location.
R&D Brewing opened its first taproom, named after their award-winning beer, Seven Saturdays (a modern IPA with notes of grapefruit, mango and passionfruit). The taproom has 16 beers on tap, including the brewery's classics, small-batch releases and seasonal brews. Although the taproom doesn't serve food, you're welcome to bring your own or order delivery. Be sure to grab a photo in front of the Raleigh skyline mural by local artist Brian Crabtree during your visit.
Header image of A'Verde Cocina and Tequila Libraryby Forrest Mason
Comments