2020 in the Rearview Mirror: Reflections from GRCVB Staff
Tuesday, December 15, 2020, 2pm by visitRaleigh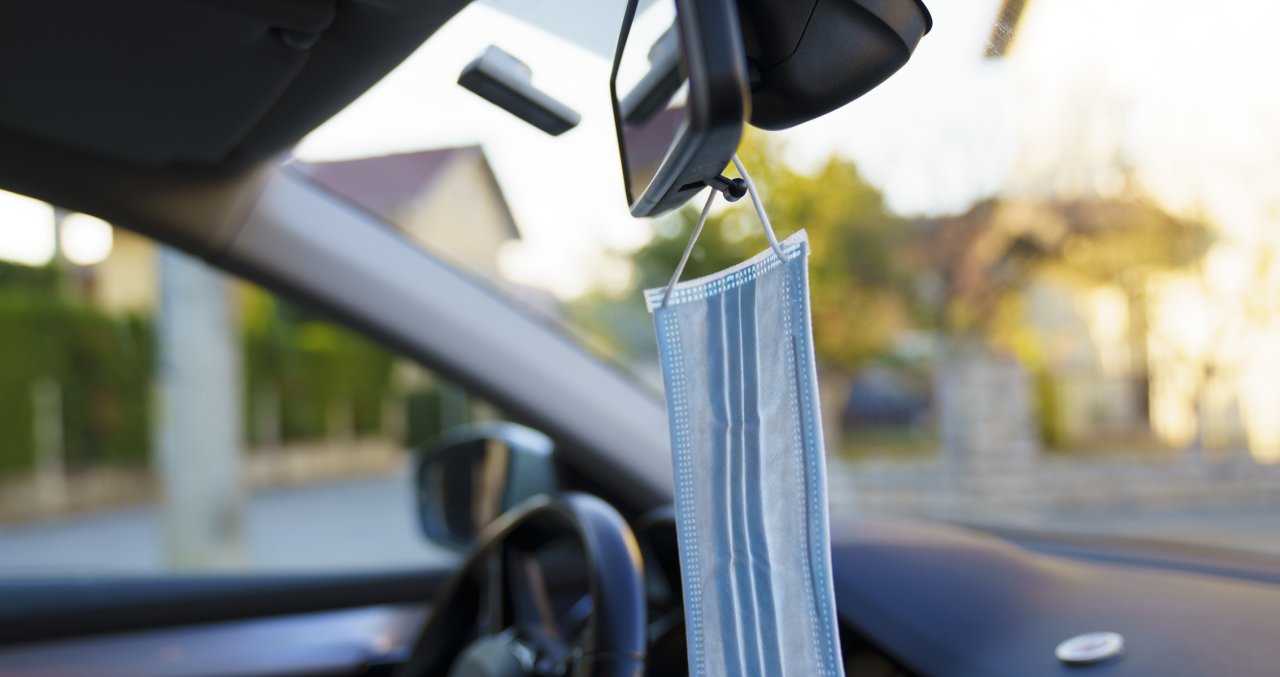 Do you remember that old Mac Davis song "Happiness is (an unnamed Texas city) in the Rearview Mirror"? We're going to paraphrase it to "Happiness is 2020 in the Rearview Mirror."

With the end of this unexpected and unprecedented year in front of us and vaccines loaded onto FedEx and UPS trucks and on their way, we can take a moment to look back and evaluate what we've all just been through.

We asked the staff of GRCVB to stop and think just a moment—from your role at GRCVB, what lessons have you learned in 2020? Our responses are below, but we would ask you to ponder that question for a moment, too. What lessons have you learned in 2020?

..........

Theresa Tyler, CGSP®
I learned what a great family the tourism industry is in that everyone is willing to share how they're handling the pandemic and the things that need to be done to stay safe and to keep our groups safe. Great industry.
Andrew H. Baker 
Remaining engaged with local stakeholders is just as important during dark times as bright. If we cannot have a direct impact on them, we must continue to be champions for partners within our community, no matter how small the means of contact. Showing support for local businesses when out-of-county business is down will only strengthen the work we do together in the future. 
Kessa Stevens, CGSP®
I learned not to take what I do for granted. Things can and did change in the blink of an eye, and so many of my peers across the country have had their roles reduced or eliminated. People in tourism have a special passion for what they do, and I plan on using my passion to continue to help guide our visitors (and prospective visitors) to plan and shape their time in Raleigh, N.C., to ensure their visit is as enriching and memorable as possible, including showcasing all the awesome partners we have throughout Wake County. Our partners need us more than ever, and I don't want to let them or our visitors down. Ever.
Marc Dooner 
As a sales manager, I have learned that my role in promoting the destination, coordinating logistics for planners and creating opportunities for our partners is a building block to the greater goal of generating dollars for the local economy and subsequently creating demand for a plethora of hospitality and tourism-related jobs. Without this demand, the economy and, more personally, our neighbors, struggle to make ends meet and support their families. My takeaway from 2020 would be twofold: first, I recognize that there is inherent value in face-to-face interactions; secondly, there is an innate desire for, and fulfillment from, human interaction. We are unquestionably social creatures. 
D. Scott Dupree
Above all else, to count your blessings. Both personally and professionally. 
Scott Peacock
The importance of keeping the public informed about the role GRCVB plays in driving broader economic development for the community. When leisure visitation slows, the Bureau still plays a significant role in helping state and local economic development organizations attract companies, investment and talent to the region.
Loretta Yingling, CMP
As a part of the Convention Sales team, I have learned just how crucial authentic relationships are. Relationships have always been a huge part of developing business, but with COVID halting all new business opportunities for months, it's those authentic connections we all have with our clients that have become invaluable. Losing the ability to host meetings in our destination has been really eye-opening regarding the impact our industry has on so many aspects of the community! Beyond the "obvious" to hotel and venue employees, the impact (of visitor spending) on each and every related supplier and local business owner runs deep. 
Our industry is full of incredible, resilient people. Strong people. People who have had to reinvent their business or role entirely to just survive. People who have had to go from a team of 20 to a team of one and still maintain a positive attitude. People who have lifted each other up so tirelessly. We thought September 11th was difficult on our industry (and it was)! Never did anyone ever imagine we'd be at a point where we could not meet at all for months at a time!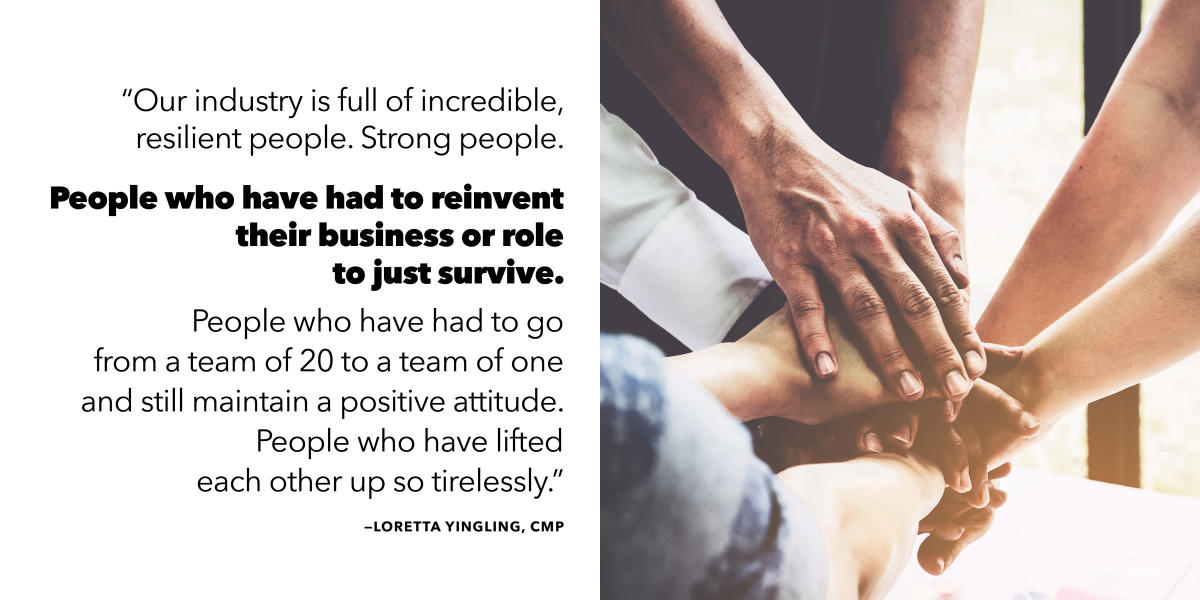 Nicole Keshler
People are everything. We cannot do what we do without the passionate and dedicated members of our hospitality community. So many of them were furloughed or laid off due to the pandemic and forced into new careers in other industries. We will miss them dearly and work hard to build long lasting relationships with future new hires in these positions. It really is a team effort. I think we knew that before but now we've really gone into an "all hands on deck" mentality and it shows. Our team is stronger than ever and working hard to recover one step at a time. 
Malinda Harrell, CMP, CASE
Since being a member of the Bureau team, I always knew that our industry makes a huge impact in the world. The impacts of COVID have heightened that awareness. Meetings and conventions are the catalyst for a thriving society from every aspect. Our industry changes lives... everyone is impacted. Easy to identify are the hotels, convention centers etc., but what about the farmer, the pilot, essential workers at restaurants and bars, taxi drivers—the list goes on. COVID has shown me that now more than ever we have to continue to evangelize the importance of our industry and the role we play in stimulating economic and intellectual growth. As an industry, we need to embrace change and evolve into what is the next normal to rebuild.
Julie Brakenbury, CGSP®
I believe the biggest lesson I've learned is that I should never take anything for granted. Tourism has been so strong, I never believed it could go away this dramatically. I also didn't realize how much I loved working with our clients, the meeting professionals and helping them to plan their events here. Now that my work is on hold for awhile and that a lot of my work has shifted to helping clients triage their plans, I miss it more than I ever dreamed possible. Let this be a reminder to me when events come back to never ever complain about how busy I am! My biggest takeaway—be thankful and never take work for granted.
Tori Collins
I have learned to roll with the punches and expect the unexpected. Every morning I wake up to something new that is shocking. Tourism is vital to the economy of Wake County, and I feel that our role is important now more than ever. I always felt that we played just a small role in the economy, but now it feels extremely large and important when you consider all the jobs that are supported. This seems especially important now when we think of so many of our partners who are out of work and losing their businesses. 
Jack Matteo 
I've learned numerous lessons about the functionality of the Bureau. I have learned how to do my job better and have become more confident and comfortable in my role. 
Dennis Edwards
COVID-19 has certainly elevated the economic importance of tourism to the community and the role we play in increasing visitation. The entire community relies on us to be the voice for tourism, and our stakeholders and our visitors depend on us to provide up-to-date and accurate information on the area. 
Gray Henderson, CGSP®
The words of the '80s rock band Cinderella, "You don't know what you got (till it's gone)," really hits home these days, and I think everyone in the events industry is feeling that sentiment hard right now. Even as a tourism and event industry professional, I don't think I truly realized how significant live events are to my psyche until they were eighty-sixed from our everyday lives this year. In spite of this harsh reality, one inspiring takeaway I've learned about the events industry is how quickly adaptive we are. The spawn of virtual events immediately took shape, quickly followed by hybrid events as safety guidelines would allow. The lesson I've learned through the COVID pandemic is that the event industry has proven resilient and adaptive because we've always had to be, and we will get to the other side of this, one way or another.
Tammy Jeffries, CGSP®
I've learned that my role and responsibility at the CVB is very much intertwined and influenced by what's happening not only within the travel and tourism industry locally, nationally and globally, but also with the hospitality and service industry as well. Without planners bringing meetings and tourism dollars to Raleigh/Wake County, my direct role has little value. COVID-19 has made me realize more and be able to articulate to others how important our industry is and that all the tourism partners, museums, hotels, attractions etc. play an important part in making our world go around. One entity ties in and helps another. COVID has made me more aware of how valuable each of our partners are (especially the small businesses and restaurants) and that one usually doesn't survive without the other. COVID has made me not only appreciate what we can contribute to planners and visitors as well as the resources we can offer but also to take more ownership of them. Also, to value and appreciate family more and not to take them for granted, respect partnerships and appreciate networking opportunities as you never know when you are going to need/depend on someone.
Paula McChristian, CGFM 
I am very proud of our leadership team. When we started to see occupancy tax collections decrease in March, our team immediately went to work on cutting budgets and then worked closely with Wake County for CARES Act funding to stay out in the marketplace during the last half of 2020. The relationships with local government and industry leaders that our team has fostered over the years helped us to work through the challenges we faced in 2020 and will continue to face in 2021. We are resilient and will come through this. The GRCVB cares about each and every employee and their well-being.
Stephen Jackson, CMP
The value of our positions as an tourism ambassador to Raleigh/Wake County is just as important in bad times as in good times and patience is always the key.
Karen DeSollar
Personally, I have learned to dig deeper to find the fortitude I've needed to keep going in this circumstance… "when the going gets tough, the tough stay home…again." Professionally, this circumstance has underscored that what tourism does for a community is so tangible. How many of our colleagues have lost their jobs, how many restaurants have closed, how many opportunities for connection were missed because of meetings that didn't happen? We will never know what might have been…. And over all that, I'll echo what I know a lot of people are saying at the end of this year—be grateful, be grateful, be grateful—for every blessing and benefit that you have. I hope we will never have to learn these lessons in this same way ever again. 
Vimal Vyas
It has been eye-opening to see how we can assist partners with digital reach. With CARES Act funding, GRCVB captured 360-degree tour footage of partner venues and applied it to their Google My Business images/360 section. The addition of the 360-degree tours to visitRaleigh.com partners' detail pages and Google My Business increased their reach on search and direct hits to their websites. Also, the accuracy and visibility of our partners' digital presence on search engines is key to our ability to sell the destination. We have continued our digital footprint beta test with community economic development and DTN, our advertising sales partner for visitRaleigh.com. This beta involved using a product called Yext, which can help elevate a partner's digital brand. It provides the ability to automatically synch information across 50+ directories such as Google Maps, Yelp and Apple Siri. GRCVB can continue to help partners reach more visitors in this time of recovery. 
Jason Philbeck, CSEE
The pandemic has further proven the importance of tourism and how it impacts communities in so many ways (economic development, jobs, hospitality, entertainment, quality of life, sporting events etc.). The sports tourism industry is one sector that has continued to safely operate and stay afloat, and there is cautious optimism about what's ahead in 2021. 
Derek Allman, CHIA
It wasn't necessarily a lesson I learned, but this year drove this point home more than ever: people are the heart of tourism. Through this year, we have all been in this thing together, we've worked together, we've built each other up, we've collaborated, we've become closer, we've become stronger. Our people, our hospitality industry workers, from frontline staff to organization leaders, are the core of what makes this destination such an incredible place to visit. 

Check back on this Tourism Talk blog on Jan. 4, 2021, for our answers to "What are you most optimistic about in 2021?"

Author: visitRaleigh
The Greater Raleigh Convention and Visitors Bureau (GRCVB) is the official and accredited destination marketing organization (DMO) for all of Wake County.
Comments