Coronavirus Briefing from May 14, 2020
Friday, May 15, 2020, 1pm by visitRaleigh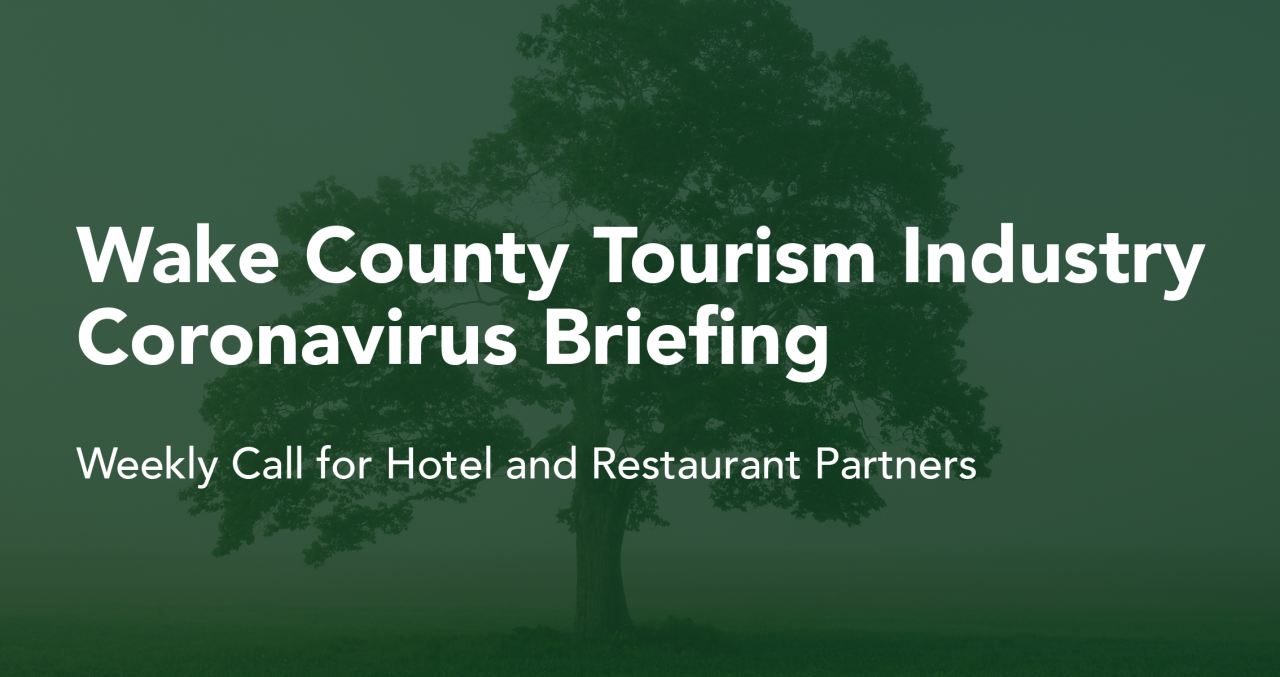 Leaders in the hospitality sector and local community are hosting weekly conference calls with updates related to the COVID-19 crisis. Here is a summary of the call from Thurs., May 14, 2020 (or if you prefer to listen to the full recording, please find it here)...

Dennis Edwards, GRCVB president and CEO, noted that last week's hotel occupancy rate had leveled at 31.6%. He also reported that, year-to-date, 132 meetings and conventions have canceled, events that would have brought 143,000+ people to the area and totaled 90,000 room-nights used. Those cancellations add up to a direct economic impact loss of $59.5 million.

From others on the call:

Chris Dillon, assistant county manager for Wake County
Wake County commissioners will be voting on a $5-million loan package for small business owners on Tues., May 19, 2020. The loan is available to businesses with less than 100 employees: it covers two months of lost revenue at a rate of .25% for six months with an option for an additional 48 months at 5.5%. Details will be available on the Wake County website here.
The County will continue to follow the Governor's guidelines. Regarding mass gatherings, County officials are investigating thermal imaging technology, which would alert organizers that an attendee has a fever; that attendee would be asked to leave the event and follow up with their doctor.

Rafael Baptista, MPA, senior manager, community economic development, City of Raleigh
The City has worked with Carolina Small Business Development Fund to establish a loan for business owners. The application process is open and had received 220 applications by close of business on Tuesday. Business owners can continue to submit applications until the close of business on Thurs., May 21, and still be eligible. Click here for more.
City of Raleigh parks and events remain closed until June 26. All City-sponsored events are canceled until May 31.
The City is working on opening facilities and relaxing regulations that might allow restaurants and businesses more flexibility as they reopen.

Lynn Minges, president and CEO, North Carolina Restaurant and Lodging Association (NCRLA)
Lynn believes Governor Cooper will allow restaurants and bars to reopen the week following May 22 but with some guidelines, e.g., operating at 50% capacity. She is hoping the governor will announce the reopening date soon so business owners can prepare (to restaff, order supplies, modify menus etc.).
There's also a lot of interest in creating out-of-the-ordinary dining situations such as setting up service on sidewalks and in parking areas. This may include alcohol service, but we will need further clarification from the authorities before we know for sure.
Lynn's staff has also been working with state legislators related to liability issues in the restaurant community.
NCRLA has launched Count On Me NC, a training program for all businesses in the hospitality community and anyone else who would like to participate. The program is free of charge, and you do not have to be a member of NCRLA to take its courses.
"Count On Me NC" outlines new guidelines and procedures for hospitality businesses to follow in the COVID-19 era. Lynn expects 250,000 hospitality employees to go through the training in the next few weeks.
Hotel dining facilities will follow the same guidelines and protocols as other restaurants.
Lynn believes there are also standards coming for meeting spaces that will align with dining practices; for example, if a ballroom accommodates 500 people for a meeting, according to the new social distancing measures, the space would be able to host 250 people.
Hotel gyms and pools will be required to follow the same guidelines as other gyms and pool facilities.
Allison Schult, CDME, director, tourism marketing, Visit North Carolina
Allison outlined Visit N.C.'s current campaign designed to spark interest in visiting the state.
"Cook It Forward NC" has asked outstanding North Carolina chefs and social media influencers to post on Instagram about the meal or dish they miss the most from their fellow chefs. Both Ashley Christensen and Cheetie Kumar from Raleigh are participating. The chefs will also contribute demonstration videos featuring well-known dishes from their restaurant kitchens.
The program encourages viewers to donate to support the N.C. Restaurant Workers Relief Fund.
You can find more information on the Visit N.C. website here. Allison presented many more details about "Cook It Forward NC" on the call; her presentation is available within the full recording linked above.
The next weekly Wake County Tourism Industry Coronavirus Briefing is scheduled for Thurs., May 21, 2020, at 1:30pm.

Author: visitRaleigh
The Greater Raleigh Convention and Visitors Bureau (GRCVB) is the official and accredited destination marketing organization (DMO) for all of Wake County.
Comments