GRCVB Recognized with NCTIA Awards
Friday, October 08, 2021, 9am by visitRaleigh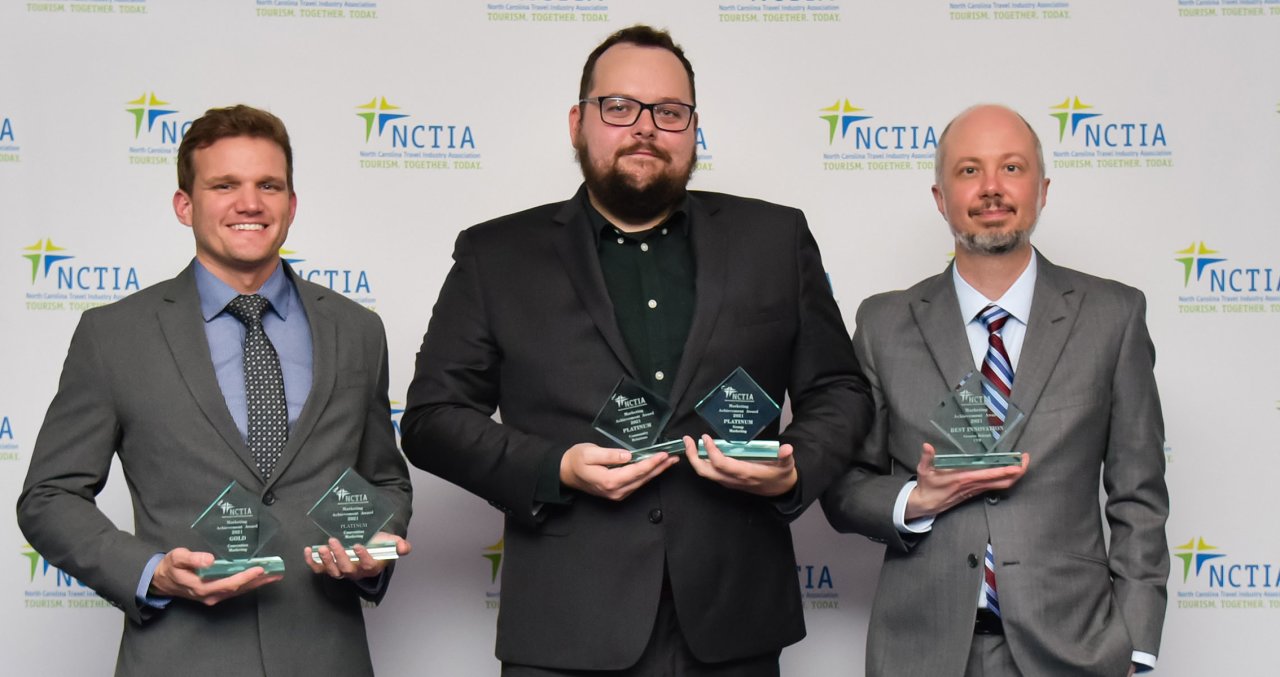 It is always gratifying to receive awards for the work you do. 

That way, you know someone is noticing and perhaps the effort you have put into a product or project has been valuable to someone. It seems a little more special and even more humbling when the work you have done during extraordinary circumstances is recognized, and a global pandemic can certainly be considered extraordinary.

We are humbled and grateful to be acknowledged for the awards we will report below, but even more hopeful that the effects of these projects and programs will accrue to most every hospitality partner in Wake County.

Last week, several members of our marketing team attended the North Carolina Tourism Leadership Conference in Winston-Salem, hosted by the N.C. Travel Industry Association (NCTIA). The event includes seminars and presentations from travel leaders with updates about the current industry climate, specifically as they relate to our state.

At the conference each year, NCTIA also presents Tourism Achievement Awards to honor and showcase innovation, best practices, creativity and results accomplished through our industry's collective marketing efforts. At the 2021 Tourism Leadership Conference, GRCVB was honored with five awards, the most for any CVB.
In the Meetings and Conventions category, the Bureau received both a Gold Marketing Award and a Platinum Marketing Award for two similar but distinct projects that the Sales Department carried out with meeting professionals during 2020-2021. The now award-winning Meeting Professionals Summit Virtual Series was summarized in this 2020 blog post; award-winning Half-Hour Hangouts (another series of virtual client meetings hosted by Sales and area hotel/venue partners) occurred April-June 2021.
GRCVB and its GRSA division then were handed a Platinum Marketing Award in the Group Visitors category for creation of a website with content dedicated to the Greater Raleigh Esports Local Organizing Committee and to the attraction of new esports events to Raleigh/Wake County. This March 5 news release summarizes those award-winning efforts of the past year.
NCTIA's judges selected the combination of these three business-to-business (B2B) projects for an overall Innovation Award (similar to best of show); out of all industry projects submitted statewide, the GRCVB's B2B projects best exemplified an innovative approach to destination communication/organization/promotion during the COVID pandemic.
Lastly, in the Community Stakeholders category, the Bureau again won a Platinum Marketing Award for the rollout of Tourism U and the associated research study of tourism awareness among stakeholders in Wake County; that effort is described in this March 5 blog post.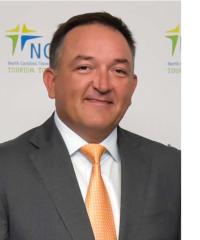 Beyond earning the high esteem of travel industry judges and our own N.C. colleagues for recent work on behalf of Raleigh/Wake County, GRCVB staff also were on-hand to applaud Sam Jones, honored with NCTIA's 2021 Tourism Excellence Award for an Individual. Jones recently expanded his legendary enterprise with the opening of Sam Jones BBQ Raleigh in downtown's Warehouse District. We're proud to have even a single serving of his great barbecue prowess now available to foodie visitors in Wake County.
Pictured here: Sam Jones
Up top: Derek Allman, CHIA, assistant director of marketing and communications; Andrew H. Baker, marketing manager; and Jonathan Freeze, CDME, director of marketing and communications, with five Tourism Achievement Awards.

Author: visitRaleigh
The Greater Raleigh Convention and Visitors Bureau (GRCVB) is the official and accredited destination marketing organization (DMO) for all of Wake County.
Comments