Join Us for Tourism Talk Live—Nov. 8
Friday, October 12, 2018, 4pm by Karen DeSollar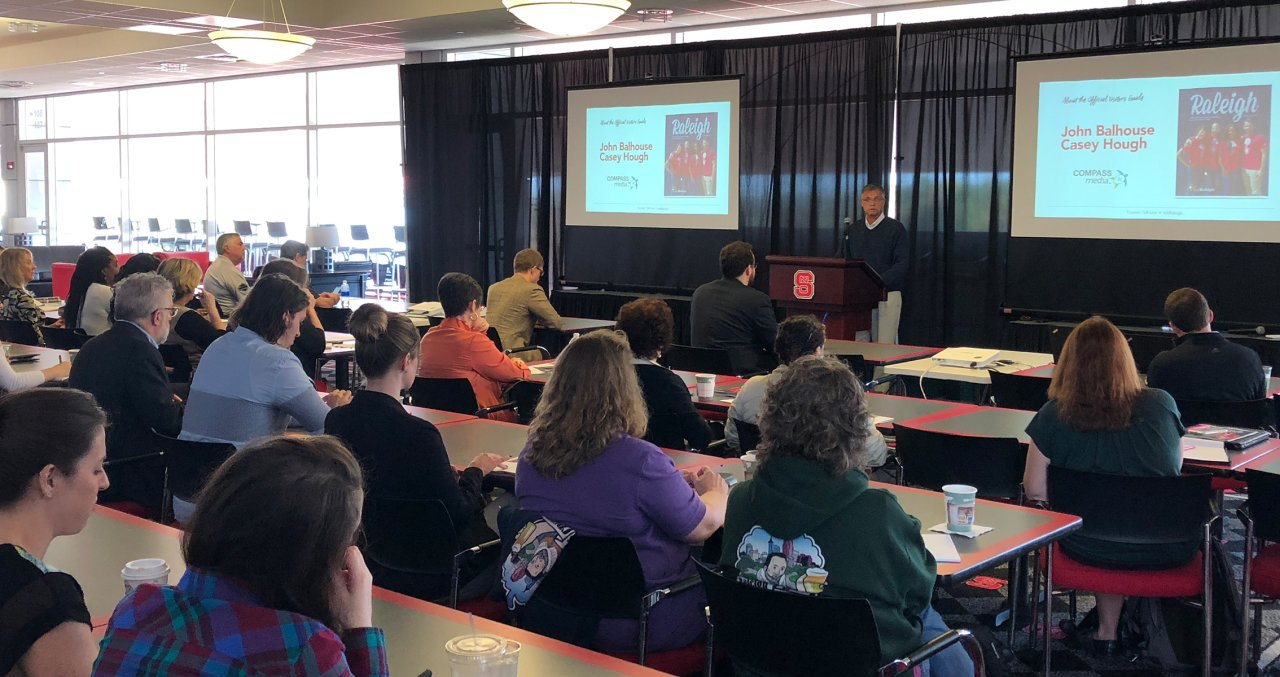 We don't know if you have noticed, but GRCVB groups all of our communication about the business of destination marketing under one thematic umbrella—Tourism Talk. Anything that appears under the "Tourism Talk" header is tailored for hospitality partners, business leaders, elected officials and anyone interested in tourism business in Wake County.
E-news
The Mon. morning Tourism Talk E-newsletter is a summary of relevant news and updates we believe can be valuable to our partners (i.e., groups arriving this week, who's coming, area accolades, media mentions, what our staff is up to etc.). 
Blog posts
If you are reading this, you are aware of the Tourism Talk blog, where we endeavor to tell the story of the business of tourism in Wake County, the rationale for why we do what we do, the results (i.e., economic impacts) of specific projects, programs and events, what the future of tourism looks like in the area, plus much more.
Events
The third prong of the trilogy is Tourism Talk Live, where we meet with our partners and stakeholders face-to-face to present relevant information and new developments, to dialogue with you, to field and ask questions and to continue these conversations in person about our shared business and strategies.
We have four Tourism Talk events each year (including the Annual Meeting). The last Tourism Talk Live event for this year is scheduled for Thurs., Nov. 8, 2018, at Alamo Drafthouse Cinema at 10am. (If you haven't been to Drafthouse, you can learn more about it here.)
Here's what on the agenda:
A message from our friends with Compass Media regarding opportunities for the 2019-2020 Official Visitors Guide to Raleigh, Cary and Wake County
An update on international tourism in North Carolina from Visit N.C. executive director Wit Tuttell and GRCVB director of public relations and international tourism Scott Peacock
An update on content strategies and tactics for the newly-redesigned visitRaleigh.com plus email marketing and social media initiatives from GRCVB senior marketing manager Derek Allman, CHIA, and content marketing manager Michael Robson.
Click the link below to register. (By the way, I've checked and there will be popcorn.) 
We hope to see you there!

Author: Karen DeSollar
Karen DeSollar is creative director at the Greater Raleigh CVB and has worked for over 15 years in the tourism sector. She started her career as an editor and earned a bachelor's degree in speech communications and English and a master's in journalism. She added graphic design to her bag of tricks when she spent 13 years as director of communications at a university in San Diego.
Comments