Makers with a Mission
Friday, January 13, 2023, 2pm by visitRaleigh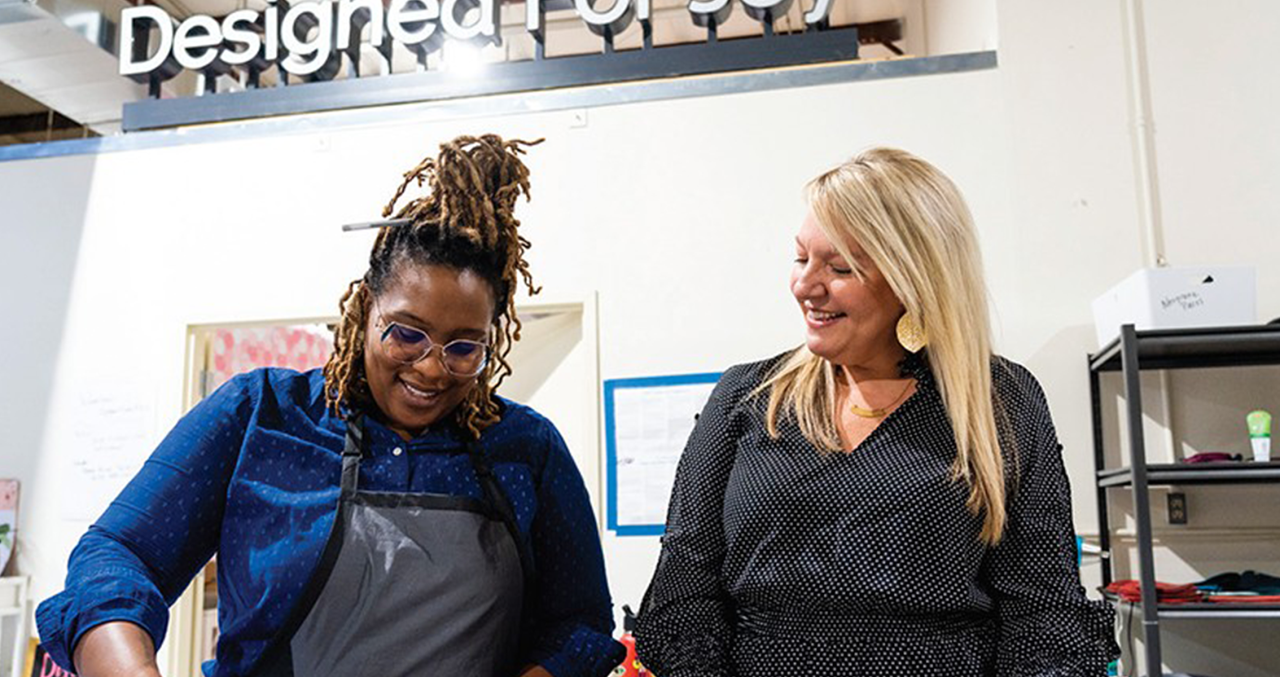 Since the destination brand's refresh in 2015, we at GRCVB have made every effort to showcase as many local, passionate-minded makers as we possibly can. 
For the past seven-plus years, we have been working with many Wake County businesses to create a product inventory that GRCVB can use whenever we want to represent Raleigh, N.C., in the best way with our destination clients. We have distributed their products on the trade show floor, included them in welcome baskets to clients or given them as memorable tokens of appreciation to meeting and sports event planners, travel writers or special guests—in a lot of ways, to give recipients a sense, and sometimes a literal taste, of what makes the Raleigh area unique.

Some of the local makers we have worked with include:
Cold off the Press
Ella's Popcorn
Escazu Chocolates
Five Points Baking Co.
Ford's Fancy Fruits & Gourmet Foods
Greenwich Bay Trading Company
Hawks and Doves
House of Swank Clothing Company
Larry's Coffee
Moon and Lola
Olde Raleigh Distillery
Raleigh Denim
Slingshot Coffee Co.
Sam Jones BBQ Raleigh
Trophy Brewing
Videri Chocolate Factory
and others

We love featuring our partners and the products they produce almost as much as trade show attendees, clients, event professionals and others love receiving them.
---

---
Recently, we have been delighted to feature several local business partners and makers whose products provide for more than just the products themselves. We have been working with these three vendors, all of whom are great representations of not only Raleigh's creative culture but also of its great, big heart.

Designed For Joy
Designed For Joy (DFJ) is a jewelry and accessories company founded by Kristen Sydow and Cary Heise. DFJ supports women in crisis, with stability through immediate employment. Kristen and Cary and their team envision "a community where every woman has the opportunity to earn a living wage through safe and dignified work. For us, a living wage means an income that gives women positive choices rather than making desperate decisions when trying to provide food for family and paying rent. Our hope is for our artisans to find confidence in themselves, learn to trust community and grow in their faith while working with DFJ. 

"Our goal is for participants to leave DFJ with marketable skills and solid references to succeed in the job market." DFJ endeavors to "share the Truth of God's Word in a culturally-relevant way and to provide sustainable jobs to community members in lower income areas of the Triangle and to others located overseas. To this day, we continue to offer prayer and devotion before the work day. We host and send mission teams domestically and internationally. All are warmly welcome to work and serve with us." For more information about DFJ, click here.

Gabi's
Gabi Angelini is a lively and charismatic 24 year old with Down syndrome and the cofounder of Gabi's. After she graduated high school, she ran into a problem that 82% of the intellectual-and-developmental-disabilities community faces—no one would hire her. Her friends were struggling to find work, too, so Gabi and her family decided they needed a plan for Gabi's future. "One summer Gabi and I visited a coffee shop that employs people with disabilities," said Mary Angelini, Gabi's mother. "Thus, Gabi's Grounds was born!" Eventually, the business moved out of the family garage and into a shared warehouse. It was there that Mary noticed others using the main warehouse to package, assemble and label items for other companies. 

This is how Gabi's Grounds became Gabi's—Powered by Special Abilities. Gabi's additional component—PALS (for Packaging, Assembling, Labeling, Shipping)—contracts with other businesses and helps with these needs. Since making this transition and moving into the warehouse, the company has grown their team to 43, with a goal of enabling and empowering other individuals with special abilities.  For more information about Gabi's, click here.

1 in 6 Snacks
When Josh Monahan graduated from N.C. State University in 2017 he had already launched his company, 1 in 6 Snacks, and had a clear vision of his future. It was a vision shaped by his family's 65 years in the snack food industry and his desire to continue the tradition. But Josh wanted to do more than just open another food company. He wanted it to mean something: he wanted to give back to his community and to the world. "The name 1 in 6 Snacks represents the one in six people in America who do not know where their next meal will come from, and we are out to change that statistic!" says Josh.

"The first product that we offer is Carolina Kettle potato chips, and with each bag sold, we donate a portion of the proceeds to the food bank. We donate a nickel for each 2-oz. bag sold and a dime for each 5-oz. bag." Carolina Kettle has six uniquely Carolina flavors, and each is crafted with regional spices, herbs and flavors to reflect traditional Southern recipes. The tastes are all-natural, gluten-free, kosher-certified and cooked with 100% sunflower oil.

For more about 1 in 6 Snacks, click here.

A word about our vendor relationships...
If you are a Wake County-based maker and have a product that you think might lend itself to being used as samples or promotional gifts to advance the Raleigh area further as a tourism destination, please let us know. We're always on the lookout for new and innovative options.

Send your information to marketing manager Andrew Baker, CGSP®, at GRCVB and let him know you saw this blog post.

"We're especially in need," Andrew says, "of giveaways for trade shows or other larger client groups that come in at a lower price point. We're always on the lookout for a locally-made item in the $1.50 to 75 cents range that still can make a memorable impression."
.....
Top photo by Bryan Regan.

Author: visitRaleigh
The Greater Raleigh Convention and Visitors Bureau (GRCVB) is the official and accredited destination marketing organization (DMO) for all of Wake County.
Comments