Takeaways from the 2022 Visit North Carolina 365 Conference
Friday, March 25, 2022, 3pm by visitRaleigh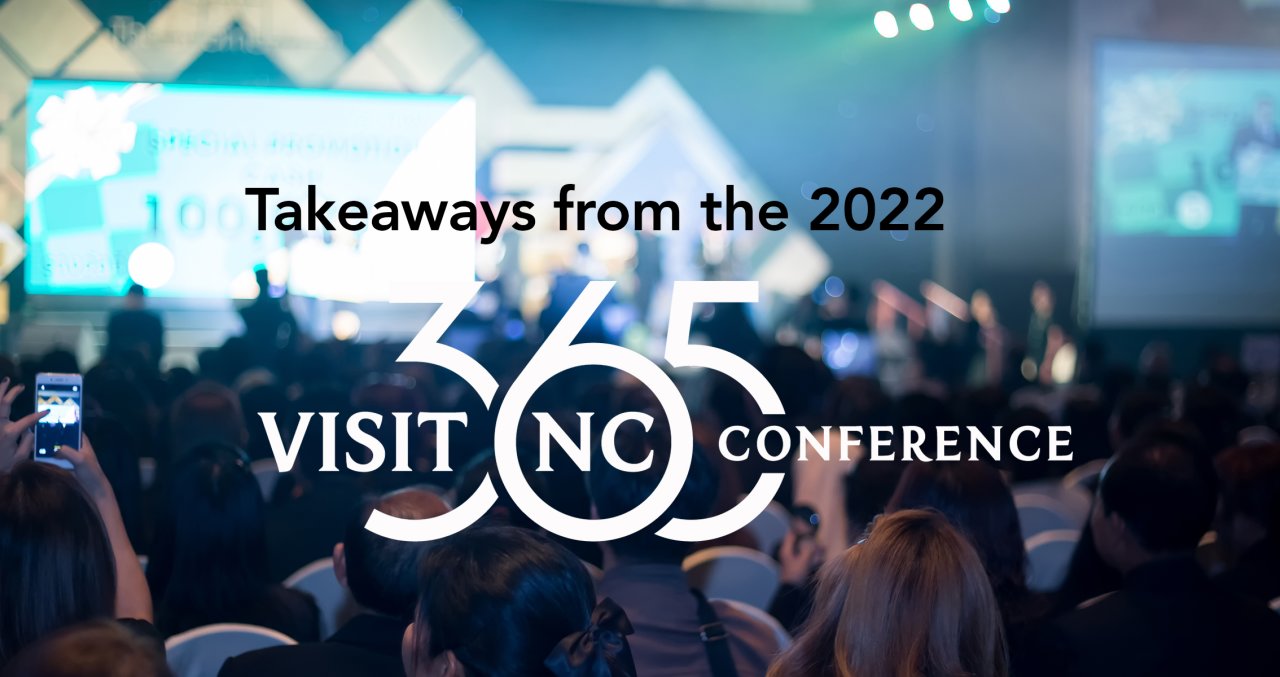 Last week, several of the Bureau's key staffers attended the statewide travel and tourism industry conference Visit North Carolina 365. Destination marketing organizations, major attractions, their advertising agencies and others from across the state gather each year to network professionally and hear the latest about our state tourism organization's (Visit N.C.'s) marketing initiatives as well as tourism trends shared in educational sessions.
We asked those staff who attended last week's conference in Durham to summarize the best nuggets that would be of interest to our Wake County hospitality and tourism partners.
Andrew H. Baker, marketing manager:
"COVID-19 forced many DMOs to pivot their focus from destination marketing to community support. Finding new ways to support partners more prevalently during the pandemic, DMOs learned the value of being leaders in their community as well as visitation-growers. Post-COVID, DMOs must rethink the destination ecosystem in their area and find ways to both take the lead in growth potentials that would positively affect our industry as well as educate partners on the value of the work we do to strengthen our position in the community.
"The three key pillars to this approach are: 
Grow - Find initiatives and infrastructure plans within our community to champion that will increase value to our area as a destination, and also elevate the quality of life for both stakeholders and citizens. 
Engage Strategically - Identify and activate key leverage points already in the community to strengthen our place as thought-leaders.
Lead for Relevance - Advocate, educate and cooperate both for and with local partners in our own initiatives as well as supporting their own in-house endeavors."
Dennis Edwards, president and CEO:
"With the emergence of electric vehicles and the anticipated growth over the next 10 years, communities need to be prepared to have enough charging stations. Nearly 90% of our overnight visitors arrive by car, so to remain competitive, it's critical that we have plenty of charging stations at hotels where our visitors can easily charge their vehicles.
"The workforce shortage will remain a problem for our industry. We need to work collectively, as an industry, to promote and educate the general public including students about the various career paths that are available in the hospitality industry."
Derek Allman, assistant director of marketing and communications:
"Platforms centered around geo-location intelligence and consumer behavior intelligence were a prominent topic more than ever before at N.C.'s statewide tourism conference—meaning more DMOs, small to large, across the state are even more interested in using insights from companies like Arrivalist and Zartico.
"Having adopted and used Arrivalist insights here since 2015, GRCVB has been on the forefront of this technology for nearly a decade, but seeing more DMOs statewide embracing and using these technologies further proved that destination managers across N.C. are making even more data-driven marketing decisions with the information more readily available and in real time.
"In one of the presenting platform's presentations, the company suggested these tips on things to do with data right now:

If you haven't used a certain data point for actionable insights in a year, get rid of it (stop using it).
Embrace five new KPIs (hard ones)!
If the data doesn't help the visitor experience, resident sentiment or organizational transformation, don't use it."
Veronica Thring, public relations and international tourism manager:
"TikTok has grown into an engaging app for over one billion users across the world. It's imperative that the tourism industry takes advantage of the app and its user base. Both destinations and hospitality partners need to devote time and resources toward creating videos for TikTok including utilizing existing content, creating educational/informational videos, engaging the viewer within the first few seconds of the video, posting video replies to comments and using hashtags, filters and effects.
"Solmaz, a Canadian influencer, has created viral travel TikToks that overnight have sold out hotels and home rentals. Her influence on travelers has changed lives of some of her hospitality partners, guaranteeing them income for months and even years. TikTok videos can be imperfect, do not require professional production quality and are a cost-effective and approachable marketing and PR platform for DMOs and tourism partners."
Vimal Vyas, director of data, security and digital innovation:
"It was clear from the sessions that the cookieless world is upon us. A third-party cookie (not an edible cookie, of course) on the Internet can mark an individual's browser history or allow advertisers to track your history based on served online ads. It is important for us to focus on a first-party data strategy to help us understand our leisure visitors—meaning we need to collect information directly from our visitors and partners. A good example of this, as covered at the conference, was Flip.to, an innovative marketing opportunity that's part of a statewide sponsorship from Visit N.C. (a program in our area called GreaterRaleighBound). This helps our hotel partners spark conversations with travelers and gathers first-party, direct data based on their interactions. Certainly a step in the right direction for GRCVB towards acquiring new customers/visitors for the county in a cookieless world."

Author: visitRaleigh
The Greater Raleigh Convention and Visitors Bureau (GRCVB) is the official and accredited destination marketing organization (DMO) for all of Wake County.
Comments