The Next Normal: A Summary of the 2021 GRCVB Annual Meeting
Friday, August 20, 2021, 8am by visitRaleigh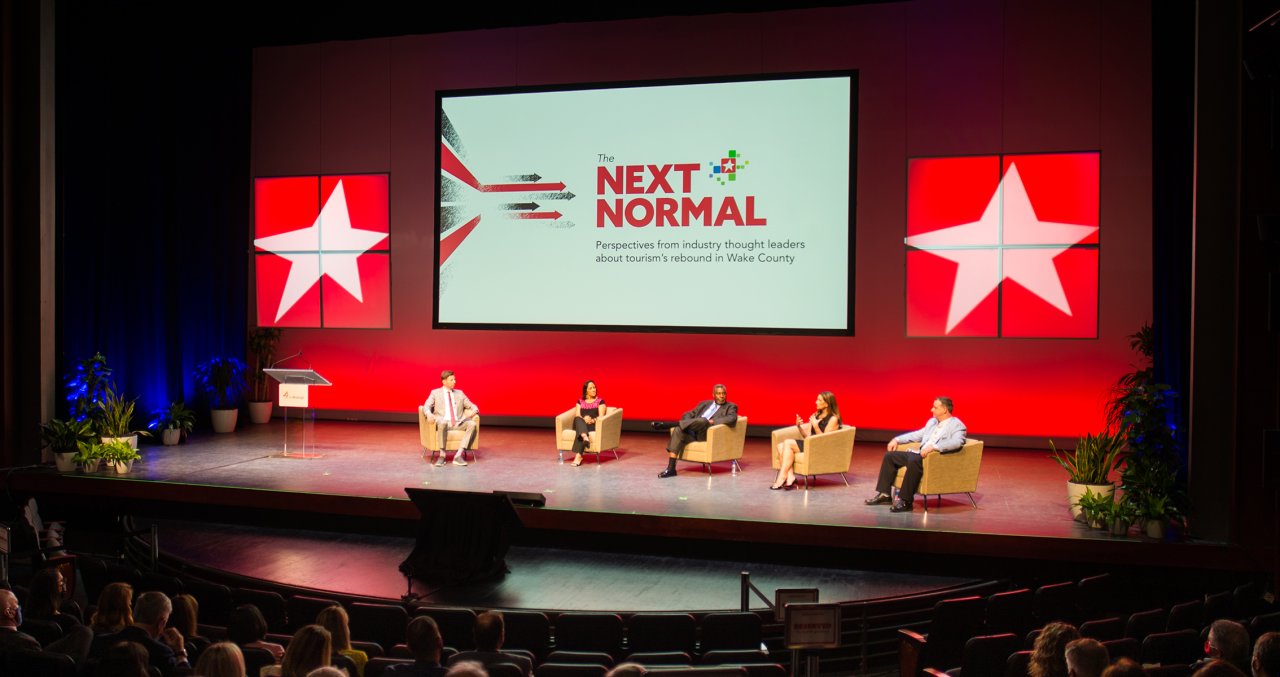 GRCVB hosted its first hybrid Annual Meeting on Thurs., Aug. 19, 2021, virtually and in A.J. Fletcher Opera Theater at Duke Energy Center for the Performing Arts.
Here's a summary of the meeting...
Wake County welcomed 12.9 million visitors in 2020, which was a decrease of 29% from 2019. Those visitors spent $1.7 billion in Wake County, though that was a decrease of 43% from the prior, record-setting year.
Because of the 2020 visitor spending here, $186 million in state and local tax revenues were collected—and that includes more than $39 million in lodging and prepared food tax revenues for Wake County.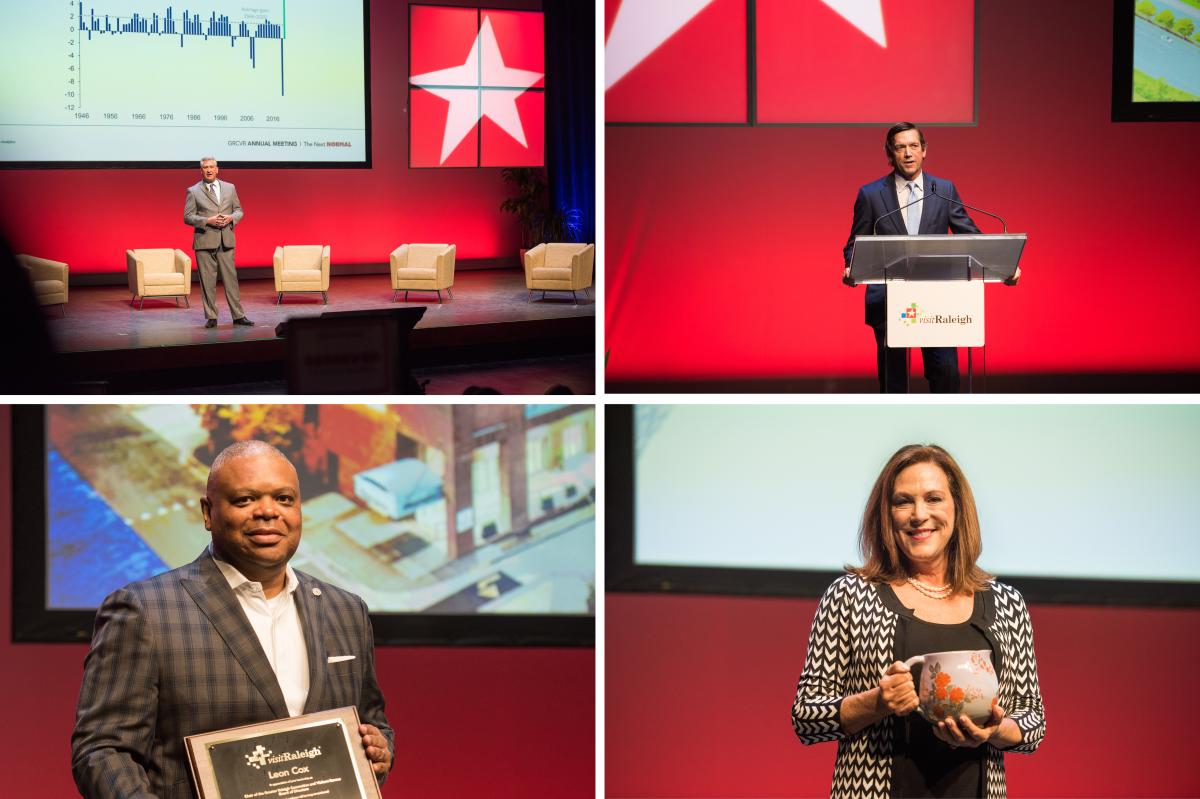 We also know now from our economic data that 38% of Wake County tourism jobs were lost in 2020—while overall employment in the county declined only 3.4%. Tourism was the hardest-hit sector in our county... and in the nation. And while rehiring has begun, the impacts of 2020 have set Wake County's tourism employment a little below its 2010 level. The other tourism figures of 2020 are comparable to their 2012 or 2011 levels.
And yet, the local restaurant industry has rebounded significantly since Feb. 2021. Wake County hotel sales—which fell drastically in 2020—have also rebounded since January... more quickly than experts once predicted in the darkest days of the pandemic, before the announcement of effective vaccines.
The Bureau presented a plaque to outgoing Board of Directors chair Leon Cox, and its annual memorial and leadership awards to the following...
The John B. Ross Jr. Leadership Award was presented to Mark Doble, CEO of Aviator Brewing Company in Fuquay-Varina.
"I want to accept this on behalf of all the employees that make it happen every day," Mark said in his acceptance, "and especially for my wife for keeping me going in the right direction, which is critical.
"A smart, ancient Chinese philosopher once said 'leadership is the ability to hide your panic from others.' I totally understand what he meant by this. I like risks. I like building. I like creating. I like following my passion for creating beer, unique flavors and experiences for our guests through our restaurants in Fuquay-Varina.
"I have really enjoyed managing this company for the past 13 years, and I really look forward to the next years and to see what that will bring me. Thank you for this award. Much appreciated."

The Thad Eure Jr. Memorial Award was presented to Lynn D. Minges, president and CEO of the North Carolina Restaurant and Lodging Association.
"COVID-19 will continue to challenge us," Lynn said while accepting the award. "Our industry has no choice but to be stronger and more creative than ever before. Today I am committed to working side by with each of you to overcome all the obstacles that come our way. If it's funding we need, we will advocate for it. If it's training we need to help our employees and guests feel safe, we will offer it.
"Thad Eure Jr. was a visionary leader and fierce advocate for our industry. I am so thankful and humbled to be mentioned in the same breath with the Eure family and to continue the legacy of the N.C. Restaurant and Lodging Association."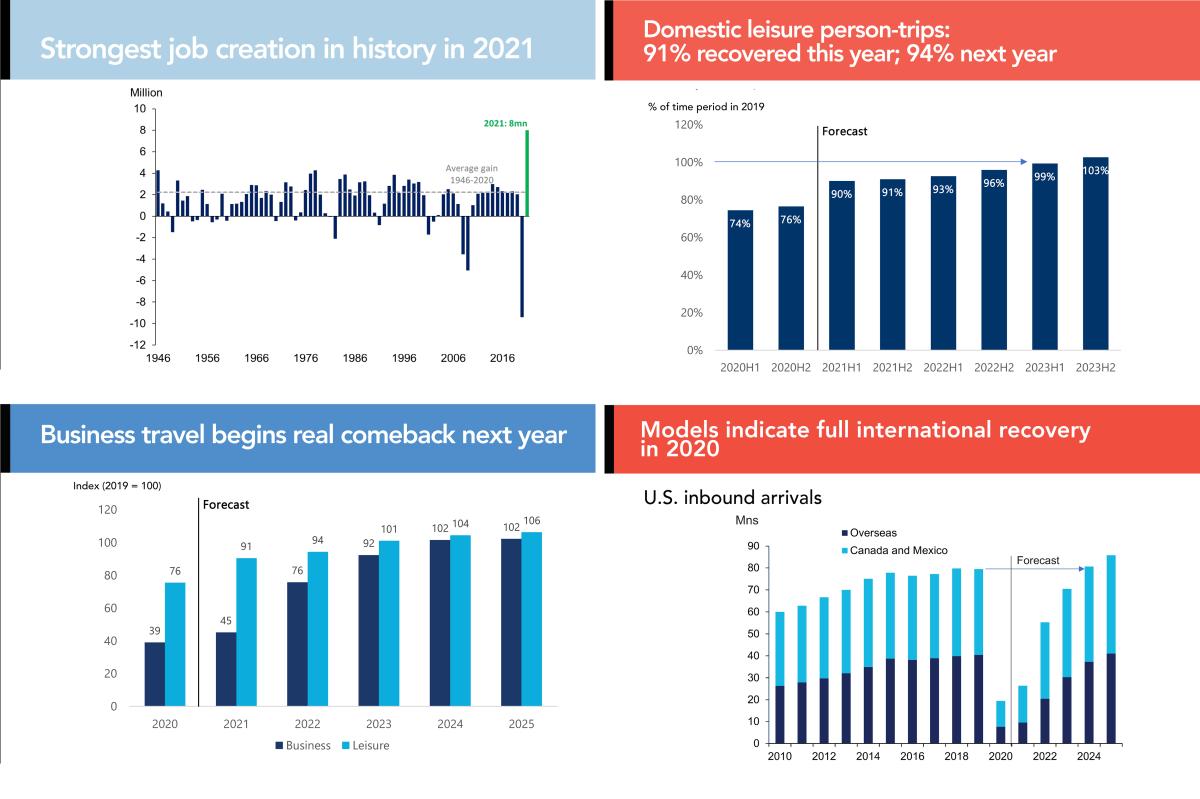 GRCVB president and CEO Dennis Edwards presented his annual State of Wake County Tourism report.
"Our top priority for this upcoming year is to ensure that the leisure and hospitality industry comes back stronger and better than before—that we are ready to thrive in a world that has clearly changed. This is a reset moment for many industries, and the travel and hospitality industry is no exception. Our industry has been hit hard, and we know that we are an important component of Wake County's ability to come back from this terrible pandemic."

Here are highlights from Denny's report.
Oxford Economics expects the U.S. economy will add more than eight million jobs over the entire year of 2021. We still won't be back to where we were until mid-2022, but that is a very significant rebound. However, no other industry has been hit as hard as leisure and hospitality. When you look at all jobs that remain lost in the U.S., a full third of them are in the leisure and hospitality industry.  
Tourism Economics expects that leisure travel volume for 2021 will reach 91% of its prior volume in 2019. Looking ahead to 2022, they expect 94% recovery and full recovery by the first half of 2023.
Business travel is still trailing behind the leisure market. Forecasts are expecting 2021 business trip volume at only 45% of 2019 levels; business travel will begin a comeback next year with full recovery lagging until 2024.
International models indicate that we will not see full recovery until 2024. There's a lot of work being done to safely reopen borders, especially in the U.K. and Canada. There are three barriers still impacting international recovery: policy, travel sentiment and restoring air service.
Denny also highlighted:
Wake County is beginning to experience a recovery, and we are beginning to see sporting events and conventions return. In May, we became the first destination to host both NCAA men's and women's soccer championship tournaments in their entirety.
In June, USA Baseball and the Town of Cary, along with the Raleigh Convention Center, hosted the first-ever Major League Baseball Draft Combine.
The Raleigh Convention Center also hosted the return of two major events this summer, GalaxyCon and the South Atlantic Fire and Rescue Expo, along with two new events—the XP League North American Finals as well as the Southern Hemp Expo.
RDU is beginning to recoup service from additional destinations and see an increase in the number of flights.
Major developments are also taking place throughout the county such as Phase One of Dorothea Dix Park and the new Downtown Park in Cary, as well as the construction of the Dueling Dinosaurs exhibit at the North Carolina Museum of Natural Sciences and the North Carolina Freedom Park in Raleigh.
We continue to add first-class sports complexes throughout the county. The Wake Stone Athletic Park, which features five natural-grass fields, opened this spring in Knightdale. The new Garner Recreation Center, featuring three gyms, opened just this month. And, Phase One of Pleasant Park in Apex, featuring six multipurpose fields, is scheduled to open in the spring of 2022.
All of our major concert venues are hosting up to two to three concerts a week through October. And we are seeing the return of many major festivals and events such as Artsplosure, PeakFest, Lazy Daze, Brewgaloo, Hopscotch, the North Carolina State Fair, and IBMA World of Bluegrass as well as Dreamville announced for 2022.
In 2021 alone, Wake County will welcome eight new hotels for an additional 728 rooms.
He concluded with an observation by Adam Sacks, president of Tourism Economics: "We are learning once again that travel should never be counted out. We are learning that even a devastating pandemic only adds to the archives of historical events where travel was knocked down but refused to stay down. We are learning again that the travel industry—our industry—defines the word 'resilient.'"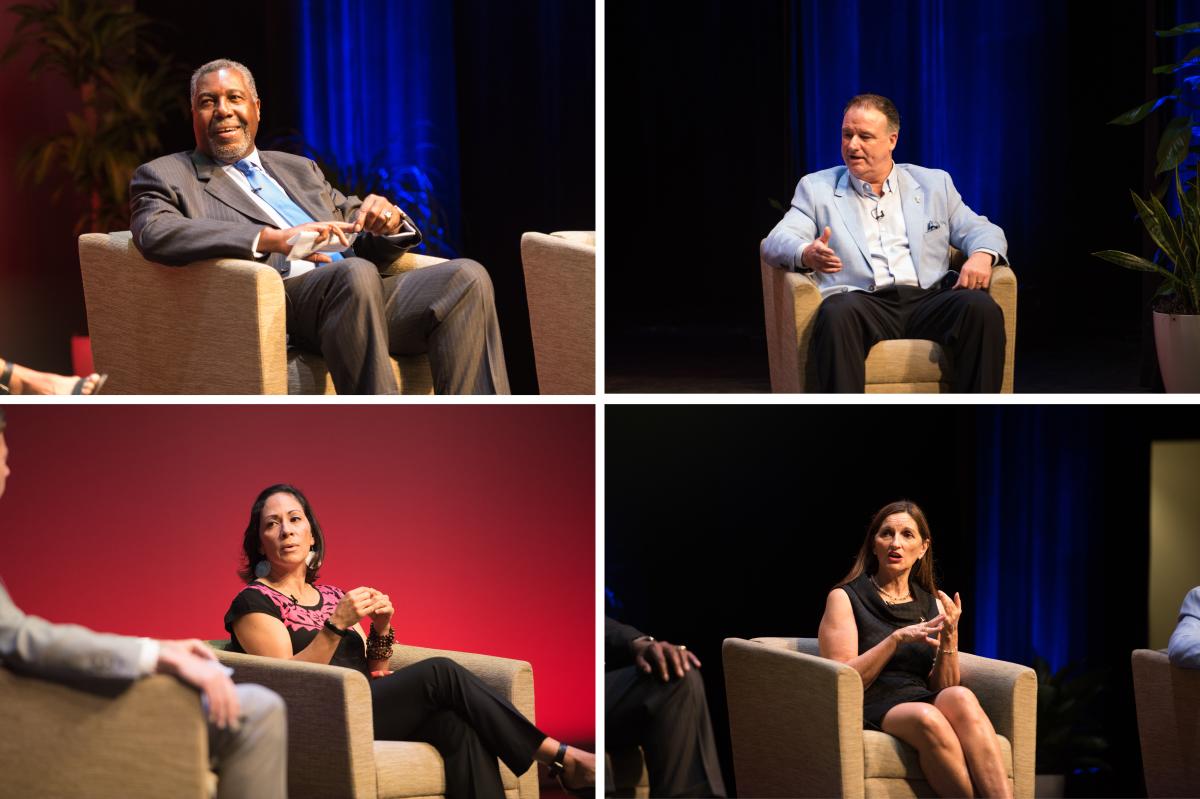 Denny's report was followed by a moderated discussion with four local and industry-leading panelists (Kevin McAteer, senior vice president of sales and marketing at Concord Hospitality; Kerry Painter, CVE, CMP, CEM, director/general manager of the Raleigh Convention & Performing Arts Complex;  Larry B. Perkins, CVE, CPP, CMP, vice president and assistant general manager at PNC Arena; and Angela Salamanca, chef and owner of Centro and Gallo Pelón Mezcaleria).

The panelists fielded questions from GRCVB's director of public relations and international tourism Scott Peacock regarding new policies and procedures that began as a result of the pandemic and are here to stay, policies related to requiring vaccinations at meeting/event venues and the resources the panelists have found particularly valuable through the pandemic.

Author: visitRaleigh
The Greater Raleigh Convention and Visitors Bureau (GRCVB) is the official and accredited destination marketing organization (DMO) for all of Wake County.
Comments