Tourism U Never More Relevant
Friday, June 12, 2020, 3pm by Karen DeSollar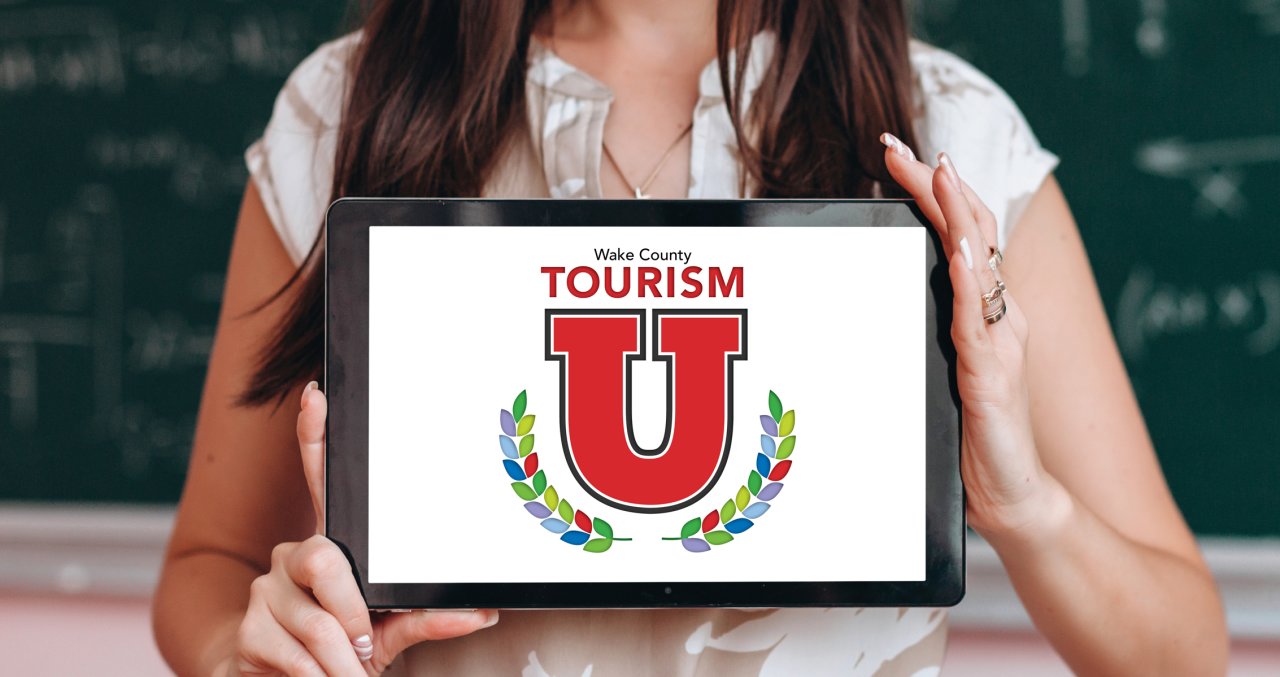 At last year's Annual Meeting in Aug. 2019, we announced that GRCVB would establish a series of tourism educational offerings called "Tourism U" for our partners and other interested stakeholders. Tourism U was designed to explain the cycle of tourism, specific to Wake County, as well as the value of tourism to all of us. At that time the live presentations were anticipated to begin in the spring of 2020.

We were ready to start presenting by that time, too. In fact, I did a sample presentation for our staff on Mon., March 9, 2020, with the intention of previewing the contents to our team and recruiting more staff members to "take the show on the road."

Then came COVID.

Obviously, our plans were derailed like everyone else's. However, what the COVID crisis has done is only underscore the value of tourism to all destinations but certainly here in Wake County.

The drafted Tourism U "curriculum" told the story of what happens when visitors arrive in Wake County; that when they spend their money at hotels, in restaurants and with attractions, that money is taxed. Visitor tax revenues go into the Interlocal Fund, which sustains GRCVB plus existing attractions and venues, such as PNC Arena and Raleigh Convention Center, and funds the development of new ones, like the Cary indoor sports complex.

Tourism also creates and sustains jobs for over 27,000 frontline hospitality employees in the county (there are over 70,000 people employed in the industry sector here in total). Plus visitor-paid and visitor-related tax dollars go to help the City and County cover expenses that would be otherwise passed onto locals. In 2018, that money collected from area tourism saved the average Wake County household $700.

Much of the cycle went awry when COVID-19 impacted us here and everyone around the globe. Many of the 70,000+ employees were furloughed from their jobs or had hours reduced, and even projects that were earmarked to be funded by tourism taxes have been postponed (for a number of years) or perhaps discontinued altogether.

I used to think of the Tourism U concept as something like the movie "It's a Wonderful Life" and thought maybe the contrast would be quite telling—if partners/stakeholders could only imagine what would Wake County be like for a time without any visitors. Unfortunately, we're finding out and we're finding out the hard way; there was simply no amount of marketing that could counteract the sweeping effects of this pandemic.

However, hope abounds, and we will not be deterred. We are working on plans for Tourism U to go remote. We will dust off the presentation, bring it up-to-date now with 2019 data and what might be some sobering 2020 statistics, and we will keep going... like everybody else is... with an eye toward recovery.

You can read more about Tourism U here and be watching for upcoming announcements from us about scheduling a virtual session for your organization. We're ready and anxious to tell the Wake County tourism story once more.

Author: Karen DeSollar
Karen DeSollar is creative director at the Greater Raleigh CVB and has worked for over 10 years in the tourism sector. She started her career as an editor and earned a bachelor's degree in speech communications and English and a master's in journalism. She added graphic design to her bag of tricks when she spent 13 years as director of communications at a university in San Diego.
Comments