Visit Raleigh Studio: 360° Virtual Tours
Friday, February 12, 2021, 8am by visitRaleigh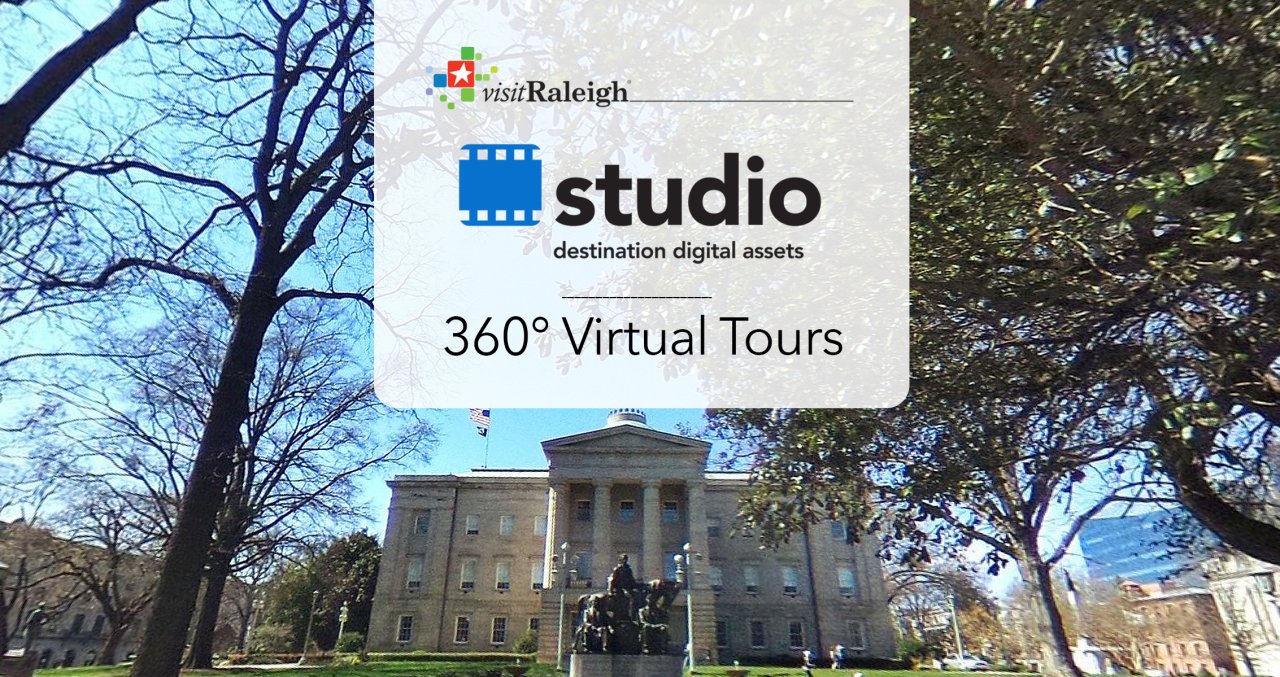 Last week, we were delighted to share with you a project we have been working on at GRCVB during the pandemic (and before).
Visit Raleigh Studio is a curated collection of digital assets (video footage, including from aerial drones at over 75 sites around the county), 360° virtual tours of 90 attractions/facilities and over 7,000 photographs collected from the area.
The Studio is intended to provide high-quality, rights-secured assets to the Wake County hospitality community, as well as other local stakeholders.
How the Studio was Born
This project has a long-term component as well as a more recent one. The destination library of raw video footage, media B-roll assets and 7,000+ photos has been accumulated over the past few years. However, all 360° captures and Destination Virtual Tours drone captures are new.
You may know that GRCVB received a stimulus investment from Wake County through the CARES Act, to fund projects that will keep tourism moving forward in our area post-COVID. 
Last week, we told you about the 7,000+ images in the Photos section of the Studio. Today we want to tell you about a Wake County-specific collection of 360° virtual tour assets.

360° Virtual Tours
In Sept. 2020, GRCVB staff turned to a company called Threshold 360. "After evaluating other vendors in the 360°-tour space for the hospitality industry," said Vimal Vyas, GRCVB's director of information, security and digital innovation, "Threshold 360 was chosen for having great feedback from other DMOs, for the versatility of their platform and their ability to integrate seamlessly with our SaaS platform, Simpleview, and visitRaleigh.com partner information. 
"Also, this solution allowed us to integrate with Google search to increase SEO reach for the tours via Google tours, i.e., increasing partner website views with referrals from both visitRaleigh.com and from Google 360 tours."
The license agreement with Threshold 360 allowed us to choose 90 attractions/facilities from around the county to be photographed in 360 degrees.
Loren Gold, GRCVB's executive vice president, explained how the locations were chosen: "The 90 sites that were filmed and placed on the Threshold 360 platform had two areas of focus for their selection. Because this project was funded entirely by a CARES Act investment from Wake County, specific guidelines for usage of funds were communicated to us by the Wake County Manager's Office. From there, the proposed sites were submitted by GRCVB staff from the Sales, Sports, Marketing, Destination Services and Destination Technology departments based on their frequency/highest usage by meeting, sports and event planners, leisure visitors and municipal partners. Selections received final approval by the GRCVB administrative team and were communicated back to Wake County in a series of progress reports throughout the project."
After a lot of legwork and scheduling by the GRCVB team and our hospitality business partners, the photographers of Threshold 360 spent 15 weeks in Wake County capturing the 90 selected places.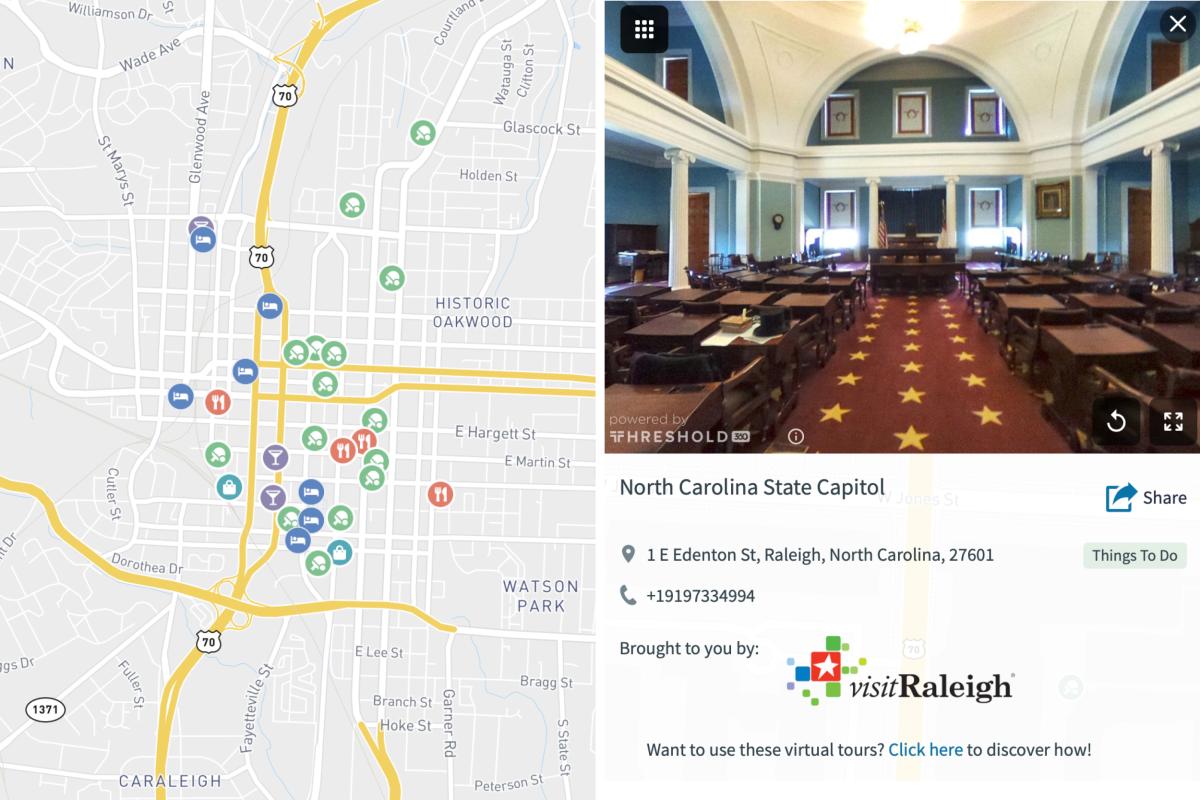 Here's what you need to know about putting these assets to work for you:
Go to map.threshold360.com. (You do not need to create an account.)
Zoom into Wake County as needed.
You will see icons for the 90 properties that are part of the new Wake County collection.
Choose the specific property that is yours or that you are interested in.
On the sidebar that opens, look for the Share icon and click.
Another popup opens with a link directly to that tour and methods of sharing.
You can now share the map link in email (either personal or promotional), on social media or by placing a hyperlink on your website—anywhere that you can share a link.
In case you're wondering, tour HTML code can be embedded on a website, although that requires a license from Threshold 360. For more information, you can check here.

To be Used Liberally
These resources are absolutely free for you to use, and we want you to use them liberally to promote not only your property but the surrounding attractions in our area. This is key right now, as many event planners or potential visitors don't yet feel ready to visit and site-select in-person; seeing the destination virtually can help in their decision-making. 
The 360° interactive captures already have been added to visitRaleigh.com's detailed listing pages for the 90 partner locations, and if more resources become available, additional attractions/facilities will be captured by Threshold 360's photographers and added into this project in the future.
If you have questions about the 360° virtual tours portion of the Visit Raleigh Studio, please contact Vimal Vyas at vvyas@visitRaleigh.com.
In next week's Tourism Talk blog post, we will tell you about another piece of the Studio—a downloadable collection of 4K aerial footage from over 75 places in Wake County.
Stay tuned...

Author: visitRaleigh
The Greater Raleigh Convention and Visitors Bureau (GRCVB) is the official and accredited destination marketing organization (DMO) for all of Wake County.
Comments