Things to Do in Raleigh, N.C.: September 2022
Wednesday, August 31, 2022, 2pm by visitRaleigh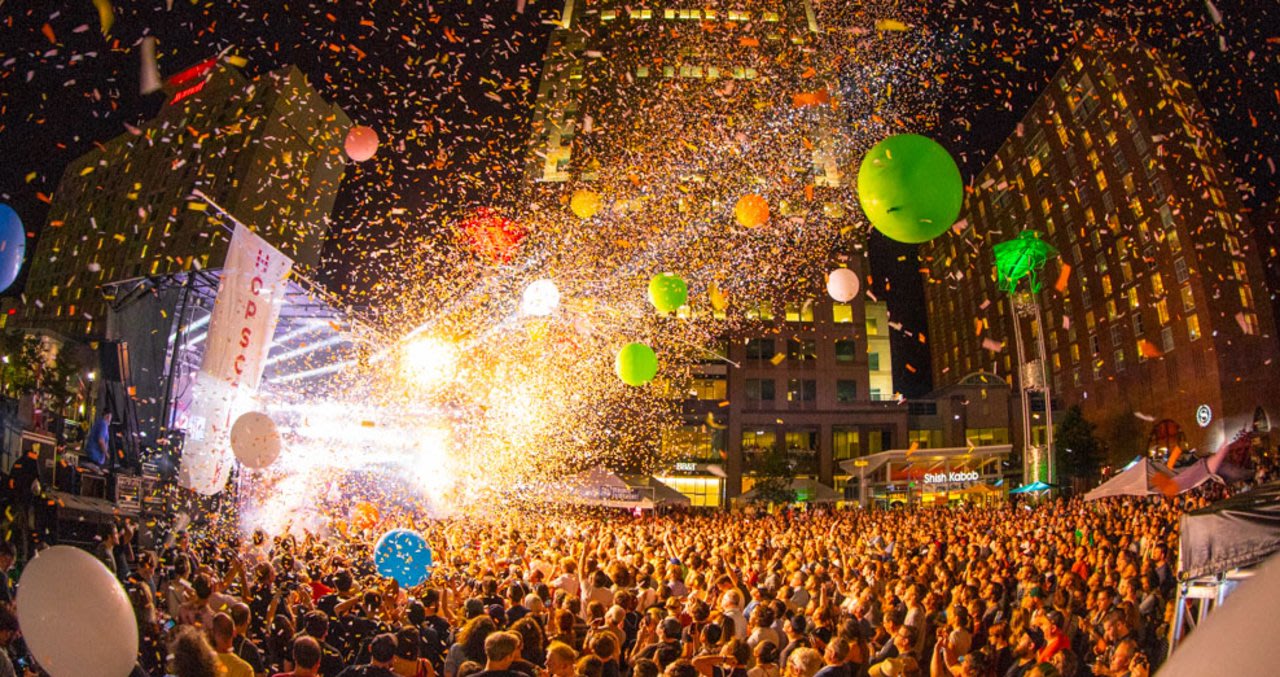 Every two weeks, we send out a newsletter that includes the best of the best upcoming events. If you sign up for our E-magazine, you'll get those, plus all the latest insider content (the best al fresco dining in Raleigh, for example, or some of our favorite fall hiking spots).
---

Who's ready for a Raleigh road trip? Summer may be hitting its final stretch but festival season is just getting ready to peak in the Raleigh area. In a destination known for sprawling, rocking, community-wide festivals, the month of September is the crown jewel. Music, beer, arts, culture—the very best of the City of Oaks is on display all month long! 
 
13th Annual African American Cultural Festival of Raleigh and Wake County
Sept. 3-4
An annual celebration of African American culture as expressed through art, music, food and community, this two-day festival held over Labor Day weekend has connected diverse people and families from across our region with local, national and international artists, performers, food vendors, area business owners and local media outlets for more than a decade now, becoming Raleigh's premiere destination for teaching, sharing and celebrating the distinctive folk and cultural traditions of African Americans in N.C. and from around the world.
The 2022 event will feature a return to block party fun on downtown Raleigh's Fayetteville St., with evening concerts taking place each night in front of the Duke Energy Center for the Performing Arts  (featuring artists featuring Chubb Rock, Sumthin 4 Tha People Band, Jus Once Band, Soultriii, @NITTO and DJ Skillz World—tickets required).
Note that the block party festivities are free to attend and fun for the entire family!
2nd Annual Raleigh Jerk Festival/Cooler Fest
Sept. 3-4
This two-day event features Carribbean cuisine from a variety of vendors, plus games, music and other entertainment for the entire family on Saturday, followed by an adults-only, bring-your-own-cooler day on Sunday for a good-vibes day of music, friends and relaxation. Admission starts at $5 for Saturday and $30 for Sunday.
Hopscotch Music Festival
Sept. 8-10
The 13th annual Hopscotch Music Festival—time and time again named as one of America's can't-miss independent music events—is back and ready to jam in the center of the City of Oaks. A total of 45 bands will play across four downtown venues over three days, with headlining acts that include Courtney Barnett, Perfume Genius, Kim Gordon, Charley Crockett and many more. Both general-admission and VIP tickets are on sale now and more than 40 free-to-attend day parties with live music have been announced as well (don't miss out!).
American Dance Festival at the North Carolina Museum of Art
Sept. 8-11
This four-night event at the North Carolina Museum of Art caps off the 89th season of the American Dance Festival, including performances by both emerging and established companies—Micaela Taylor's The TL Collective, Limón Dance Company, Philandanco! and Luke Hickey—highlighting the breadth and excellence of modern dance. Each night is ticketed separately. 
Friday Night on White
Sept. 9
A favorite summertime event in charming downtown Wake Forest, Friday Night on White invites visitors to bring blankets, lawn chairs and their best dance moves out to White St. (the main avenue where White Street Brewing Company, Shorty's Famous Hot Dogs, Bodega and other favorites await). Party band Crush will take to the main stage from 6-9pm, and food trucks and a beer tent will keep event goers plenty happy.
Sept. 10 vs. Charleston Southern; Sept. 17 vs. Texas Tech; Sept. 24 vs. UConn
WOLF! The North Carolina State University Wolfpack football team is back in action for another season at Carter-Finley Stadium (and they're expected to be a serious contender for an ACC Championship—or maybe more!). They'll kick things off in September with three home games in Raleigh in front of nearly 60,000 fans wearing red. 
Geek and Grub Market
Sept. 11
A celebration of all things geek, this event is exactly what you'd hope for—costumes, giant board games, good food and local geek-themed artisans and vendors on hand to surprise and delight. This month's market is a special anime edition!
Atlantic Tire Championships
Sept. 12-18
Positioned to begin at the conclusion of the US Open, the Atlantic Tire Championships is a USTA Pro Circuit Event that attracts many of the top ATP professionals and capitalizes on the excitement created from the biggest Grand Slam. Held at Cary Tennis Park, with a number of ticket packages available.
Theatre Raleigh presents The Play That Goes Wrong
Sept. 14-25
Billed as "Broadway's funniest smash hit," this Tim Seib-directed production from Theatre Raleigh is a hilarious hybrid of Monty Python and Sherlock Holmes. Welcome to opening night of The Murder at Haversham Manor, where things are quickly going from bad to utterly disastrous!
Kanki's Retro-Themed 50th Anniversary Celebration
Sept. 15
Founded in 1972, Kanki Japanese House of Steak and Sushi at Crabtree Valley Mall is one of the Raleigh area's longest-standing, locally-owned restaurants--and they're celebrating 50 years of food, fun and fire in 2022. On Sept. 15, a 1970s throwback celebration will mark the special occasion, with a throwback menu featuring selections from their opening night in 1972, guest chefs from 94.7QDR, a retro best-dressed contest, dancing, a DJ, prizes and more! This event is open to the public but reservations are required.
Raleigh Little Theatre presents Pride and Prejudice
Sept. 16-Oct. 2
Bold, surprising, boisterous and timely, this Kate Hamill adaptation of the Jane Austen novel Pride and Prejudice explores the absurdities and thrills of finding your perfect (or imperfect) match in life. The outspoken Lizzy Bennet is determined to never marry, despite mounting pressure from society. But can she resist love, especially when that vaguely handsome, mildly amusing and impossibly aggravating Mr. Darcy keeps popping up at every turn?
Sept. 16-18 and Sept. 23-25
One of America's most spectacular gardens—a secret among some locals but a sanctuary to plant lovers around the world—is open to the public just eight weekends per year in Raleigh, N.C. Located 12 miles south of downtown Raleigh, Juniper Level Botanic Garden is a 28-acre campus showcasing more than 27,000 different kinds of native perennials, exotic plants, rare delights and unusual specimens of trees and shrubs not found many (or any) other places on earth. This "Eden of rare plants" draws gardeners, researchers and fans of beautiful plants from across the globe each year for select, free-admission open house dates.
BugFest at North Carolina Museum of Natural Sciences
Sept. 17
The largest bug-centered event of its kind in the country is back! The North Carolina Museum of Natural Sciences' BugFest educates and engages the public in science and the natural world. The 30,000 expected attendees will participate in more than 100 exhibits, crafts, games and activities while interacting with entomologists and other scientists to learn about myriapods, the group that includes millipedes and centipedes. How many legs do they really have? One species of millipede has 1,306!
7th Annual Asia Fest with Dragon Boat Racing
Sept. 17
Presented by Asian Focus at Koka Booth Amphitheatre, the 7th annual Asia Fest will be a celebration of Asian cultures with live stage performances, games for the kids, global street food vendors and much more (including the Raleigh area's only dragon boat race!).
Sept. 17
Meet Steve and Shannon Baxter, local beekeepers and owner's of Baxter's Bees, and come to the Stone Ridge Farm Market in Zebulon for a scenic outdoor experience where you can taste a range of different local honeys, explore the construction of a beehive up close and learn straight from delightful local experts why beekeeping is such a fascinating and vital part of our lives.
La Fiesta del Pueblo
Sept. 18
Back for its 27th year, La Fiesta del Pueblo, a Hispanic cultural event held on Fayetteville St. in downtown Raleigh, draws nearly 20,000 attendees each year and showcases music, art, dance performances, educational booths, children's activities and food from different regions of Latin America, all in celebration of the diversity of Latin-American culture. The internationally famous and Grammy-nominated Grupo Mojado will headline the event!
Live music season is still in full swing! Here's sampling of the best indoor and outdoor concerts in September:
The Black Keys with Band of Horses, Sept. 1
Oliver Tree, Sept. 3
Interpol & Spoon, Sept. 4
Collective Soul and Switchfoot, Sept. 7
Cary Live: River Whyless, Sept. 10
Lee Brice, Sept. 10
Smooth Nights at KBA, Sept. 10
Lake Street Dive, Sept. 14
Gary Allan, Sept. 15
Alec Benjamin, Sept. 16
Avi Kaplan, Sept. 17
Nas and Wu-Tang Clan, Sept. 17
A Fall Evening Motown Cabaret, Sept. 23
The Breakfast Club, Sept. 24
Alice In Chains and Breaking Benjamin, Sept. 27
Architects, Sept. 27
COIN, Sept. 30
Sept. 22
Join artist Lauren Blackwell and enjoy a beer or cocktail from Wye Hill Kitchen & Brewing while painting a beautiful landscape of Raleigh's iconic skyline view from the Boylan Bridge vantage point. This event is produced in partnership with People-First Tourism.
Ready for a laugh-out-loud good time? Big name performers are lined up at two of the area's best comedy clubs! 
Clint Coley, Sept. 1
Ryan Davis, Sept. 2-4
Damon Wayans Jr., Sept. 8-10
Kyle Kinane, Sept. 15-17
TK Kirkland, Sept. 22-25
At Raleigh Improv:
Pete Correale, Sept. 2-4
Ms. Pat, Sept. 9-10
Lavell Crawford, Sept. 16-18
Aries Spears, Sept. 22-25
Adam Ray, Sept. 29-Oct. 1
Carolina Ballet presents Jerome Robbins' The Concert
Sept. 22-25
Kicking of a 25th anniversary season for Carolina Ballet, this company premiere of Jerome Robbins' 1956 creation is a gleeful look into the secret thoughts and fantasies of a concert audience (plus three additional ballets!). Frederic Chopin's mesmerizing score will be played from the stage by acclaimed concert pianist William Wolfram.
Marbles Imagination Ball
Sept. 23
Marbles Kids Museum—celebrating 15 years of play in 2022 and annually among the Tar Heel State's most visited attractions—presents the Marbles Imagination Ball, the museum's signature grown-up gala that will take party guests on an extraordinary journey, featuring spectacular decor, creative eats and drinks, a one-of-a-kind auction, exciting games of chance and legendary live music.
Farm Aid 2022
Sept. 24
Headlined by Willie Nelson, this all-day festival—previously held in Raleigh in 2014—returns to Coastal Credit Union Music Park at Walnut Creek this month, where Nelson, John Mellencamp, Chris Stapleton and Sheryl Crow (among others) will perform in celebration of local agriculture and farmers' efforts to slow climate change. Food sold at the festival will be grown by farmers using sustainable practices, and hands-on activities and exhibits will teach festival-goers about soil, water, energy, food and farming.
Festa Italiana Raleigh
Sept. 24
Festa Italiana celebrates Italian culture and heritage in the Raleigh area, bringing together an expected 12,000 attendees for the fourth annual event in downtown Raleigh. A full day of Italian food, beer, wine, live music, kids activities and more are on the docket in Raleigh's Glenwood South district!
Farmers Fall Festival in downtown Cary
Sept. 24
Celebrate fall in the heart of downtown Cary! This event celebrates the harvest season when our farmers are bringing in their fall bounty during the first crisp days of fall. There will be live music on the main stage, a kids performance area, fun games and interactive exhibits, local food and craft beer, art and crafts and a mid-day pie-eating contest.
Downtown Raleigh Food Truck Rodeo
Sept. 25
Food trucks as far as you can see (literally!). The Downtown Raleigh Food Truck Rodeo brings more than 50 food trucks to the city center, spanning a half-mile and 11 city blocks and drawing thousands of hungry visitors to taste the best of the best from local trucks. It's one of the biggest rodeos in the country!
Carolina Hurricanes Preseason Opener
Sept. 27 vs. Tampa Bay
Fresh off of four straight appearances in the Stanley Cup Playoffs, the NHL's Carolina Hurricanes return to PNC Arena for a new year with high expectations. They'll play one pre-season games at home in September (plus two in October) before the puck drops for the first regular season home game on Oct. 12. 
IBMA Bluegrass Live! powered by PNC
Sept. 30-Oct. 1
A 10th year of World of Bluegrass in Raleigh, N.C.? You better believe it!
The arrival of a toe-tappin', banjo-strummin' week of non-stop week of bluegrass in downtown Raleigh is one of the most anticipated times of the year. The International Bluegrass Music Association brings their business conference, along with the world's most talented bluegrass musicians, to Raleigh during this week. Those musicians then perform in clubs, on street corners and in hotel lobbies—anywhere they can find a jam session—during the week and during the IBMA Bluegrass Ramble.
Then the week is capped off with IBMA Bluegrass Live! powered by PNC, a two-day, free street festival that sets up multiple stages of free music, a dance tent, tons of art vendors and more. The ticketed Main Stage at Red Hat Amphitheater will feature Molly Tuttle and Golden Highway, The Jerry Douglass Band with special guests, Sierra Hull, The Infamous Stringdusters and more of the genre's biggest stars (a limited amount of free seating is available at Red Hat Amphitheater; reserved seating is also on sale now).
Triangle Oktoberfest
Sept. 30-Oct. 1
The eighth annual Triangle Oktoberfest at Koka Booth Amphitheatre in Cary is set to provide plenty of family-friendly activities including live music, storytelling, dancing and traditional Bavarian food and fare (plus local and authentic German beers on hand).
More Oktoberfest events in the Raleigh area: Oktoberfest at Raleigh Brewing Company (Sept. 11); Peaktoberfest at Southern Peak Brewery (Sept. 17); Oktoberfest at Gizmo Brew Works (Sept. 17); Sproktoberfest at Crank Arm Brewing (Sept. 18); Oktoberfest at Compass Rose Brewery (Sept. 23); Oktoberfest at Lonerider Brewing Company (Sept. 24); Oktoberfest at Fortnight Brewing Company (Sept. 24).
Theatre In The Park presents Let the Right One In
Sept. 30-Oct. 16
Closing out the season at Ira David Wood III's Theatre In The Park, Let the Right One In centers around Oskar, a bullied, lonely teenage boy who lives with his mother, and Eli, a young girl who has just moved in next door. A spate of sinister killings have rocked their town—get ready for some chills and thrills in this hauntingly beautiful vampire myth and coming-of-age story, directed by Jesse Gephart.
Celebrate Fuquay-Varina Festival, Oct. 1
94th Annual Wendell Harvest Festival, Oct. 1
Katt Williams, Oct. 7
Hum Sub Diwali, Oct. 8
North Carolina Theatre presents Sister Act, Oct. 11-16
Carolina Ballet presents Dracula, Oct. 13-30
SAS Championship, Oct. 15-17
2022 N.C. State Fair, Oct. 13-23
Greta Van Fleet, Oct. 18
"Weird Al" Yankovic, Oct. 23
The Power of Women in Country Music at North Carolina Museum of History, opens Oct. 28
Day of the Dead 5k, Oct. 29
Header photo by Garrett Poulos
Comments