Things to Do in Raleigh, N.C.: September 2023
Friday, September 01, 2023, 9am by visitRaleigh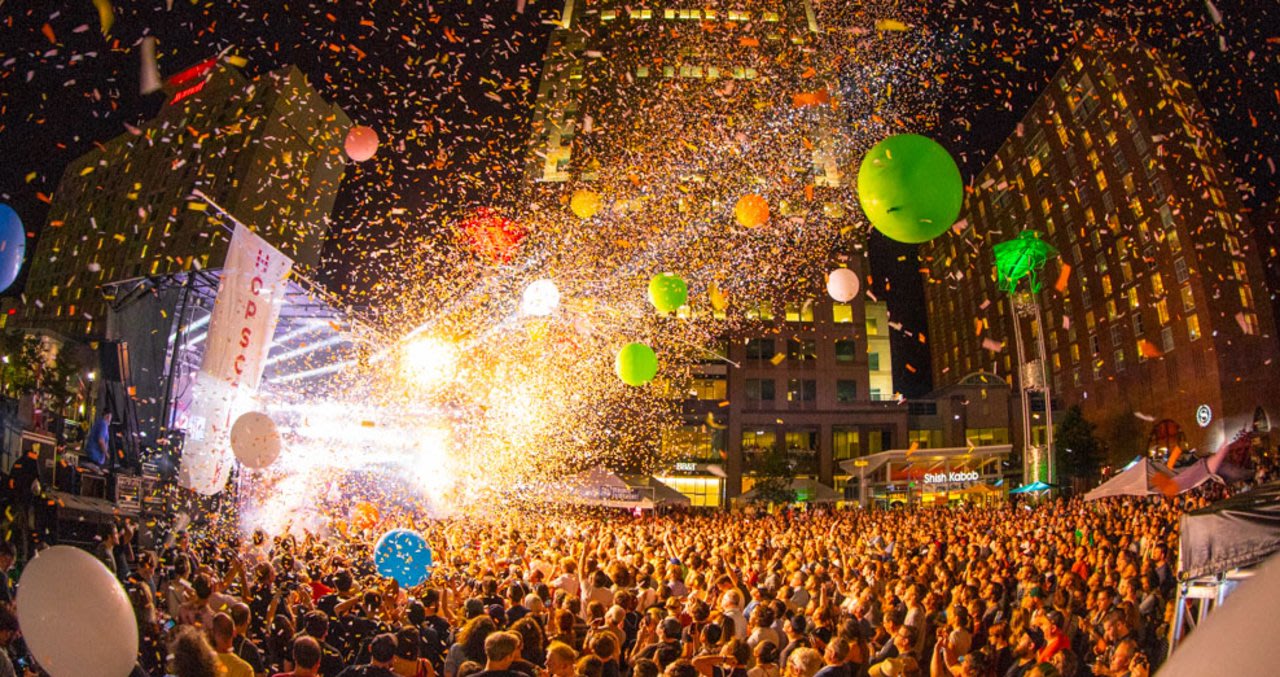 Each month we send out a newsletter that includes the best of the best upcoming events. If you sign up for our E-magazine, you'll get those, plus all the best new content (30 free things to do, for example, or the details on an important new park that just opened in downtown Raleigh).
---

Ready for a Raleigh road trip? Summer may be winding down, but festival season is just getting ready to peak in the Raleigh area. In a destination known for sprawling, rocking, community-wide festivals, the month of September is the crown jewel. Music, beer, arts, culture—the very best of the City of Oaks is on display all month long! 
First Friday Market & Movie Night
Sept. 1
Pack your blankets and lawn chairs for this monthly affair at downtown Raleigh's Moore Square, where food trucks, live music, a local market, free games and an outdoor movie ("Back to the Future" at 7:30pm) will take place. 
Note: A second Market & Movie Night will be held Fri., Sept. 15 as a makeup for a previous weather cancelation ("Men in Black" will be the movie).
14th Annual African American Cultural Festival of Raleigh and Wake County
Sept. 2-3
An annual celebration of African American culture expressed through art, music, food and community, this Labor Day weekend tradition has connected diverse people and families from across our region with musicians, performers, traditional dance, food vendors and local makers for more than a decade now, becoming Raleigh's premiere destination for sharing and celebrating the distinctive folk and cultural traditions of African Americans.
The 2023 event will feature a return to block party fun on downtown Raleigh's Fayetteville St., with evening concerts taking place each afternoon and into the evening (featuring artists including Fatman Scoop, NiiTo Band, DJ Skillz, Cynthia Jones, Soultrii and more!). 
Hopscotch Music Festival
Sept. 7-9
The 14th annual Hopscotch Music Festival—time and time again named as one of America's can't-miss independent music events—is back and ready to jam in the center of the City of Oaks. A total of 120 performers will play across 10 downtown Raleigh venues over three days, with headlining acts that include Pavement, Japanese Breakfast, Margo Price, Denzel Curry and a whole lot more. A very limited number of general-admission and VIP tickets are still for sale, and more than 40 free-to-attend day parties with live music have been announced as well (don't miss out!).
Friday Night on White
Sept. 8
A favorite summertime event in charming downtown Wake Forest, Friday Night on White invites visitors to bring blankets, lawn chairs and their best dance moves out to White St. (the main avenue where White Street Brewing Company, Shorty's Famous Hot Dogs, Bodega and other favorites await). Party band Crush will take to the main stage from 6-9pm, and food trucks and a beer tent will keep event goers plenty happy.
September is undoubtedly one of the best months ever for live music in Raleigh—check out this list!
Intocable, Sept. 1
The Bright Light Social Hour, Sept. 2
The 5 Seconds of Summer Show, Sept. 3
Concerts in the Park: SNAP, Sept. 3
Electric Kif, Sept. 4
Pickin' In The Pines: Alex Key Band, Sept. 6
Caamp, Sept. 6
FM2FV: North Tower, Sept. 7
Outlaw Music Festival, Sept. 8
Eric Johnson, Sept. 9
Sam Hunt, Sept. 9
John Craigie with Taylor Rae, Sept. 10
LL Cool J, Sept. 10
Lil Baby, Sept. 11
Cimarrón, Sept. 14
Nickelback, Sept. 14
International Jazz Open Jam at Neptune's, Sept. 15
Lynyrd Skynyrd & ZZ Top, Sept. 15
The Australian Pink Floyd Show, Sept. 17
Trippie Redd, Sept. 18
Fenton Live: Heads Up Penny, Sept. 19
Shreya Ghoshal, Sept. 22
Theatre Raleigh presents Matthew Scott, Sept. 22
Parker McCollum, Sept. 23
Aerosmith, Sept. 24
Turnpike Troubadours, Sept. 24
Lil Yachty, Sept. 25
Nathaniel Rateliff & The Night Sweats, Sept. 27
Jonas Brohters, Sept. 28
Teddy Swims, Sept. 29
Old Dominion, Sept. 30
Gov't Mule, Sept. 30
Sept. 9 vs. Notre Dame; Sept. 16 vs. VMI; Sept. 29 vs. Louisville
WOLF! The North Carolina State University Wolfpack football team is back in action for another season at Carter-Finley Stadium (and they're expected to be a real contender for an ACC Championship!). They'll kick things off in September with three home games in Raleigh in front of nearly 60,000 fans wearing red. 
Sept. 9
A free-admission, double-header day of cricket at Morrisville's beautiful Church Street Park, with on-site music and food trucks plus giveaways and player meet-and-greets that will take place between matches that begin at 2 and 6pm.
New Hope Valley Railway: Brew 'n' Choo
Sept. 9
Food trucks and local breweries will be on hand for Brew 'n' Choo, a series of family-friendly events at the North Carolina Railway Museum & New Hope Valley Railway that offers the rare opportunity to take a one-hour train ride through the woods (food and beverages allowed on the train!) and/or a 45-minute walking tour of the railway and museum. 
More of September's ride schedule can be seen below as well. 
R&D Brewing Fall Fest
Sept. 10
Sip seasonal brews, shop from local makers at the Roshambo Market, enjoy live music and more at R&D's Seven Saturdays Taproom near downtown Raleigh.
Carolina Ballet presents Firebird
Sept. 14-Oct. 1
Founding artistic director Robert Weiss' Firebird—long described as "fantastical and inventive"—will be joined on the program by Weiss' Les Saltimbanques and a world premiere ballet from guest choreographer Gianna Reisen.
Sept. 16 through Jan. 7, 2024
The biggest fall exhibit at the North Carolina Museum of Art,  Dutch Art in a Global Age presents highlights from the Museum of Fine Arts, Boston, with an innovative focus. Arranged thematically, the exhibition explores how international travel and trade transformed Dutch art and society, featuring renowned works by Rembrandt, Frans Hals, Gerrit Dou, Jacob van Ruisdael, Rachel Ruysch and other celebrated artists.
Tickets to this exhibit are $20 for non-members. Other galleries at the museum remain open with free admission as always.
USA TODAY Wine & Food Experience
Sept. 16
Looking for a culinary adventure? Taste, sip and savor great flavors for an afternoon at Dorothea Dix Park, where some of the Raleigh area's most acclaimed chefs, mixologists and sommeliers will gather for mingling, sampling, music, demonstrations and more. 
Raleigh Little Theatre presents Last Stop on Market Street
Sept. 16-24
This inspiring family musical—based on the New York Times bestselling book of the same name by author Matt de la Peña—follows a young boy, CJ, along with his Nana, on an eye-opening bus ride across the city (and chronicles CJ's discoveries of the world around them as they go). 
North Carolina Symphony presents Tchaikovsky Symphony No. 4
Sept. 22-23
Kicking off a new season—and a new era under music director Carlos Miguel Prieto—North Carolina Symphony will take to the stage for two nights at the Martin Marietta Center for the Performing Arts to serenade audiences with Russian composer Tchaikovsky's Symphony No. 4. 
Sept. 15-17 and Sept. 22-24
One of America's most spectacular gardens is open to the public just eight weekends per year! Located 12 miles south of downtown Raleigh, Juniper Level Botanic Garden is a 28-acre campus showcasing more than 27,000 different kinds of native perennials, exotic plants, rare delights and unusual specimens of trees and shrubs not found many (or any) other places on earth. Full details here. 
BugFest at North Carolina Museum of Natural Sciences
Sept. 16
The largest bug-centered event of its kind in the country is back! The North Carolina Museum of Natural Sciences' BugFest educates and engages the public in science and the natural world. The 30,000 expected attendees will participate in more than 100 exhibits, crafts, games and activities while interacting with entomologists about the fascinating world of anthropods.
This year's featured creepy crawlers? Spiders, of course! The museum's special exhibition, SPIDERS: Fear to Fascination, has been a hit with audiences this summer. The ticketed exhibit is open through Oct. 8.
8th Annual Asia Fest with Dragon Boat Racing
Sept. 16
Presented by Asian Focus at Koka Booth Amphitheatre, the 8th annual Asia Fest will be a celebration of Asian cultures with live stage performances, games for the kids, global street food vendors and much more (including the Raleigh area's only dragon boat race!).
La Fiesta del Pueblo
Sept. 17
Back for its 28th year, La Fiesta del Pueblo, a Hispanic cultural event held on Fayetteville St. in downtown Raleigh, draws nearly 20,000 attendees each year and showcases music, art, dance performances, educational booths, children's activities and food from different regions of Latin America, all in celebration of the diversity of Latin-American culture. 
Ready for a laugh-out-loud good time? Big name performers are lined up at three of the area's best venues for stand-up comedy! 
Lawson Preacher, Sept. 1-3
Dan Soder, Sept. 7-9
Pete Holmes, Sept. 14-16
Jim Breuer, Sept. 21-23
Che Durena, Sept. 28-30
At Raleigh Improv:
D.L. Hughley, Sept. 1-3
Ismo, Sept. 8-10
Craig Robinson, Sept. 15-17
Hannah Einbinder, Sept. 21-23
Arnez J, Sept. 28-Oct. 1
At Martin Marietta Center for the Performing Arts:
Eddie Izzard, Sept. 9
Steve-O, Sept. 12
Heather McMahan, Sept. 15
Ms. Pat, Sept. 29
Marbles Imagination Ball
Sept. 22
Marbles Kids Museum—annually among the Tar Heel State's most visited attractions—presents the Marbles Imagination Ball, the museum's signature grown-up gala that will take party guests on an extraordinary journey, featuring spectacular decor, creative eats and drinks, a one-of-a-kind auction, exciting games of chance and legendary live music.
Party in the Peak
Sept. 23
A once in lifetime party—Apex, N.C., is celebrating it's 150th anniversary of incorporation!
What to expect: interactive exhibits about the town's past, present and future; local musicians and storytellers taking to the stage; games and activities for children; a food truck zone with trucks serving up special items in commemorative souvenirs; and all-around feel-good time! 
Whiskey, Wine & Fire
Sept. 23
In an ideal location beneath the pines at beautiful Koka Booth Amphitheater, this elegant foodie celebration will feature whiskey, wine and cocktails, as well as great music, tented food stations, food trucks and restaurants with bonfires intermingled throughout the venue. A cozy night of whiskey drinking under the stars? Sign us up!
Geek and Grub Night Market: Wizard Edition
Sept. 23
A celebration of all things geek, this event is exactly what you'd hope for—costumes, giant board games, good food and local geek-themed artisans and vendors on hand to surprise and delight. This month's market features wizard-themed competitions and activities at Fred Fletcher Park!
Festa Italiana Raleigh
Sept. 23
Festa Italiana celebrates Italian culture and heritage in the Raleigh area, bringing together an expected 12,000 attendees for the fifth annual event in downtown Raleigh. A full day of Italian food, beer, wine, live music, kids activities and more are on the docket in Raleigh's Glenwood South district!
Farmers Fall Festival in downtown Cary
Sept. 23
Celebrate fall in the heart of downtown Cary! This event celebrates the harvest season when our farmers are bringing in their fall bounty during the first crisp days of fall. There will be live music on the main stage, a kids performance area, fun games and interactive exhibits, local food and craft beer, art and crafts and a mid-day pie-eating contest.
Sept. 26 vs. Tampa Bay; Sept. 27 vs. Florida
Fresh off of five straight appearances in the Stanley Cup Playoffs, the NHL's Carolina Hurricanes return to PNC Arena for a new year with high expectations. They'll play two pre-season games at home in September (plus one in October) before the puck drops for the first regular season home game on Oct. 11. 
IBMA Bluegrass Live! powered by PNC
Sept. 29-30
It's been a decade now since the world's largest urban bluegrass music festival—plus all the extra fun that comes along with it—first made soundwaves in Raleigh in 2013. The arrival of a toe-tappin', banjo-strummin' week of non-stop bluegrass in downtown Raleigh has been one of the most anticipated times of the year in the City of Oaks ever since. The 11th annual IBMA World of Bluegrass week will be held Sept. 26-30 this year, capped off as always with downtown Raleigh's biggest annual event.
IBMA Bluegrass Live! powered by PNC is a Friday and Saturday free street festival that sets up five stages of music, a beer lounge, art market, food trucks and more. The ticketed Main Stage at Red Hat Amphitheater will feature The Del McCoury Band, Molly Tuttle & Golden Highway, Kruger Brothers play Doc Watson (with special guest Jerry Douglas), The Po' Ramblin' Boys featuring Bobby Osborne and more of the genre's biggest stars (tickets are on sale now). As many as 200,000 people have attended the two-day event in years past!
Carolina Circus Festival, Sept. 9
Oaklyntoberfest, Sept. 9
Oktoberfest at Raleigh Brewing, Sept. 10
Sunday Funday: Femme Fête at Artspace, Sept. 10
BBQ & Bourbon Dinner at Sam Jones BBQ, Sept. 12
Comedian Bert Kreischer, Sept. 14
Designed for Joy's 2023 Evening of Giving, Sept. 14
Fairgrounds Southern Ideal Home Show, Sept. 15-17
Art-n-Soul Market at Waverly Place, Sept. 16
Beyond: The Cary Film Festival, Sept. 21-24
Oktoberfest at Lonerider Brewing, Sept. 22-24
Paperhand Puppet Intervention, Sept. 22-24
Milk Fest Block Party, Sept. 23
North Carolina FC Hispanic Heritage Festival vs. Union Omaha, Sept. 29
RaleighWRLD Fest, Sept. 30
Header photo by Garrett Poulos
Comments