A Free and Ridiculously Awesome Resource Available for Your Use
Friday, February 25, 2022, 12pm by Karen DeSollar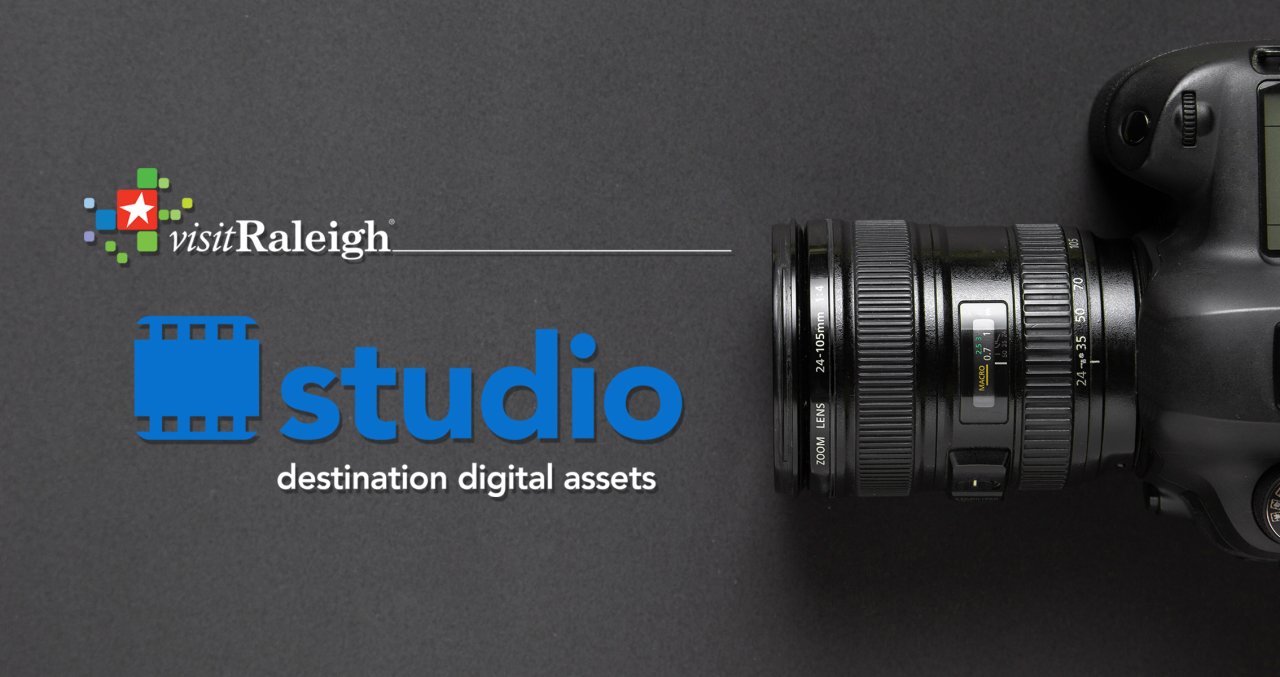 Let me tell you what happened to me last week.

On Monday, my colleague in the Marketing Department, Carly Delengowski, was working on a blog post for the meetings section of our website that highlighted renovations at the John Chavis Memorial Park and Community Center. Because I'm the keeper of the Bureau photo library, Carly asked if we had any recent photos of Chavis she could use with the post.

(I had been waiting for the mask requirement to be lifted before I assigned new photography in 2021-2022, so I hadn't assigned a photographer to take any new photos of the renovation project yet.)

However, I remembered that, in late 2021, I processed new drone footage of Chavis Park for upload to Visit Raleigh Studio, GRCVB's online digital asset library. I downloaded a clip (in 4K, no less) and did a quick screen grab to pull an image for Carly.

The footage looks awesome in 4K, by the way, and reminded me that there are multiple ways to use the assets that are part of the Studio. And so you are aware that they are there for you, too, and that you might just find a resource you have been looking for, I'll outline the contents of the Studio and the finer points of its usage here.

Visit Raleigh Studio is a curated collection of digital assets (video footage, including from aerial drones at over 75 new locations), 360-degree virtual tours of 90 sites around the county and over 7,000 photographs collected from the area.

Photos
For several years, we have been sharing a collection of destination images with area partners, event planners or the media through Barberstock, a digital asset management tool specifically for DMOs in serving their external customers. Now as part of the Studio project, we increased that number to over 7,000.

Here's a sample of 100 of my favorites, all of which are available to you, BTW:

To use any of the 7,000 available photos yourself, all you have to do is register and let us know what you are planning to use them for. Studio users have to agree to terms and conditions for acceptable use of the assets when they register. That includes an agreement to not use the images/videos in a negative or defamatory way or to profit from their reuse and to credit the photographers when possible.
For hospitality business partners in Wake County: If you find in this library photos that you have shared with Bureau staff and you would rather they not be included now in the Studio, please contact us and we will gladly remove them.
For photographers: If you find photos that you have taken of hospitality businesses in the area (that have been shared with us) but you did not intend for them to be shared universally and you would rather we take them down, we would be happy to do that, too.
To access the Studio photo library if you had an earlier account:
To access the Studio photo library if you do not have an account:
Go to raleigh.barberstock.com and choose Register Now.
Fill in the form with your contact information and how you intend to use the images.
Under the bottommost dropdown menu, choose Non-Media (Photos).
The Barberstock system will alert Bureau staff to grant you access.

Drone
Visit Raleigh Studio also includes drone footage of over 80 locations around the county, some collected as recently as Oct. 2021.

Aerial drone footage has been something that team members of GRCVB have advocated for and have desired to bring into our digital asset portfolio for a few years. Seeing some of Wake County's top attractions, parks, meeting facilities, hotels, sports complexes, downtown districts and towns from an aerial vantage point not only allows us to better show our potential visitors these assets and their physical layouts but the surrounding aesthetics of greater Raleigh as well.

The Studio aerial drone footage can be used for virtual planning of future events, outdoor excursions and experiences. Our hope is that this library of high-res footage can excite and inspire our visitors to see more of our beautiful county.

Because the project was paid for by CARES Act funds appropriated from Wake County, we had specific guidelines of usage, and our teams from Sales, Destination Services, Sports, PR and Destination Technology gave input toward assets that have the highest volume and usage frequency of both leisure and group visitors. In some cases, we also considered future destination development and economic development usage of the footage.

All of that raw footage is available to be downloaded and used by our community partners for their websites, video productions, social media feeds, as b-roll footage, in economic development presentations and for other promotional purposes. All footage has been converted to .mov files and can be easily edited into a variety of useful digital mediums.

To access the Studio drone library if you do not have an account:
Go to raleigh.barberstock.com and choose Register Now.
Fill in the form with your contact information and how you intend to use the footage.
Under the bottommost dropdown menu, choose Local Partners (Aerial Footage Projects).
The Barberstock system will alert Bureau staff to grant you access.
360° Virtual Tours
The Studio also contains 360° Virtual Tour videos of 90+ properties in our area.

"After evaluating other vendors in the 360°-tour space for the hospitality industry," said Vimal Vyas, GRCVB's director of data, security and digital innovation, "Threshold 360 was chosen for having great feedback from other DMOs, for the versatility of their platform and their ability to integrate seamlessly with our SaaS platform, Simpleview and visitRaleigh.com partner information.

"Also, this solution allowed us to integrate with Google search to increase SEO reach for the tours via Google tours, i.e., increasing partner website views with referrals from both visitRaleigh.com and from Google 360 tours."
---
Editor's note: This was another time when the Studio proved valuable in my day-to-day work. One of the 360° tours is of A.J. Fletcher Opera Theater at Duke Energy Center for the Performing Arts. I used the footage to initially plan the logistics of the 2021 GRCVB Annual Meeting without having to go in person. 
---
The license agreement with Threshold 360 allowed us to choose 90 attractions/facilities from around the county to be photographed in 360 degrees.

To access the 360 videos:
Go to map.threshold360.com. (You do not need to create an account.)
Zoom into Wake County as needed.
You will see icons for the 90 properties that are part of the new Wake County collection.
Choose the specific property that is yours or that you are interested in.
On the sidebar that opens, look for the Share icon and click.
Another popup opens with a link directly to that tour and methods of sharing.
You can now share the map link in email (either personal or promotional), on social media or by placing a hyperlink on your website—anywhere that you can share a link.
In case you're wondering, tour HTML code can be embedded on a website, although that requires a license from Threshold 360. For more information, you can check here.

To be Used Liberally
These resources are absolutely free for you to use, and we want you to use them liberally to promote not only your property/organization but also the surrounding attractions in our area.  

If you have questions about Visit Raleigh Studio, please contact me, Karen DeSollar, at kdesollar@visitRaleigh.com.

Author: Karen DeSollar
Karen DeSollar is creative director at the Greater Raleigh CVB and has worked for over 15 years in the tourism sector. She started her career as an editor and earned a bachelor's degree in speech communications and English and a master's in journalism. She added graphic design to her bag of tricks when she spent 13 years as director of communications at a university in San Diego.
Comments