Coronavirus Briefing from April 16, 2020
Friday, April 17, 2020, 11am by visitRaleigh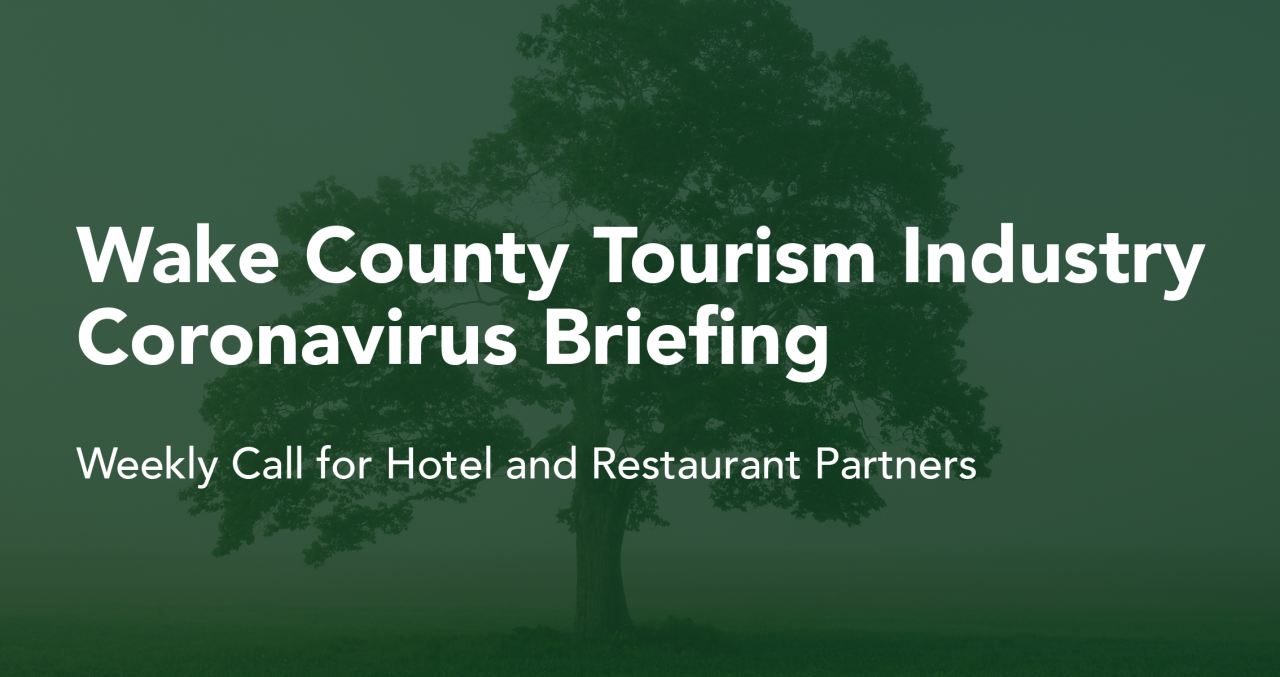 Leaders in the hospitality sector and local community are hosting weekly conference calls with updates related to the COVID-19 crisis. Here is a summary of the call from Thurs., April 16, 2020 (or if you prefer to listen to the full recording, please find it here)...

Dennis Edwards, president and CEO of GRCVB, noted that the area hotel occupancy rate from the week of April 5-11, 2020, was 24.4%, close to what it had been the week before. He suggested this might represent a leveling-off of the occupancy decline here.  

He also cited a CBRE Hotels research report that forecasts a slow recovery for the industry and projects hotel occupancy not showing significant improvement until Aug. 2020.

All convention and sports groups that had scheduled events in Wake County through June have canceled, and those planning for July and after are waiting to make decisions about whether to continue, postpone or cancel.

Denny expressed a concern that, because Los Angeles Mayor Eric Garcetti has banned mass gatherings through the remainder of the calendar year there, the rest of the country may follow suit. If that happens, it will mean additional, serious losses to Wake County tourism since late summer and fall are peak festival and event seasons here. 

Also on the call...

Lynn Minges, president and CEO, North Carolina Restaurant and Lodging Association (NCRLA)
Lynn reported that she and her team have been working on hotel guest eviction issues. Earlier, the N.C. attorney general's office issued a policy that seemed to prohibit hotels from evicting guests. Local hoteliers have reported issues of guests paying for one night of lodging and then refusing to leave.
She has been in communication with state officials about the process of reopening and is giving counsel related to how much time will be required, i.e., ordering food, rehiring workers etc.
NCRLA is also involved in conversations about what will be acceptable to protect public health when restaurants especially reopen, e.g., food safety, airborne safety. She mentioned that, for an initial reopening rollout, patrons may be required to sit at least 6' apart, wear masks/face-coverings and/or gloves.
She also reported that Wit Tuttell, executive director of Visit North Carolina, N.C.'s official state tourism organization, has requested $20 million from state funds for marketing once the state is open for business again. The word so far from representatives/senators is that already $3 billion has been requested for aid and that's more than is available statewide.
In good news, NCRLA's N.C. Restaurant Workers Relief Fund has raised $750,000 through grants and corporations to assist those who have lost their jobs. Over 15,000 hospitality workers throughout the state have applied for the $500 of individualized aid. The fund is still accepting donations at www.ncrestaurantrelief.com.

Chris Dillon, assistant county manager for Wake County
Chris said that Wake County has had its first death from the coronavirus, an 81-year-old man who died on April 15, 2020.
There are some positive signs that the county may be turning the corner toward recovery. The rate of infection has declined. Previously it was doubling every three days, and that has decreased to every eight days.
Chris credited the early stay-at-home order and the cooperation of Wake County residents who have been following the guidelines and helped to keep the impact and fatalities low.
The County is also talking about recovery and will follow the same guidelines as the rest of the state as outlined by the Governor.

Rafael Baptista, MPA, senior manager, community economic development, City of Raleigh
This week, the City of Raleigh hosted a webinar along with Wake County Smart Start for small business owners, banks and childcare providers to provide valuable information about support and recovery.  
The City is also working on a small business financial assistance program. The details will be released and available during next Thurs.'s briefing call. 
City leaders are also talking about the process of reopening and how the City can help promote small businesses and restaurants.

Jonathan Freeze, CDME, CHIA, director of marketing and communications, GRCVB
Jonathan updated callers about GRCVB's crisis response and planning for recovery. Some of the steps the Bureau's Marketing team has implemented include:
The crisis communication plan was activated early, and online information has been kept up-to-date. Many valuable resources for partners can be found at www.visitRaleigh.com/alerts.
The Bureau has published a special edition of its Tourism Talk E-newsletter every Tues. since the crisis began, which has links to resources and a summary of the weekly briefing.
GRCVB and NCRLA have co-hosted weekly briefing calls each Thurs. with representatives from local hospitality leadership.
The Marketing team has also adjusted most of its upcoming destination marketing strategies:
Destination advertising has been paused.
Spring/summer paid campaigns have been canceled.
Events/hotels/restaurants/attractions have been re-inventoried and closures/changes in amenities or service noted on visitRaleigh.com.
The visitRaleigh.com homepage has been simplified.
The Visitor Information Center (VIC) has reopened virtually. Visitors may contact the VIC manager through phone or email with questions even while the physical space is closed.
The team has purposed digital content during this time to:
relay crisis-related information;
support Raleigh/Wake County partners in need of business;
provide long-term education and brand storytelling;
efficiently feature multiple partners and engage customers for multiple weeks.
Jonathan noted an example blog post this week that featured Chef Ashley Christensen's recipe for macaroni au gratin. The article garnered over 11,119 unique page views, and visitors spent 100,000+ minutes on the page. This kind of content allows potential visitors and locals to stay engaged with Raleigh's brand.

Without advertising funding, spreading these stories through organic-only means is challenging; however, Jonathan reminded callers that the CVB team has experience on its side, having worked through both 9/11 and the Great Financial Crisis. 

Other points: 
The Bureau's social media accounts are sharing articles, partners' content and positivity. Partners can help us help them by re-sharing the content and messaging especially from @visitRaleigh; over 1,000 partners have already have done so.
Virtual visits, events or experiences represent other opportunities for consumer engagement short-term. The CVB team is open to evaluating any digital ideas that would bring hospitality ROI right now.
As it relates to reopening:
Will involve a "rebuild" and will be gradual, multiyear and multilayered by vertical markets—individual leisure, meetings and conventions, sports (and business/corporate travel).
Will be influenced by geography/resiliency; some destinations are better positioned than others and may bounce back quicker.
Opportunities and advantages for Wake County (based on recent findings from secondary research):
Once travel starts up again, the majority will be domestic.
Travelers are projected to choose regional drives rather than flying. (According to GRCVB data, 85% of Wake County overnight visitors already travel here by car, and the majority make a three-hour or less drive.)
There is little seasonality in our market (so we won't miss a "high season" due to COVID-19).
About 50% of our total visitors are day-trippers, which makes this area a great option for those who will be doing short road-trips.
The next weekly Wake County Tourism Industry Coronavirus Briefing is scheduled for Thurs., April 23, 2020, at 1:30pm.

Author: visitRaleigh
The Greater Raleigh Convention and Visitors Bureau (GRCVB) is the official and accredited destination marketing organization (DMO) for all of Wake County.
Comments