Coronavirus Briefing from Sept. 30, 2020
Thursday, October 01, 2020, 3pm by visitRaleigh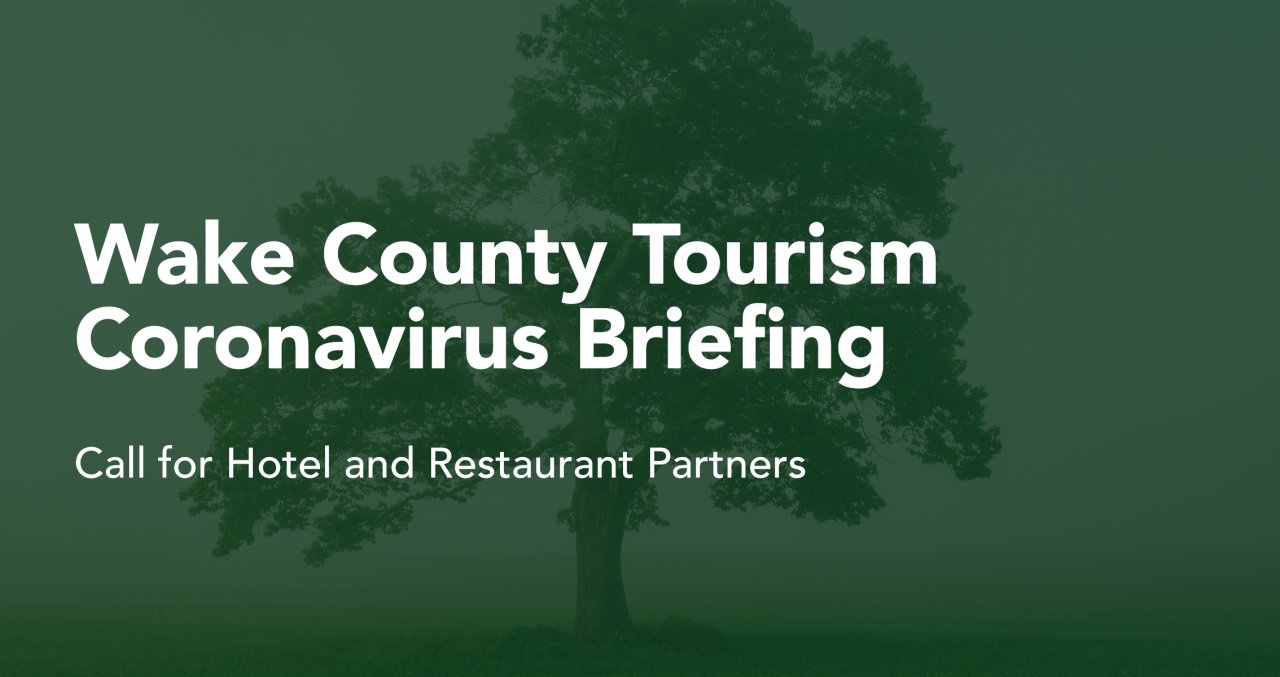 Leaders in the hospitality sector and local community have been reporting when necessary by way of Zoom conference calls during the COVID-19 crisis. Here is a summary of the call from Wed., Sept. 30, 2020 (or if you prefer to listen to the full recording, please find it here)...

Dennis Edwards, GRCVB president and CEO
Hotel occupancy in the county is hovering at about 40% and has been for the past four months. 
The average daily rate has also plateaued at about $76. 
In encouraging news, the Town of Cary has opened several of their athletic facilities (including Thomas Brooks Park and USA Baseball National Training Complex) for tournament play. Eight tournaments are scheduled throughout the remainder of the fall.
Also the visitRaleigh.com Showcase Series of soccer tournaments with North Carolina Football Club Youth is scheduled over six weekends in October, November and December and will bring 1,100 teams to the county.

Chris Dillon, assistant county manager for Wake County
Wake County is currently providing free, drive-through COVID testing in Raleigh and in Wake Forest. For details, visit https://covid19.wakegov.com/testing/.
The number of COVID cases in the county is declining overall; however, there is still a 5% positive rate (officials want it to be at 3%).
Funds are still available from the County for several target groups:

rapid recovery loans and aid for utility payments for small businesses;
aid through the United Arts Council for artists and arts organizations;
housing and rental payment assistance for residents; and
scholarships for virtual learning.
For more information about any of these programs, visit https://covid19.wakegov.com/.


Lynn Minges, president and CEO, North Carolina Restaurant and Lodging Association (NCRLA)

NCRLA continues to be the source of information and advocacy for the hospitality industry in North Carolina. Lynn reported the following updated data:
The leisure and hospitality services sector has lost 129,000 jobs versus the same time last year, a decline of 25.5%.
The Aug. 2020 numbers show a loss of an additional 1,300 jobs.
According to recent reports, statewide hotel occupancy continues to lag, with statewide occupancy running at 48.9% during August, a decrease of 29% from Aug. 2019, when the statewide occupancy was at 69%. Leisure destinations such as Asheville, Wilmington and other coastal areas of the state posted higher occupancy, while urban areas that are dependent on business travel, meetings, conventions and events posted lower occupancy rates.
Statewide, hotel average daily rates also fell by 14% from $109.85 in Aug. 2019 to $94.50 now.
A Sept. 15, 2020, survey reported that Americans continue to adjust travel plans and expect to continue to do so during the next six months; they are most interested in drive destinations and visiting with friends and family. According to the survey, top activities include visiting a state or national park, viewing fall foliage, hiking, biking and farmers' markets.
Consumer confidence in dining in a restaurant rose to its highest level since the pandemic began; 52% feel comfortable or very comfortable dining out.
NCRLA advocated for the NC COVID-19 Rapid Recovery Loan program, created through an appropriation by the General Assembly. The program has made updates that will help N.C. hospitality businesses, including:
increasing the loan amount from $50,000 to $250,000 to allow those who already received a loan to apply for more (up to $250,000);
requiring no payments for 18 months (instead of six);
lowering the interest rate to 2.5% for the first 18 months and 5.5% for the remainder of the term of the loan; 
extending the term of the loan to 10 years/120 months.
Lynn also mentioned the Count On Me NC program: 
60,000+ individuals have taken the training;
14,000+ courses have been completed;
13,000+ unique businesses have participated;
1.5 billion media impressions;
50 webinars;
The program is supported by $10 million in promotions and advertising.

Jonathan Freeze, CDME, GRCVB director of marketing and communications
GRCVB received $1.25 million in CARES Act funds through Wake County. Denny and then Jonathan outlined plans GRCVB has in place to make the most effective use of these funds for four vertical markets: leisure, convention sales, sports and visiting-friends-and-relatives of residents.

Virtual tours and aerial photography and video
On these projects, GRCVB is working with two separate vendors in market right now. 
The first is creating over 100, 360-degree virtual tours of major meeting hotels, venues and other businesses around the county.
The second is shooting 90+ drone, aerial photo and video captures of attractions, municipalities and a long list of other county assets.
All of these resources will be put online and made available, free of any charge, to the local hospitality partners. Be watching upcoming Tourism Talk blogs for details about how you may access deliverables of these projects.
Enhancements to the Visitor Information Center (VIC) 
The official VIC, located in the connector space between the Raleigh Marriott City Center and Raleigh Convention Center (RCC), is being upgraded and will provide enhanced safety for both its staff and visitors. The VIC is Count On Me NC-certified.
Two mobile kiosks for the convention center will be available, again with safety in mind, for both the lower and upper levels of RCC. 
Virtual trade shows and industry partnerships
Public relations and international tourism
The Public Relations and International Tourism team will be also be participating in a virtual media trade show and investing in enhanced press release distribution as well as in a campaign with Hotelbeds.com, all in cooperation with Brand USA, Visit North Carolina and Travel South USA.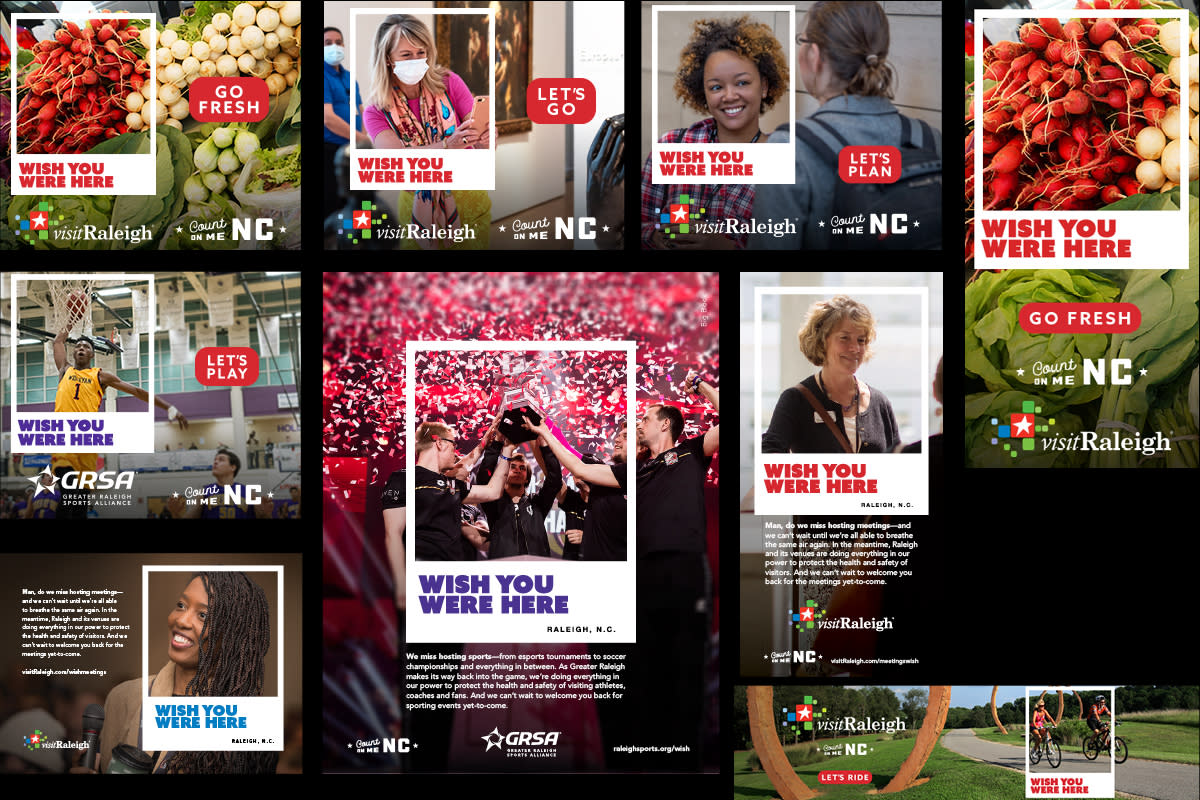 Paid advertising
An extensive paid advertising and promotional campaign launched on Aug. 19, 2020, and will continue through Dec. 30, 2020, including:

Social media marketing
Search engine marketing
Digital display and email marketing
Streaming video or pre-roll
Print and out-of-home placements
Streaming audio

The campaign is based on the theme "Wish You Were Here" and on track to make 25 million traditional paid media impressions with the destination's customers across all verticals. A recovery destination video project, expressing the campaign theme succinctly, is also underway this week.
Through Sun., Sept. 27, 2020, over 1.5 million paid impressions have already been reached through Facebook.
Weekly traffic at visitRaleigh.com has increased by more than 85% since Aug. 19.
The official tourism site's traffic for Sept. 2020 is anticipated to be up by 45% over Aug. 2020.
Some encouraging signs for area hoteliers—between Aug. and Sept., sessions in visitRaleigh.com's Places to Stay section increased by 107%, indicating overnight trip consideration and planning in progress.
GRCVB's Marketing Department, as well as Sales and Destination Technology Departments, also have been able to leverage a $100,000 marketing credit made available to the Bureau through a CARES Act-funded co-op program from Visit N.C.
Additional coronavirus briefings for our partners will be scheduled as new recovery information warrants.

Author: visitRaleigh
The Greater Raleigh Convention and Visitors Bureau (GRCVB) is the official and accredited destination marketing organization (DMO) for all of Wake County.
Comments