People You Need to Know: Craig Prince and Irem Unal
Friday, February 17, 2023, 3pm by visitRaleigh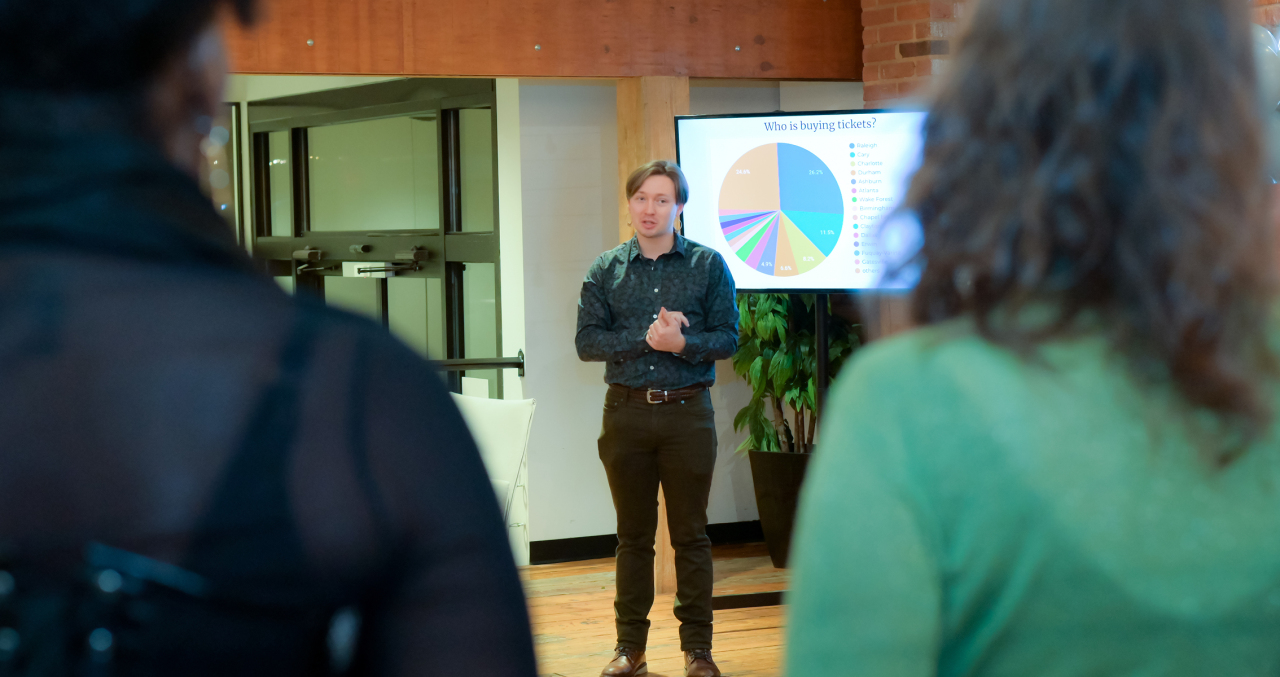 We often use the Tourism Talk blog to introduce our audience to significant partners and stakeholders with whom we work at GRCVB. They are significant because they all have something in common—they all enrich the tourism ecosystem in Wake County. These are people you need to have in your contact lists because they can provide knowledge, insight and connections that are valuable to every Wake County hospitality business.

Today we want you to meet Craig Prince, community engagement coordinator, and Irem Unal, partnership development lead, at People-First Tourism Inc. You probably have heard Bureau staff talking about People-First Tourism, or P1t, before (a few weeks ago, we introduced you to Duarte Morais, Ph.D., associate professor in the Department of Parks, Recreation and Tourism Management at N.C. State and one of the founders of P1t Inc.).

Craig and Irem are on the front lines of the project, and it is their job to develop new P1t experiences for visitors and to increase visitors' access to book the signature experiences with area passionate minds. They have been busy since taking their positions with the P1t company, greatly advancing this program which is prioritized in Destination 2028.

We want them to tell you what it is about P1t that they find compelling. 

How did you both get involved with People-First Tourism (P1t)?
Craig: I met Duarte Morais, Ph.D., through my work with N.C. State's Social Innovation and Entrepreneurship department. A few years out of school I was working an engineering job that I wasn't enjoying, and hardly a week after I quit, he reached out about P1t Inc. It was perfect.
Irem: My younger brother actually introduced me to Duarte [Morais] when I was looking to make a career shift in early 2022. He had taken a class with both Duarte and Gene Brothers, Ph.D. (associate professor emeritus), and he could not have spoken more highly of them or P1t.
---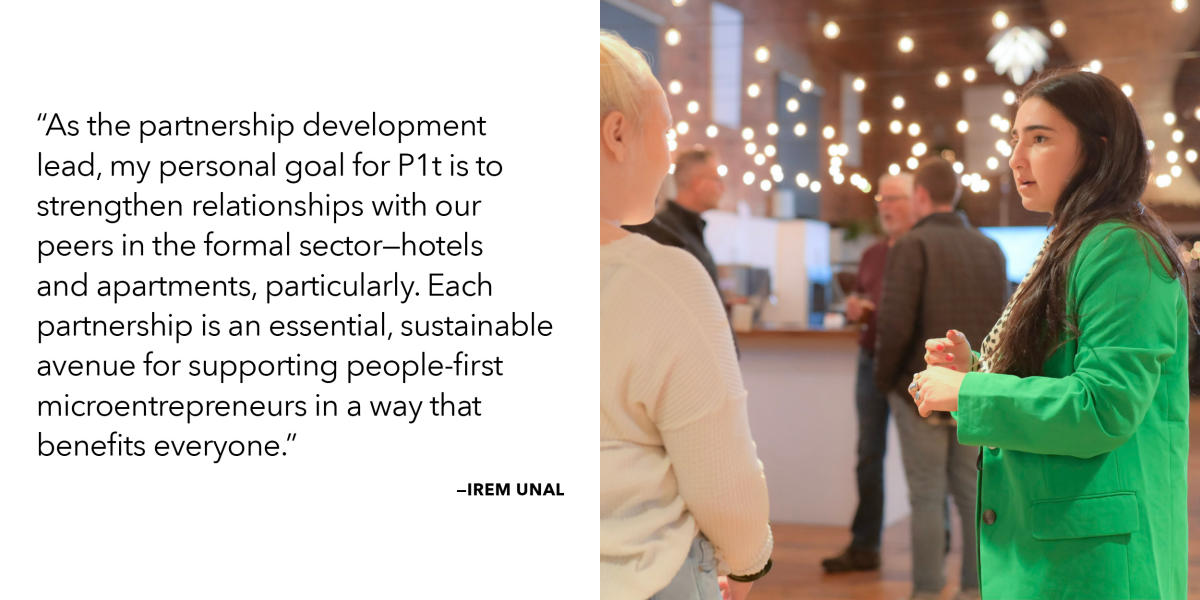 ---
What is it about the program that is appealing to you?
Craig: There is boundless creativity in supporting local entrepreneurs. Whether it's activating a bakery with a crochet workshop, making pottery at an urban farm or simply revealing something hidden, once you start encouraging people to collaborate you begin creating a really rich cultural fabric of engagement.
Irem: It's truly a magical time to be in Raleigh—change is inevitable and sometimes scary, especially for locals in a "small city/big town" like Raleigh, but there is also beauty in being here while that change happens. There are so many opportunities to contribute to, influence in some way and be a part of the development and growth in this city, which is why P1t is so appealing to me. I feel lucky to have a role in supporting the local creators and entrepreneurs who make Raleigh such a cool city in the first place.

What makes P1t different from other tourism-related programs?
Craig: We are mission over profit first of all. We are founded by professors and backed by sustainable tourism research. And most of all, our goal isn't simply to provide what the market wants but what it needs. Anyone can reproduce something, but helping people discover things outside of their comfort zone and connecting them to unforgettable and unique experiences is an art form.

Irem: I'd like to echo what Craig mentioned about our program being mission over profit first and foremost. I love that our focus is on the people—not only the entrepreneurs and creators but also the longtime residents and newcomers to the area alike. The ecosystem we have created is unlike anything I've seen before, and it's special to witness the preservation of authenticity and the prioritization of microentrepreneurs in a world where those things are often overlooked or compromised.
---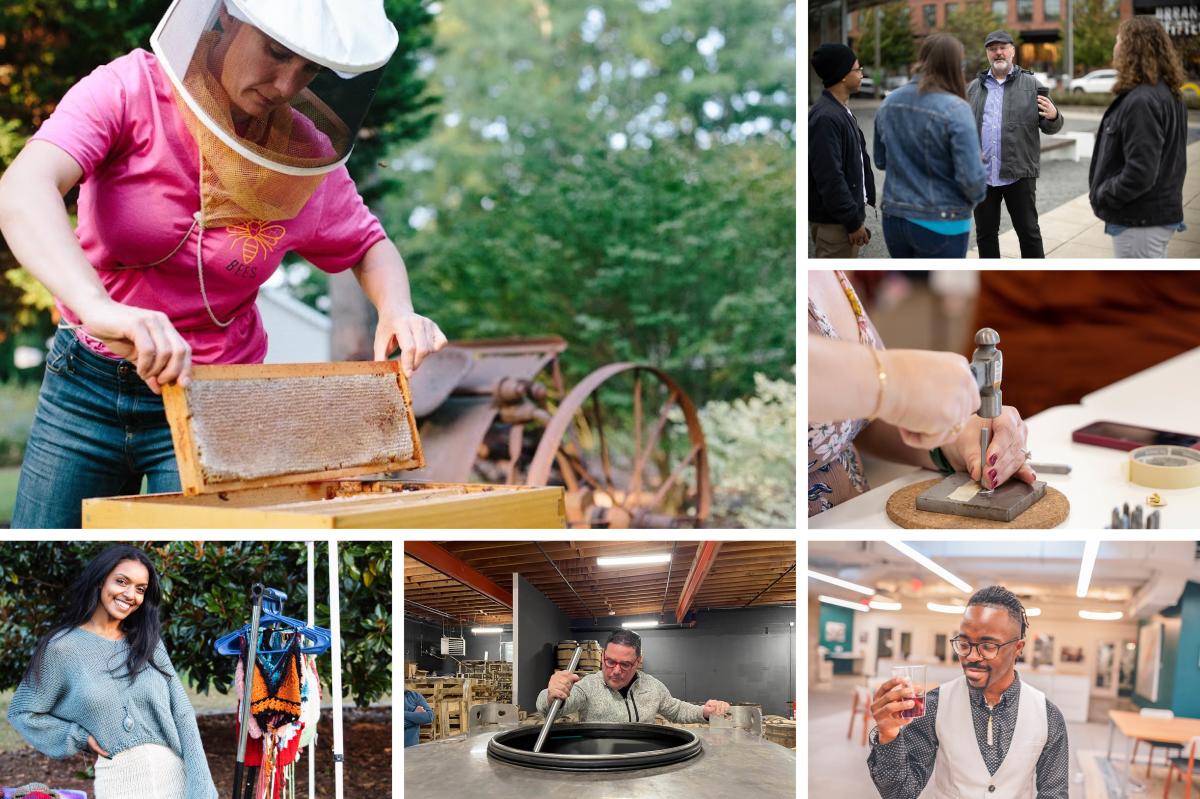 ---
What P1t experiences have been added lately that you are particularly excited about?
Craig: We recently created a Valentine's collaboration between a letterpress company and a local writing workshop. Two amazing Raleigh businesses with some overlap in materials worked together to create one incredible workshop. Participants get to learn how to mix ink colors, create their own gorgeous letter-pressed stationery and then take a professional mini-class on writing an authentic letter of affection, all while enjoying wine and food.

Irem: I am absolutely stoked about the addition of rug-tufting workshops to our calendar. If you've ever seen a video of someone making a rug in this fashion, you'll agree when I say it's simply mesmerizing, and I can say with confidence that I would probably never come across the chance to try it myself without P1t.
What are your goals for P1t in 2023?
Craig: To create a sustainable ecosystem centered around the local people who make Raleigh special. We want traditionally separate entities such as the city itself, hotels and apartment complexes and individual creators to each have a direct line between one another all in the name of mutual support.

Irem: As the partnership development lead, my personal goal for P1t is to strengthen relationships with our peers in the formal sector—hotels and apartments, particularly. Each partnership is an essential, sustainable avenue for supporting people-first microentrepreneurs in a way that benefits everyone. We (P1t) get to serve as a resource and connector between creators and partners, our partners are able to offer their constituents an incredibly unique way to experience the area, and visitors/residents are able to easily access and participate in curated, hands-on activities that are unique to the Raleigh area.
How can local hotel partners get involved? Restaurants and attractions?
Craig: If a hotel wants to provide its guests with instant access to Raleigh's most authentic and interesting experiences, we can help you do that right now. If an entrepreneur or creator has something special to share, please reach out and let's start highlighting your passions.

Irem: Hotels, residential peers and group-travel coordinators who are interested in offering their guests/residents with truly authentic experiences in the area can reach out to me directly at irem@peoplefirsttourism.com. Restaurants, attractions, creators, farmers, artists, guides... you see where I'm going with this... do not hesitate to contact us via our website to begin discussing how we can assist you.
How has your experience with P1t shaped your goals for the future?
Craig: I get to watch my efforts put dollars in the pockets of amazing people. Farmers, artists, guides... the people willing to take a risk and create something. I think it would be difficult to leave this sort of community-oriented work after finding it so meaningful.

Irem: As I mentioned, I am a lifelong Raleigh resident: born and raised. My relationship with Raleigh is ever-evolving and has been challenging at times—for a while, I swore to anyone who would listen that the grass was greener anywhere but here, and I was convinced that Raleigh simply wasn't "it" for me. My involvement with P1t, which began as "just" a career change exploration, has given me a renewed sense of appreciation for my hometown, its beauty and its people, and it has also grown to be my most cherished professional endeavor to-date. Having witnessed the positive impact of P1t's work for the past year (alongside a team of some of the smartest and most passionate people I know), I have come to realize that a key characteristic I will look for in all my future endeavors is the opportunity to continue impacting the sustainable, authentic growth of our city.

To know more or to connect with Craig or Irem, you can email them at craig.prince@peoplefirsttourism.com or irem@peoplefirsttourism.com.
.............
Craig and Irem photos by David Kuhn. Experience photos courtesy P1t Inc. and Scott Scaggs.

Author: visitRaleigh
The Greater Raleigh Convention and Visitors Bureau (GRCVB) is the official and accredited destination marketing organization (DMO) for all of Wake County.
Comments