Raleigh Area Tourism Industry Update from Dec. 15, 2021
Thursday, December 16, 2021, 3pm by visitRaleigh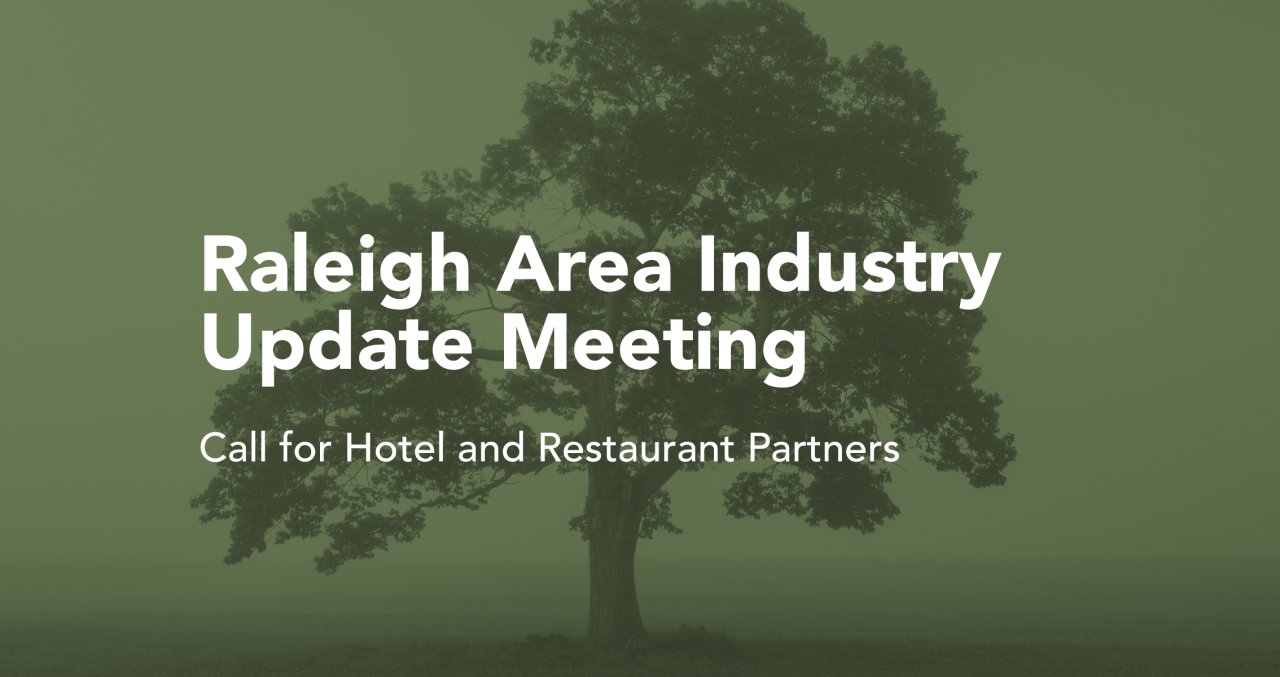 GRCVB and the North Carolina Restaurant and Lodging Association (NCRLA) hosted a digital briefing on Dec. 15, 2021.

In addition to updates from both organizations, callers heard from Ben Ellsworth, founder of Gigpro, an application that helps hospitality employers find shift employees quickly. NCRLA has now partnered with Gigpro to assist N.C. hotels and restaurants find qualified and available people in a timely manner. According to NCRLA's president and CEO, participating members already have found the service very valuable. You can find details at gigpro.com.

Lynn D. Minges, President & CEO, NCRLA
Lynn first reported about the work NCRLA has been doing during the pandemic, much of which can be found in their Blueprint for Revival of the North Carolina Hospitality Industry.

She also noted NCRLA has been successful in lobbying state legislators to pass the ABC Omnibus bill. Passage of the bill has allowed for permanent outdoor dining, "social districts" in and around restaurants and bars (areas that in the past have not been available for alcohol service such as street festival footprints, parking lots used for seating during the pandemic etc.) and restaurants and other businesses can now produce their own private-label beverages.

The big news for Wake County hospitality partners is NCRLA successfully lobbied for aggressive, state-funded recovery assistance, namely the hospitality Business Recovery Grant (BRG) Program totaling $500 million.
Overall assistance includes:
Full PPP deductibility from 2020 tax returns;
$5 million for rebuilding N.C.'s hospitality workforce;
$400,000 for ProStart, NCRLA's program to introduce the hospitality industry to high school students as a possible career path;
$30 million to Visit North Carolina to promote tourism to the state.
Lynn acknowledged help and support from American Hotel and Lodging Association and the National Restaurant Association. She also noted N.C. House Representatives and Senators who were instrumental in getting the legislation passed.
For details about the newly available BRG Program and how to apply by Jan. 31, 2022, click here.
Here are the qualifications to be eligible for the BRG:
Must be a private-sector business (the income from the business is subject to either individual or corporate income tax);
Must have experienced a decline in gross receipts from March 2019-Feb. 2020 to March 2020-Feb. 2021 of 20%;
Non-hospitality businesses cannot receive this assistance if they have gotten other COVID aid from several specific programs (PPP, EIDL Advance, Job Retention, SVOG, Restaurant Revitalization)—hospitality businesses can.
Qualifying businesses can receive:
For most hospitality businesses (NAICS codes 71 and 72), 10% of the economic loss (revenue decline) up to $500,000 per taxpayer;
For businesses that have not received any aid from the COVID programs named above, 20% of the economic loss up to $500,000 per taxpayer;
Could be prorated if demand exceeds the $500 million total, or prorated among the $300 million hospitality pot and $200 million non-hospitality pot (preference to those that have not received aid previously).
The BRG application process opened Dec. 16, 2021, with one-time payments scheduled to be distributed in Feb.-early March of 2022.

Again, for all details about the $500 million in grants now being administered by the N.C. Department of Revenue and how to apply, click here. The BRG application period ends Jan. 31, 2022!

Dennis Edwards, President and CEO, GRCVB
Also on the briefing was Dennis Edwards, who presented an update of the State of Wake County Tourism. Overall, the news is good.

From July-Nov. 2021, the GRCVB team attended 80 trade shows, conferences or client events, plus five major national and international public relations events, and the Bureau increased its advertising and social media presence.

The results of those efforts so far included:
15 site inspections;
1,656,037 website sessions (an increase of 83% over prior fiscal year-to-date, FYTD);
The Sales/sports sales teams have secured 121 bookings (up 83%) and reserved 142,462 room-nights (an increase of 84%);
Sales also has generated 260 leads (an increase of 102%) representing 226,515 room-nights (up 57%);
The Destination Services team has serviced 100 groups from July-Nov. (an increase of 223% over prior FYTD);
Public Relations has earned 162 media mentions (up 28%);
Hotel occupancy cited is 56.7% (up 26.2% calendar year-to-date, CYTD, over previous CYTD);
Hospitality tax collections for fiscal year July-Oct. 2021:
The Bureau, which received funds from Wake County through the American Rescue Plan was also able to reinstitute its signature event fund, a pilot program that makes monies available to major festivals and events meeting specific tourism criteria. Funds have been provided to organizers of Dreamville, which allowed them to expand the event to two days instead of one. Over 40,000 attendees are expected, consuming 22,000 room-nights and with an economic impact of over $5 million to the county.

Denny also reported that the N.C. General Assembly has approved the nation's first esports tax incentive program. On the day the program was made public, Denny said GRCVB received six inquiries from national and international esports event planners who are interested in hosting their future events in Wake County.

He also mentioned that the Bureau is currently working with JLL, the consulting firm that was instrumental in the creation of Wake County's Destination Strategic Plan, to reassess the plan's Meetings and Conventions priority in light of COVID, particularly as it relates to downtown Raleigh hotel development. More information will be coming in the future about that project.

Author: visitRaleigh
The Greater Raleigh Convention and Visitors Bureau (GRCVB) is the official and accredited destination marketing organization (DMO) for all of Wake County.
Comments