Visit Raleigh Studio: Drone Footage
Friday, February 19, 2021, 2pm by visitRaleigh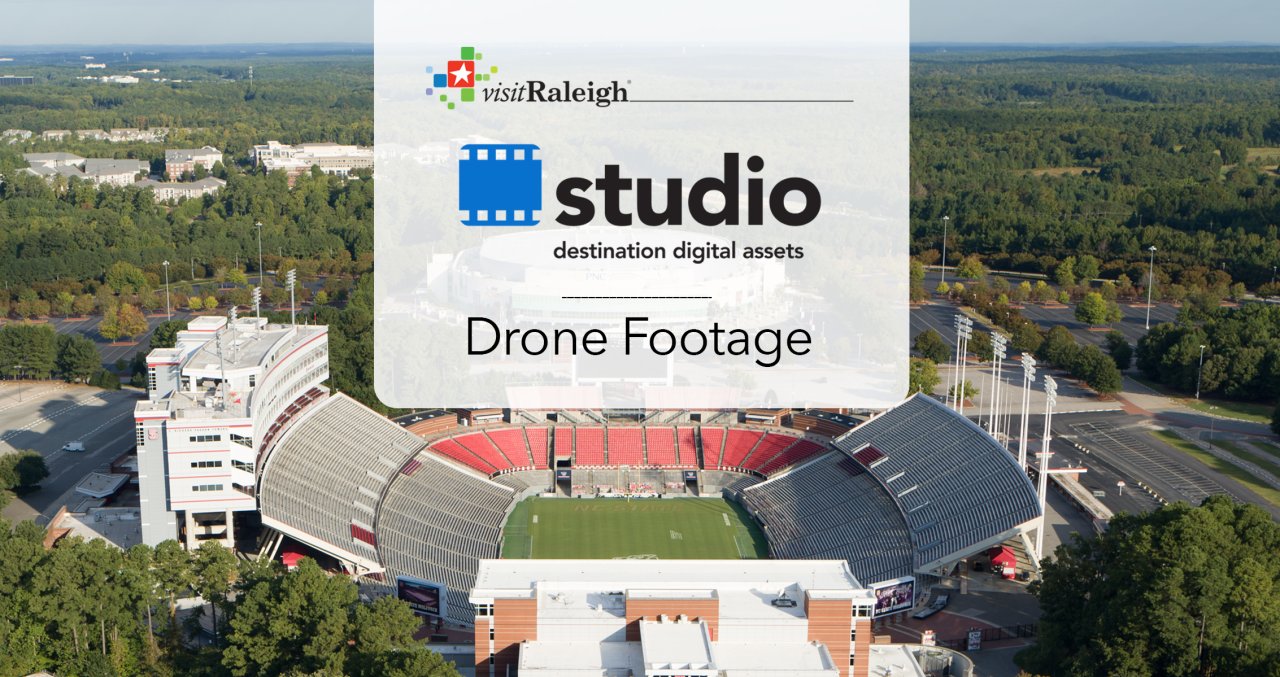 For the last few weeks, we have been telling you about Visit Raleigh Studio, a project we've been working on during this time of COVID, designed to benefit all of Wake County's hospitality community.

Parts of the Studio were funded through CARES Act dollars, invested with us by the county. You have already heard about the 7,000+ photos in the Studio and the 90 locations that were selected for 360° virtual tours. Today we want to let you know that we have also collected aerial drone video footage from over 80 sites around the area. This is, in many cases, 4K, motion-picture quality footage that we're making available to partners and other stakeholders without any cost to you.

Loren Gold, GRCVB's executive vice president, along with Vimal Vyas, director of information, security and digital innovation, were closely involved in this project. 

We asked Loren to give us the deets about the project.

Why did we opt to focus on collecting aerial drone video footage (as opposed to another kind of video)?  
Aerial drone footage has been something that various team members of GRCVB have advocated for and have desired to bring into our digital asset portfolio for a few years. Seeing some of Wake County's top attractions, parks, meeting facilities, hotels, sports complexes, downtown districts and towns from an aerial vantage point not only allows us to better show our visitors these assets and their physical layouts but the surrounding aesthetics of greater Raleigh as well. 

The pandemic has kept many event/sports event planners as well as visitors from spending time in our destination. This aerial drone footage can be used for virtual planning of future events, outdoor excursions and experiences. Our hope is that this library of high-res footage can excite and inspire our visitors to see more of our beautiful county.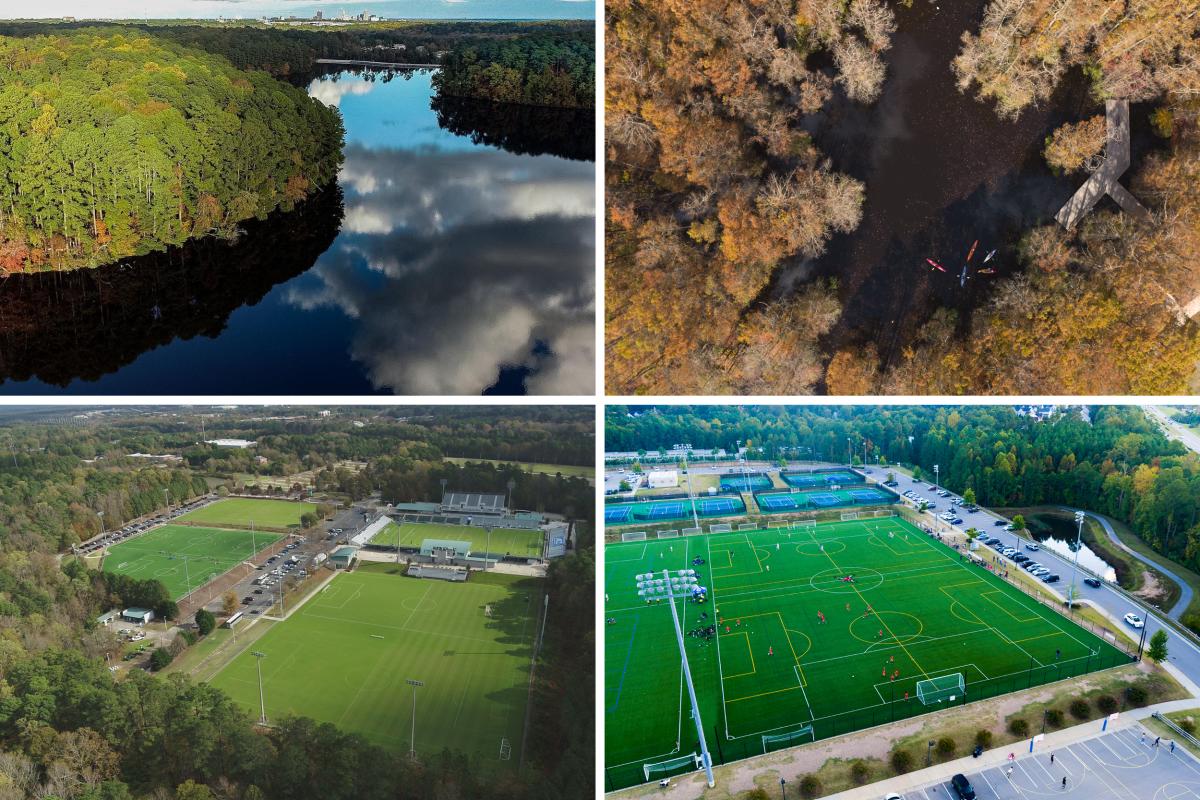 How were the locations selected?  
The selection of locations was determined in two parts. Because the project was paid for by CARES Act funds appropriated from Wake County, we had specific guidelines of usage, and our teams from Sales, Sports, Marketing, Destination Services and Destination Technology gave input toward assets that have the highest volume and usage frequency of both leisure and group visitors. In some cases we also considered future destination development and economic development usage of the footage. 

There were 90 sites on the original list. Due to some scheduling conflicts and certain assets closed based on seasonal maintenance or construction, 80 assets were filmed for this project. 

How did the scheduling happen? 
We knew we had approximately three months (Oct.-Dec. 2020) via CARES Act guidelines to film the assets. Because Wake County has a fairly large landmass, we looked first at segmenting assets based on their municipality (the vendor was able to shoot four-five assets per day), so when we went to Cary, for example, we attempted to film as many Cary assets as possible that day. 

We also looked at scheduling sports assets around event schedules (we wanted to show competition at the sports complexes), factor in weather, light based on the sun position/time of day, the seasonal changes to trees and permissions from both municipal staffs and facility managers. We quickly understood what motion-picture location managers have to go through! 

What kinds of restrictions did we have to work around (air space, for example)?  
Our vendor DVT and their pilots have the top flying classifications, drone licenses issued by the FAA and full insurance coverage. These drones are officially classified as unmanned aircraft. DVT per their license is allowed to fly over people but not over vehicular traffic. In some cases they had restricted air space if they were filming in close proximity to RDU International Airport. 

Our area also has a lot of tree cover, areas that have above-ground power lines, high-rise buildings and other obstructions. Much of the footage shot was done so with two-man teams—one piloting the drone, the other filming and directing the pilot on height, angle and approach. 

In some cases, DVT had to receive permissions to fly via a film permit process. They provided certificates of insurance, copies of their licenses and specific times and dates of when they would be filming. Safety was always priority-one with every asset filmed by DVT... not only for the general public but also because their drones cost over $9,000 each. 

What is the name of the vendor and why did we select them?
Destination Virtual Tours (DVT), and it was selected through a bid process. They competed for this contract with two other aerial drone service providers. DVT was also selected because of their understanding of CVBs/the destination marketing business and the strong reputation of artistic expertise from their lead photographer, Chuck Fazio.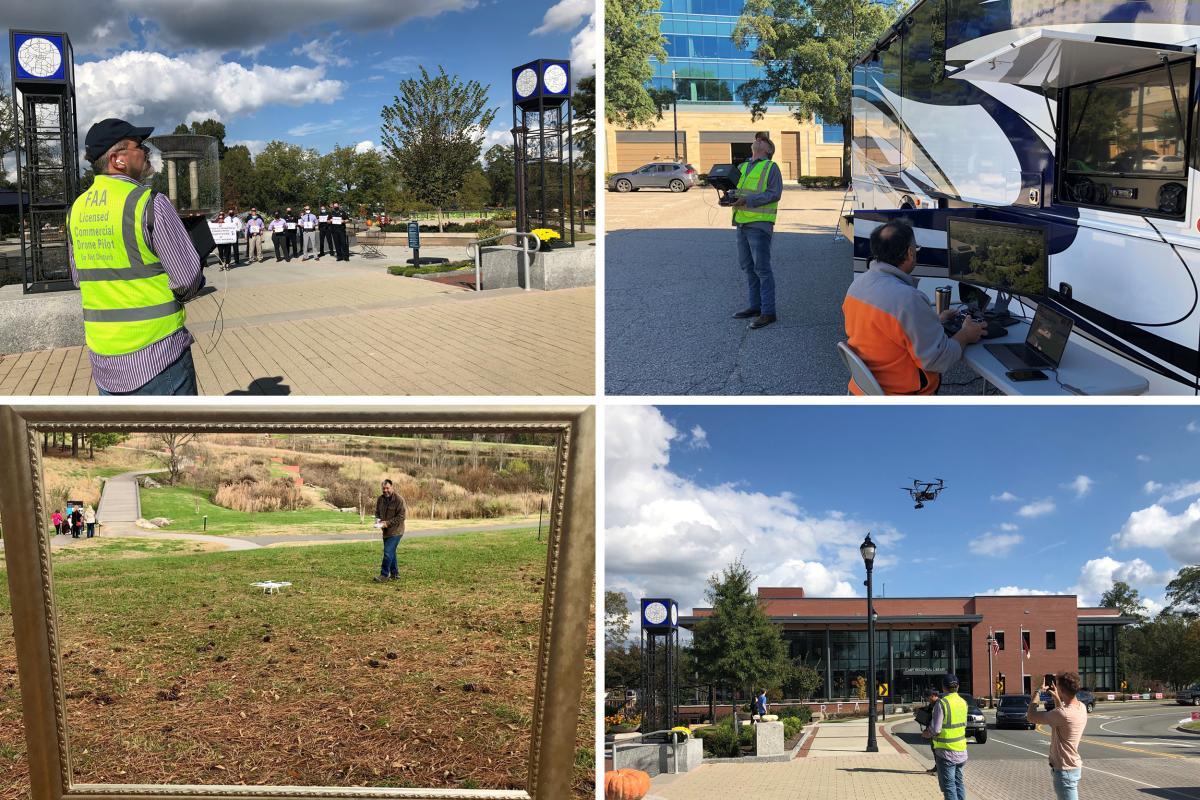 Tell us about his cameras and his setup.
DVT utilized two different drones. The largest of the two, Bad Boy, is configured with a high-definition camera that can film at Super 35-8K footage. Just like in Hollywood. This drone was usually operated by the two-man team due to size and use during filming and was deployed typically for panoramic shots at parks, lakes and sports complexes. 

The second drone, Seymour, is configured with a 4K lens and is a single-pilot operation. It was used in tighter air space in towns, districts and in downtown Raleigh. 

Both camera setups had various lenses that could be used for varying levels of natural light along with flying height and the need to "zoom in" the camera on specific detail or capture a wide-angle shot of the horizon. 

DVT utilized a 35' RV as both its overnight lodging, dining and traveling production facility. Computers for processing footage, flat screens for previewing filmed assets and drone-battery charging stations were also a part of the setup. Depending on that day's film location, the RV would be driven to the asset and parked nearby for close access to all resources.

How many times were they here?
Chuck and his team set up a semi-permanent production facility from Oct. 1 to Dec. 15, 2020, by parking the RV at the North Carolina State Fairgrounds RV park, which was very centrally located to most of the assets. They had one other support vehicle that they used at times to shuttle some of their drone pilots to and from RDU and or for side trips to other destinations that were on their work schedule. 

What's your best guess of how many hours of footage was taken? 
By my count, DVT filmed a total of 30 days at a total of 200 hours of work. 

How many terabytes of footage was taken? 
Our best estimate is eight terabytes of video files (that's 8,000 gigabytes).

Were there any notable moments during the project?
Surprisingly with the abundance of assets filmed, there was only one drone mishap with a tree, one near-miss by a golf ball at Lonnie Poole Golf Course and one irate soccer referee at WRAL Soccer Park. 
Overall, many citizens of Wake County approached the DVT team to watch, welcome them and be entertained by these awesome technological aircraft. 

Were there any serendipitous moments? 
Chuck was always engaging with our community patrons and had the good fortune to provide film footage and a few still images for the Cary Police Department while filming the Downtown Park and fountain in Cary. About 15 members of the department were out promoting awareness of programs to support victims of domestic violence. Chuck turned it into an impromptu photoshoot and provided the department with footage and digital content for their communications team. 

We also had three instances where local amateur drone pilots saw DVT filming, stopped their vehicles and came over to chat with Chuck and see what he was working on. He would give flying advice, exchanged contact information and ask them to follow his work at the DVT website.
---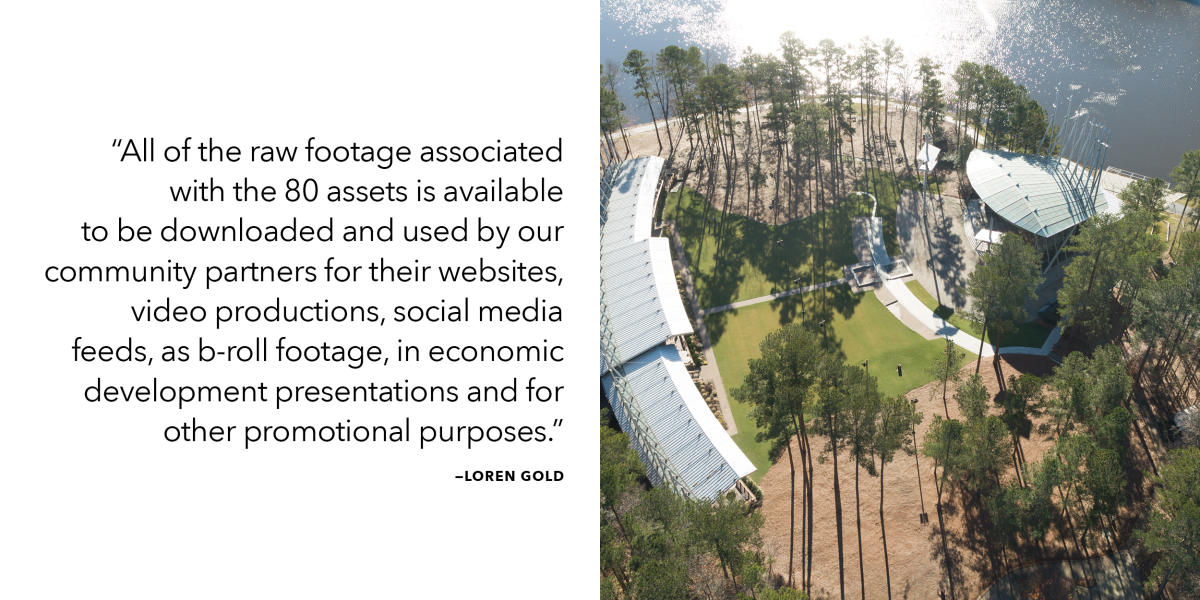 ---
If we were all able (GRCVB and partners) to use these assets in the most productive way possible, what would you like to see happen?
This footage will be used not only to promote all of Wake County to visitors, event planners and sports right-holders by our teams, but we will also use assets on our website, our social media channels, embed footage into our virtual tours, e-proposals and provide footage for future promo-video production. 

Because it is also now accessible through the Visit Raleigh Studio, all of the raw footage associated with the 80 assets is available to be downloaded and used by our community partners for their websites, video productions, social media feeds, as b-roll footage, in economic development presentations and for other promotional purposes. All footage has been converted to .mov files and can be easily edited into a variety of useful digital mediums. 

.........

To access the Studio drone library on Barberstock if you had an earlier account:
Send a quick message to Vimal Vyas and ask that he add drone access to your account.
To access the Studio drone library if you do not have an account:
Go to raleigh.barberstock.com and choose Register Now.
Fill in the form with your contact information and how you intend to use the footage.
Under the bottommost dropdown menu, choose Local Partners (Aerial Footage Projects).
The Barberstock system will alert Bureau staff to grant you access.
If you have questions about the drone video footage, please contact Vimal Vyas at vvyas@visitRaleigh.com.

Author: visitRaleigh
The Greater Raleigh Convention and Visitors Bureau (GRCVB) is the official and accredited destination marketing organization (DMO) for all of Wake County.
Comments