Wish You Were Here Campaign Gaining Attention
Friday, November 06, 2020, 9am by visitRaleigh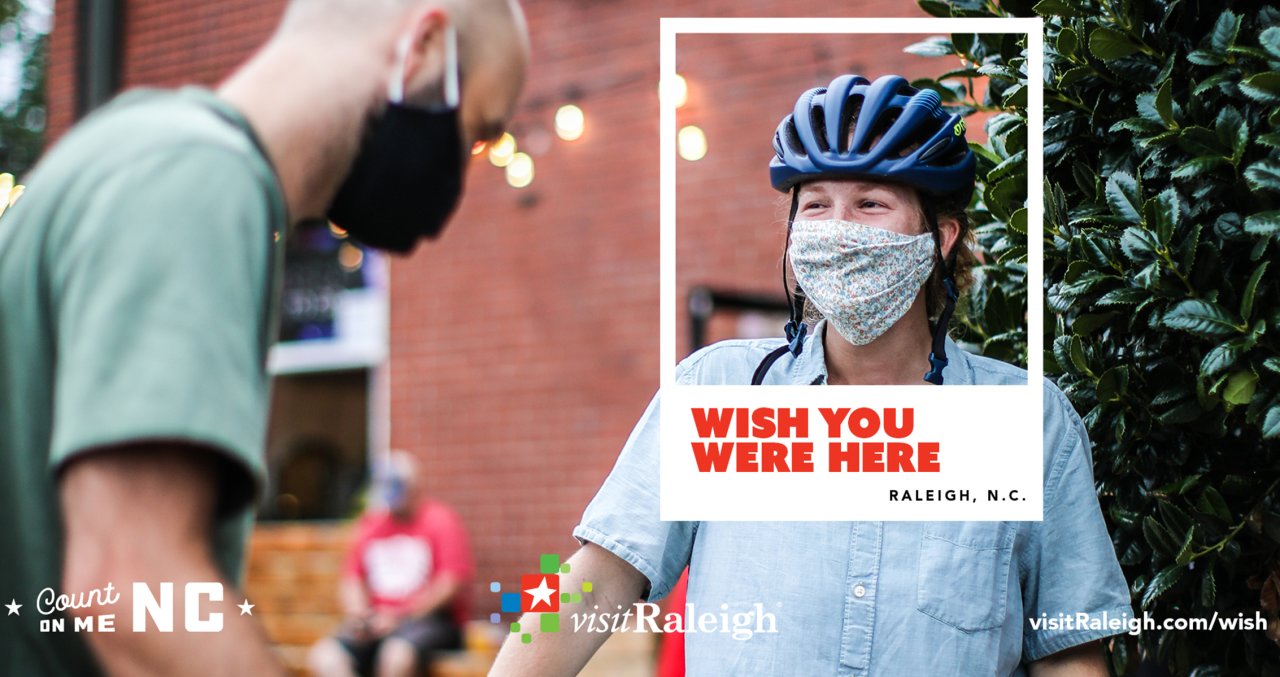 We have been reporting on GRCVB's launch of a comprehensive marketing campaign supporting area tourism's rebuild and recovery, themed "Wish You Were Here" (WYWH), in Aug. 2020. Through WYWH messaging, we are doing our best to persuade potential visitors (individual families or groups) that, in spite of continued COVID restrictions, they can again cross county lines and safely make their way into many area attractions, businesses and now venues following new health and safety protocols.

In fact, even as a resident, you might have seen a WYWH ad already from GRCVB in print or on one or more of the websites you frequent. All of the ads direct viewers back to campaign-specific webpages at visitRaleigh.com, which highlight experiences that are open and ready for business, mostly being led by our area hospitality partners who have become Count On Me NC-certified. (The messaging is being shared with residents so they can become tourists in their own towns again and can share this valuable info with visiting friends and family especially during the holiday season.)

WYWH is one of the most, if not the most, extensive advertising and promotional campaigns the Bureau has ever taken on, also working in concert with our statewide counterpart Visit North Carolina. Here are select marketing stats from the CVB campaign so far (through late October):
Traditional ad impressions: 7.8 million
Facebook impressions: 3.73 million
Sept. website sessions: 184,653
Oct. website sessions: 248,050 (up 34% from Sept.)
Online/social video views: 42,000+
Beyond more-traditional print/digital display ad placements and always-on conversational/content marketing, here are other major components of the WYWH campaign...

Video and streaming audio spots
The latest tool in the WYWH arsenal is a one-minute, lifestyle-type video using the WYWH theme. It debuted Oct. 28 and has seen significant play and engagement on social media. If you haven't seen it, you can watch it here:


The recovery destination video features vignettes of visitors in museum settings, at restaurants, at a farmers' market, engaging in several types of outdoor recreation at parks and ultimately checking into a hotel. "Our intention," said Jonathan Freeze, CDME, GRCVB director of marketing, "was to visually communicate that those destination elements are open and available today with health/safety protections, leading to trip inspiration." The video is set to an upbeat music track and was produced by Raleigh-based Triangle Blvd.

In late Sept./early Oct., GRCVB worked with our advertising agency, Avenir Bold, to create a 30-second commercial spot and a 15-second video pre-roll clip for streaming TV placements now running. An additional 30-second spot will start to run soon with re-edited clips borrowed from the new recovery destination video.

North Carolinians are also currently hearing streaming audio ads prepared with Avenir Bold to complement the WYWH video and other paid messaging components above. Throughout the course of the campaign, radio/Internet radio spots will run in Asheville, Charlotte, Greensboro and Greenville markets.
Listen to the initial radio spot here


Social media marketing
All of the Bureau's leisure social media channels, including Facebook, Twitter and Instagram, have featured special WYWH-related content, which has been boosted with dollars to gain more viewership and engagement from potential area visitors. As we mentioned above, viewers are being directed to COVID-compliant information and ideas, where they then can click-through from social to more pages on visitRaleigh.com to see timely, curated content.

Some of the stories shared on social feature Count On Me NC-certified hotels and restaurants (if your business isn't Count On Me NC-certified, we highly recommend that you complete the free process here); activities, shops and attractions that are open now (including Count On Me NC-certified indoor attractions); suggestions for accessible and safe arts/culture options and signature experiences; and plenty of outdoor things to do (recreation but also fall markets or agritourism sites especially appealing this season).



Search engine marketing (SEM)
While commonsense, it is still often forgotten that much tourism website traffic comes from potential visitors actively searching the Web on their own for ideas; for CVBs, this also includes business professionals (e.g., meeting planners) searching for destination information. GRCVB's Destination Technology Department has overseen a robust SEM strategy to help capture search traffic for Wake County and the campaign webpages.

So far (through late October), this has translated into nearly 18% of official tourism website sessions being harvested through the paid search tactics, further extending the reach of WYWH trip-planning information within the very competitive space of CVB and destination-related Internet search results.

Though potential leisure visitors represent most of the destination customers reached through our WYWH campaign, that's due to the sheer volume of the leisure market as opposed to clients representing group business at this time and our targeting as a result. All markets important to the CVB and to our destination rebuild and recovery, however, are being exposed to this critical messaging around a return to safe travel into the Raleigh area (i.e., Wake County's meeting/convention, sports and international tourism external markets).

In next week's Tourism Talk blog post, we will share even more insights about how the campaign and the area's tourism recovery, post-COVID, are going.

Author: visitRaleigh
The Greater Raleigh Convention and Visitors Bureau (GRCVB) is the official and accredited destination marketing organization (DMO) for all of Wake County.
Comments