A Fully-Planned Day-Trip to Raleigh, N.C.
Thursday, July 09, 2020, 9am by visitRaleigh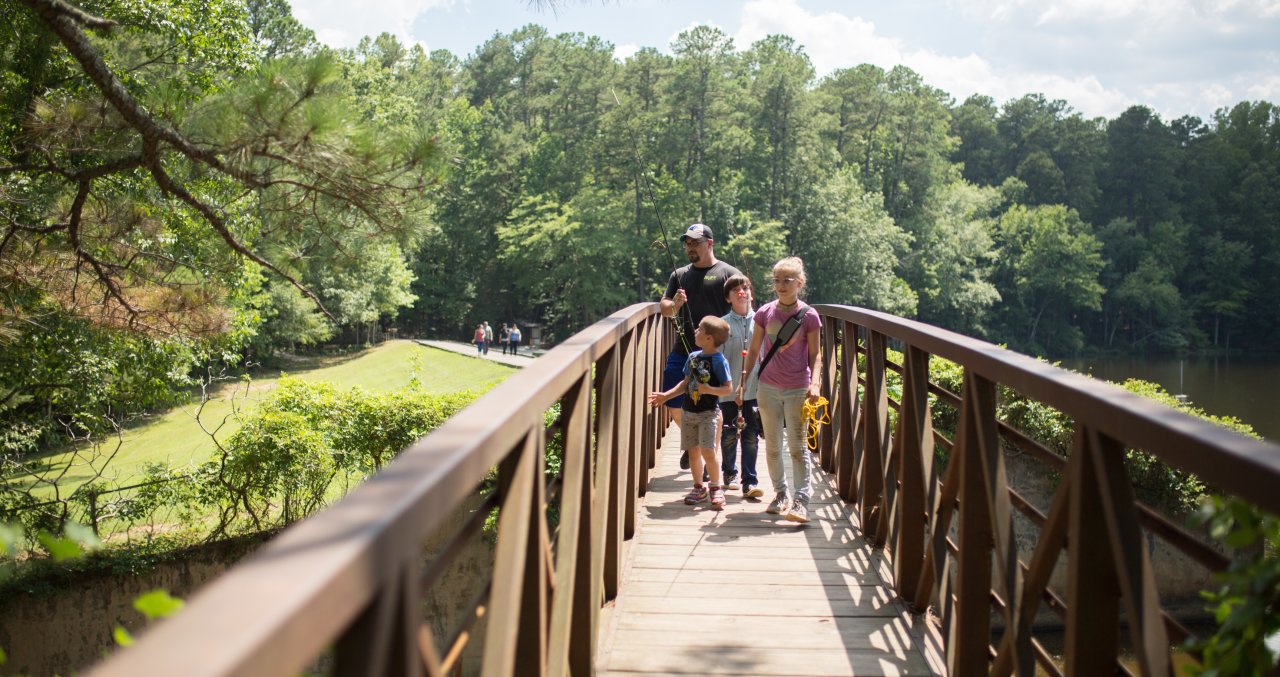 A day trip to the Raleigh area needs to include a few things: Award-winning pastries, outdoor exploring and family- or date-friendly entertainment. Here's how to do just that!
Need more ideas or options? Shoot us a note on Twitter or Facebook—we're here to help!
 
Morning
A worthy pit stop to help fuel the day ahead, La Farm Bakery—a traditional French bakery owned by three-time James Beard semifinalist Lionel Vatinet for more than 20 years now—offers artisan breads, baked goods, pastries and coffee. The selection of sweet and savory pastries varies by day, but you'll want to be sure to ask about the white chocolate baguettes and the blueberry scones. Grab some napkins as well because breakfast is to-go in this itinerary. 
Location: 4248 N.W. Cary Pkwy., Cary
Current hours: Mon.-Sun., 8am-4pm (takeout only)
One of N.C.'s most-visited state parks, William B. Umstead State Park—a 12-minute drive from La Farm Bakery—remains a peaceful getaway thanks to its sheer size (more than 5,000 acres of forest, trails and lakes sit on the edge of Raleigh, Cary and Morrisville). With 13 miles of multi-use trails that follow a series of rolling hills (perfect for horseback riding, jogging and cycling) and 22 miles of dedicated hiking trails, this is a must-hit destination for outdoor enthusiasts.
Parking at the Reedy Creek entrance to the park, just off of I-40, offers access to two popular hiking trails (Company Mill, a 5.8-mile loop trail; and Loblolly, a 5.4-mile out-and-back trail) and picnic tables to enjoy your breakfast. Be sure to bring water because water fountains may be closed due to COVID-19.
Location: 2100 N. Harrison Ave., Cary
Current hours: 8am-9pm, with weekends being very busy from 10am-5pm
RELATED: Find more hiking and biking options here.
Afternoon
One good way to experience Raleigh's trailblazing food scene? Lunch at downtown Raleigh's Transfer Co. Food Hall—a massive foodie attraction that opened in early 2019 to great fanfare—where bagels, beer, burritos, burgers and more are on the menu across the 10 different vendors that fill the space (a perfect spot for groups and families). 
Location: 500 E. Davie St., Raleigh
Current hours: Open for dine-in and takeout; most vendors open at 11am for lunch and dinner
Looking for big entertainment? Drive Shack—the interactive golf complex that caters to big groups—opened in 2019 in Raleigh. The three-story complex includes 96 golf bays, a full-service restaurant, a rooftop bar, more than 300 televisions, an arcade area, meeting rooms and more.
Drive Shack allows guests and groups to rent bays by the hour, giving them access to wait-service, unlimited driving range balls, full sets of TaylorMade golf clubs, a climate-controlled outdoor seating area (essential for summer!), televisions and more.
Location: 6901 Play Golf Way, Raleigh
Current hours: 10am-10pm
Evening
Back in downtown Raleigh, an outdoor dinner is a no-brainer on a nice evening. Couples will want to make reservations at Mulino Italian Kitchen & Bar—a cozy Italian restaurant that boasts what is perhaps the Raleigh area's most unique patio setting (poolside dining, anyone?)—and families can dig into Tar Heel State favorites at The Pit (barbecue, mac and cheese, mashed potatoes and more). 
Mulino: 309 N. Dawson St., Raleigh; open for dine-in and takeout service Tues.-Sun. beginning at 5pm
The Pit: 328 W. Davie St., Raleigh; open for dine-in and takeout service every day beginning at 11am
RELATED: FInd more restaurants that are currently open for dine-in, patio and takeout service here.
For a nightcap of entertainment, two suggestions not far from your dinner location: Goodnights Comedy Club, a legendary spot providing laugh-out-loud fun for nearly 40 years, is back with live shows (with health and safety precautions in place, including limited seating). They have a schedule of upcoming events on their website (ages 18+). At Wine and Design Raleigh, guests are invited to "show up, sip up and paint!" In-person classes provide paint supplies and a teacher—you provide the wine/beer/snacks. A full schedule is available online (and virtual events—where a ticket gets you a paint kit and a Zoom invite—are being held as well).
Goodnights: 861 W. Morgan St., Raleigh; schedule
Wine and Design: 510 W. Martin St., Floor 3, Raleigh; schedule
Header photo by Brian Strickland
Comments