American Aquarium's Roadtrip to Raleigh Comes with the Band's Ultimate Eats Guide
Tuesday, January 25, 2022, 4pm by David Menconi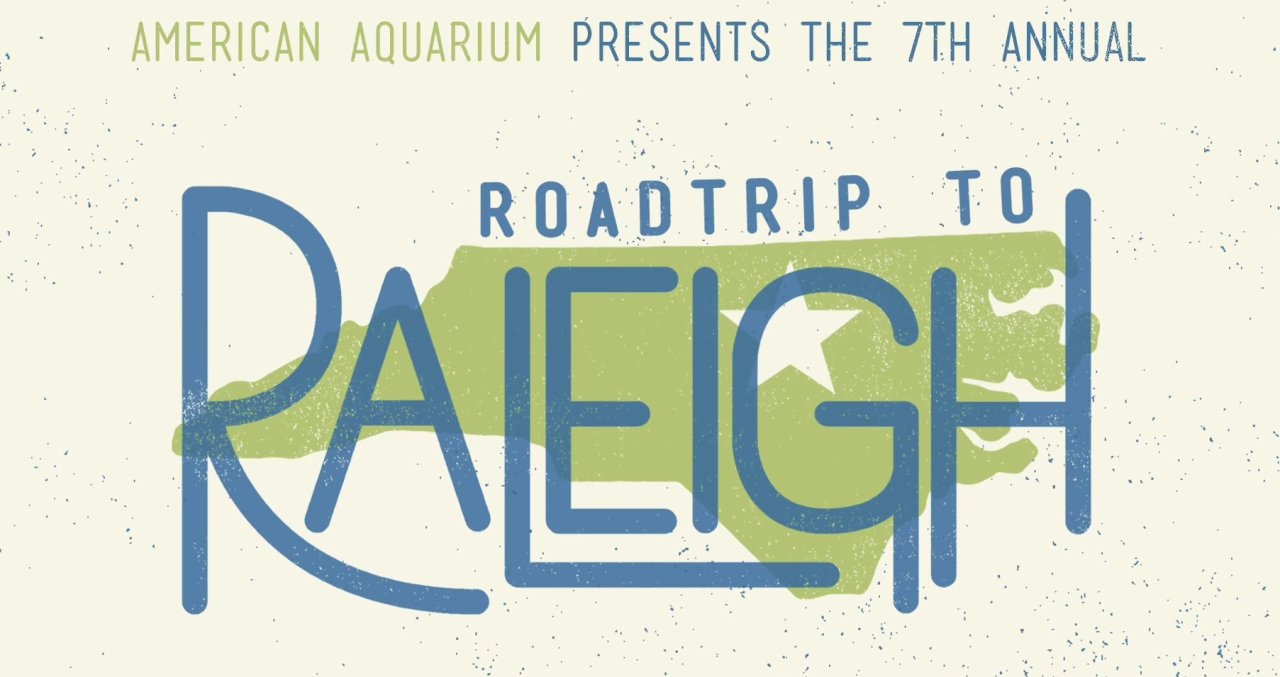 Note: Authored by David Menconi, this piece has been produced in partnership with Raleigh Arts. Menconi's latest book, "Step It Up and Go: The Story of North Carolina Popular Music, from Blind Boy Fuller and Doc Watson to Nina Simone and Superchunk," was published in Oct. 2020 by University of North Carolina Press.
---

Local band American Aquarium's seventh annual Roadtrip to Raleigh weekend happens Feb. 3-5 at Raleigh's Lincoln Theatre (for which a very limited number of tickets may still be available), with three nights of shows accompanied by a killer array of opening acts (Old 97's, Margo Cilker and Aaron Lee Tasjan among them). As always, that weekend is as much about American Aquarium showing off their hometown as it is performing.
To that end, the band has put out an accompanying dining guide listing recommended downtown Raleigh restaurants. It's designed for people who come from out of town, which can be as much as three-quarters of the attendees most years.
"I try to run the gamut of suggestions, from high-end to quick," says American Aquarium frontman BJ Barham. "We're fortunate to live in a place surrounded by so much good food. Downtown Raleigh has three Beard-nominated chefs at restaurants in about a four-block radius, which is pretty awesome."
Here's what American Aquarium advises as the best way to eat your way across downtown.
 
"Easy number-one option for me," says Barham. "I've never taken someone there who has just gone, 'Eh, it's okay.' They're always blown away even though it's simple, fried chicken and waffles. But it's chicken and waffles put together by one of the best chefs in the country, Ashley Christensen. I've never had a bad thing off that menu, either. Brunch, chicken pot pie, sandwiches, it's all perfect."
"I've been driving to Greenville for 10 years to eat at Sam Jones BBQ there, so I was very happy when they opened a restaurant in Raleigh. He's a North Carolina legend when it comes to whole-hog barbecue. Anybody who knows Eastern-style barbecue, Sam Jones is one of the first names that comes up."
"This place is transportive and feels more like Brooklyn or some other huge metropolitan city. Those are the only places where restaurants like this can exist and there's no way it should in Raleigh, but it does. That's the magic of Scott Crawford. He makes hard dishes simple, beautifully mixing Southern and French cuisine. He knocks it out of the park, always."
"(Producer) Brad Cook turned me on to Black & White. We've done three records together and I trust his judgment in all good things. So he told me to check it out, I went and it was one of the best cups of coffee I've ever had. I'll stop by Videri to get two or three bags of their latest roast and it's always mind-blowing. They're also fans of the band and do an American Aquarium roast, so we might be the only band with our own brands of ice cream AND coffee. I'll take that."
"When my wife was a bartender at Slim's next door, I'd drop her off at three in the afternoon and get a dozen oysters on the happy-hour special—then get another dozen when I came back to pick her up at midnight. The place is great. Business seemed slow their first year, but it was just too good to stay that way. Now every time I walk by, it's bustling."
"Sobriety brought out my sweet tooth, and lucettegrace does confection better than anyone. You've probably never been to this level of French bakery. It's hands down my favorite dessert spot, especially with a three-and-a-half-year-old daughter. Amazing presentation, their stuff looks like works of art you don't want to mess up. They make baking an art form."
"Where my love of fine dining started. After my years of McDonald's and dollar-a-slice pizza, Ashley Christensen started my love affair with food done right, and not just here. She'll tell me where to go and who to call in different towns. It all started with me going to Poole's Diner and discovering how transportive it was to splurge on mac and cheese for $20—a basic part of every Southern meal I've eaten my entire life, but done so mind-blowingly well it's an entre meal itself."
"Eight years into sobriety, I don't consume anything on their distilled menu anymore. But I support Young Hearts and Trophy Brewing, who have been so good to us. Trophy does an American Aquarium 'Tough Folks' lager on tap every year for Roadtrip weekend."
"Scott Crawford's flagship, great Southern food done exceptionally well with unreal presentation. Crudo, rabbit pot pie, whatever, it's all out of this world. High-end comfort food that does not leave you feeling gross afterward, like you could go do something instead of just take a nap."
Garland
"Pound for pound, my wife's favorite restaurant in downtown Raleigh. Before they had seating and were just a to-go window, I got this pork bowl and it's still my go-to. Paul (Siler) will ask if I'm ever gonna try anything else and I'll tell him, 'When something's this good, I don't need to.' I take a lot of bands there because they have great vegetarian and vegan as well as carnivorous options. (Chef) Cheetie Kumar brings great diversity to the menu. She's a star, still crushing it."
"I'm giving a lot of heavy options, desserts and heavy butter and fried chicken. But if you're looking to cure those hangovers with something lighter, Happy + Hale is where you go for a salad with juice or a shot of ginger. They do a special fruit smoothie for Roadtrip weekend, too." Note: The downtown Raleigh location is temporarily closed, but Happy and Hale at North Hills is open. 
"Best ice cream in downtown Raleigh, and not just because they did an American Aquarium flavor. They rotate scoops and do great support of the local arts scene with things like artist-curated flavors. They're also Wolfpack buddies, so hats off to the North Carolina State University grads."
"An absolutely essential stop. I love it because we've all been in a group going, 'What do you want?' 'I don't know, what do YOU want?' Here's where everybody can get what they want. Bagels, seafood, burgers, empanadas, whatever, and it's all great. Everybody will leave stoked with whatever they had."
You can purchase the band's latest album, "Lamentations," on CD and vinyl—plus band merchandise—here. You can also stream on Spotify. Visit the band's website here.
Comments