Future Speak: A Summary of the 2022 GRCVB Annual Meeting
Friday, August 19, 2022, 11am by visitRaleigh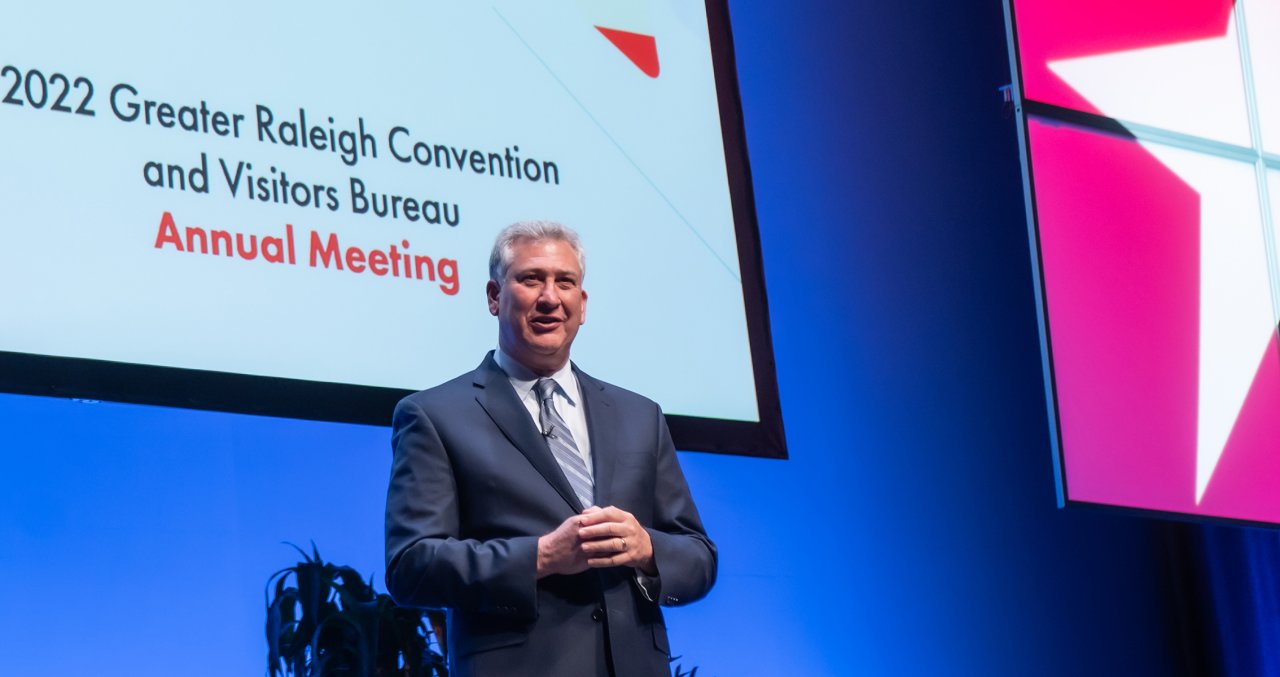 GRCVB hosted its 35th Annual Meeting on Thurs., Aug. 18, 2022, at A.J. Fletcher Opera Theater at Duke Energy Center for the Performing Arts.
Here's a summary of the meeting...
GRCVB Board of Directors chair Mark Zimmerman reported top-line 2021 and 2022 tourism numbers.
At the close of the June 30, 2022, fiscal year, Wake County occupancy tax collections were up 85% over the prior fiscal year, at $29.1 million.
Prepared food and beverage tax revenues had set an all-time record at $37.95 million, up 30% over the prior fiscal. 
Wake County hotels have seen double-digit percent jumps in all of their industry analytics, January through June, and occupancy countywide is currently standing at 65% for the calendar year, with an average daily rate of $114.94, up 32% from the same period in 2021.
---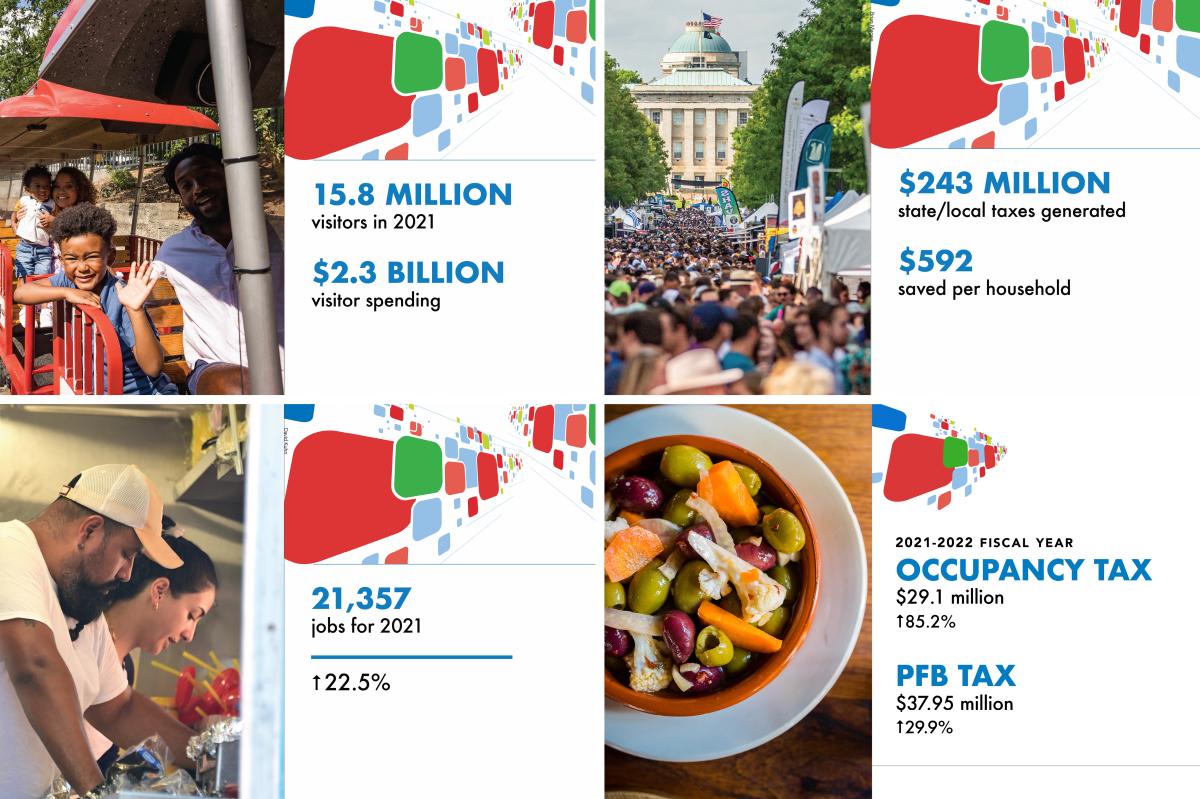 ---
Wake County hotels are collecting $75 in revenue per available room year-to-date—70% more revenue than they collected in the first six months of 2021—nearly $250 million so far this calendar year.
According to our research partner Tourism Economics, Wake County received 15.8 million visitors in 2021, and these visitors spent $2.3 billion here. This visitor spending generated $243 million in state and local tax revenues.
Whenever visitor spending generates tax collections like these, it offsets the amount of tax that Wake County residents would have to pay to maintain the same level of amenities and services we have countywide—meaning that Wake County visitation saved each household in the county $592 in 2021.
Compared to 2019 visitation, the $2.3 billion spent is 80.2% of the 2019 visitor spending in Wake County. Our total visitation here recovered 22.6% in just one year, but we have another two million annual visits to go before we get back to our pre-pandemic high.
In terms of overall employment, nearly two in five Wake County tourism jobs were lost in 2020. The good news is that we've seen the return of many of them. Direct tourism employment for 2021 in Wake County rose to 76% of its 2019 level.
---
​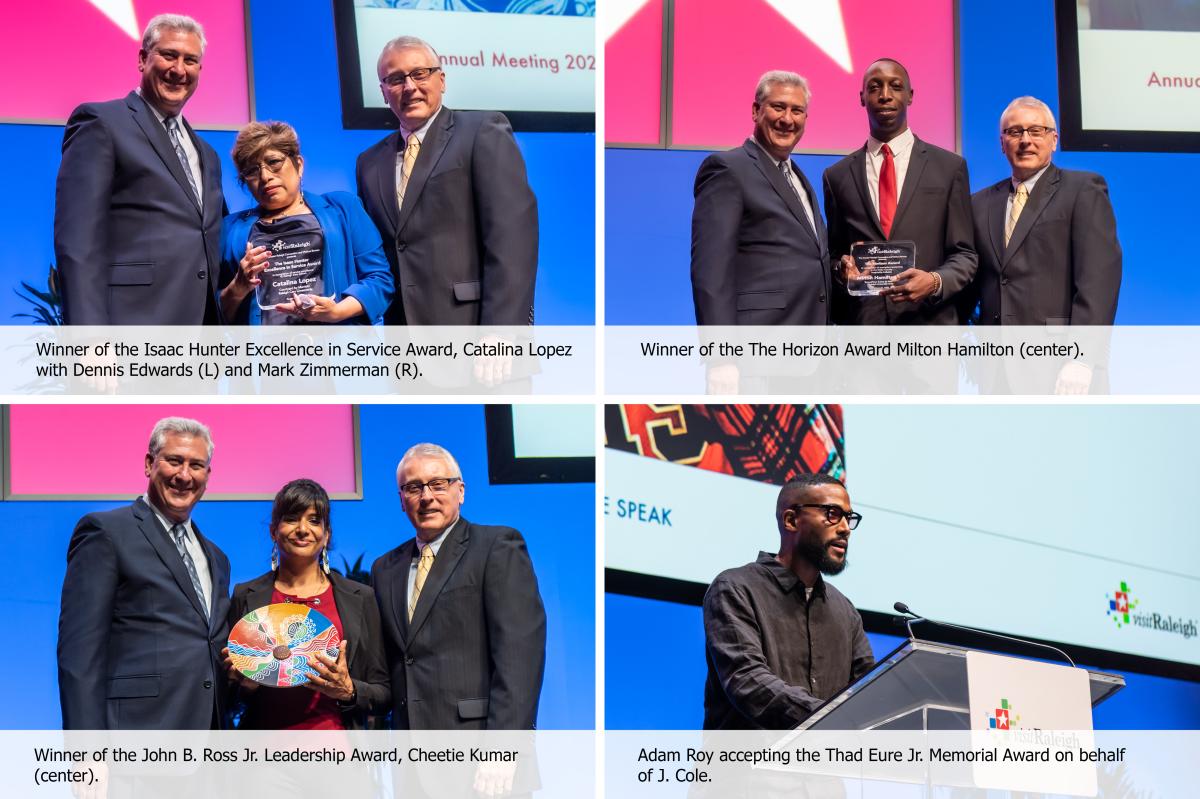 ---
The Bureau presented a plaque to outgoing board chair Mike Smith and its annual hospitality, memorial and leadership awards to the following:
GRCVB president and CEO Dennis Edwards then shared remarks that looked further ahead into 2022-2023.
"Tourism in Wake County has certainly rebounded, but we must keep the momentum going."
He continued, "Due to the strong rebound of tourism tax collections, I'm thrilled to see that the key projects recommended in the Wake County Destination Strategic Plan and approved in the 22nd amendment of the interlocal agreement are now moving forward, which will give us improved and additional tourism infrastructure."

Those projects include:
Denny then mentioned that another item included in our Destination Strategic Plan was the need to grow or bring in signature events, festivals and esports competitions that have a major impact on overnight visitation. GRCVB and its partners have continued to book major events, including the following:
In July, Raleigh hosted the Apex Legends Championship at PNC Arena. Raleigh Convention Center will be hosting the Fortnite Invitational in November and, in December, a major Esports Engine event… all bringing in thousands of participants and fans from around the world.
Farm Aid—the all-day music festival in support of American farmers—will return on Sept. 24 at the Coastal Credit Union Music Park at Walnut Creek.
We also will see the return of the IBMA World of Bluegrass from Sept. 27 through Oct. 1, including IBMA Bluegrass Live powered by PNC, the largest free, urban bluegrass festival in the world.
In February, the Carolina Hurricanes will be hosting our area's first-ever NHL Stadium Series game at Carter-Finley Stadium. Plans are underway to ensure there are activities and programs surrounding this game for all fans to participate in.
The two-day Dreamville Festival will be returning in April at Dorothea Dix Park. Last year it brought in 80,000 fans from all 50 states and from 20 different countries.
---
​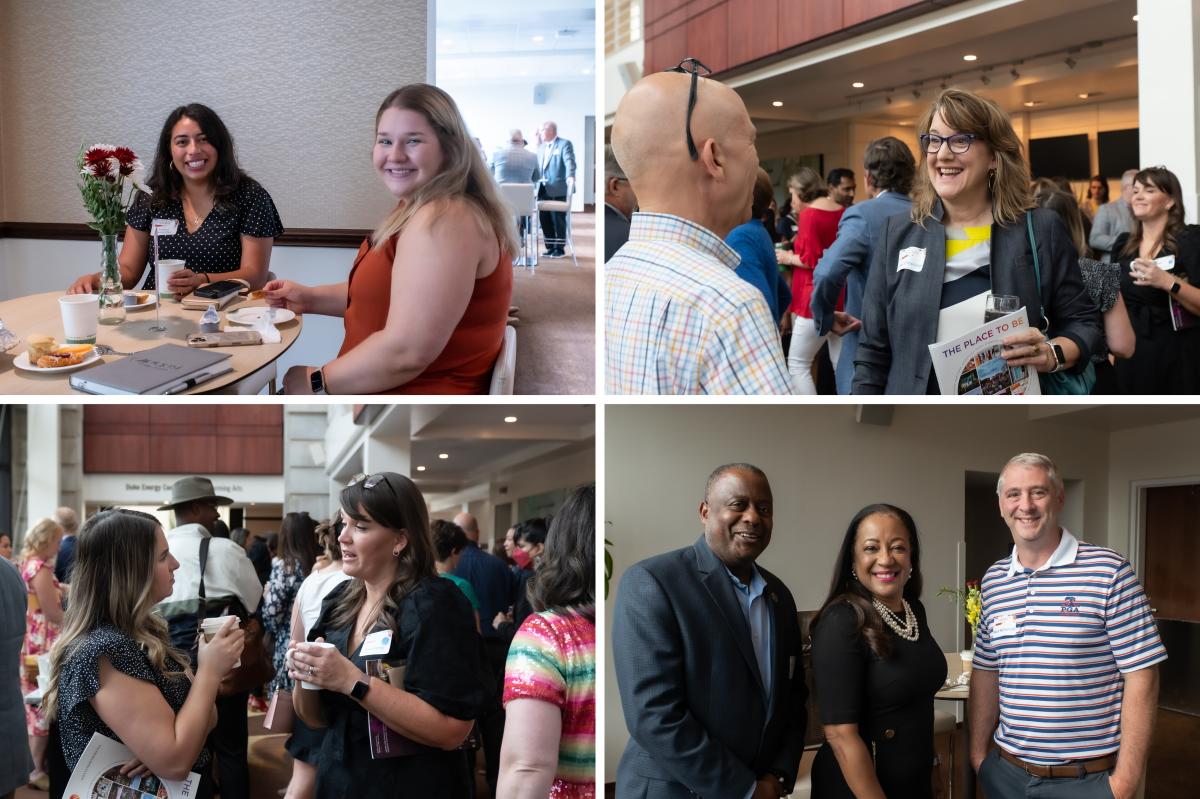 ---
Denny also outlined several tools made available by the GRCVB, including:
He also addressed a subject that is impacting the entire hospitality sector, and that's the workforce, or the lack thereof.
He reported that the City and County recently appropriated $1.25 million to Capital Area Workforce Development to create countywide initiatives that address this subject, and the General Assembly allocated over $5 million to the North Carolina Restaurant and Lodging Association for a statewide plan.
GRCVB is working closely with both organizations as well as our local hospitality partners to ensure we have similar programs in place that will complement one another and stretch our resources.
So far, the three organizations have identified common goals:
To recruit candidates;
To prepare current workers for new roles;
To mitigate hiring and training costs;
And to put job seekers and working individuals on a path that leads to upward mobility.
The featured speaker at the event was Adam Sacks, president of Tourism Economics, an Oxford Economics company. He outlined his up-to-date economic outlook in general and how numerous factors will affect the hospitality sector into the near future. Find Adam's slide deck here.

His overarching premise is:
Today's economic environment is tenuous;
There are obstacles that still oppose tourism recovery (such as inflation, air capacity, workforce and international inbound travel);
but, the travel industry will prevail.
Adam noted that Raleigh, N.C., has demonstrated a strong recovery and will continue to be a top performer in the competitive U.S. travel market.
Photos by David Kuhn

Author: visitRaleigh
The Greater Raleigh Convention and Visitors Bureau (GRCVB) is the official and accredited destination marketing organization (DMO) for all of Wake County.
Comments