Updates from NCRLA Call with Area Partners: Part Two
Wednesday, March 31, 2021, 12pm by visitRaleigh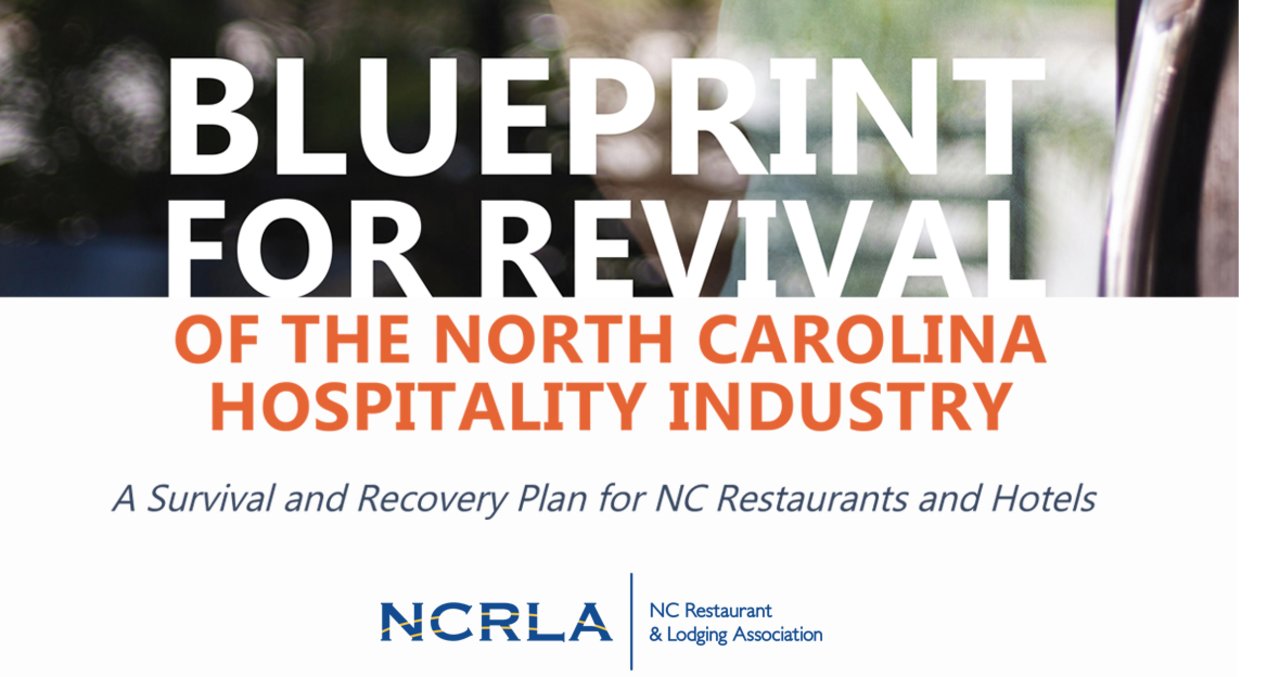 In part one of the summary of the March 18, 2021, GRCVB/N.C. Restaurant and Lodging Association (NCRLA) virtual meeting, we noted the disparity in relief to the hospitality sector, as reported by Lynn Minges, NCRLA president and CEO.

In this second segment, we are summarizing a document NCRLA has published called "Blueprint for Revival of the North Carolina Hospitality Industry: A Survival and Recovery Plan for N.C. Restaurants and Hotels." NCRLA has provided copies to Gov. Cooper, his senior leadership team and every state legislator.

"We are making our case to the governor, to members of the legislature that we need targeted relief for our industry and we need it to focus on restaurants, hotels and bars," Lynn said.
---
• Editor's note: It's good to have somebody like NCRLA on your side. Read on.
---
NCRLA is asking for "a hospitality assistance program that we believe could be up and running immediately," Lynn said. "We are suggesting that everybody in NAICS code 72 who can demonstrate a 15% year-over-year reduction in taxable sales for one quarter would be eligible."

"The beauty of this program is you don't have to do anything to qualify because the [N.C.] Department of Revenue already has that data. This is where we've gotten the information; we know that the exact amount of money we need is $300 million."
Currently, the State has $4.2 billion in unreserved fund balances (not counting the rainy-day fund). State revenues are up for the fiscal year, and more federal relief is on the way.
"The State has the wallet," said Lynn. "We need to give them the will."
Other parts of the "Blueprint for Revival" which will provide tremendous help to local hospitality business owners include:

PROPERTY TAX
NCRLA seeks property tax payment flexibility:
tax relief for hospitality businesses that incurred significant revenue losses;
waiver of interest and fees on 2020 property taxes;
clarification of municipal and county authority to allow payment plans;
authority for commercial property reevaluation for impacted businesses.
Property tax revaluation:
NCRLA supports legislation to allow commercial properties to request a property tax revaluation by local authorities ahead of the normal schedule.

ABC PERMIT EXTENSION
NCRLA supports:
suspending annual fees for ABC-permit renewal applications and registration fees due for on-premise permittees;
The association also supports restoring, at no cost, ABC permits that have lapsed due to nonpayment.

PPP TAX EXEMPTION AND DECUCTIBILITY
The Paycheck Protection Program (PPP) has been a critical lifeline for the restaurants and hotels that took advantage of this forgivable loan program. The federal government has deemed these loan proceeds are not subject to federal income tax and has allowed for full deductibility for business expenses paid for with PPP loan proceeds.

NCRLA seeks:
to have the N.C. state tax code mirror the federal code;
loan forgiveness not taxable as income;
full deductibility of PPP loan proceeds used for business expenses.

WORKFORCE DEVELOPMENT
NCRLA supports:
funding to sustain and expand Count On Me NC, a public health and safety training initiative for hospitality industry employees;
the development and administration of training materials, host training and a public relations campaign;
inclusion of customer awareness initiatives related to the steps businesses are taking to ensure a safe environment.
The association also supports increased funding for hospitality workforce development initiatives such as the ProStart program, which offers certification in culinary and hospitality management skills; ProStart's industry-driven curriculum provides real-life experience opportunities, builds practical skills and lays a foundation to serve students.

SALES TAX EXEMPTION FOR PPE AND STRUCTURAL ENHANCEMENTS
Restaurants, hotels and taverns incurred significant increases in operating expenses to comply with public health mandates for PPE.

NCRLA seeks:
a sales tax exemption for purchase of PPE required by the government for operating during COVID-19.

TOURISM PROMOTION
NCRLA supports:
addressing gaps in local occupancy tax/meals tax funding with federal dollars;
funding for state and local tourism marketing and promotion;
funding for marketing campaigns to rebuild trust and confidence in the safety of restaurants and hotels.

More information is available about all of these programs:

Author: visitRaleigh
The Greater Raleigh Convention and Visitors Bureau (GRCVB) is the official and accredited destination marketing organization (DMO) for all of Wake County.
Comments