50 Restaurant Patios and Places to Eat Outdoors in Raleigh, N.C.
Monday, October 19, 2020, 12pm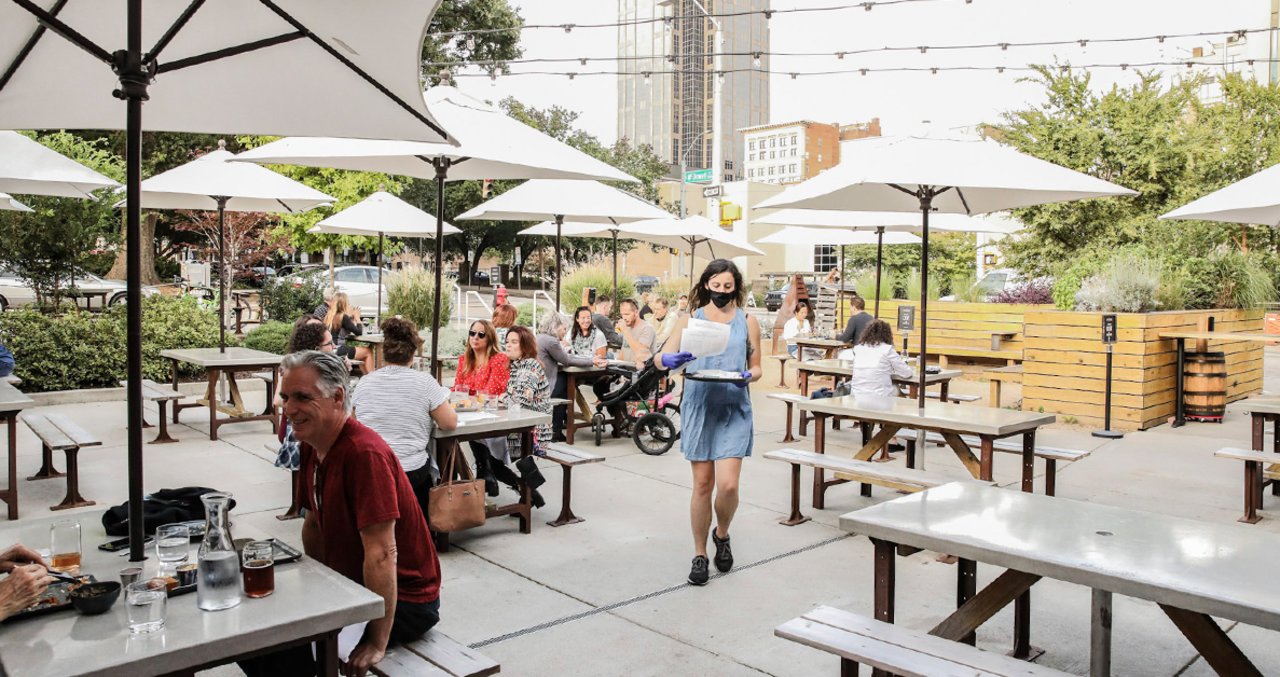 Raleigh, N.C. (Oct. 19, 2020) – While sunny summer days have given way to crisp autumn air, outdoor dining in the Raleigh area is still ramping up. With many diners looking to support local restaurants in a safe manner, takeout meals and outdoor eats are as important as ever right now. That's why we've pulled together this list of more than 50 of the Raleigh area's best outdoor dining options—rooftops, large patios, temporary tent setups and intimate tables for two, below you'll find some of the best, many of which are Count On Me NC certified restaurants!
Note: We ask that you please dine responsibly—wear a mask when not seated at your table, wash your hands, wait six feet apart from others and don't forget kindness. If you're traveling to Raleigh, N.C., you may want to check out this list of Count On Me NC-certified hotels. Count On Me NC is a public health initiative that specifically trains hospitality businesses to help keep both guests and staff safe from COVID-19. The program also asks guests to pledge that they'll do their part to follow safety guidelines as well.
Attractions, museums and historic sites are now also open with enhanced safety guidelines in place, and the great outdoors are still great—you're invited to hike and bike miles and miles of greenways, hit the water to create your own paddling adventure, step off the beaten path and discover the stand-still beauty of nature and a whole lot in between.


Downtown Raleigh
10th and Terrace
Located atop the Residence Inn Raleigh Downtown, 10th & Terrace promises bar-goers one of the most unique views in the city. The 10th-floor rooftop deck overlooks the Duke Energy Center for the Performing Arts—where theatre, opera, ballet and other live entertainment takes place year-round—plus a sea of green space surrounding it (they don't call Raleigh a "city in a park" for no reason).
Armadillo Grill
A do-it-yourself menu offers up everything Tex-Mex in a casual setting at this longtime local eatery.
Barcelona Wine Bar
A warm and welcoming tapas bar inspired by the culture of Spain, with an ever-changing menu focused on clean flavors, seasonal ingredients, specialties from Spain and the Mediterranean and rustic small plate presentations (the drinks are no slouch, either!).
Bittersweet
Truly a treat, this coffee, cocktail and dessert hangout hits the spot for date nights, remote work sessions, coffee on the run and so much more. Open with indoor seating and a brand-new outdoor patio, Bittersweet's seasonal cocktails and pies are calling your name (ours too!).
Clouds Brewing
This craft beer bar and restaurant features more than 100 beers from the around the world and lets you pour your own glass from a wall of 10 rotating taps dubbed The Downpour.
The Cortez
Oscar Diaz, a 2019 James Beard nominee for Best Chef: Southeast, helped open The Cortez in 2017, a fresh seafood and cocktail restaurant housed in a gorgeous space in downtown Raleigh's Glenwood South district. The Cortez features freshly prepared seafood with a globalized pantry, working with local purveyors and fisherman to source responsibly caught and raised products and offer a rotating selection of fresh oysters obtained both locally and nationally.
Flying Saucer Draught Emporium
One of the best places to grab a beer in Raleigh, with one of the largest selections of hand-crafted beers in the region. Home of the "Beer Knurd," infamous Pint Night Mondays, great beer selection, great décor and a fun atmosphere.
Garland and Capital Club16
At Garland—the work of rockstar chef Cheetie Kumar—the spice-driven cuisine elevates Indian and Asian flavors in an edgy setting, and Capital Club 16 brings German and European influence to warm dishes that are perfect for fall and winter. The two restaurants now feature outdoor dining space on W. Martin St.
Gringo A Go Go
One of downtown Raleigh's hidden gems, you'll likely find Gringo A Go Go with a steady crowd full of regulars devouring chilaquiles and downing margaritas on the plant-filled patio.
Hibernian Restaurant & Pub
For some of the best views of Raleigh, N.C.'s bustling Glenwood South entertainment district, sit upstairs on the balcony at passionate mind Niall Hanley's Hibernian Restaurant & Pub. Sip on a pint of Guinness and select from traditional Irish fare like bangers and mash, corned beef and cabbage and shepherd's pie.
Humble Pie
Chef-inspired dinner fare that's meant to share—and a brunch menu that draws guests from across the Raleigh area—Humble Pie's comforting eats, big windows and awesome patio make for a perfect dining experience.
Irregardless Café
One of Raleigh's oldest and most revered restaurants (and named one of OpenTable's top 50 restaurants in America for vegetarians), on any given day you'll find Irregardless filled up at brunch, lunch and dinner with guests enjoying food and drinks on the new patio out front.
J. Betski's
Often listed among the best restaurants in Raleigh for a special night out, J. Betski's accentuates owner John F. Korzekwinski's German and Polish heritage, offering a sampling of the cuisine and beverages of Central and Eastern Europe.
Jimmy V's Osteria + Bar
Named for the legendary Wolfpack basketball coach himself, Jimmy V's at the Sheraton Raleigh Hotel serves modern Italian favorites (arancini, wood-fired pizzas, spaghetti and meatballs and more) paired with local beers, craft cocktails and a cozy ambiance on the open-air patio. A percentage of the restaurant's revenue is donated to the V Foundation.
Jolie
Chef Scott Crawford's critically acclaimed French bistro features "le rooftop," open to customers on a first-come, first-served basis. If you can score a table, you'll be treated to one of the best dining experiences in Raleigh.
The Longleaf Hotel and Lounge
A hangout for visitors and locals alike, the Longleaf Lounge at the Longleaf Hotel in downtown Raleigh serves a healthy dose of approachable world-class wines, classic and vermouth-based cocktails and local beers. A snack menu features a French onion dip, port wine cheese ball, deviled egg plate and more, all ready to be enjoyed on the private patio.
MoJoe's Burger Joint
Put simply, one of the best hamburgers in the City of Oaks (with beers on tap and milkshakes—spiked or not—always available).
Morgan Street Food Hall
Measuring 22,000 square feet inside a re-purposed warehouse, Morgan Street Food Hall features 20 culinary concepts under one roof (plus one massive outdoor dining area and bar).
Mulino Italian Kitchen & Bar
One of Raleigh's most unique dining venues, it doesn't get much better than eating hand-made pasta or wood-fired pizza (with a glass of wine or two) while sitting poolside in Mulino's secluded courtyard.
The Pit
Serving tried-and-true Tar Heel State 'cue, The Pit offers up authentic whole-hog, pit-cooked barbecue in downtown Raleigh's Warehouse District.
Plates Neighborhood Kitchen
Globally-inspired, locally-produced cuisine in a cozy setting in downtown Raleigh—what's not to like? Small plates and shareable dot the menu, and main dishes—including a superb braised short rib—come with wine pairing recommendations (exactly what we need right now!). 
Raleigh Beer Garden
The world record-holder for largest selection of draft beer (Guinness made it official in late 2015; the current number is nearly 400 beers on tap), Raleigh Beer Garden is a massive 8,500-square-foot venue with tons of outdoor space. A back garden patio and a rooftop bar are as much of a draw as the beer selection.
Raleigh Times Bar
Named for the city newspaper that formerly occupied this historic space (the Raleigh Times was published from 1912 to 1989), the Raleigh Times has been an anchor in the downtown Raleigh nightlife scene since it opened in 2006.
Sitti and Gravy
This gorgeous courtyard is shared by two of downtown Raleigh's favorite restaurants—Sitti, serving authentic Lebanese, and Gravy, named for the pasta sauce that Italian families make fresh each night.
St. Roch Fine Oysters + Bar
Owner/chef Sunny Gerhart's St. Roch serves flawlessly-fresh and expertly shucked oysters with an exuberant array of accompaniments: cocktail sauce, lemon wedge, mignonette, pickled banana peppers and fried saltines (yes, fried saltines—you've gotta try it!).
The Station
The Station offers a fun atmosphere with an outdoor bar and patio in the heart of the City of Oaks. Sip on a pint of N.C. beer to wash down a juicy burger and potato wedges. As those summer nights turn to fall, grab a seat at one of the fireplaces on the patio to take off that chill.
Sushi Blues Cafe
This legendary sushi spot in downtown Raleigh offers great food and friendly service, BOGO sushi and makimono, temaki hand rolls, nigiri, salads and more.
Taverna Agora
Serving authentic Greek cuisine (with the culture and hospitality to match), Taverna Agora's modern rooftop is the perfect gathering spot for friends and family. Share a number of small plates (plus a couple bottles of wine) at dinner time or take in a Sun. brunch in the open air.
Transfer Co. Food Hall
Bagels, beer, bulgogi, burgers and burritos in one spot in Raleigh's Olde East neighborhood. Transfer Co. Food Hall opened in early 2019 and is a perfect spot for groups big and small.
Trophy Brewing + Pizza
At the ever-expanding Trophy Brewing Company's Morgan St. location, you'll find some of the best beer and some of the best pizza in Raleigh, N.C. (in addition to what we think are secretly some of the best desserts in town).
Vic's Italian Restaurant
A family-run restaurant that's a go-to pizza and pasta spot for in-the-know locals in downtown Raleigh's beautiful City Market area.
Whiskey Kitchen
The brainchild of owner/chef Michael Thor and partner Jeff Mickel, Whiskey Kitchen is a bar and restaurant known for its massive selection of whiskey, food menu full of Southern inventions and wildly popular outdoor patio.
Wye Hill Kitchen + Brewing
For sweeping views of downtown Raleigh's skyline, you'll want to head over to Wye Hill Kitchen & Brewing. A brewpub specializing in chef-driven, vegan- and vegetarian-friendly bar food. This recently-opened restaurant in the popular Boylan Heights neighborhood owes its name and its view to the 'wye' it's built over—a junction where trains change direction.

Midtown Raleigh
Cantina 18
Opened in 2010 by chef and proprietor Jason Smith in the heart of Raleigh's Cameron Village, Cantina 18 serves "Southwestern fare with a Southern drawl"—think short rib nachos, blackened fish tacos and all the burrito and quesadilla options you could possibly want (all served in big portions). Plenty of patio seating out front, plus big floor-to-ceiling windows on both the first and second floor, make this a go-to on sunny days. 
Coquette
This contemporary French restaurant in Raleigh's North Hills neighborhood makes our short list for best food in the City of Oaks (and can now be enjoyed with expanded outdoor seating!).
The Flying Biscuit Café
Though they serve breakfast all day, The Flying Biscuit Café wows hungry guests with classic Southern comfort food for breakfast, lunch and dinner. Pair a mimosa flight or bacon-filled Bloody Mary with your meal, and you'll understand why they're an award-winning local favorite.
Level7
Overlooking Raleigh's North Hills neighborhood from atop the AC Hotel by Marriott Raleigh North Hills, Level7 offers carefully crafted tapas-style small plates paired with local beers and signature cocktails.
Lilly's Pizza
Once a delivery and carryout pizza joint, Lilly's Pizza would attract a crowd from surrounding neighborhoods who, with their lawn chairs in tow, would gather at the restaurant to socialize. Over time, this popular eatery located in the historic Five Points area transformed into one of the most-awarded local pie havens in the area. Known for its eclectic, funky décor and wildly inventive pizzas, this is one you don't want to miss out on.
Mandolin
Opened in 2011 by Raleigh native Sean Fowler, Mandolin takes classic Southern options up a notch (or two)—the restaurant was recently named one of the best 50 Southern restaurants in America by OpenTable.
Mia Francesca Trattoria
A uniquely authentic Italian restaurant with made-from-scratch, simple, rustic cooking, to go along with friendly service, fair prices and farm-to-table ingredients.
Midtown Grille
An intimate dining experience in the heart of Raleigh's North Hills, Midtown Grille is a full-service restaurant offering a quaint-but-casual atmosphere, as well as a full bar and private dining facility for your enjoyment of a menu made up of contemporary Southern dishes inspired by local farmers and purveyors.
Piccola Italia Pizza and Restaurant
If you're craving carbs, head to Piccola Italia for an abundance of traditional Italian American dishes and New York-style pizzas. This family-owned locale (for nearly 40 years!) makes all their sauces, soups and pizza dough from scratch and offers daily drink specials for fine Italian wines and draft beers.
Rosewater Kitchen & Bar
Conceived as a lush and romantic garden bistro, Rosewater Kitchen & Bar is a festive setting for gathering and feasting, bringing a European-style neighborhood bistro to life with a menu of sharable dishes complemented by American wines, craft cocktails and local beer.
so•ca
A go-to spot for celebrating special occasions (or enjoying an incredible brunch), so•ca offers a large selection of Latin-inspired and Caribbean small plates to go along with top-notch hospitality.
STIR Raleigh
STIR brings an intense focus to artisan ice and craft cocktails and features more than 350 bottles of liquor to choose from. The made-from-scratch food and beverage menus feature a raw bar, soups, seafood, cast iron desserts and more.
Vivace
Good pasta, good wine and good mozzarella (all you need in life, yes?). This Italian restaurant is a local favorite, offering an upscale, rustic interior and cozy outdoor setting.

Other parts of Raleigh
Angus Barn
One of the Southeast's most well-known dining destinations, the fabled Angus Barn has wowed guests since 1960. The family-owned institution serves more than 22,000 steaks per month and now has expanded outdoor dining options.
Read more: Angus Barn's Famous Chocolate Chess Pie Recipe
Bowstring Pizza and Brewyard
This newly opened restaurant and bar serves wood-fired pizzas, local beers and craft cocktails out of a 100-year-old garage (and has tons of outdoor space).
Chow Raleigh
Chow doubles as a delicious pizza place and local hangout with ground-in-house burgers, tacos, salads and appetizers. The food and large beer menu are certainly best enjoyed on the beautiful 50-seat patio.
Driftwood Cantina
Modernized, authentic Mexican food with in-house, handmade tortillas and from-scratch craft cocktails, paired with perfect outdoor seating in Raleigh's beautiful Lafayette Village. 
Gonza Tacos y Tequila
At Gonza, award-winning Colombian-Mexican cuisine goes hand-in-hand with colorful décor and a vibrant ambiance, making for a fun and family-friendly dining atmosphere. At this North Raleigh location, it certainly doesn't hurt that Two Roosters ice cream is just a few steps away!
Hummingbird
Chef Coleen Speaks' adorable neighborhood cocktail bar and cafe offers classic cocktails, wines and bottled beers alongside original cocktails with floral inspiration. House-made tea infusions present unique, fruit-forward accents and are featured in the bar's signature cocktail—the "Hummingbird"—a vibrant hibiscus tea-infused glass of goodness.
Lynnwood Brewing Concern and Wilson's Eatery
The beloved brewery and popular Southern restaurant share this massive outdoor dining space that makes for perfect fall get-togethers (and dogs are welcome, too!).
Neuse River Brewing and Brasserie
Belgian-inspired and Carolina-crafted, Neuse River Brewing pairs their beer with a food menu that doesn't hold back—poutine, duck rillettes, steak frites, falafel, roasted chicken, shrimp and grits and more drool-worthy dishes dot the dinner and brunch offerings.
Winston's Grille
A Raleigh tradition since 1986, Winston's Grille features a beautiful outdoor patio. Lounge under the shade with tomato and goat cheese bruschetta to start, and end your meal on a sweet note with a slice of homemade key lime pie.

Other parts of Wake County (Apex, Cary, Fuquay-Varina, Knightdale)
Aviator Taphouse Gastropub, Pizzeria & BeerShop and SmokeHouse
With three Aviator Brewing Company restaurants all on one block in downtown Fuquay-Varina—Aviator Taphouse Gastropub, Aviator Pizzeria & BeerShop and Aviator SmokeHouse—and with abundant outdoor seating, there's space to stretch out, plenty of beer and plenty of eats.
Tip: The SmokeHouse, serving up some of the best BBQ in the area, doesn't have outdoor seating itself, but you can order up food to be delivered to the expansive outdoor beer garden or elevated deck outside of the Pizzeria & BeerShop.
kō•än
With a menu focused on sharing food that celebrates the unsung heroes of Southeast Asian cuisine, kō•än—led by executive chef Drew Smith—is widely regarded as one of the best restaurants in Cary. 
Prime Barbecue
One of the Raleigh area's most exciting restaurant openings in recent years, Christopher Prieto's Prime Barbecue in Knightdale packs a serious punch, serving brisket, sausages, pulled pork and all the other smoked meats and side treats you could ask for.
Scratch Kitchen and Taproom
With dishes made from scratch, careful attention to details and focus on Southern hospitality, Scratch Kitchen and Taproom has quickly become one of Apex's most beloved foodie spots.

About the Greater Raleigh Convention and Visitors Bureau (Visit Raleigh):
As the official destination marketing organization for Wake County, the Greater Raleigh Convention and Visitors Bureau (Visit Raleigh), is responsible for promoting Wake County as an attractive travel destination and enhancing its public image as a dynamic place to live and work. Through the impact of travel, the organization strengthens the economic position of and provide opportunity for people throughout Wake County. Raleigh, N.C./Wake County welcomes nearly 18 million visitors annually whose spending tops $2.9 billion. The visitor economy supports more than 28,000 local jobs in Wake County and generates $284 million in state and local tax revenues, saving each Wake County household $727 in taxes annually. visitRaleigh.com
Media Contact:
Jessica Holt, Public Relations Manager
jholt@visitRaleigh.com
919.645.2654
# # #