An Update on Tourism U
Thursday, October 08, 2020, 12pm by Andrew H. Baker, CGSP®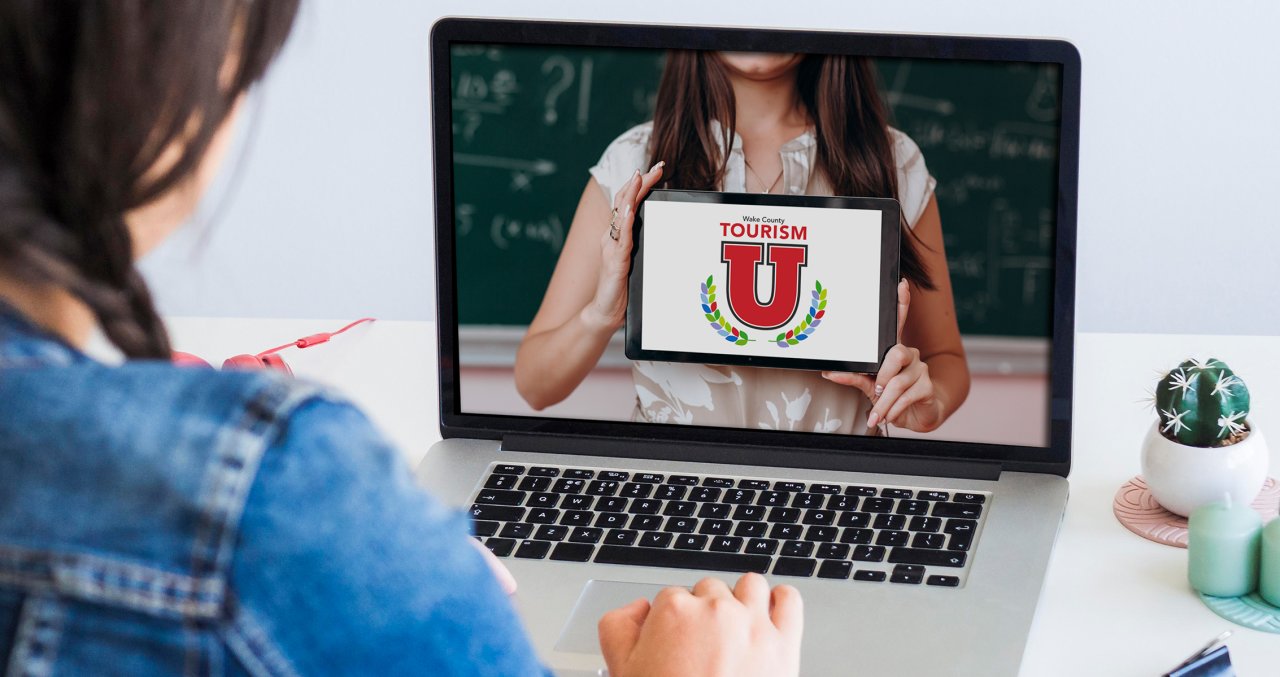 GRCVB, just like many organizations throughout Wake County, has learned to evolve and discover how best to sustain its core mission in the ever-changing landscape of 2020. Many plans disrupted this year required fresh creativity and a willingness to pivot to make them work. That went doubly so for face-to-face stakeholder meetings like Tourism U.
You might have read about our unveiling of Tourism U, GRCVB's learning track for tourism and destination education, or our follow-up on the relevance of tourism education and advocacy during COVID-19. For the uninitiated, the Tourism U Level 100 class aims to inform local leaders and resident stakeholders/workers on the value of tourism in Wake County. Through a brief exploration of the cycle of tourism as well as an introduction to the Wake County Interlocal Fund, our community members will gain an understanding of how visitor spending in Wake County individually impacts them. This week, we will share our presentation progress so far, along with some frequently discussed topics from stakeholders following the class.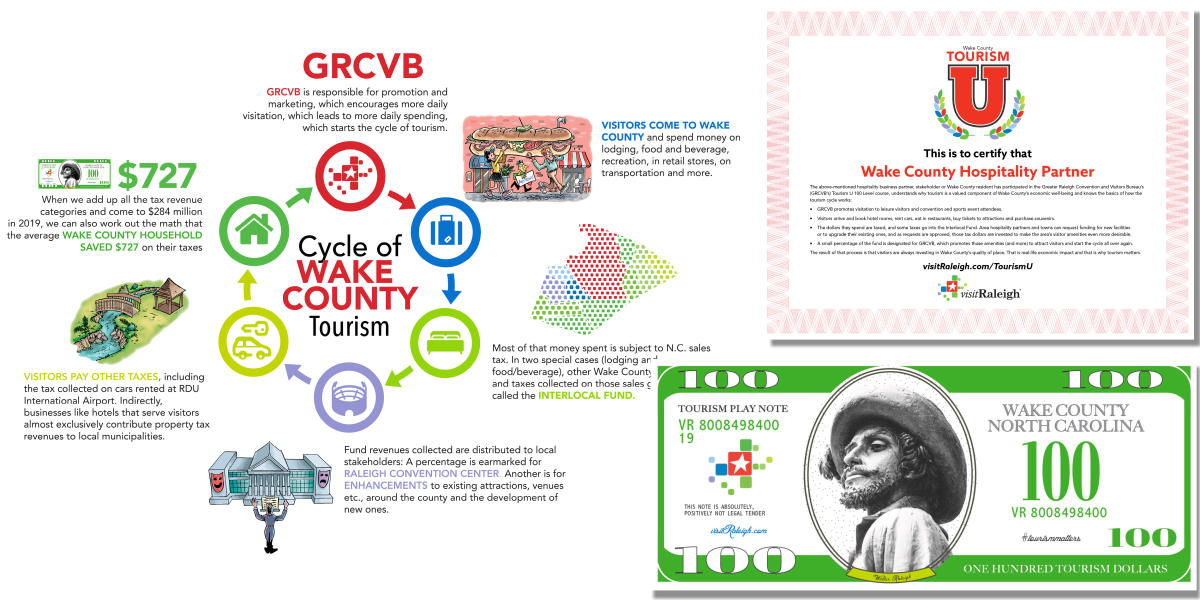 Towns
Throughout Sept. 2020, GRCVB met virtually with representatives from the towns of Apex, Fuquay-Varina, Knightdale, Rolesville and Zebulon, including some of these municipalities' respective chambers of commerce. Town and city staff within the economic development domain offered their support and willingness to share with their own organizational stakeholders the importance of tourism, including through both GRCVB's Wish You Were Here campaign and NCRLA/Visit North Carolina's Count On Me NC program (which aim to help regain both visitor and local confidence across the state in restaurant, hotel and attraction partners' safety). More sessions with area municipal managers are scheduled/occurring now.
Industry partners or hospitality groups
Government and economic development entities were not the only stakeholders we met with, however. GRCVB held Tourism U virtual meetings as well with Deep South Entertainment, Summit Hospitality Group, Triangle Rock Club and the United Arts Council of Wake County. The return of major events/festivals and convention planner confidence for 2021 bookings were follow-up topics of discussion, with various concerns regarding the exact timeframe or guidelines through which we would begin to see group markets' recovery. While that issue is just becoming clearer with the advent of the Governor's Phase 3, these industry supporters are onboard and ready to welcome visitors back.
Tourism U 200
Following the Tourism U 100 Level class, all stakeholders are invited to sign up for our Tourism U 200 Level class, which is a more comprehensive conversation about sustainable economic growth and product development through tourism. Topics will include a deeper dive into the Interlocal Fund and its uses as well as the implementation of GRCVB's Destination Strategic Plan priorities.
To help improve the Bureau's community engagement strategies including Tourism U, we enlisted assistance from North Carolina State University's Department of Parks, Recreation and Tourism Management in the form of a research study of our efforts through the end of 2020. Attendees will be interviewed following Tourism U presentations (and following our other outreach efforts of the last 12 months) to determine the messages that were well-communicated and some specific improvements we can further make to build rapport with key stakeholders here. Final results will be available as the calendar year concludes, so stay tuned.
Tourism U's ultimate goal is to create a diverse set of advocates for tourism development in Wake County. By engaging stakeholders and creating advocates in multiple spheres of influence, GRCVB can join the interests of the hospitality sector as a whole with those of other local opinion-leaders and key policymakers. A wider range of support will extend out beyond the GRCVB itself, to the nearly 67,000 hospitality employees in Wake County (whose paychecks now have been jeopardized by COVID) as well as to the crucial hotel, restaurant, retail, transportation and attraction/recreation industries that employ them.
If you would like to schedule a Tourism U 100 class, please email us at tourismu@visitRaleigh.com.

Author: Andrew H. Baker, CGSP®
Andrew H. Baker, CGSP®, is marketing manager at the Greater Raleigh CVB and works directly with local partners to help promote Raleigh, N.C., as a destination of smart, savvy and passionate people.
Comments