The Best Restaurants for Special Occasions in Raleigh, N.C.
Wednesday, April 22, 2020, 10am by visitRaleigh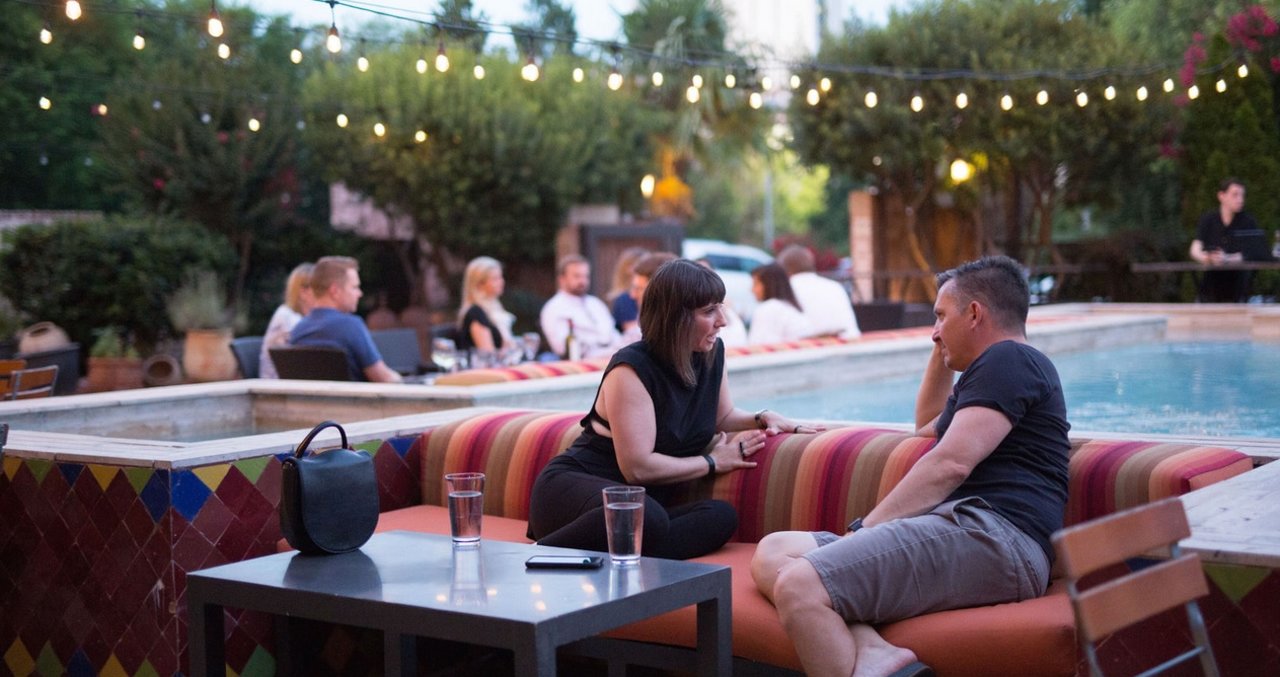 Note, April 22: Due to COVID-19, restaurant dining rooms are currently closed, and many celebrations—birthdays, graduations, anniversaries and more—have been missed. But that doesn't mean they need to be canceled, just postponed. When it's safe to do so, we encourage you to make up for lost time with friends and family by rescheduling those special occasions. Below is a list of restaurants in the Raleigh area that excel in hosting large groups, providing excellent service and food and drinks that feel truly special. Please keep them in mind for your future needs!
---

Whether it's an anniversary, birthday, wedding rehearsal or another monumental life event, the many restaurants in the Raleigh area are stepping up their game when it comes to special occasions. Find the perfect setting for your next big celebration at one of these top spots for birthday bashes, family gatherings and more. 
 
Brewery Bhavana combines all the right ingredients for a great celebration. As a brewery, dim sum restaurant, flower shop and bookstore, Brewery Bhavana provides a beautiful, unique atmosphere for celebrating milestones and accomplishments (don't just take it from us, the super-popular dining and drinking spot was recently named one of the world's most beautiful breweries!). Best for gatherings on the smaller side, be sure to make reservations at least two weeks in advance. 
Current status: Closed; you can purchase a gift card here.
Sitti, an authentic Lebanese restaurant, understands community and serves several delectable dishes that reflect Lebanese culture and tradition. With an inviting downstairs area for private dining, a spacious, open-air courtyard and a communal table in the heart of the dining room, you're bound to find the perfect spaces for any event you may be planning. 
Current status: Open for takeout and delivery service. 
Mulino provides a dining experience that takes the curious on a richly-rewarding gastronomic journey across the Italian culinary landscape and rewards the intrepid adventurer with simple yet sumptuous cuisine, wines, and a complementary culinary education in the history of Italian cuisine—all in a (very!) cozy environment. For groups big and small, Mulino fits the bill. The jaw-dropping outdoor patio—pool included—has capacity for up to 350 people.
Current status: Closed; you can purchase a gift card here.
The fine wine of Tuscany has made its way to downtown Raleigh via Caffe Luna, an Italian-American eatery with a Tuscan flair. Located in a charming historic building in downtown Raleigh, Caffe Luna boasts three private dining rooms for merrymaking events of various sizes. You'll walk away from any celebration here with a full belly and full heart.
Current status: Closed; you can purchase a gift certificate here.
Tucked away in Raleigh's Glenwood South area, 42nd St. Oyster Bar & Seafood Grill embraces the simple pleasures of cold beer and fresh oysters. Since 1931, this spot for fun and casual get-togethers has been a landmark restaurant in the South. A big restaurant for big groups, if you time your special occasion right you may get to enjoy live music as well!
Current status: Closed; you can purchase a gift card here.
Vidrio's vibrant and colorful interior lends itself as the perfect option for both smaller gatherings and 250-people festivities (the upstairs private event space is one of our top picks for most gorgeous celebratory backdrops). Eat, drink and be merry at this Mediterranean hotspot where their talented event planners are ready to make your next party one for the books. 
Vidrio: Open for takeout and delivery service.
Chef Ashley Christensen, named America's Best Chef by the James Beard Foundation in 2019, is serving up good memories to accompany her wood-fired cooking at Death & Taxes. Housed in a historic bank building in downtown Raleigh, this unique space is ideal for enjoying the finest food with the finest people. Just upstairs from the restaurant, you'll find the Bridge Club, an event loft for social gatherings with magnificent views. Linger on the second floor for intimate cocktail parties and dinners or make your way up to the third floor for bashes up to 100 people.  
Current status: Closed; you can purchase gift cards here.
One of the most romantic restaurants in Raleigh resides in the restored Dodd-Hinsdale House (circa 1879) on Hillsborough St. With its classical elegance, friendly staff, world-class wine and delicious cuisine, Second Empire beckons guests to an unforgettable evening celebrating birthdays, anniversaries and other milestones.
Current status: Offering pickup service Wed.-Sat. with limited menu.
Gravy delights guests with traditional Italian dishes and a wine cellar that accommodates up to 40 people for private events. At Gravy, the planning is uncomplicated and the experience is unforgettable. With chic, exposed brick and a lively outdoor patio space, Gravy is a welcoming space for gatherings of all sizes. 
Current status: Open for takeout and delivery service.
For those who like to keep their shindigs low key, head to The Pit, where authentic Southern hospitality meets insanely good Southern food. At home in a restored 1930s meatpacking warehouse in downtown Raleigh, The Pit serves up good barbecue and good times, whether it's with friends, family, coworkers or people you just met. With private dining and catering managers ready to make your next event memorable, The Pit is the perfect spot to bask in barbecue, beer and banana pudding!  
Current status: Open for takeout and delivery service.
As one of the first Laotian restaurants in the country, Bida Manda celebrates the food and culture of Laos while helping you celebrate the more intimate special events in life. Its thoughtful interior design and warm lighting create a cozy atmosphere for thoughtful gatherings. Located in downtown Raleigh's Moore Square district, Bida Manda prides itself not only on its excellent, incomparable cuisine but on its power to bring people together. 
Current status: Closed. 
High Horse
Katsuji Tanabe—a renowned chef and three-time alum of Bravo TV's hit competition series Top Chef—has opened restaurants stretching from Los Angeles and Las Vegas to Chicago and New York City. But Tanabe relocated to Raleigh in late 2019 to open his latest and most personal project, High Horse, featuring his signature playful style and a unique combination of Mexican, Japanese and American flavors. High Horse—a play on words—references the original stables which once occupied the City Market area and serves as an invitation for diners to leave their pretentions behind and enjoy the "fun dining" experience for which Tanabe is so well known. The menu features dishes big and small finished on two roaring wood-fired grills that are visible from the dining room, plus cocktail and dessert menus that are as vibrantly colored as they are delicious.
Current status: Closed.
Established as a 1940s, Chicago-style steakhouse, Sullivan's boasts six private dining rooms that serve the finest beef, freshest seafood and craftiest cocktails to groups of all sizes. While few things in life compare to fellowship over good food, Sullivan's adds a little something extra with live music featured five nights a week. Local tip: AV equipment and WiFi are available if your festivities requirement such amenities! 
Current status: Open for takeout and delivery service.
Located at The Umstead Hotel & Spa in Cary, Herons wows guests by serving everything from southern fare like pork belly to northern seafood like Maine lobster. Sit outside on their outdoor terrace and soak in the panoramic views of the lake, butterfly gardens and herb garden—from which fresh herbs often make their way to your plate! For classy affairs, reserve the private Chef's Table that seats up to 12 and experience their extensive food and wine-paired tasting menus. Herons was named one of America's 30 best restaurants in 2019!
Current status: Closed.
Angus Barn has been family owned for more than 50 years—which means they understand the concept of having a good time! From corporate events to birthdays, rehearsal dinners to retirements, this award-winning steakhouse is ready to dazzle attendees with its incredible Angus beef dishes and perfect event spaces. Local tip: This is also home to one of the largest wine cellars in the country and a lakeside pavilion for larger rendezvous. 
Current status: Open for takeout service. 
Stroll through the N. Person St. neighborhood and stumble upon Jolie, a small but spirited French bistro from acclaimed chef Scott Crawford available for both private bookings and large parties. Chat with friends in the main dining room, or for more romantic events, wander up to their magical, candlelit rooftop and enjoy the scents of fresh lavender and rosemary from the garden. 
Current status: Open for takeout service.
Header photo by Brian Strickland
Comments