New Year Conversation with Dennis Edwards
Thursday, January 05, 2023, 12pm by visitRaleigh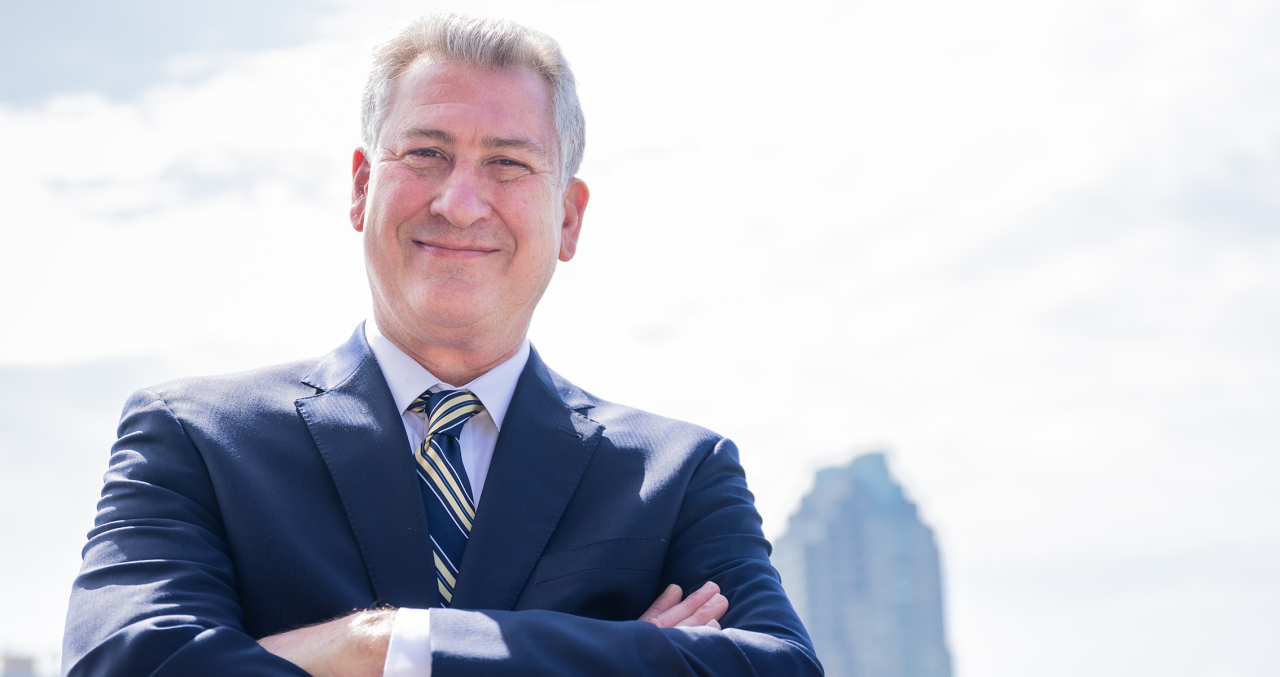 The beginning of a new year is always a good time to check in with community leaders, to ask about their plans and dreams for the next 12 months, what's on their minds, what keeps them up at night, and in our case, what do all hospitality partners and stakeholders need to know about the big picture of Wake County tourism in 2023.
We asked GRCVB president and CEO Dennis Edwards a series of "new year" questions that are relevant to everyone involved in area tourism and hospitality. Here are his responses.
What are the bright spots on the horizon for Wake County tourism in 2023? What are the challenges?
Tourism has certainly bounced back. Conventions, sporting events and leisure visitation have all returned to pre-pandemic levels and, in most cases, are exceeding them. As a result, our hotel occupancy is nearly back to 2019 levels. Our lodging and prepared food & beverage tax collections have been breaking records nearly every month since May, and we don't see that slowing down.
With the increase of tourism tax collections, we are now in a position to move forward with building and enhancing the tourism infrastructure priorities that are in our Destination Strategic Plan and have been approved in the latest Interlocal Agreement.
We have another very strong calendar of festivals, events and concerts beginning with the NHL Stadium Series™ in February followed by the return of Dreamville in April.
The challenges continue to be lack of workforce in the leisure and hospitality sector and restoring business travel back to 2019 levels, as well as dealing with the increase in operational costs for our industry. Global and national economic and political conditions will continue to be something we have to watch.
Did the COVID era change the way you think about planning for the future? Do you feel a sense of tentativeness that you didn't feel before, or do you have to factor in contingencies that we didn't have to before?
COVID certainly raised the importance of health and safety protocols and being able to communicate quickly. In order to be a successful CVB, you have to be able to adapt quickly to any issue that may arise that impacts our industry. So it's critical we continue to have the technology and the ability to react to market changes in a timely matter. Having the ability to change our messaging and communication channels overnight will continue to be a priority.
---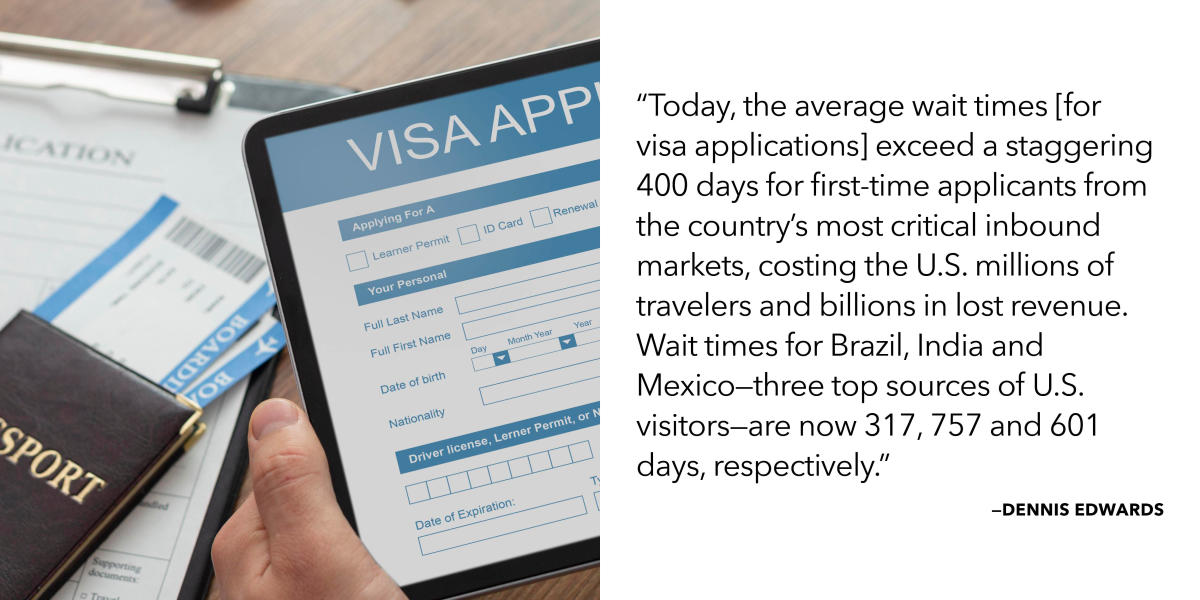 ---
You are a member of several tourism and Wake County leadership-related boards and committees. What are the emphases for those organizations this year?
I serve on the U.S. Travel Association board of directors, and there will be several important initiatives underway in 2023.
USVisaDelays.com is the latest activation in U.S. Travel's "They Wait, We Lose" campaign, which seeks to highlight the steep economic cost of delaying visitation from qualified international travelers.
Today, the average wait times exceed a staggering 400 days for first-time applicants from the country's most critical inbound markets, costing the U.S. millions of travelers and billions in lost revenue. Wait times for Brazil, India and Mexico—three top sources of U.S. visitors—are now 317, 757 and 601 days, respectively.
In 2019, 43% of visitors came from countries requiring a visa, accounting for roughly 50% of international inbound visitor spending. Visa processing delays could keep an estimated 6.6 million potential travelers from visiting the U.S. in 2023, resulting in an economic loss of $11.6 billion.
The U.S. Travel Association board is also pushing for support for the Service Worker Economic Stabilization Act. This bipartisan bill would temporarily remove disincentives in the tax code that discourage companies from spending on in-person meetings and business travel.
We are also asking congress to pass the Omnibus Travel and Tourism Act. This bill includes the bipartisan Visit America Act, which would establish an assistant secretary of travel and tourism at the U.S. Department of Commerce.
Locally, now that tourism collections have rebounded, we are continuing to move forward the priorities that were approved in the Interlocal Agreement and approved in its 22nd amendment. We are also working with our partners to advance the Destination Strategic Plan in a number of areas, including improving tourism infrastructure and air & ground transportation to quality of life issues and areas of opportunity. We're also working to improve the workforce issues surrounding the hospitality industry.
Do you see other destinations taking on initiatives that you would to emulate or adapt for our purposes? 
There are always ideas or nuggets of information you may pick up from other destinations. The key is how to customize those ideas and make them fit for us. I have always encouraged our staff to attend industry professional development conferences. Those are great opportunities where we learn and share ideas with our peers. We are fortunate to have a board of directors that is very willing to take risks and understand the importance of adaptability, which is always important if you want to be successful.
Are there any national or international tourism-related developments that you think could impact Wake County? 
We are close to getting an assistant secretary of travel and tourism at the U.S. Department of Commerce, and that is important. We need a voice and an advocate in the Administration working on behalf of our industry daily. 
With persistent labor shortages, particularly seasonal workers, we are continuing to urge Congress to enact a permanent expansion of the H-2B visa program and explore opportunities for targeted immigration reform.
We continue to work with Congress on investing in a national EV charging network that will shape the future of mobility in America.
What's the status of the Destination Strategic Plan, how far along are we in implementing the 10-year plan, and how do you think we're doing at accomplishing those goals?
We have made great strides with the plan and are well ahead of the recommended timelines.
If you could meet with each of our hospitality partners one-on-one, what would you talk with them about? What do you want them to know about the work the Bureau does, and what you wish you could find out from them?
I'd inform them about all of the resources that are available, which includes Visit Raleigh Studio, a curated collection of digital assets such as video drone footage of 75 locations, virtual tours of 90 sites around the county and over 7,000 photographs.
I'd talk about upgrades to the research and data we collect on visitors such as geographic origins, modes of transportation, motivators and activities they do while here. ETA Wake County is a quarterly report of visitor arrival data insights and the impacts of visitation in 18 areas and 700 points of interest countywide.
I'd tell them about improvements to our economic impact calculator giving the ability to measure economic impact of conventions, sporting events, festivals and cultural events.
Of course, we always want to understand the challenges of our partners, how they are doing and what we can do to ensure they are successful.
If you were meeting with each of our stakeholders (i.e., elected officials) one-on-one, what would you talk with them about? 
I'd ensure they have an understanding of the importance of tourism and the role it plays in economic development, job growth and quality of place. I would make sure they understand the Destination Strategic Plan and ask that they continue to move the priorities forward. I'd also continue to educate them on the use and allocation process of tourism tax collections.
Lightning round: Give us one-sentence responses to these prompts...
Esports in Wake County
Exciting new market that is prime for us
Raleigh's quality of place
Second to none
The current GRCVB team
Award-winning, passionate and the best
TikTok
Out-of-control influencer
Our local maker culture
Very diverse and growing
Read any good books lately?
Hearts Torn Asunder: Trauma in the Civil War's Final Campaign in North Carolina 
Tourism advocacy
Critical to the success of tourism and the CVB
Being a grandpa
Loving every day

Author: visitRaleigh
The Greater Raleigh Convention and Visitors Bureau (GRCVB) is the official and accredited destination marketing organization (DMO) for all of Wake County.
Comments