The Best Restaurants in Downtown Raleigh
Wednesday, March 15, 2023, 8am by visitRaleigh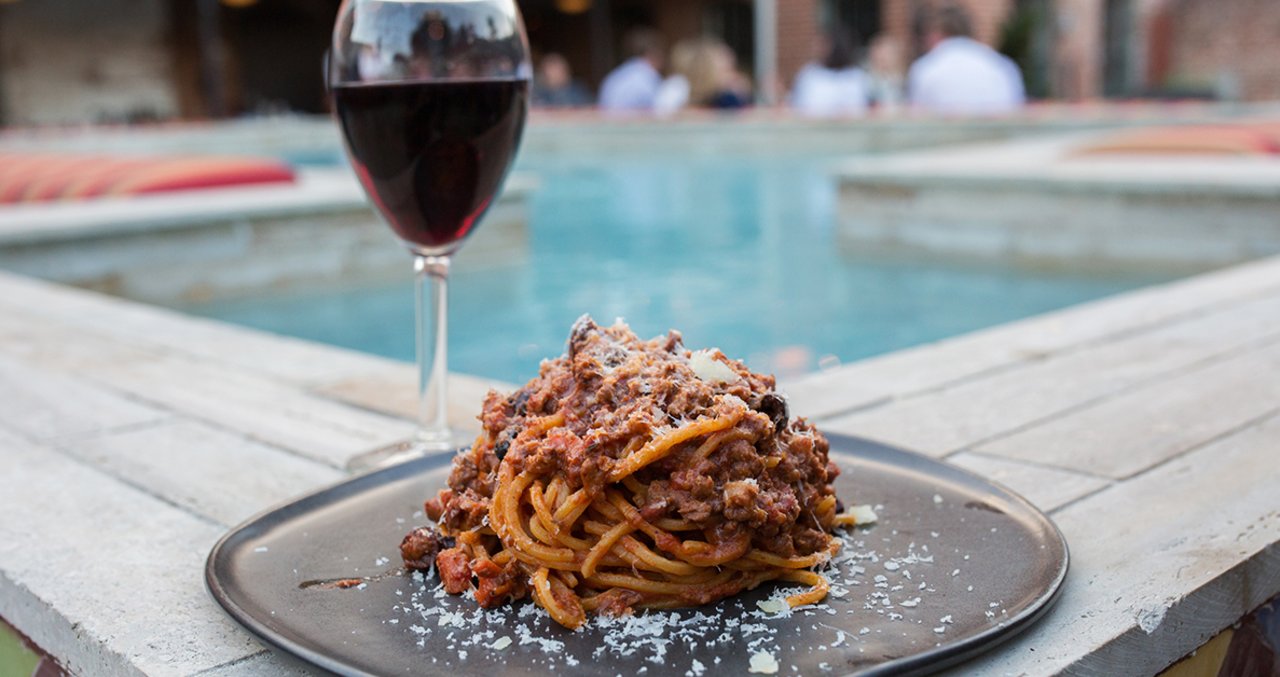 Downtown Raleigh, N.C., is where historic neighborhoods, world-class museums, Southern diners, outdoor green spaces, performing arts venues, local shops, breweries and underground cocktail spots all work together to create one incredible cultural hotspot.
In recent years, it's been widely agreed that the food scene in the City of Oaks is thriving, doing better than ever thanks to tasty endeavors from a community that's passionate about good eats and drinks (the accolades range from one of America's hottest food cities to one of 12 global destinations to travel to thanks to our culinary prowess).
Wondering where to eat when you visit the center of the City of Oaks? The restaurants below are the best spots to start!
A note: We couldn't include all of the amazing restaurants in downtown Raleigh, but we'll be continually adding to this list. Have a favorite you think we missed? Drop us a note on Twitter!
Stroll through the N. Person St. neighborhood and stumble upon Jolie, a small but spirited French bistro from acclaimed chef Scott Crawford and featuring the work of James Beard-nominated pastry chef Krystle Swenson. Chat with friends in the main dining room, or for more romantic evenings, wander up to their magical, candlelit rooftop and enjoy the scents of fresh lavender and rosemary from the garden.
Humble indeed, this casual Warehouse District restaurant has stayed a Raleigh tradition since 1989, specializing in delectable tapas created by passionate chef Josh Young. Grab a crew for sharing cornmeal fried oysters, cauliflower mac-n-cheese, pimento cheese tater tots and more within Humble Pie's checkerboard-floored dining room or out on their expansive patio.
One of Raleigh's most unique dining venues, it doesn't get much better than eating hand-made pasta or wood-fired pizza (with a glass of wine or two) while sitting poolside in Mulino's secluded courtyard.
Simple, fun and incredibly delicious. That's owner and pie maker Anthony Guerra's vision for this highly popular restaurant on the edge of the Historic  neighborhood that opened in 2017. Choose a base of "cheese" with tomato sauce, mozzarella and basil; or "white," with mozzarella, ricotta, garlic and basil. Add your favorite toppings and get ready to relish an expertly executed round (or square) of deliciousness. Located just a few doors down from chef Scott Crawford's Jolie and Crawford and Son restaurants, Oakwood Pizza Box plays a major part in what may be the tastiest block in town.
Chef Lelia Kidd's new plant-based gastropub concept sits right in the heart of downtown Raleigh—a literal hop, skip and a jump from some of the state's biggest and best festivals on Fayetteville St. (IBMA Bluegrass Live! powered by PNC and Hopscotch Music Festival, to name two!). The fully vegan menu makes no compromises—you'll find fried chicken sandwiches, crispy wings, smashburgers and more (all with the appropriate substitutes) to go along with an extensive beer and cocktail menu. Early rave reviews point to the BBQ nachos as being a can't-miss shareable plate for your table!
On any given day, Whiskey Kitchen's expansive patio is filled with happy guests drinking, dining and socializing. The restaurant and bar is beloved by many for its casual atmosphere, impeccable service and Southern food and drink menu. Choose from more than 200 whiskeys, seasonal cocktails, local beers or wine and a scratch-made small plate or two to round out an enjoyable evening with friends. The lamb burger and fried chicken sandwich options are local favorites.
MOFU Shoppe's name, translated as "more fortune" in Mandarin Chinese, reflects the restaurant's belief of "more food, more fun." Since opening three years ago, the good eats, good drinks-hangout has continued to serve dishes inspired by foods commonly eaten across the Asian continent (dumplings and wontons and noodle bowls and much more). Housed in a retrofitted car dealership in City Market in downtown Raleigh, the space is as welcoming as the food is savory (and that is such a good thing!).
This old-fashioned eatery tucked into Raleigh's Historic Oakwood neighborhood has been around since 1979. When owner Mary Lu Wooten opened Side Street Restaurant, it was one of only four or five restaurants in downtown Raleigh at the time. The menu features cozy comfort food, broken down into dishes "A Bit on the Warm Side," "The Green Side," "The Lighter Side," "Our Best Side" and "Side Kicks," with soups, salads and sandwiches at the core.
The oysters are fresh and the po'boys are loaded—don't even get us started on the hushpuppies. At chef Sunny Gerhart's St. Roch, you'll get as close as you can to a New Orleans dining experience without leaving town, complete with Big Easy-inspired cocktails, wine and beer.
Opened in summer of 2019, James Beard award-winning chef Ashley Christensen's sixth downtown Raleigh eatery is dedicated to Neapolitan-style pies. In Poole'side terms, that means thin-crust pizza, cooked for 90 seconds at more than 800 degrees in a 6,000-pound, Marra Forni wood-fired oven. The dough is made from local flour, the sauce with organic Bianco DiNapoli tomatoes and the cheese, a house-made mozzarella. In addition to the pies, you'll also find delicious treats, starters and salads as well as a carefully chosen beverage program and amazing desserts.
This stunningly gorgeous, Mediterranean-inspired, two-story gathering space in the Glenwood South entertainment district opened in 2017 to great fanfare. Serving small plates and large, executive chef Saif Rahman's passion for Mediterranean flavors, traditional cooking methods and a dash of flair has helped make Vidrio one of the City of Oaks' favorite spots for special occasions (weddings, anniversaries and more). More than 50 wines on tap (and 300 bottles available), a strong local beer list and craft cocktails should do well to round out any evening.
When Irregardless opened in 1975, the owners boldly laid out a vegetarian-forward menu in a city full of steakhouses. Today, you'll find the restaurant filled up with diners at brunch, lunch and dinner enjoying food, drinks and nightly live music, and you'll find some meat on the menu, too!
Simple decor and a neighborhood vibe are paired with stunning cuisine at Stanbury, where the modern American menu changes daily depending on what's in season and what the chef is inspired by on that particular day. In 2014 a New York Times travel story described Stanbury as "serving the most exciting food in Raleigh" (and that still rings true today!).
Perhaps the most well-known restaurant among the City of Oaks' booming food scene, chef Ashley Christensen's Poole's Diner has retro-chic charm to go along with one of America's most famous mac and cheese dishes (more than 15,000—one for almost every table—are sold each year).
Eager to impress visitors with its Asian-inspired food, drinks and aesthetics, you'll find this coffee shop/sake bar in Raleigh's Warehouse District, not far from Morgan Street Food Hall, Father & Son Antiques and Junction West. It's the ideal nook to enjoy a relaxing break from the hustle and bustle of a busy day.
Benchwarmers, serving wood-fired bagels and craft coffee in downtown Raleigh's Transfer Co. Food Hall, is an exciting collaboration from the masterminds behind Jubala Coffee—one of Raleigh's beloved, local coffee shops—and Boulted Bread, a bakery that earned acclaim with one of Food & Wine's Top Croissants in America and Bon Appétit's Best New Bakeries in 2016. Not your average bagel shop, the menu—the work of chef John Knox—includes unique sandwiches like a house-cured lox with deviled egg spread and duck rillette with sour cherries and pickled onions. Pro tip: On Thurs., Fri. and Sat. evenings, the shop serves up a seriously good wood-fired, Detroit-style pizza (because why not!).
When chef Ashley Christensen opened the 60-seat Death & Taxes—her fifth dining spot in downtown Raleigh—in 2015, the news made big waves, ultimately earning the restaurant the honor of being one of five finalists for the Beard Foundation's best new restaurant award. The wood-fired-focused restaurant—housed in a building once home to a bank and then a funeral home (hence the name!)—boasts an extensive cocktail and wine program that compliments meat and fish staples that are further complimented by grilled vegetables, oysters, salads and more.
If you're in the mood for a consistently-delicious, 100% vegetarian meal, look no further than The Fiction Kitchen. This farm-to-fork restaurant—headed by chef Caroline Morrison—crafts creative vegan and vegetarian dishes like the crispy fried, mock chicken and waffles as well as an Eastern Carolina-style barbecue pulled "pork" that gives its meat-based counterpart a run for its money.
A grocery store that opened way back in 1931 in a former life, 42nd St. Oyster Bar was re-established in 1987 and quickly became a Raleigh hotspot for fresh seafood. Today, the restaurant remains committed to serving the highest quality of food and drinks, and the Southern-inspired menu includes an extensive oyster bar on top of all the seafood and steak items you could possibly ask for (paired with an award-winning wine list, to boot!).
Dine at Crawford and Son to experience delicious, straightforward and honest food that ranges from the familiar to the unexpected. This casual neighborhood restaurant strives to deliver depth of flavor with purposeful ingredients. Crawford and Son features a "blue plate special," which varies week to week depending on what local ingredients are available and what five-time James Beard-nominated chef Scott Crawford is craving at the time. The menu features items such as autumn porridge, pork cheeks and beef short rib (plus a slew of desserts that are not to be passed up on under any circumstances).
Simply put, Sam Jones' newest namesake restaurant is one of America's most exciting 'cue openings of 2021. The renowned third-generation pitmaster and James Beard Award semifinalist comes from a long line of family that lives and breathes Eastern-style barbecue. His grandfather opened the famed Skylight Inn in Ayden, N.C., in 1947, and Jones opened his first Sam Jones BBQ restaurant just seven miles up the road in Winterville in 2015. The menu, of course, is highlighted by whole-hog barbecue—180-pound hogs cooked in a wood-fired pit for 16 hours or so, skin blistered to a shatteringly-crisp texture and all chopped together with a couple of meat cleavers. Salt, pepper, cider vinegar and hot sauce finish things off in the absolute best way possible.
Second Empire combines an atmosphere of classical history and elegance with a unique selection of cuisine, topped off with a world-class wine selection (this is your go-to spot for special occasions!). This AAA Four Diamond Award-winning restaurant is located in the beautifully-restored Dodd-Hinsdale House in downtown Raleigh. Second Empire also offers a more casual style of dining in their Tavern and Atrium Room. The menu changes seasonally and features chef Daniel Schuur's creations from the freshest seasonal ingredients.
Sitti, Lebanese for 'grandmother', is an authentic Lebanese restaurant founded to honor restaurateur and developer Greg Hatem's heritage. Located in downtown Raleigh, the menu offers traditional Mediterranean mezze, entrees like chicken shawarma and falafel and house-baked flatbreads. An antique Art Deco bar—featuring Lebanese liquors, wines and beers—makes for a great dining and drinking spot on a busy night inside the restaurant.
An authentic Italian-American restaurant, Gravy prepares their signature gravy (a hearty tomato sauce meant for spaghetti, lasagna and other Italian dishes) daily, using select tomatoes and locally-grown herbs. Gravy puts a modern twist and seasonal focus on classic Italian cuisine. Opt for the giant meatballs or decadent lasagna—plus a few orders of the risotto balls to share with your group—or grab a seat the bar for some exquisite Italian wines.
Caffe Luna offers Italian cuisine with a Tuscan flair. With floor-to-ceiling windows, the restaurant provides superb dining for every occasion (date nights highly recommended!). Come for lunch or dinner and experience options from antipasti to authentic Italian pastas and everything in between.
Located in the historic Capital Club Building in downtown Raleigh, Capital Club 16 offers scratch-made meals inspired by classic dishes and family recipes. The menu—American combined with European/German influences—features seasonal and local ingredients, as well as specialty artisanal items like Schaller and Weber Gold Medal sausages and meats.
A Japanese restaurant with a vibrant atmosphere, you'll be drawn inside by Sono's impressive decor and you'll keep coming back for the sushi and impeccable service. The menu includes bento box options, ramen and more. The sushi at Sono has long been known to convert non-raw-fish believers.
A chic restaurant offering dishes designed for sharing, ORO servers steadily bring dishes to the table throughout the meal, ensuring there is always food on the table. With an expansive dinner menu and laid-back style of service, ORO is a great place for a night out with friends. An upstairs mezzanine with a 9-foot fireplace steals the show in the dining space, and the Chilean sea bass and smoky ribs are our top picks from the excellent menu.
A warm and welcoming atmosphere where ramen slurps are considered good for the soul! Consistently rated as one of the area's tastiest picks for a night out, Tonbo Ramen's menu of noodles, buns, dumplings and more can make for brutally tough dinner decisions (it's hard to go wrong with the JFC--Japanese fried chicken--or any ramen dish that lets you load up on that raved-about broth!).
The Pit makes no bones about it, this barbecue place serves everything but the squeal. Housed in a meatpacking warehouse from the 1930s in downtown Raleigh, the restaurant, like the menu, honors the past but pushes into the present. Steeped in Eastern-style 'cue, The Pit cooks up a few whole hogs each night and serves them every day. Baby back ribs, barbecue turkey and fried chicken—along with all sorts of tasty sides like collards, barbecue beans and mac-n-cheese—round out a refined menu that's worth traveling for.
Plan a trip to Trophy Brewing if you want darn good pizza that's as fresh and tasty as your beer. Opened in 2012 and now well-known as one of the best breweries in the state (and beyond), Trophy has somehow figured out how to do both with spectacular success (multiple expansions of the brewery and taproom, including an exciting new sour beer program, are signs of good times). The kitchen prepares a feature meat and veggie pie daily that showcases seasonal ingredients that aren't available long enough to include on their regular menu. Pair your pizza with a craft beer plus one of the (secretly) best rotating dessert menus around.
A much-awaited--and now open!--sandwich shop in Raleigh's Person St. neighborhood, (ish) Delicatessen is the brainchild of Matt Fern, a longtime veteran of the food and beverage scene in the City of Oaks who worked closely with chef Ashley Christensen for many years. The (ish) part of the restaurant name is nod to Fern's dreamed up menu now brought to life: deli classics, with some off-the-wall options, with tastes of Jewish, Russian, American, Italian and just about anything else you can smash between two slices of bread So you'll find an Italian sub next to a pastrami sandwich next to a carnitas torta and a smoked bluefish melt on any given day (and you can bet it's all delicious).
Centro's lively, colorful decor is exactly what you might find at a real Mexican cantina, so you know you're in for a good time as soon as you walk through the door. Take a seat under rainbow flags and vibrant paintings to enjoy authentic Mexican dishes crafted by chef-owner Angela Salamanca, including mole poblano, frijolada and chilaquiles verdes.
It doesn't get much more old-school than Mecca. Since the 1930s, the family-owned diner has been whipping up classic Southern staples for breakfast, lunch and dinner, including scratch-made biscuits, charbroiled Angus beef burgers, Southern fried chicken and more. Grab a seat at the vintage soda foundation-esque bar for a prohibition-era cocktail, wine or beer.
Note: Temporarily closed
No matter the occasion, you'll feel welcome at the Warehouse District's Parkside restaurant, named for its location across the street from Nash Square Park (one of five public spaces laid out by Raleigh's founding fathers in 1792). Take a seat at the reclaimed wood bar for a beer and wings during a big game, stop in for a quick sandwich for lunch during the work week, grab your pals for a leisurely brunch on Sun. or book a table for two for date night.
They don't call it "Big" Ed's for nothing! This City Market gem is beloved for its ginormous pancakes, loaded country breakfasts and some of the best biscuits you'll ever have. On the weekends, you'll find the joint just as crowded with guests as it is with its plethora of antique decorations covering the walls, floor and ceiling. But no matter how long the wait, it's worth it.
Plates' menu is rooted in Southern cuisine, with a hint of international flavors and techniques taken from the owners' travels to France, Tuscany, Hong Kong, Thailand, Germany and beyond. Dinner dishes include crispy Brussels sprouts, three-cheese and truffle tortellini and oven-roasted grouper, while weekend brunch features huevos rancheros, pearl sugar Belgian waffles and the signature N.C. crab cake Benedict.
The Cortez's bright, colorful interior is just as vibrant as its food and drinks. The menu includes house-crafted, tiki-inspired cocktails, overseas-inspired libations and refreshing, locally sourced concoctions, along with beer, cider and wine. For dinner, the N.C. oysters are just as tempting, as are the seafood-heavy sharing plates crafted by executive chef Oscar Diaz.
Header photo of Mulino by Brian Strickland
Comments